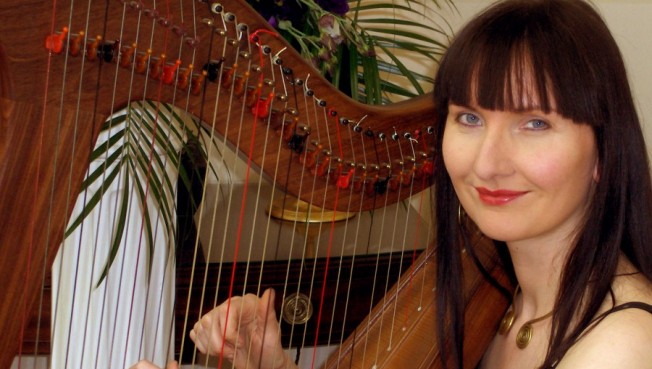 Location Kent
Starting from £273.60
The enchanting sound of the Celtic harp combined with the visual beauty of the instrument enhances any event, creating the perfect romantic atmosphere for weddings. The Kent Harpist is an accomplished, professional harpist and has been performing for over twelve years. She studied with the renowned Classical harpist and tutor Mary Morley. Alongside Classical and Modern Composers her repertoire encompasses a breadth of popular Irish, English and French music.
*Much in demand playing for weddings and events throughout the UK she travels extensively performing in many stunning venues including Leeds Castle, Chewton Glen, Lympne Castle, Salmestone Grange, Carey's Manor and Eastwell Manor*
Number of Reviews and Counting... 4!
The Kent Harpist launched her album 'Celtic Harp' whilst performing for the Celtic Journey Dance Sensation at the Marlowe Theatre in Canterbury 2007. Her harp is a beautiful Pilgrim Clarsach with a full, sweet tone which perfectly compliments the traditional music she specialises in. Her repertoire includes compositions by the most revered of Irish harpists: Turlough O'Carolan, whose music embodies the perfect marriage of Classical and Celtic styles.
She has wide experience of playing for many occasions including: receptions, weddings, civil partnership and handfasting ceremonies, birthdays, anniversaries, garden parties, funerals and corporate events.
She also performs for concerts, cultural events, workshops, residential homes and teaches privately.
The Kent Harpist works primarily as a soloist but has also toured with bands, played at festivals nationally / internationally and performed with string quartets.
An accomplished singer she is frequently requested to perform songs accompanied by her own special arrangements on harp. She has a wealth of knowledge as a multi-instrumentalist and also plays fiddle and whistles professionally.
The Kent Harpist has a captivating and engaging repertoire which includes: Classical, Romantic, Traditional, Celtic and Songs with original arrangements. Here is a selection of the pieces she plays:
Bridal Chorus (Here Comes The Bride) – Wagner
La Sola Grazia – Renaissance Italian
Pastorale – Marcel Grandjany
Presto – Jean Chrétien Bach
Parthenia- Savourna Stevenson
Déirín Dé – Éamonn Ó Gallchobhair
Menuet – Johann Heinrich Buttstedt
O' Carolan's Concerto
Princess Royal (Miss Mac Dermot)
O' Carolan's Welcome
Planxty Johnston
O' Carolan's Air
O' Carolan's Farewell To Music
Brian Boru's March
Greensleeves
She Moves Through The Fair
Scarborough Fair
The Foggy Dew
A Trip To Sligo
Harp Of Gold
Fields Of Gold
Lavenders Blue
Danny Boy
The Dark Island
Skye Boat Song
Black is the Colour
Plus, many many more....
Alison Wright

, Wedding, Moreteyne Manor, Bedfordshire, Bedfordshire
The Kent Harpist is the nicest person and has a stunning voice, her harp playing is exceptional. She was un-intrusive but well received. Our guests loved the music and it was our pleasure to invite her to eat with us when one of our guests failed to turn up, we just wish we had invited her to our wedding breakfast anyway. Everyone loved the music during our ceremony and drinks reception. She moved effortlessly between the venue and gardens and ensured there was music for us when all of the guests had been seated. Divine music and a lovely person. We would not hesitate to recommend The Kent Harpist to any of our friends and colleagues.
---
Clare Collins and Matteo Marseglia

, Wedding, Kent
The Kent harpist was fantastic, she went out of her way to include pieces of music which we liked. She made our day so very special and we would highly recommend her to all!
---
Corine Larner

, Wedding, Buckinghamshire
A stunning performance during our wedding breakfast. Such a lovely lady and would recommend to family and friends.
---
Jackie Powell

, Wedding, Suffolk
Hi Marie, The Kent Harpist was fantastic a beautiful harpist made the day for my sister. Thankyou xx
---
Whitstable Castle
Chewton Glen Hotel
Leeds Castle
Dover Castle
Eastwell Manor
Marlowe Theatre
The Kent Harpist can wear period costume when performing for events at castles or historic buildings if requested. The Celtic harp can be played acoustic or with amplification and is suitable for large or intimate gatherings, indoors or outdoors… with the possibility of the instrument moving to various locations during an event if necessary.
WEDDINGS:
The following explains the points where it's customary to have music during the wedding, though The Kent Harpist is also very happy to discuss and work with your individual plans to make it your special day!
The Wedding Ceremony (approx. 1 hour in total)
• Gentle music to welcome and relax the guests as they gather and wait for the ceremony (beginning 15 / 20 minutes before the ceremony)
• Processional music for the entrance of the bride (played at an elegant walking tempo to accompany the bride down the aisle)
• A selection of pieces during the signing of the register
• A celebratory piece as the couple leave the ceremony to begin the festivities
Reception Drinks / Photos (approx. 1 - 2 hrs)
• A range of music to entertain the guests as they mingle and photos are taken
Wedding Breakfast (approx. 2 hours)
• Subtle, light background music during the meal until the speeches
The Kent Harpist also offers combined packages:

• Ceremony and Reception Drinks
• Reception Drinks and Wedding Breakfast
• Ceremony, Reception Drinks and the Wedding Breakfast
The Kent Harpist can fine tune her schedule based on your specific requirements.
Please Note: The fees indicated below are approximate and based on a central location for each county. They are intended to provide a rough guide only and exact quotes can only be given once the date and exact location of your event have been provided.
Scotland
Aberdeen
£570.00
Inverness
£602.40
Perth
£516.00
Sutherland
£606.00
Ayrshire
£500.40
Fife
£514.80
Stirlingshire
£504.00
West Lothian
£502.80
Dumfries-shire
£483.60
East Lothian
£483.60
Lanarkshire
£489.60
Midlothian
£499.20
North East
Durham
£444.00
Northumberland
£451.20
North Yorkshire
£433.20
South Yorkshire
£408.00
Tyne and Wear
£445.20
West Yorkshire
£423.60
Yorkshire
£427.20
North West
Cheshire
£414.00
Cumbria
£459.60
Manchester
£418.80
Lancashire
£441.60
Merseyside
£426.00
East Midlands
Derbyshire
£414.00
Leicestershire
£324.00
Lincolnshire
£398.40
Northamptonshire
£312.00
Nottinghamshire
£393.60
Rutland
£314.40
East
Cambridgeshire
£306.00
Norfolk
£321.60
Suffolk
£314.40
Wales
Anglesey
£452.40
Caernarvonshire
£442.80
Denbigh
£435.60
Flint
£432.00
Cardigan
£435.60
Brecon
£410.40
Carmarthen
£417.60
Glamorgan
£414.00
Monmouth
£402.00
Pembroke
£441.60
West Midlands
Gloucestershire
£328.80
Herefordshire
£412.80
Shropshire
£410.40
Staffordshire
£411.60
Warwickshire
£318.00
Worcestershire
£331.20
South East
Bedfordshire
£300.00
Berkshire
£307.20
Buckinghamshire
£292.80
East Sussex
£288.00
Essex
£291.60
Hampshire
£310.80
Hertfordshire
£292.80
Isle of Wight
£430.80
Kent
£273.60
Oxfordshire
£312.00
Surrey
£284.40
Sussex
£296.40
West Sussex
£296.40
London
£288.00
Middlesex
£288.00
South West
Cornwall
£450.00
Devon
£420.00
Dorset
£391.20
Somerset
£417.60
Wiltshire
£319.20