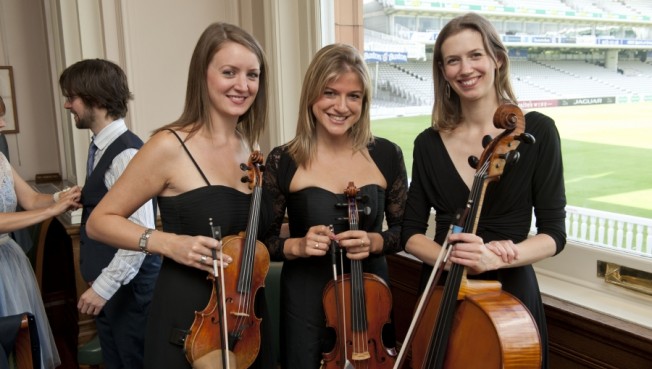 Location London
Starting from £468.00
A hugely experienced and versatile string trio made up of some of the top UK string players.
The Ruby String Trio are a young and dynamic group of high class professional string musicians. They are based in London, but travel all over the UK and beyond.
Members of The Ruby String Trio all studied at the top London conservatoires, and are now in high demand as orchestral players and session musicians around the world.
Number of Reviews and Counting... 3!
The Ruby String Trio enjoy a varied musical career - from playing with the finest classical orchestras to playing with famous pop artists. Members of the trio have performed, recorded and toured with artists including Muse, Bastille, Olly Murs, Rihanna, Tinie Tempah, JessieJ, Robin Thicke, The Kooks, Michael Buble, Cher, Katherine Jenkins, Alfie Boe and many more.
They have performed at high profile events such as The Brit Awards and The Royal Variety Performance, and they play regularly on television programmes such as on the Jonathan Ross show, Graham Norton show, This Morning, Alan Carr Chatty Man show and Strictly Come Dancing, to name a few.
The Ruby String Trio have played at hundreds of weddings and parties and are always proud to deliver their performances to the highest standards. They have a large amount of repertoire including classical, opera, jazz and the most recent pop songs, suiting all tastes!
They will always provide you with a friendly, professional and personal service to accommodate any type of event. Whether you're getting married, you're having a party, or a corporate function, The Ruby String Trio will guarantee adding to your special occasion to make it even more enjoyable and memorable.
Pop/Rock/Jazz/Other

Adele - Make You Feel My Love
Adele - Rolling in the deep
Aerosmith - I Don't Want to Miss a Thing
Andrew Levin - A Miller's Waltz
Andrew Levin - Age and Remembrance
Andrew Levin - County Clare Waltz
Andrew Levin - Gypsy Waltz
Andrew Levin - Second Anniversary Waltz
Andrew Levin - The Tangled Waltz
Armstrong, Louis - What a Wonderful World
Beatles - All You Need is Love
Beyonce - If I Were a Boy
Bruno Mars - Just the way you are
Carlos Gardel - Tango por una Cabeza
Christina Perri - A Thousand Years
Coldplay - Paradise
Coldplay - Viva La Vida
Daft Punk - Get Lucky
Des'ree - Kissing you
Ed Sheeran - Lego House
Elbow - One day like this
Elton John - Can you feel the love tonight
Emeli Sande - Next To Me
Etta James - At Last
Jack Johnson - Better Together
James Blunt - You're Beautiful
Jerome Kern - Smoke gets in your eyes
Joplin, Scott - Country Club Rag
Joplin, Scott - Maple Leaf Rag
Joplin, Scott - Paragon Rag
Joplin, Scott - Peacherine Rag
Joplin, Scott - Pineapple Rag
Joplin, Scott - Pleasant Moments
Joplin, Scott - Rag-Time Dance
Joplin, Scott - Solace
Joplin, Scott - The Chrysanthemum
Katy Perry - Firework
Lady Gaga - Bad Romance
Lorde - Royals
Love Affair - Everlasting Love
Garland, Judy - Over the Rainbow
Percy Sledge - When a Man Loves a Woman
Pharrell Williams - Happy
Queen - Bohemian Rhapsody
R.E.M - Nightswimming
Rihanna - Rude Boy
Rihanna - Umbrella
Sherwin - A Nightingale Sand in Berkeley Square
Simon, Carly - Nobody Does It Better from 'The Spy Who Loved Me'
Sting - Fields of Gold
The Verve - Bittersweet Symphony
Barry White - You're the First, the Last, My Everything
Classical/Opera
Anon - Greensleeves
Bach - Air from suite in D
Bach - Arioso - Bach
Bach - Bist du bei mir
Bach - Brandenburg Concerto no.3
Bach - Jesu, Joy of man's desiring
Bach - My Heart Ever Faithful
Bach - Sheep may safely graze
Bach - Wachet auf
Bach Gounod - Ave Maria
Beethoven - Ode to Joy
Bizet - Duet from the Pearly Fishers
Boccherini - Minuet from String Quartet no.11
Brahms - Hungarian Dance no. 5
Charpentier - Te Deum and Tu Devicto
Debussy - Clair de Lune
Delibes - Flower Duet
Dvorak - Humoreske
Elgar - Chanson de Nuit
Elgar - Nimrod
Elgar - Salut D'Amour
Faure - Pavane
Franck - Panis Angelicus
Handel - Air in D
Handel - Air in F
Handel - Arrival of the Queen of Sheba
Handel - Bourree in F
Handel - Coro
Handel - Hornpipe in D
Handel - Hornpipe in F
Handel - La Paix
Handel - La Rejouissance
Handel - Largo from Xerxes
Handel - Menuet in D
Handel - Menuet in D minor
Handel - Menuet in G minor
J.Clarke - Trumpet Tune
J.Clarke - Trumpet Voluntary
Mascagni - Intermezzo from 'Cavalleria Rusticana'
Massenet - Meditation from Thais
Mendelssohn - If With All Your Hearts
Mendelssohn - Wedding March
Mouret - Rondeau
Mozart - Adagio in C
Mozart - Ave verum corpus
Mozart - Eine kleine Nachtmusic mvmt 1-4
Mozart - Rondo Alla Turca
Mozart - Non Piu Andrai from The Marriage of Figaro
Offenbach - Barcarolle
Pachelbel - Canon
Puccini - Nessun Dorma
Puccini - O Mio Babbino Caro
Purcell - Suite from the Fairy Queen
Rossini - William Tell Overture - Finale
Saint-Saens - The Swan
Schubert - Ave Maria
Tchaikovsky - March from 'The Nutcracker'
Tchaikovsky - Waltz from Sleeping Beauty
Verdi - Brindisi from 'La Traviata'
Vivaldi - Largo from Winter
Vivaldi - Spring
Wagner - Wedding March
Nicola Poole

, Wedding, Dorset
Ruby String Trio were great! They learnt a whole new song for us with very short notice before the wedding (as I left it to the last minute to pick our ceremony music!). Thanks girls! You really enhanced the great atmosphere of our wedding and drinks reception.
---
Anja Muller

, Wedding, Hampshire
The Ruby String Trio added modern elegance to our wedding ceremony and reception drinks. We absolutely loved their repertoire of modern songs with a twist which was our main reason for booking them, and it meant that our ceremony could be both traditional and cool with the likes of Lady Gaga, and Pharrell to be enjoyed. The girls also looked great and were very professional whilst they played. I would recommend to anyone looking for something special for their wedding day.
---
Jenny

, Wedding, Devon
I'm so grateful to The Ruby String Trio for everything they did to help make our wedding day so special! Throughout the planning Josephine's knowledgeable and friendly manner really put me at ease and she made sure that we were happy with the choices of songs for various parts of the day. Walking in to meet my husband to be and hearing such a wonderful sound was a very special moment for me. I can not thank these highly skilled, professional and friendly musicians enough. I'm eager for another occasion to hear them and I'd highly recommend them to anyone looking for live musicians for their event.
---
How much space does the string trio need?
Approximately 2m x 2m.
Can I request a specific piece of music?
Yes. If your favourite song is not already on our repertoire list, we can arrange it for you. There may be an additional cost depending on the arrangement that you have requested.
What will the trio wear on the day?
Our standard dress code is smart black, but we are flexible and can adapt our dress code to suit the client.
Can you play outdoors?
Yes, as long as we are not in direct sunlight or rain.
Can we choose the music for our event?
Yes. For weddings you will need to choose music for your bridal entrance, signing of the register and exit. For the rest of the time, we will play a mixture of our repetroire. but by all means feel free to choose specific songs from our list that you would like us to play.
Do you need any special equipment?
We bring all our own equipment with us apart from chairs! Our instruments are all acoustic so we do not normally need any power sockets or amplifiers.
The Ruby String Trio pride themselves on a flexible approach based on the event and the requirements.
Please Note: The fees indicated below are approximate and based on a central location for each county. They are intended to provide a rough guide only and exact quotes can only be given once the date and exact location of your event have been provided.
East Midlands
Leicestershire
£648.00
Northamptonshire
£612.00
Rutland
£624.00
East
Cambridgeshire
£576.00
Norfolk
£624.00
Suffolk
£612.00
Norwich
£636.00
West Midlands
Gloucestershire
£624.00
Herefordshire
£657.60
Staffordshire
£678.00
Warwickshire
£618.00
Worcestershire
£660.00
Birmingham
£654.00
South East
Bedfordshire
£594.00
Berkshire
£570.00
Buckinghamshire
£570.00
East Sussex
£570.00
Essex
£558.00
Hampshire
£564.00
Hertfordshire
£540.00
Isle of Wight
£588.00
Kent
£552.00
Oxfordshire
£576.00
Surrey
£528.00
Sussex
£558.00
West Sussex
£552.00
London
£468.00
Middlesex
£468.00
South West
Dorset
£630.00
Somerset
£654.00
Wiltshire
£600.00
Bath
£630.00
Bristol
£630.00