Warble Entertainment's
The Ruby String Trio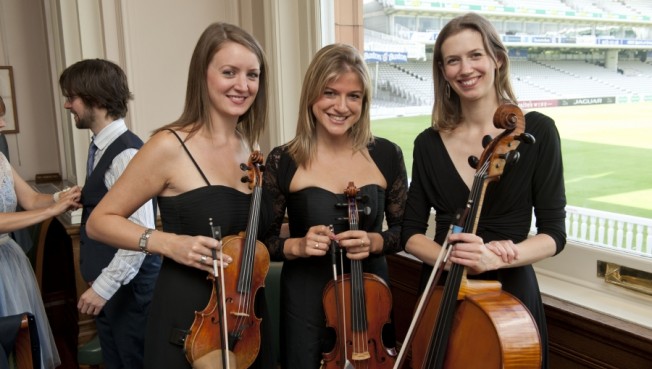 Location London
Starting from £468.00
A hugely experienced and versatile string trio made up of some of the top UK string players.
The Ruby String Trio are a young and dynamic group of high class professional string musicians. They are based in London, but travel all over the UK and beyond.
Members of The Ruby String Trio all studied at the top London conservatoires, and are now in high demand as orchestral players and session musicians around the world.
3 reviews
Song List
Pop/Rock/Jazz/Other

Adele - Make You Feel My Love
Adele - Rolling in the deep
Aerosmith - I Don't Want to Miss a Thing
Andrew Levin - A Miller's Waltz
Andrew Levin - Age and Remembrance
Andrew Levin - County Clare Waltz
Andrew Levin - Gypsy Waltz
Andrew Levin - Second Anniversary Waltz
Andrew Levin - The Tangled Waltz
Armstrong, Louis - What a Wonderful World
Beatles - All You Need is Love
Beyonce - If I Were a Boy
Bruno Mars - Just the way you are
Carlos Gardel - Tango por una Cabeza
Christina Perri - A Thousand Years
Coldplay - Paradise
Coldplay - Viva La Vida
Daft Punk - Get Lucky
Des'ree - Kissing you
Ed Sheeran - Lego House
Elbow - One day like this
Elton John - Can you feel the love tonight
Emeli Sande - Next To Me
Etta James - At Last
Jack Johnson - Better Together
James Blunt - You're Beautiful
Jerome Kern - Smoke gets in your eyes
Joplin, Scott - Country Club Rag
Joplin, Scott - Maple Leaf Rag
Joplin, Scott - Paragon Rag
Joplin, Scott - Peacherine Rag
Joplin, Scott - Pineapple Rag
Joplin, Scott - Pleasant Moments
Joplin, Scott - Rag-Time Dance
Joplin, Scott - Solace
Joplin, Scott - The Chrysanthemum
Katy Perry - Firework
Lady Gaga - Bad Romance
Lorde - Royals
Love Affair - Everlasting Love
Garland, Judy - Over the Rainbow
Percy Sledge - When a Man Loves a Woman
Pharrell Williams - Happy
Queen - Bohemian Rhapsody
R.E.M - Nightswimming
Rihanna - Rude Boy
Rihanna - Umbrella
Sherwin - A Nightingale Sand in Berkeley Square
Simon, Carly - Nobody Does It Better from 'The Spy Who Loved Me'
Sting - Fields of Gold
The Verve - Bittersweet Symphony
Barry White - You're the First, the Last, My Everything
Classical/Opera
Anon - Greensleeves
Bach - Air from suite in D
Bach - Arioso - Bach
Bach - Bist du bei mir
Bach - Brandenburg Concerto no.3
Bach - Jesu, Joy of man's desiring
Bach - My Heart Ever Faithful
Bach - Sheep may safely graze
Bach - Wachet auf
Bach Gounod - Ave Maria
Beethoven - Ode to Joy
Bizet - Duet from the Pearly Fishers
Boccherini - Minuet from String Quartet no.11
Brahms - Hungarian Dance no. 5
Charpentier - Te Deum and Tu Devicto
Debussy - Clair de Lune
Delibes - Flower Duet
Dvorak - Humoreske
Elgar - Chanson de Nuit
Elgar - Nimrod
Elgar - Salut D'Amour
Faure - Pavane
Franck - Panis Angelicus
Handel - Air in D
Handel - Air in F
Handel - Arrival of the Queen of Sheba
Handel - Bourree in F
Handel - Coro
Handel - Hornpipe in D
Handel - Hornpipe in F
Handel - La Paix
Handel - La Rejouissance
Handel - Largo from Xerxes
Handel - Menuet in D
Handel - Menuet in D minor
Handel - Menuet in G minor
J.Clarke - Trumpet Tune
J.Clarke - Trumpet Voluntary
Mascagni - Intermezzo from 'Cavalleria Rusticana'
Massenet - Meditation from Thais
Mendelssohn - If With All Your Hearts
Mendelssohn - Wedding March
Mouret - Rondeau
Mozart - Adagio in C
Mozart - Ave verum corpus
Mozart - Eine kleine Nachtmusic mvmt 1-4
Mozart - Rondo Alla Turca
Mozart - Non Piu Andrai from The Marriage of Figaro
Offenbach - Barcarolle
Pachelbel - Canon
Puccini - Nessun Dorma
Puccini - O Mio Babbino Caro
Purcell - Suite from the Fairy Queen
Rossini - William Tell Overture - Finale
Saint-Saens - The Swan
Schubert - Ave Maria
Tchaikovsky - March from 'The Nutcracker'
Tchaikovsky - Waltz from Sleeping Beauty
Verdi - Brindisi from 'La Traviata'
Vivaldi - Largo from Winter
Vivaldi - Spring
Wagner - Wedding March