Warble Entertainment's
Zelos Electric String Quartet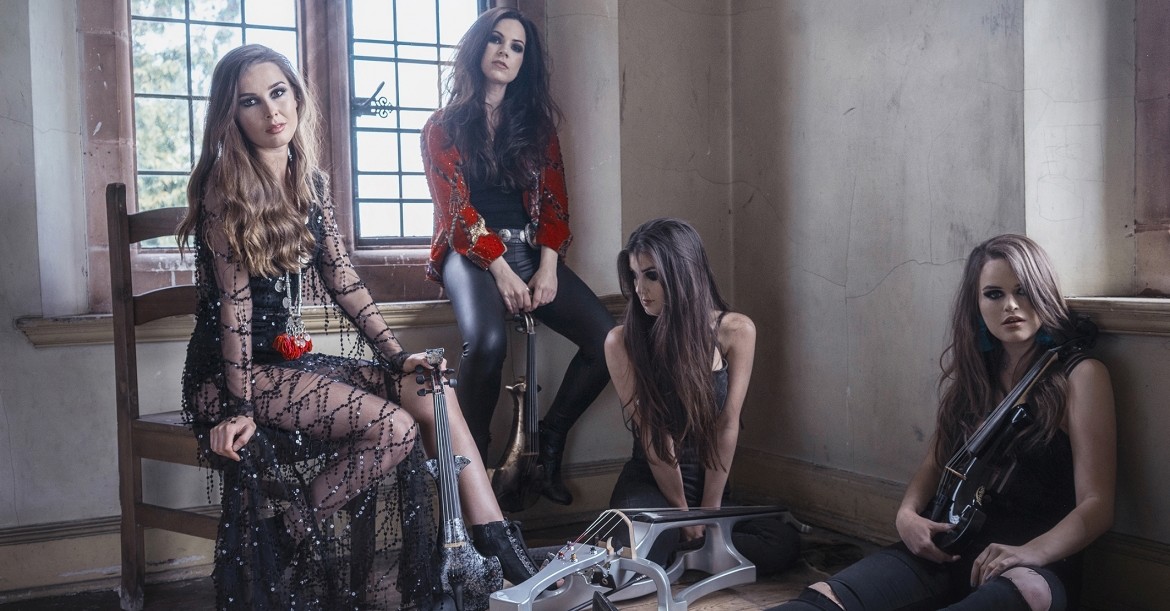 Location Berkshire
Starting from £2,100.00
Dynamic, edgy, all-female electric string quartet Zelos is redefining the genre and wowing audiences across the globe.
Zelos is a dynamic electric string quartet, breaking the rules of traditional electric string groups, and bringing live effects, extraordinary energy, and a fresh take on the genre. The Zelos musicians have extensive professional performance and studio experience, and have come together to create an act that brings fresh ideas, incredible musicianship, and impact to their audiences. Pairing energetic performances and musicality with impactful bespoke tracks produced for Zelos, and effects pedals, Zelos is moving the electric string quartet genre into exciting new territory.
5 reviews
Listen




Song List
Pop Repertoire
A Thousand Years - Christina Perry
Adventure of A Lifetime - Coldplay
Ain't No Sunshine - Bill Withers
Ain't Nobody (chillout version) - Jasmine Thompson
All Of Me - John Legend
Another Way To Die - Alicia Keys & Jack White
Baba O'Riley - The Who
Blame - Calvin Harris
Burn - Ellie Goulding
Can't Feel My Face - The Weekend
Can't Get You Out Of My Head - Kylie
Can't Stop The Feeling - Justin Timberlake
Chandelier - Sia
Cheap Thrills - Sia
Comfortably Numb - Pink Floyd
Daughters - John Mayer
Despacito - Luis Fonsi
Diamonds - Rihanna
Diamonds Are Forever - Shirley Bassey
Drive - The Cars
E.T - Katy Perry
Elastic Heart - Sia
Everybody Hurts - REM
Everything I Do - Bryan Adams
Everytime We Touch (acoustic) - Cascada
Get Lucky - Daft Punk
Gravity - John Mayer
Great Gig In The Sky - Pink Floyd
Halleluja - Jeff Buckley
Halo - Beyonce
Heartbeats - Jose Gonzales
Here Comes The Sun - The Beatles
Hold My Hand - Jess Glynne
House of the Rising Sun - The Animals
Hysteria - Muse
I Can't Help Falling In Love With You - Elvis Presley
I Follow Rivers - Lykke Li
Into The Mystic - Van Morrison
Is This Love - Bob Marley
It Must Be Love - Madness
Kashmir - Led Zeppelin
Knights of Cydonia - Muse
Layla - Eric Clapton
Lean On - Major Lazer
Let's Dance - David Bowie
Little Lies - Fleetwood Mac
Long Train Running - Doobie Brothers
Losing My Religion - REM
Love Me Again - John Newman
Love Me Like You Do - Ellie Goulding
Moondance - Van Morrison
Orinoco Flow - Enya
Paradise - Coldplay
Pure Shores - All Saints
Purple Rain - Prince
Rather Be - Clean Bandit
Rhiannon - Fleetwood Mac
Right Here, Right Now - Fatboy Slim
Roads - Portishead
Rolling In The Deep - Adele
Rose´ - The Feeling
Royals - Lorde
Set Fire To The Rain - Boyce Avenue
Shake It Out - Florence & The Machine
Shiny Happy People - REM
Skinny Love - Bon Iver
Skyfall - Adele
Slow dancing In A Burning Room - John Mayer
Somebody That I Used To Know - Gotye
Somewhere Only We Know - Keane
Somewhere Only We Know - Lily Allen
Sorry - Justin Bieber
Sorry - Madonna
Starman - David Bowie
Stay With Me - Sam Smith
Summertime Sadness - Lana Del Rey
Sweet Child O' Mine - Guns 'n' Roses
Teardrop - Massive Attack
Tenerife Sea - Ed Sheeran
The First Time Ever I Saw Your Face - Roberta Flack
The Stranger - Billy Joel
The Way It Is - Bruce Hornsby
The Way You Make Me Feel - Michael Jackson
The Wild Rover - The Dubliners
Thinking Out Loud - Ed Sheeran
This Girl - Kungs vs Cookin' on 3 Burners
Tilted - Christine and the Queens
Toxic - Britney Spears
Treasure - Bruno Mars
Viva La Vida - Coldplay
We Found Love (acoustic) - Rihanna
When You Say Nothing At All - Ronan Keating
Wicked Game - Chris Isaak
Will You Still Love Me Tomorrow - Amy Winehouse version
Wish You Were Here - Pink Floyd
The house show is a 15 minute non-stop blend of beats and melodies, with songs by Fatboy Slim, Madonna, Muse, Pink Floyd, and some more obscure soundworlds, taking the audience from ambient bliss to a high-octane experience.
They can also offer classical/pop/chillout background sets to complement the show, and to build the event up to the high impact show. This can be with or without backing tracks.