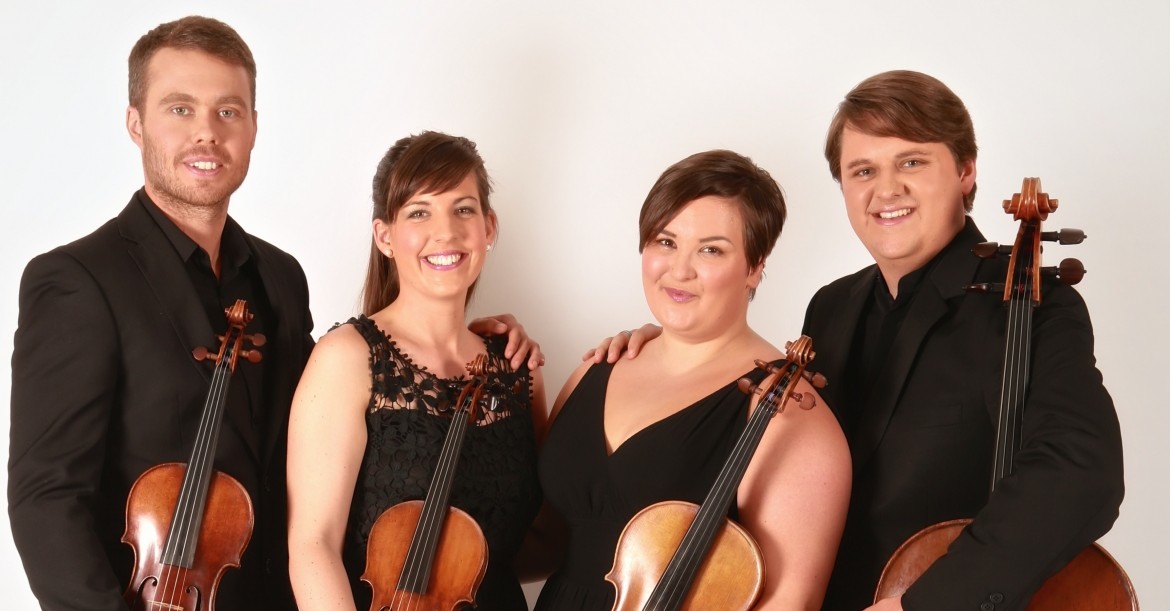 Location London
Starting from £642.00

The Strettini Quartet have been performing for weddings and functions for nearly 15 years, and have one of the largest, most wide-ranging repertoires around.
Number of Reviews and Counting... 3!
The Strettini Quartet are proud of their large repertoire, taking in the classics from Bach and Mozart to Tchaikovsky and Elgar, to Jazz, Rock and Pop, including songs by Queen, Michael Jackson, Britney Spears and many more!
Abba - Mamma Mia
ACDC - Back in Black
Adams - Everything I do, I do it for you
Adele - Skyfall
Ain't Misbehaving
Aladdin - A Whole New World
Anderson - Blue Tango
Anderson - Forgotten Dreams
Anita Baker - Sweet Love
Barry - We have all the time in the world
Bart - Where is Love?
Beauty and the Beast - Be our Guest
Berlin - Let's Face the music and Dance
Blue Moon
Bowie - Heroes
Bowie - Let's Dance
Bowie - Life on Mars
Britney Spears - Toxic
Bruno Mars - Marry You
Clean Bandit - Rather Be
Coldplay - Clocks
Coldplay - Paradise
Coldplay - Viva la Vida
Conte - For Your Eyes Only
The Darkness - I Believe in a Thing Called Love
David Guetta - Titanium
Davis - Theme from Pride and Prejudice
Eurythmics - Sweet Dreams
Fleetwood Mac - Dreams
A Foggy Day in London Town
For the Scent of a Woman
Francois - My Way
George Michael - Careless Whisper
Gershwin - The Man I Love
Gershwin - Embraceable You
Gershwin - Somebody Loves Me
Guns and Roses - Sweet Child of Mine
Gunning - Theme from Poirot
Jackson - Smooth Criminal
Johnson - Pennies from Heaven
Jones - It Had to be You
Joplin - Easy Winners
Joplin - Heliotrope Bouquet
Journey - Don't Stop Believing
Karas - Harry Lime Theme from the Third Man
Katy Perry - Firework
Kern - Smoke Gets in your eyes
Killers - Mr Brightside
La Paloma - Tango
Led Zeppelin - Stairway to Heaven
Lennon - Imagine
Lennon McCartney - Yesterday
The Lion King - Can you feel the love tonight?
Mancini - The Pink Panther
Maroon 5 - Moves Like Jagger
Metallica - Enter Sandman
Metallica - Master of Puppets
Metallica - Nothing Else Matters
Once - Falling Slowly
Porter - Anything Goes
Porter - Let's Do it
Porter - Every time we say goodbye
Queen - Another One Bites the Dust
Queen - Crazy Little Thing Called Love
Queen - I want to break free
Russell, Smith - Hoe Down
Russell, Smith - Right After Four
Shaffer - It's Raining Men
Sherwin - A Nightingale Sang in Berkeley Square
Sigur Ros - Hoppipolla
Sting - Fields of Gold
Strayhorn - Take the 'A' Train
Suessdorf - Moonlight in Vermont
Take the 'A' Train
Tico Tico No Fuba
Trad, Negro Spirituals – Nobody knows
Trad, Negro Spirituals – Go Down Moses
Trad, Negro Spirituals – Swing Low
Trad, Negro Spirituals – Joshua Fought the Battle of Jericho
Trad, - English Country Garden
The Verve - Bittersweet Symphony
West Side Story - Somewhere
Williams - Star Wars
Wilson - Fawlty Towers
Albeniz - Tango
Bach - Brandenburg Concerto No 3
Bach - Goldberg Variations, Aria
Bach - Suite III
Bach - Jesu Joy
Bach - Toccata and Fugue
Bach - Sheep may safely graze
Barnby - O Perfect Love
Beethoven - Op 18 No 1
Beethoven - Minuet from Septet
Bizet - La Toupie
Bizet - Prelude to Carmen
Bizet - Entr'act from Carmen
Bizet - Danse Boheme from Carmen
Bizet - Sequidilla from Carmen
Boccherini - Minuet
Borodin - Nocturne from 2nd Quartet
Borodin - Polovtsian Dances "Prince Igor"
Brahms - Hungarian Dance No 5
Bruch - Adagio from Violin Concerto
Corelli - Christmas Concerto
Debussy - Berceuse from the Dolly Suite
Debussy - Clair De Lune
Debussy - En Bateau from Petite Suite
Debussy - The Girl with the Flaxen Hair
Debussy - Romance
Debussy - Le Petit Negre
Delibes - Flower Duet
Dubois - Toccata
Dvorak - American Quartet
Dvorak - Humoresque
Dvorak - Slavonic Dance No 8
Elgar - Salut d'amour
Elgar - Chanson de Matin
Elgar - Chanson de Nuit
Elgar - Nimrod from the Enigma Variations
Faure - Pavane
Faure - Apres un Reve
Granados - Andaluza
Greig - Ich Liebe Dich
Handel - Queen of Sheba
Handel - Allegro Maestoso (Water Music)
Haydn - Andante from Oboe Concerto
Haydn - Quartet No 34, Op. 64 No 4
Haydn - Serenade
Holst - Jupiter from the Planets
Holst - St. Pauls Suite
Il'yinsky - Berceuse
Iradier - La Paloma
Liszt - Liebestraum No 3
MacDowell - To a Wild Rose
Mahler - Adagietto from Symphony No 5
Massenet - Meditation from Thais
Mozart - Ave Verum
Mozart - Eine Kleine Nachtmusik
Mozart - Divertimento in F
Mozart - Divertimento in D
Mozart - Quartet in G KV 156
Pachelbel - Kanon
Puccini - Nessun Dorma
Purcell - Dido's Lament
Purcell - Two Rondeaux
Ravel - Bolero
Saint-Saens - Danse Macabre
Schostakovich - Romance from Gadfly
Schubert - Moment Musical No 3
Schubert - Wiegenlied
Schubert - Die Rose
Schumann - Traumerei from Kinderscenen
Scriabin - Etude
Strauss - Pizzicato Polka
Strauss - Radetzky March
Strauss - The Blue Danube Waltz
Sullivan - Three Little Maids
Tchaikovsky - Sleeping Beauty Waltz
Tchaikovsky - Waltz of the Flowers
Tchaikovsky - Crysostomos Liturgy Op 41
Tchaikovsky - The Nutcracker Suite
Tchaikovsky - Waltz from Swan Lake
Trad - Londonderry Air
Verdi - Force of Destiny
Vivaldi - Spring
Wagner - Bridal Chorus
Jack's the Lad (Sailor's Hornpipe)
Home Sweet Home
See the Conqu'ring Hero Comes!
Rule Brittania
Pomp and Circumstance March No 1
Jerusalem
I vow to thee my Country
Matthew Quinn

, Wedding, Suffolk
Amazing. Would 100% recommend and would book again. Thanks for everything.
---
Natalie Moraviec

, Wedding, Oakley Hall Hotel & Spa, Hampshire
Fantastic quartet! Played beautifully and were really friendly. Thank you for a lovely performance at my wedding.
---
Kirsty H

, Wedding, London
Wow. We could not have asked for a better string group! You played beautifully!
---
Are you able to learn requests?
We are happy to learn requests for you, as long as we are able to find the sheet music.
How professional are the musicians in the quartet?
The players in the quartet are all full-time, professional, performing musicians.
Strettini Quartet can provide as much or as little music as you'd like, from 30 minutes pre-wedding and the ceremony music, to 4 hours including ceremony, drinks and the meal, or whatever you're looking for. Strettini Quartet are able to tailor their performance to your specifications.
Please Note: The fees indicated below are approximate and based on a central location for each county. They are intended to provide a rough guide only and exact quotes can only be given once the date and exact location of your event have been provided.
Foreign Locations
Europe
£1,200.00
Rest of the world
£1,800.00
East
Cambridgeshire
£690.00
Norfolk
£762.00
Suffolk
£762.00
South East
Bedfordshire
£660.00
Berkshire
£672.00
Buckinghamshire
£690.00
East Sussex
£660.00
Essex
£642.00
Hampshire
£678.00
Hertfordshire
£678.00
Isle of Wight
£762.00
Kent
£642.00
Oxfordshire
£690.00
Surrey
£660.00
Sussex
£660.00
West Sussex
£660.00
London
£642.00
Middlesex
£660.00