Warble Entertainment's
Alex The Magician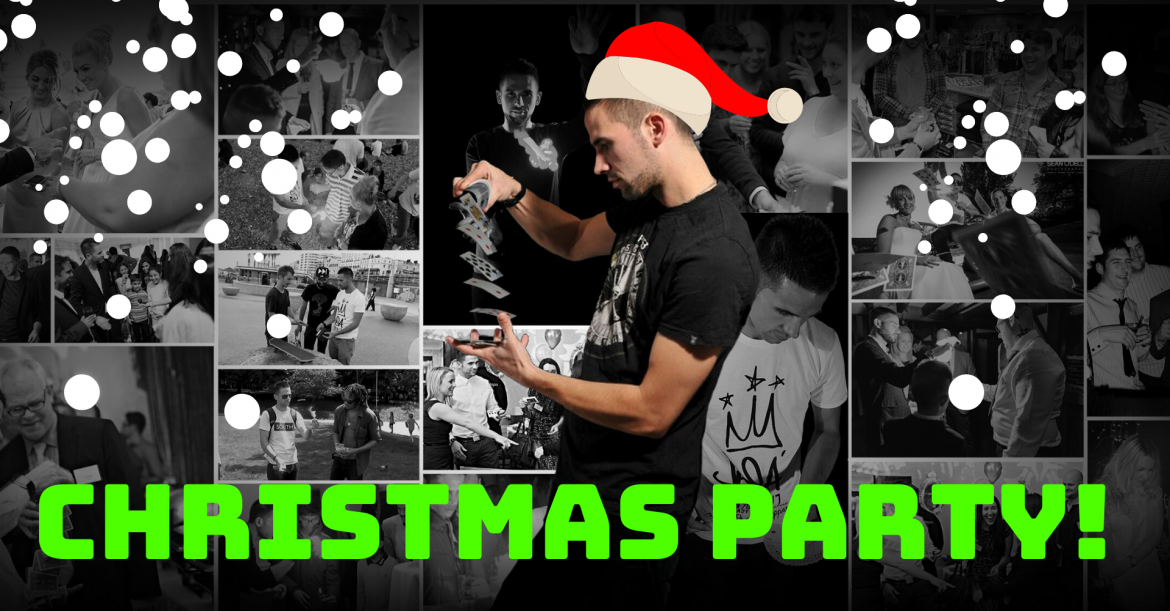 Location Sussex
Starting from £420.00
Location Sussex
Starting from £420.00
Introduction
Get a feel for them
Intro
DATES STILL AVAILABLE FOR 2019 & 2020 - Give Your Guests The Gift Of MAGIC This Year!
Here Comes Modern Magic In Your Hands... FREESTYLE MAGIC! - As Seen On Britains Got Talent!
"I'm going to go against my better nature and say YES to a magician!" - Amanda Holden, Britain's Got Talent Judge
With Alex You Can Expect a Unique Style of Street Magic That Packs a Punch!
Pickpocketing
FIRE!
Watch Stealing
SMOKE!
Mind Reading
Visual Street Magic
Magic With Borrowed Items From Your Guests
Impossible Feats Of Close-up Magic
Perfect for 'Mix N Mingle' - Weddings - Parties and Business Events.
Your guests will be coming up to you all night congratulating you on booking such amazing entertainment and asking where you found him!
37 reviews
Alex The Magician
Number of Reviews and Counting... 37!
A new breed of magician with over 15 years experience, Alex is a rising star who's developed his own brand of 'freestyle magic' - organic magic with everyday items borrowed from your guests.

South East based magician Alex is of a new school of entertainment, pushing through his own unique brand of freestyle magic - astounding close-up magic with common, everyday objects performed in a spontaneous and casual manner.
WHAT IS FREESTYLE MAGIC?
"It's a blend of mind reading, street magic and pure madness!"
With Alex you can expect modern and creative Magic that happens in YOUR hands, often with YOUR items. Forget wands and coloured scarves, Alex believes audiences are more sophisticated and deserve the very best in the art of cutting edge close-up magic. IT'S LIKE IMPROV OR 'JAZZ MAGIC'.
Most tricks are performed with objects that are already lying around or on your guest's person such as coins, rings, cutlery, watches, driving licences, cigarettes, salt shakers , keys etc - You can even bring your own pack of playing cards along. This makes the magic more memorable as it connects with the spectators and feels more "in the moment" and personal. Your special day will be talked about for many years to come.
Add a touch of freestyle magic to your:
Wedding day
Birthday
Corporate event
Social and promotional events
TV/Media production
Restaurants and bars
Celebrity events & Shop/product launches
Daniel Prince - JKH Drainage Units Limited

, Corporate, Riverside Hotel, Suffolk
Alex made for a great ice breaker, he was well dressed and got everyone talking.
---
Francesca Coysh - Q3

, Corporate, Doubletree Hilton, London
Alex was hugely popular at our staff summer event and really wowed everyone with his magic. He was absolutely brilliant. I couldn't recommend him highly enough.
---
Marina Sotiriou

, Birthday Party, London
Alex was fantastic and it was very easy to book.
---
Colin Charles

, Birthday Party, Surrey
Alex was excellent - his magic definitely had the 'wow' factor. He delivers in an understated style which works really well too. ALL of our guests were impressed - even the cynics!!
---
Adam Stephens

, Birthday Party, London
I found Alex personable, flexible, and easy to deal with. His magic was excellent and I still don't know how he did it.
---
Kelly Thomas

, Wedding, Rookery Manor Hotel & Spa, Somerset, Somerset
Alex is an incredibly talented guy with a great personality! His tricks were extremely impressive and a lot of fun - there were certainly plenty of "ooooh's", "aaaahhh's" and "woooow's" to be heard! He was fantastic at circulating round our guests and making sure everyone got to see his magic, and he helped to make our wedding day very special! We would recommend him in a heartbeat and will certainly book him for any grand occasions we have in the future! Thank you very, very much for a wonderful act :)
---
Martin Pite - Tapsells Ltd

, Corporate, Sussex
Amazing close up magic. Alex kept our small group very entertained and left all in a state of awe and some confusion! Highly recommended.
---
Amy Jennings - SSE Electricity Limited

, Corporate, Gaiety Bar, Portsmouth, Hampshire
We hired Alex for a work do for c. 100 people. Alex's magic was like nothing I'd ever seen; so clever and modern. Was very impressed with his skill. Close up there was no way you could tell how he'd done what he did. He got everyone watching involved. Awesome.
---
Lindsay Chapman

, Wedding, Langshott Manor, West Sussex
Unbelievable act!! He was the talk of the day!! Guests loved him and he was the perfect entertainment for our wedding. Thank you so much, Alex. ;)
---
Gaelle Misson

, Wedding, Somerset
Alex was absolutely brilliant! Professional, polite and entertained all our guests from 5-80! I would definitely recommend him.
---
Lisa Whitelam

, Wedding, The View Hotel, Eastbourne, East Sussex
Alex was amazing and we were astounded by his work. Our guests thoroughly enjoyed him and are still talking about him now. Well done Alex!
---
Chris Monks

, Birthday Party, Silverwing Sailing Club, Surrey
Absolutely brilliant magician. Lovely guy who knew exactly how to interact with small groups of people.
---
Victoria Haigh

, Wedding, Devon
Thanks so much Alex for entertaining the guests at our wedding. We hadn't told many guests we were having a magician which made it all the more exciting when someone casually came up to them and started doing all these amazing tricks. Definitely one of the highlights! Alex was reliable, blended in but wowed everyone with his great card and disappearing acts. Thanks so much Alex!
---
Sheree Walker

, Other, York Racecourse, Yorkshire
Alex was amazing, he dazzled us with his fantastic magic and I would certainly not hesitate in booking him again. Thank you Alex.
---
Sally Norman

, Private Party, Rockley Manor, Wiltshire
Excellent!!
---
Tim Sinclair-Wilson

, Birthday Party, Avington Park, Hampshire
Five Stars.
---
Bruce Milton

, Wedding, Wickwoods Country Club and Spa, West Sussex
Alex was totally amazing and left all our guests totally mystified and astounded. He took our Daughter and Son in Law's wedding day to a more fantastic level. So glad we booked him and would recommend him to anyone. Many thanks Alex.
---
Alex Green

, Birthday Party, Hertfordshire
Lively event and guests thoroughly enjoyed his tricks and delivery.
---
Lucy Wood

, Wedding, Larmer Tree Gardens, Wiltshire, Wiltshire
Alex was absolutely brilliant from start to finish. He amazed all our guests with incredible magic and wasn't shy to get involved. Even now, everyone is still talking about how good he was and how much he added to the whole wedding experience. We would recommend him to everyone!
---
Jan Harris

, Private Party, Hertfordshire
Alex was amazing and all our guests were more than impressed and his tricks continued to be the highlight of the evening. Professional, friendly and talented. Highly recommend!!!
---
Amanda Martinez

, Wedding, Brocket Hall, Hertfordshire
He was brilliant!! Honestly do not know how he performed those tricks! All our guests were so impressed. Thank you so much! Highly recommended.
---
Karen Rees

, Other, Hastings Pier, East Sussex
Alex was prompt, polite and a huge hit with our guests. We would definitely recommend him.
---
Andrew Osmer

, Birthday Party, New Romney Station on the Romney Hythe & Dymchurch Railway, Kent
Alex was great, a very talented magician. I have no hesitation to recommend him and would definitely book him again for another function. Alex got on well with all of my guests at my 30th Birthday celebration.
---
Garrett Hill

, University / School, Essex
Absolutely fantastic! Would definitely have Alex again! I booked Alex for the a students awards evening at a college and today the students haven't stopped talking about how amazing his tricks were! He was one of the highlights of the evening and I would highly recommend him!
---
Shana Joris

, Wedding, London
What a hit Alex was at our wedding! Soooooo entertaining with magic tricks to leave you baffled and entertained for hours, no one could get enough of him. Plus the fact that Alex is just such a kind and likeable character, it was such a pleasure to have him at our wedding and he was so easy going and kind. Arrived and waited for the speeches to be over (we hadn't timed anything right!) and stayed the extra time and over to entertain us. What a wonderful man and magician, thank you so much. You added to the magic of my special day :)
---
Miss Drew Morten - Ministry of Sound

, Corporate, London
This is the second time we have hired Alex, and he was amazing as always. Definitely the talking point of the staff party!
---
Allison Robertson

, Wedding, Kent
Cannot rate Alex highly enough. He was polite, charming and a fantastic magician who had everyone - kids and adults - spellbound and talking for day's after. My son's have asked that we book him again for their birthdays! I would thorough recommend him to anyone for any occasion.
---
Hannah Gilligan

, Wedding, Suffolk
All of our guests were really impressed by Alex the Magician. Thanks so much!
---
James Ellwood

, Wedding, West Sussex
Alex was absolutely brilliant. Our guests and ourselves were absolutely amazed at how talented and clever he is. We were all absolutely astounded by his tricks and how unique they were. We wouldn't hesitate to hire him again and will recommend him to anyone. On a personal note we found Alex to be very professional and was nothing was too much trouble for him to make our day very special.
---
Rebecca Willoughby

, Wedding, Hampshire
Absolutely fantastic, turned up on time and amazed our wedding guests with his act. I would really recommend Alex the Magician to anyone interested in leaving a lasting impression. The tricks he did will be talked about for weeks. I would not hesitate to hire him again for future partys and events.
---
Mel Perry

, Birthday Party, East Sussex
Alex was fantastic - just awesome! His tricks were amazing and impressed even the hardened sceptics! He fit in really well with the party guests and he worked he room brilliantly. Alex has a lovely nature and was just a really nice bloke to have at our event. He was a consummate professional without being all corporate, which was definitely not the vibe we were going for. I would recommend Alex to anyone wanting to supplement a special occasion - everyone said he made the evening just that much more magic!!!! Many thanks and well done.
---
Sam Maynard

, Wedding, Suffolk
Alex was fantastic!!! All our wedding guests were so amazed and impressed with all the tricks. Alex was able to interact and entertain our guests of all ages, from 3 to 93 years old. Alex arrived promptly at the venue and was professional and friendly. We would highly recommend Alex to make your party that little bit more special.
---
Ivy Sharp

, Private Party, Kent
We were all enthralled by Alex - he has a good range of tricks and people will be talking about how they were amazed by him, for a long time to come. He was very patient - one of our party has autism and she took a shine to him so was following him everywhere and wanting to be his assistant! Alex managed very well. He also spent individual time with our grandson, as he is very keen on magic, teaching him some tricks - that was very thoughtful of him and our grandson was thrilled.
---
Alexandra Martin - CPI

, Corporate, Berkshire
Alex the Magician really made our Christmas party. His skills dazzled us and he was great entertainment, all of our employees thoroughly enjoyed his magic and were all talking about it the following week. Please pass on our thanks to Alex.
---
Mark Davies & Melanie Davies

, Birthday Party, Sussex
Alex was a fabulous enhancement to our party, our guests were highly entertained by his act, we had great feedback and would thoroughly recommend him.
---
Tony Cox

, Birthday Party, Hampshire
He has a good sense of humour and fitted my party perfectly. My guests were impressed and we all enjoyed his performance. His "magic" left us guessing.
---
Deana Shadbolt

, Birthday Party, London
Alex was great, we had a party of 25 and all of the guests commented on his act! It was a highlight of the evening and caused much clapping, laughing and fun amongst the tables. Alex had a great sense of the group dynamics, he was engaging and inclusive of all guests!!
---
American Express
Mini
TSL ondon Zoo
Nikki Beach Marbella
Hilton Hotels
Desperados Tequila
The Tower of London
Ministry of Sound
ITV
Heineken
Capitol One
What kind of magic will you do?
I perform modern close-up street magic with items borrowed from your guests. I also perform magic with iPhones, playing cards & coins. Some of the magic also incorporates fire and smoke which really captures the interest of your guests.
I have a mixture of adults and kids going to my party/event do you have something for everyone?
My magic is mostly aimed at adults but I sure do have a few amazing tricks that will be sure to keep the kids baffled!
How long would you recommend having a magician?
In my experience of performing over 15 years I would say that if you are having under 80 people attending your event then 1 hour is enough for me to circulate. Any number of guests between 80 - 200 then 2 hours would be enough and above 200 guests I would recommend a 3 hour set or booking more than 1 magician.
My venue requires Public liabilty insurance. Do you have it?
Yes I am insured by Equity for up to £10,000,000 and can provide the document prior to attending.
Set price for 1 hour, a discount price for 2 hours and a special price for 3 hours+
Please Note: The fees indicated below are approximate and based on a central location for each county. They are intended to provide a rough guide only and exact quotes can only be given once the date and exact location of your event have been provided.
Scotland
Aberdeen
£900.00
Inverness
£900.00
Perth
£900.00
Sutherland
£900.00
Ayrshire
£900.00
Fife
£900.00
Stirlingshire
£900.00
West Lothian
£900.00
Dumfries-shire
£900.00
East Lothian
£900.00
Lanarkshire
£900.00
Midlothian
£900.00
Glasgow
£900.00
Edinburgh
£900.00
Dundee
£900.00
Foreign Locations
Europe
£1,200.00
Rest of the world
£1,800.00
North East
Durham
£900.00
Northumberland
£900.00
North Yorkshire
£900.00
South Yorkshire
£900.00
Tyne and Wear
£900.00
West Yorkshire
£900.00
Yorkshire
£900.00
East Yorkshire
£900.00
Leeds
£900.00
North West
Cheshire
£840.00
Cumbria
£840.00
Manchester
£720.00
Lancashire
£720.00
Merseyside
£720.00
Liverpool
£720.00
East Midlands
Derbyshire
£720.00
Leicestershire
£720.00
Lincolnshire
£720.00
Northamptonshire
£720.00
Nottinghamshire
£720.00
Rutland
£720.00
East
Cambridgeshire
£600.00
Norfolk
£600.00
Suffolk
£600.00
Norwich
£600.00
Wales
Anglesey
£720.00
Caernarvonshire
£720.00
Denbigh
£720.00
Flint
£720.00
Cardigan
£720.00
Brecon
£720.00
Carmarthen
£720.00
Glamorgan
£720.00
Monmouth
£720.00
Pembroke
£720.00
Wrexham
£720.00
Cardiff
£720.00
West Midlands
Gloucestershire
£600.00
Herefordshire
£600.00
Shropshire
£600.00
Staffordshire
£600.00
Warwickshire
£600.00
Worcestershire
£600.00
Birmingham
£600.00
South East
Bedfordshire
£480.00
Berkshire
£480.00
Buckinghamshire
£480.00
East Sussex
£480.00
Essex
£480.00
Hampshire
£480.00
Hertfordshire
£480.00
Isle of Wight
£480.00
Kent
£480.00
Oxfordshire
£480.00
Surrey
£480.00
Sussex
£420.00
West Sussex
£420.00
London
£480.00
Middlesex
£480.00
South West
Cornwall
£600.00
Devon
£600.00
Dorset
£600.00
Somerset
£600.00
Wiltshire
£600.00
Bath
£600.00
Bristol
£600.00
You may also like
Customers who have enquired for Alex The Magician have also been interested in the following Magicians who are also available in Brighton, East Sussex and in the South East of England. For more information or further options, please call 0845 643 9384.