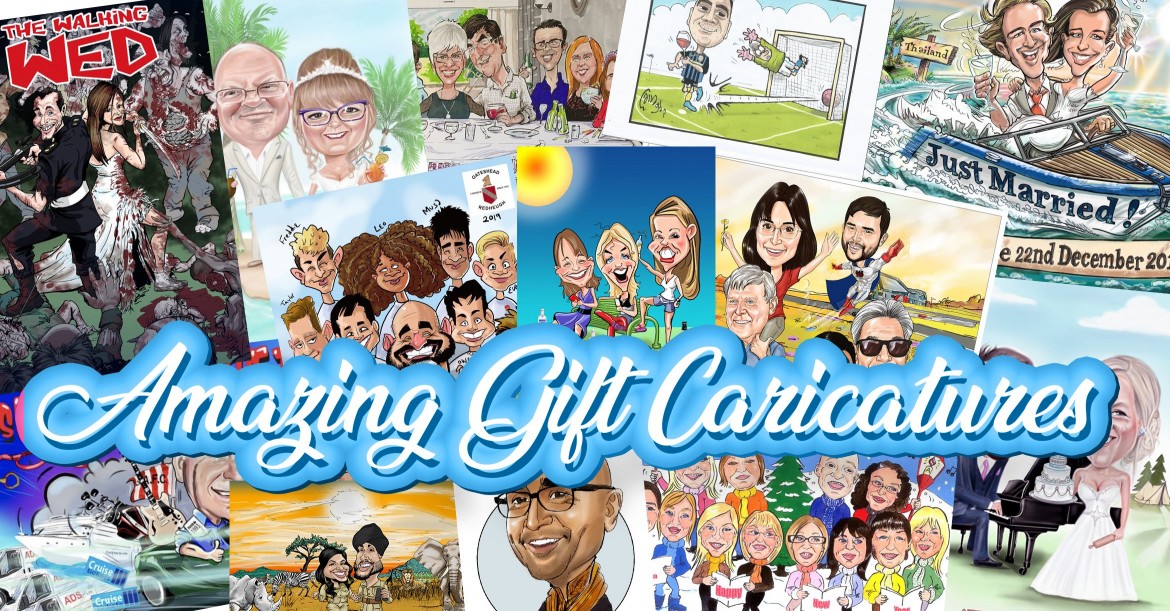 Location UK Wide
Starting from £25.00

Bring a smile to a loved ones face with a fantastic personalised Caricature!
Whether you want to mark a special occasion like a retirement, engagement or birthday or just want a unique and fun gift, you can have your idea drawn by one of Warble's fantastically talented Caricaturists.
Number of Reviews and Counting... 1!
How do I get my Caricature?
Easy! Just contact Warble by pressing the Make Enquiry button above and provide an outline of what you are looking for - you can even use the date to tell us when you'd need the finshed drawing by. We'll then send you a price by some of our caricaturists to complete your work.
OK, So I know who I would like to complete my drawing... what next?
We'll take a deposit payment and then you'll need to send a couple of good quality images of the person/persons to your artist and you can also chat to them at this stage to ensure that you have some of the finer details covered.
How long does it take?
This depends on the requirements but even for the most complex caricatures, you could have it finished and with you in a couple of weeks. Some simpler ones can be drawn much quicker.
Does it come framed?
How you recieve your caricature is up to you. You can have it emailed across for printing at home or using for personalised gifts like mugs or t-shirts. If you want the caricature sending via post, this is an option and many caricaturists offer a framing service too so just let us know your requirements.
Lorna West

, Other, Leicestershire
What a great surprise for our Mum's 60th! I told Warble what we were looking for - we weren't the easiest customer as we wanted animal themed and Northern soul! Within a day, I had spoken to our chosen Caricaturist and discussed ideas for it. We got a full colour image, framed and sent within a week, with progress updates as it was being drawn. Absolutely perfect and we can't wait to gift it to Mum next week.
---
Warble's Caricaturists have drawn for a number of leading companies such as
Amazon
BBC
BP
Sky
Skoda
Mercedes-Benz
Asda
Tesco
Santander
Natwest
AEG
LVG
And many more...
Please Note: The fees indicated below are approximate and based on a central location for each county. They are intended to provide a rough guide only and exact quotes can only be given once the date and exact location of your event have been provided.
Scotland
Aberdeen
£25.00
Inverness
£25.00
Perth
£25.00
Sutherland
£25.00
Ayrshire
£25.00
Fife
£25.00
Stirlingshire
£25.00
West Lothian
£25.00
Dumfries-shire
£25.00
East Lothian
£25.00
Lanarkshire
£25.00
Midlothian
£25.00
Glasgow
£25.00
Edinburgh
£25.00
Dundee
£25.00
Foreign Locations
Europe
£25.00
Rest of the world
£25.00
North East
Durham
£25.00
Northumberland
£25.00
North Yorkshire
£25.00
South Yorkshire
£25.00
Tyne and Wear
£25.00
West Yorkshire
£25.00
Yorkshire
£25.00
East Yorkshire
£25.00
Leeds
£25.00
North West
Cheshire
£25.00
Cumbria
£25.00
Manchester
£25.00
Lancashire
£25.00
Merseyside
£25.00
Liverpool
£25.00
East Midlands
Derbyshire
£25.00
Leicestershire
£25.00
Lincolnshire
£25.00
Northamptonshire
£25.00
Nottinghamshire
£25.00
Rutland
£25.00
East
Cambridgeshire
£25.00
Norfolk
£25.00
Suffolk
£25.00
Norwich
£25.00
Wales
Anglesey
£25.00
Caernarvonshire
£25.00
Denbigh
£25.00
Flint
£25.00
Cardigan
£25.00
Brecon
£25.00
Carmarthen
£25.00
Glamorgan
£25.00
Monmouth
£25.00
Pembroke
£25.00
Wrexham
£25.00
Cardiff
£25.00
West Midlands
Gloucestershire
£25.00
Herefordshire
£25.00
Shropshire
£25.00
Staffordshire
£25.00
Warwickshire
£25.00
Worcestershire
£25.00
Birmingham
£25.00
South East
Bedfordshire
£25.00
Berkshire
£25.00
Buckinghamshire
£25.00
East Sussex
£25.00
Essex
£25.00
Hampshire
£25.00
Hertfordshire
£25.00
Isle of Wight
£25.00
Kent
£25.00
Oxfordshire
£25.00
Surrey
£25.00
Sussex
£25.00
West Sussex
£25.00
London
£25.00
Middlesex
£25.00
South West
Cornwall
£25.00
Devon
£25.00
Dorset
£25.00
Somerset
£25.00
Wiltshire
£25.00
Bath
£25.00
Bristol
£25.00