Emma & Anthony met on a night out with each of their friends and 3 and a half years on, they were engaged to marry after Anthony proposed under their washing line at home. Just over a year later, with the help of friends, family and the trusted app that is Pinterest, the gorgeous pair celebrated their love at the stunning country manor house, Highly Manor in West Sussex. The wedding was captured wonderfully by their close friend 'James Morris' and the night was topped off by one of Warble's most popular bands 'Anthem'. So, without further ado, we'll pass you over to the newly weds so they can tell you all about their special day.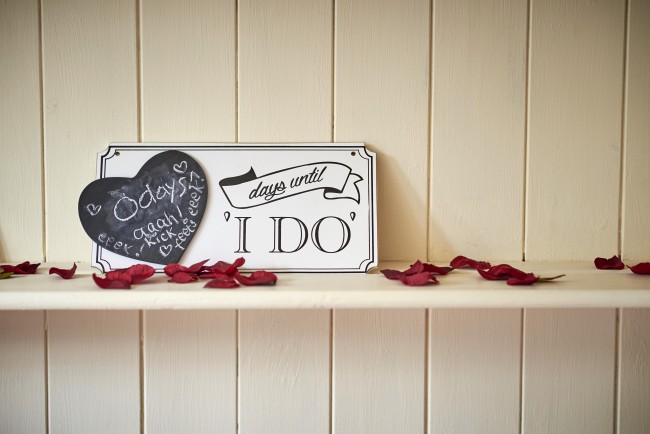 Tell Us A Bit About Yourselves
Anthony and I met on a night out with friends. We weren't on a night out together but just happened to meet… There was an immediate spark. I suppose Rugby was the common interest to begin with, Anthony was born in South Africa and my youngest brother at the time was trialling for England Rugby. Our first date was dinner and a movie. We both live hectic lives as both work in sales, so quality time is important to us and I think this is why we work.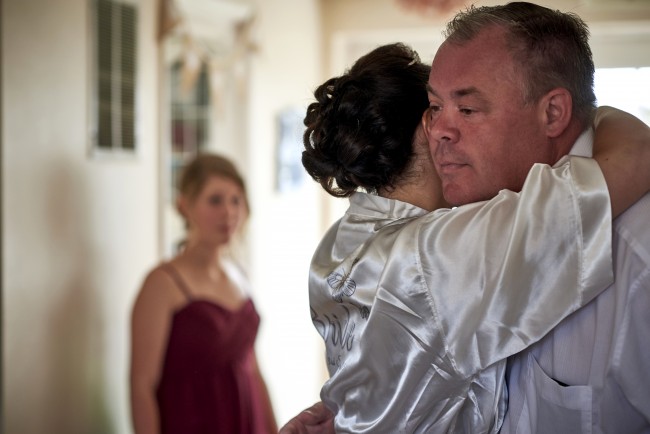 The Proposal
We had been together 3 and a half years before we got engaged. Although we didn't always talk about getting married, we both knew that we would be together always. We got engaged in February 2014 – I'll never forget the dates as it was Ant's birthday – My birthday is 4 days before and I had just turned 30. I did have a brief moment of wonder, as ants mum had text me in the lead up to my birthday saying she was looking at Pandora rings for me and wanted my ring size. Clever as she knows I love Pandora but I quickly moved away from that thought as we hadn't discussed getting married really. We celebrated my birthday with family and friends with a murder mystery set in the roaring 20's, then came Anthony's birthday. We had planned to go to Ant's parents for the day but just before, I was hanging up the washing, turned around and there he was, on the floor, on one knee. I couldn't believe my eyes. I asked what he was doing and he followed with a 'Will You Marry Me'? I of course said yes which was followed by lots of laughter, tears and my brother bursting in to ask what my answer was… He knew all along after Ant had asked for his permission.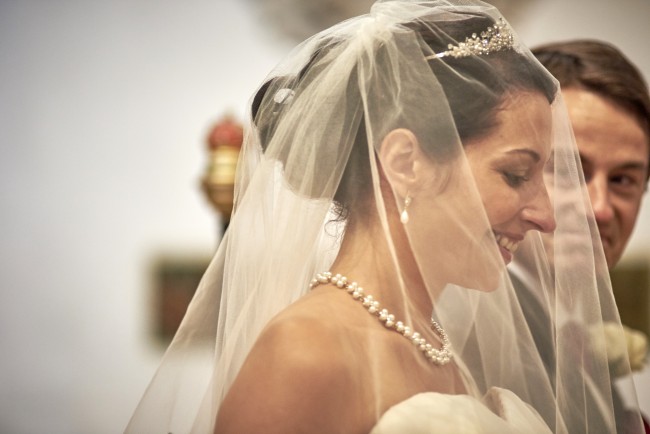 So You Said Yes, What Happened Next?
I was not a girl who had dreamed about how her wedding would be, so I had no idea where to start. We both agreed that a church wedding was exactly what we wanted as both our families are Church of England, so that was easy. It only transpired later that the church we were to marry in could possibly have belonged to Ant's ancestors! Having been passed down from William the Conquer, to his cousin William De Warrene – 'Warren' is our last name and the Warren Coat of Arms is depicted in the church window. We are yet to look into the family tree so we will see.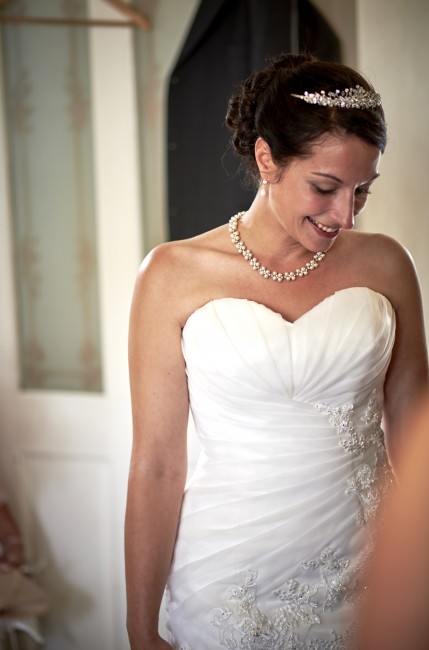 The Venue
We viewed 3 venues and both fell in love with Highly Manor in West Sussex. It was close to us and had a real traditional country feel, with exclusive use and 19 rooms it meant our friends and family could stay with us. Not to mention catering for our every need and the food was incredible too. We chose a traditional 3 course meal, Smoked Salmon Gateaux to start, Chicken and Chorizo as our main and a Chocolate Box for dessert.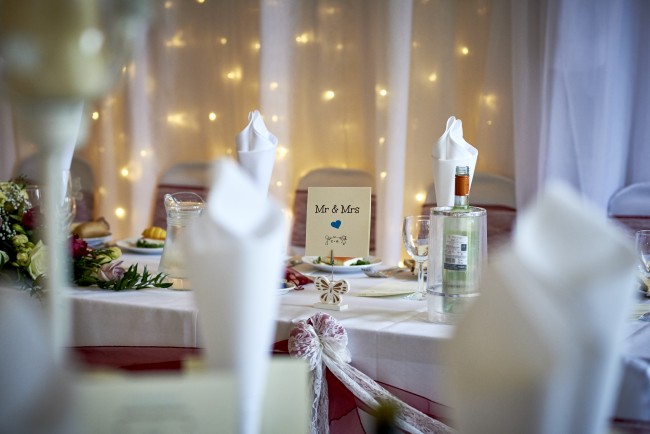 The Decor
Having spent month's Googling ideas for themes, we decided on a rustic theme with our own twists on the décor. Pinterest was great for this and turned out to be my best friend during the wedding planning, as well as my bridesmaids of course. Myself and Ant's Mum did all the décor ourselves, buying the decorations throughout the year. We knew what we wanted and using Pinterest helped us keep the cost down too. The top table back drop and chair covers were from 'All Blewn Up' who were fab.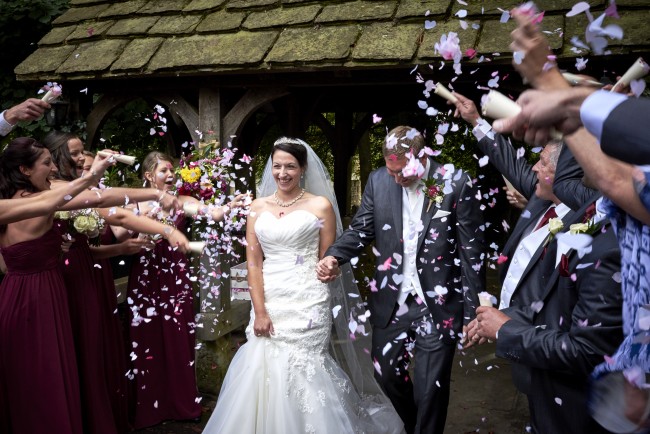 The Dress
The dress was not as difficult as I thought. I was recommended 'Proposals' in Crawley by my Maid of Honour and they were amazing. On the morning of my first appointment they called and almost gave me a telephone interview, asking for my body shape, if I had any dresses in mind and what styles I didn't like. My Mum and I went to the store that afternoon and they picked out a dress in the style that I thought I had no hope with… The fishtail. The dress was beautiful I fell in love with it. Zara, who helped me, explained that this dress would suit me and when I tried it on I instantly knew that this was my dress. Viv and her team are just brilliant!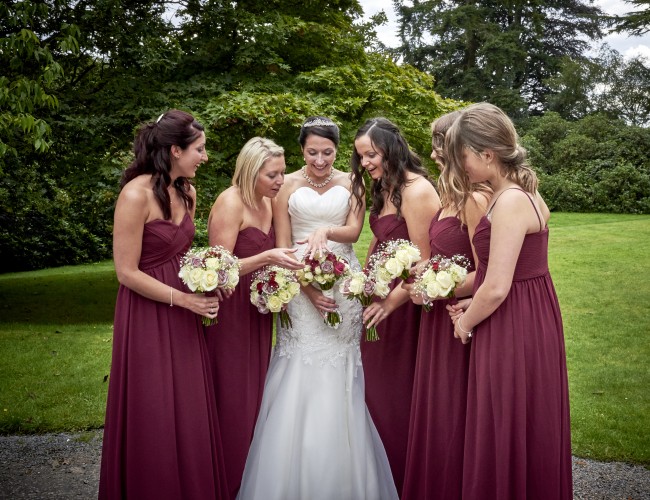 The Suits
We attended lots of wedding fairs but the Amex in Brighton is where we met Adrian, from 'Dickies of Hove', which is where we decided for the suits. We had ushers coming from Wales and Australia and our Best Man from South Africa but they weren't going to be here until a week before the wedding. This was no problem for Dickies, everything about the suits were perfect.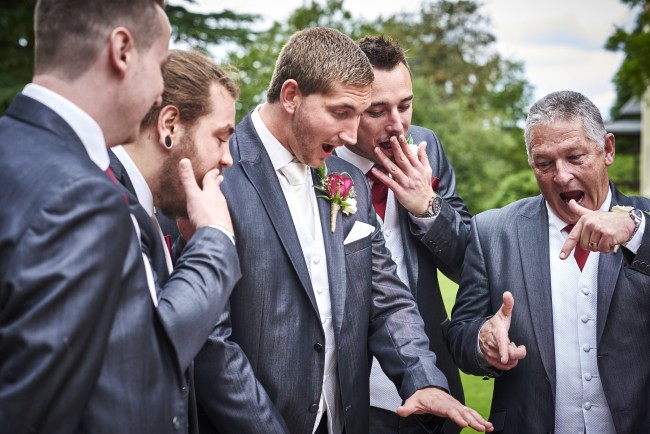 The Flowers
Our flowers were by a friend of my mum's 'Jane Godsmark'. It was a no brainer to use her really and I could not have asked for better flowers. Jane listened to what I wanted and made suggestions too… The colours we had went with our theme, dusky pink roses from Columbia and Cream Roses and Burgundy Roses added for the Bridesmaids to match their dresses. She was even there when there was a last minute hick up with the table flowers, Jane came to the rescue for me and was amazing.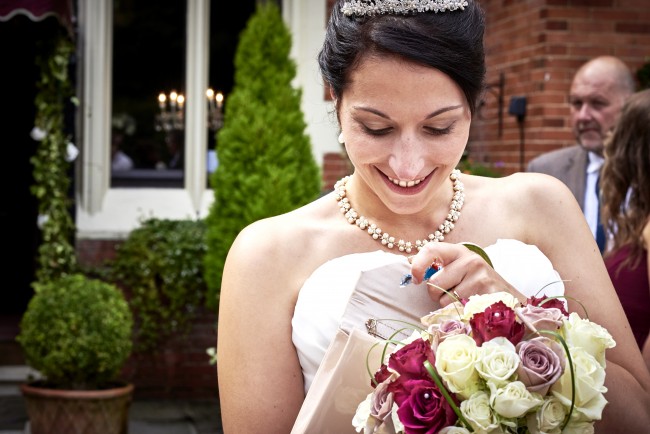 The Entertainment
We toyed between having a band or a DJ but the easiest part of the planning was finding the band. After looking on Google and reading reviews we came across 'Anthem' and just decided that this was the band we wanted. They seemed to offer everything we were looking for so we contacted Warble and within 24 hours we had the band confirmed. It was the easiest booking process and Sam answered all our questions. She arranged for the band to make contact the week before to check times and any song requests and to re-confirm our first dance. 'Anthem' were brilliant, every single one of our guests said how great they were and will definitely recommend them to anyone.
The day itself was just fantastic, Igor and his team at Highly Manor ensured that the day went smoothly. We had all our family and closest friends and although the day went quickly, it was magical and perfect in every way. I suppose this is all down to all of our fantastic suppliers who made sure our day ran smoothly.
The Links
Photographer – James Morris Photography
Venue – Highly Manor
Decor – All Blewn Up
Dress – Proposals
Suits – Dickies of Hove
The Flowers – Jane Godsmark
Entertainment – Anthem, Warble Entertainment
The Gallery
Published by Warble Entertainment