Rebecca and Neil booked The Kickstarts and Alastair Plays Sax as their entertainment for the day at Hill Bark Hotel in Frankby and have kindly shared their highlights along with great planning tips and advice for other couples.
What was your best single moment of the whole day?
Rebecca: Arriving at the Church was amazing, walking in and seeing such a packed church all to come and see us was such a nice feeling.

Neil: Walking in for the Wedding Breakfast with everyone on their feet applauding, I felt pretty important!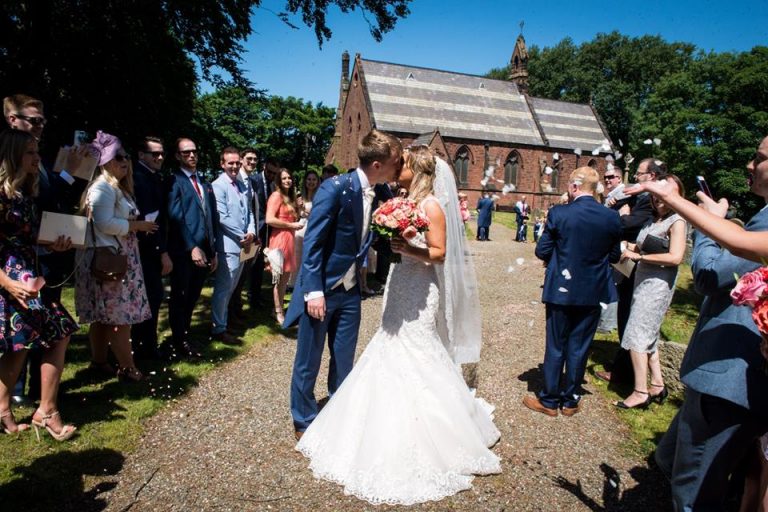 Why did you pick your venue?
Rebecca: Hill Bark had always been my dream venue from when I was little so there was never really any competition.  As soon as I was engaged it was the first place I rang up to visit.

Neil: Hill Bark is the best venue on the Wirral, it was just a question of which weekend they had free.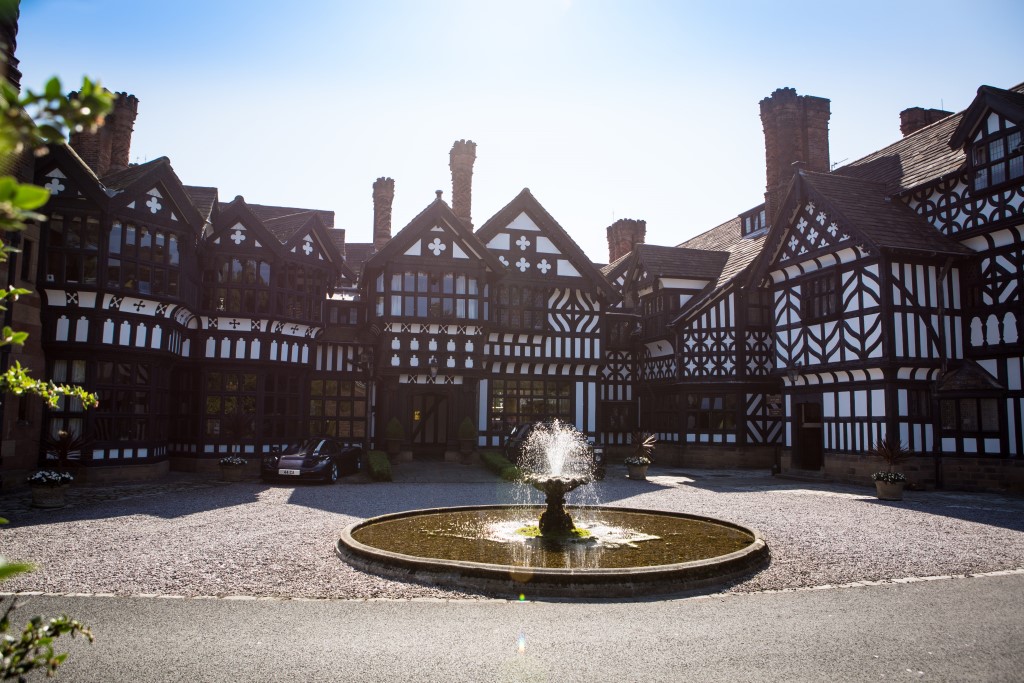 Did you have a specific style or theme for your big day?
Rebecca: We didn't really have a specific theme, but I wanted it to be bright and colourful.  I love summer so to have our wedding in June and for it to be on the hottest weekend of the year was just perfect.  All our wedding colours were bright corals, mint and gold which looked so lovely in the sun.  My dress and the bridesmaid's dresses were all from Bespoke Brides in Mollington. They looked perfect for the sunny day we had and made me feel like a princess.

Neil: We went with traditional tales and cravats for the guys, we looked pretty good! The girls looked amazing in coral.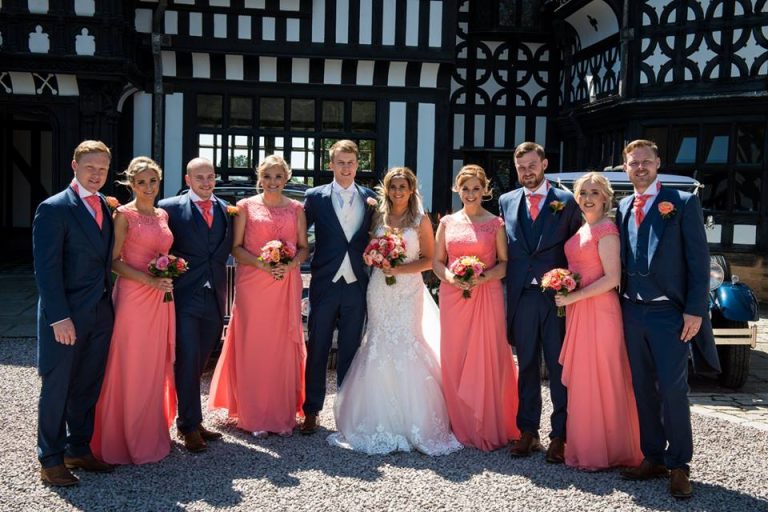 How did you hear about the act?
Rebecca: We spent ages looking online at different acts, Neil loves music and the music at the wedding was the one thing he wanted control of.  As soon as he heard the lead singers voice of The Kickstarts they were always going to be our first choice.  I also always wanted to have a saxophonist for a summer wedding and when I heard Alastair's set list it sounded amazing, so we had to have him for the drinks reception.

Neil: I listened to loads of bands looking for a really strong voiced front man, and when I heard The Kickstarts I absolutely loved them. Alastair was a perfect fit for the reception, very current but very relaxing and really easy to listen to.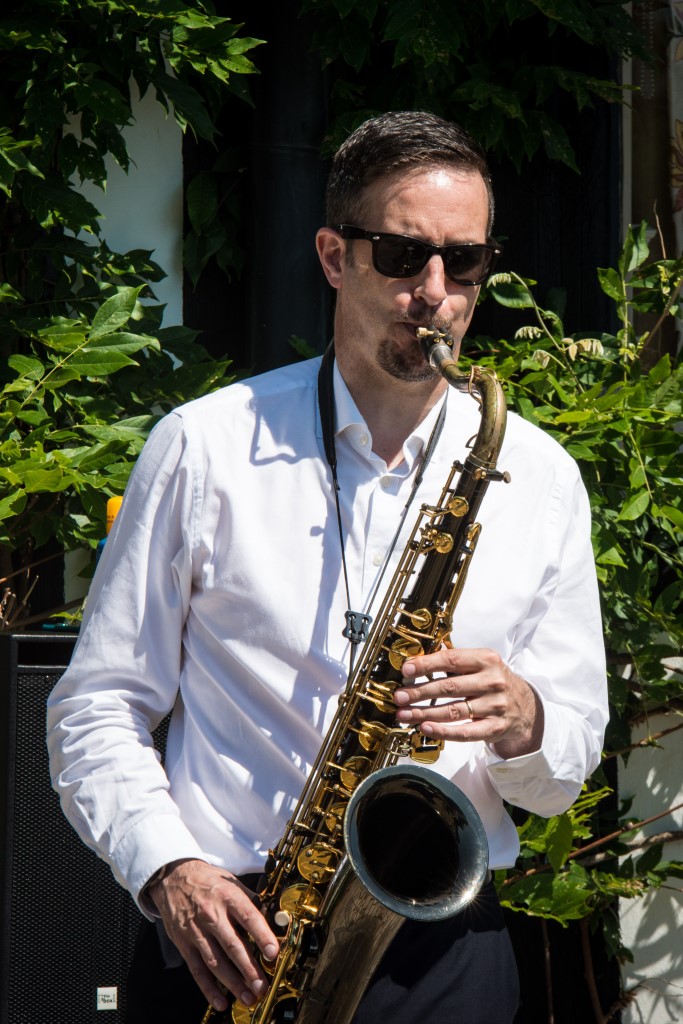 What did they bring to your day?
Rebecca: The Kickstarts were perfect for our wedding, all we ever wanted for our evening was a full dancefloor with everyone having fun.  The band made sure the party went on all night, the dancefloor was full all night and everyone told us they were the best band they had heard.  I couldn't have asked for a better band for our wedding and will remember it forever.  Alastair the Saxophonist was perfect for our drinks reception; it was the best accompaniment to a summer wedding sitting out in the sun.  I always wanted something slightly different and always loved the sound of a saxophone.  It went down so well with the guests, some were even dancing on the patio.

Neil: The Kickstarts made the evening, they made everyone want to dance and even let me sing with them! Alastair entertained all the guests whilst we disappeared for photos, we had so much great feedback.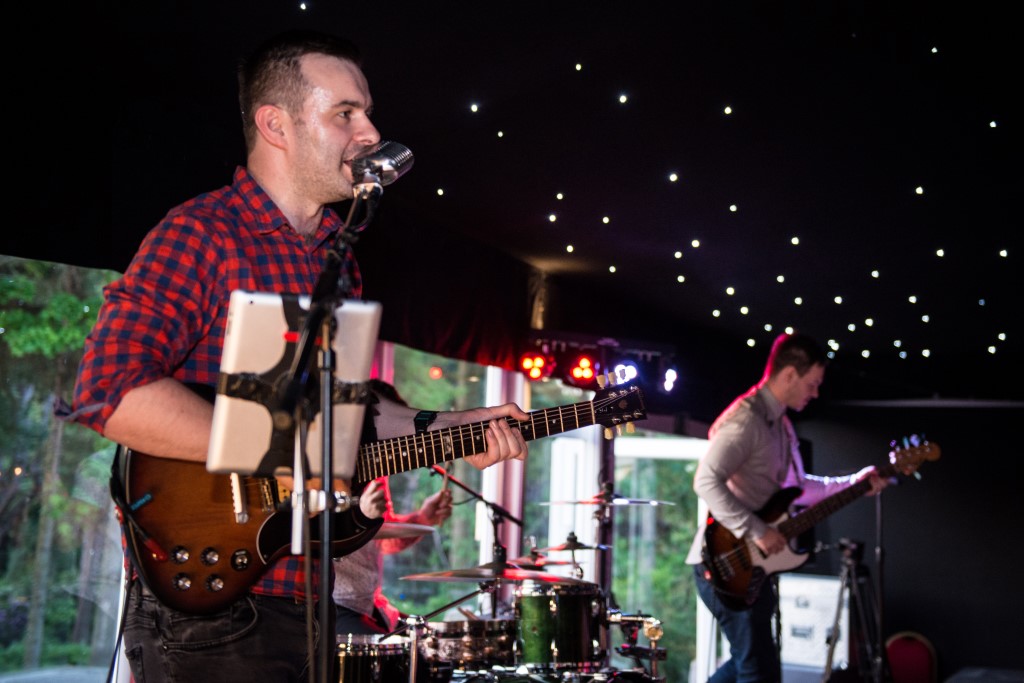 Did you have a first dance song and what was it?
Rebecca: Yes, we had Jamie Lawson 'Wasn't Expecting That'.  We knew early on this would be our first dance as the lyrics fitted so perfectly with us.  We asked the Kickstarts if they knew the song and could potentially do it for our first dance.  They knew the song but put the time in to learn it and perform it for our first dance.  We are so grateful for that as it made it so personal and unique to us.

Neil: It sounded amazing, what an amazing effort to learn the song, we are so grateful.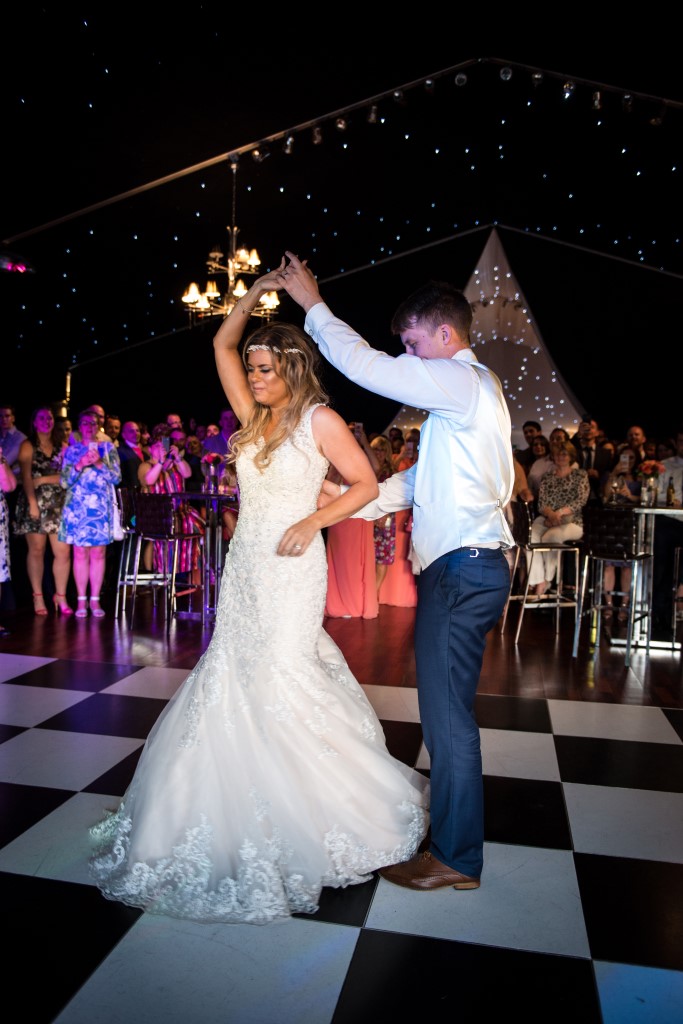 Where did you draw inspiration or find suppliers for your wedding?
Neil: I'll leave that one to Becky!

Rebecca: When we first started planning we went to a few wedding shows, we picked up a few supplier names here and then just went from there.  I spent a lot of time searching online and looking at reviews to make sure we had everything how we wanted it.  We met Keyhole Studios at our first wedding show and loved everything they did, we knew early on we wanted them involved in the wedding.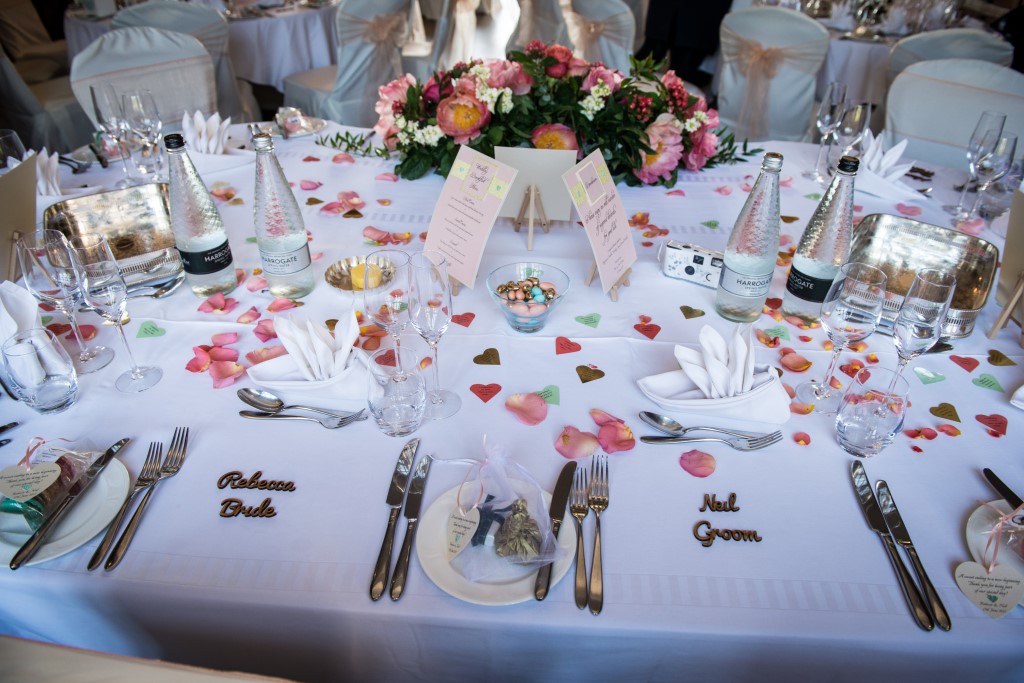 What did you think of the service provided by Warble?
Rebecca: Warble were brilliant throughout the whole process, they kept us informed and up to date and everything went perfectly on the day, so we couldn't have asked for anything more.

Neil: Great from start to finish, easy to contact and great all-round customer service.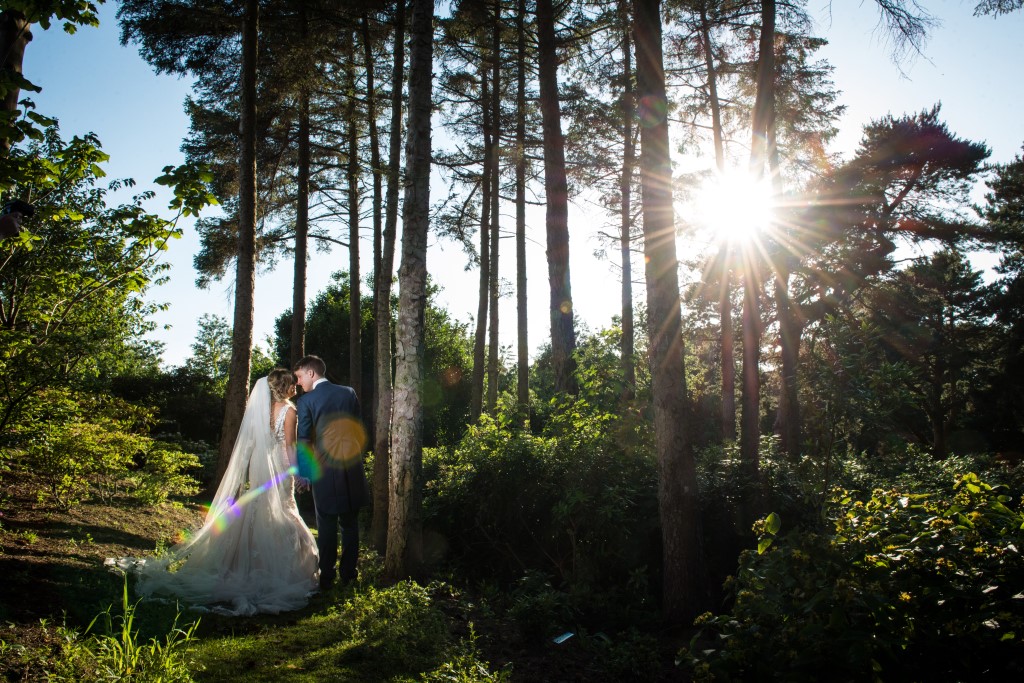 Best piece of advice for other couples planning their wedding?
Neil: Marry someone who enjoys wedding planning!

Rebecca: Plan, plan, plan.  Neil always says I go over the top and plan everything to the finest detail.  It does mean you spend a lot of time on some of the smallest things, but I am so happy I did.  The whole day ran so smoothly and all the little things I had spent a lot of time on added the extra sparkle to the day for me.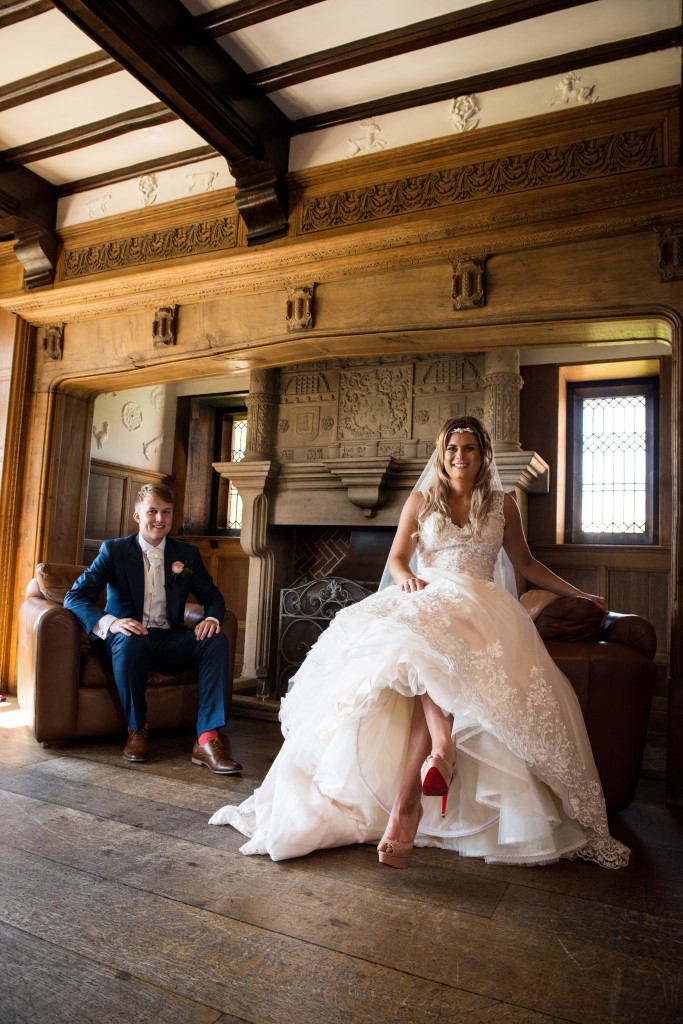 Looking back is there anything you would change?
Neil: Nothing, it went perfectly.

Rebecca: I can't think of anything and for someone who always wants everything perfect that's quite a big deal.  Everything went so perfectly; the weather was perfect, and we had everyone there who we wanted you can't ask for much more.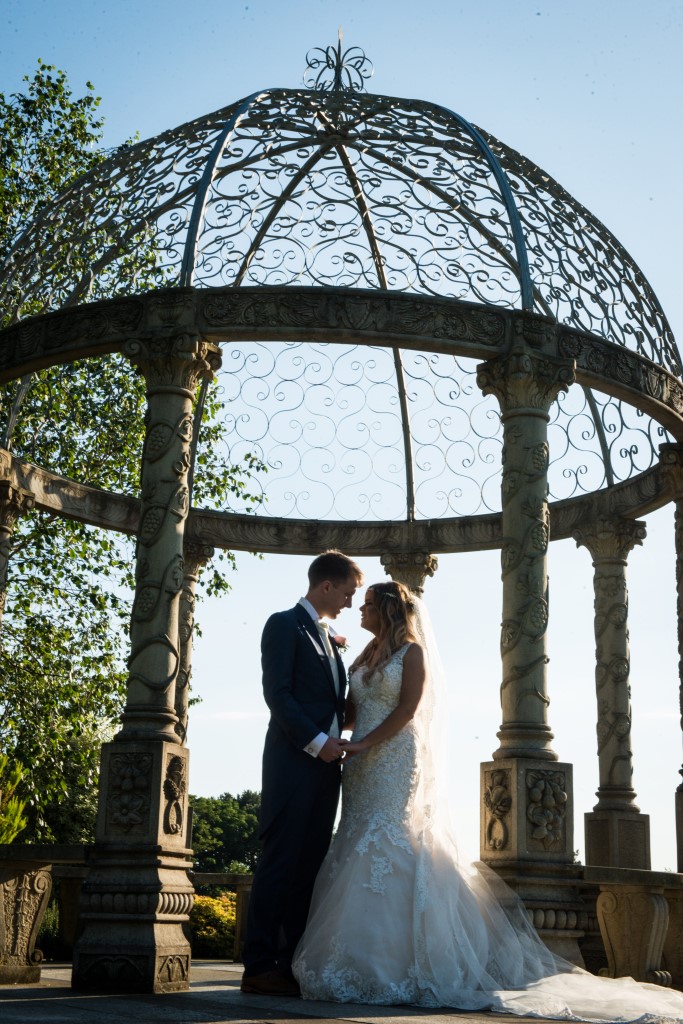 Name your favourite suppliers from the day:
Neil: Warble and Keyhole Studios were instrumental in the smooth running of the day.

Rebecca: Obviously Warble Entertainment were brilliant and set the atmosphere for the day which was great.  Keyhole Studios were our photographers and videographer; we have just got our photos and video back and they are amazing.  I would definitely recommend spending time on finding the perfect photographer for you as it's all you have to remember the day when it's all over.  Also, having the video meant we could appreciate the atmosphere and everyone having fun which was a great addition.  Keyhole also supplied a car, selfie mirror, ice cream cart, sweet cart and post box for the day.  It was great having only one company to deal with for a lot of things and they were so professional and organised throughout.  I must mention our amazing wedding cake by The Wedding Cake Shop Ltd, we had an idea of a design we wanted, and they made it perfectly. Neil has a reputation for falling asleep a lot, so you can see where we got the inspiration for it. All our friends loved it and said it was the best cake they had ever seen.  The flowers by Earth in Heswall were so beautiful and brought so much colour to the day, the top table flowers and my bouquet were amazing.  I must also mention our wedding stationary by Amy Chadwick, she was brilliant helping someone who had lots of ideas but no idea how to put them together, everything was so well coordinated on the day.

Hillbark Hotel & Spa, Frankby – Reception Venue

Earth, Heswall – Flowers

The Cake Shop Ltd, Liverpool – Wedding Cake

Bespoke Brides, Mollington – Bride & Bridesmaid Dresses

Groom, Liverpool – Groomsmen Suits

Keyhole Studios, Liverpool – Photographer & Videographer
The Kickstarts via Warble Entertainment – Band
Alastair Plays Sax via Warble Entertainment – Saxophonist

Marvellous Glow – Light Up Letters

Amy Chadwick Wedding Stationary – Stationary
Published by Warble Entertainment