Samara & Phil booked Kings Of The Dancefloor to perform at their fun-filled, sporty, farm wedding in Shrewsbury.
'They were very fun and energetic and so very helpful'
What was your best single moment of the whole day?
Samara – There was a moment when Philip and I were having photos taken near the marquee. We looked around to see everyone laughing and playing games and having so much fun and felt so proud that we had accomplished this and that it had turned out exactly how we wanted it… AND the fact we were now married.
Phil – Also watching Sammie score a beautiful four in her even more beautiful wedding dress was a highlight to me. Even if she did refuse to run!
Why did you pick your venue?
We got married in the local village church where my mother and Father and brother and sister in law got married and where my brother and I were christened, as was my nephew. For the reception we had a marquee in the middle of a field. It is my fathers farm and I grew up running around these fields, and when Philip and I first lived together we lived on the farm. If you see the views from the marquee, you will understand why it had to be the middle of that particular field.
How did you hear about the band?
Warble Entertainment, who were one of the most helpful companies to deal with!
What did Kings Of The Dancefloor bring to your day?
They were very fun and energetic and so very helpful. After they had completed their soundcheck they came to find Philip and I to say they were ready whenever we were and even helped draw people into the marquee for the first dance. They helped bring a different and real party atmosphere to the evening to round off the day.
Did you have a first dance song and what was it?
Our first dance song was Blink 182 'First Date', an acoustic version. We mentioned this to The Kings of the Dance Floor and they did the most fantastic job of slowing it right down and creating the exact mood. We couldn't have asked for better.
Where did you draw inspiration or find suppliers for your wedding?
I had a pretty set idea of what I wanted. It was to be formal on the inside of the marquee for my parents and the older generations and informal on the outside. We are a very sporty couple, Phillip with cricket and rugby and myself with Tennis. I had always dreamed of playing tennis in my wedding dress, and thought it would be amazing to look back at our pictures in 20 years to see people playing tennis and cricket in all their finery which everyone was very willing to do with an inter county (Yorkshire Vs Shropshire) cricket game even breaking out. We also had a circular seating area outside made from bales of straw and a fire pit in the middle, which proved very popular. And then one of the highlights was our labradors running around.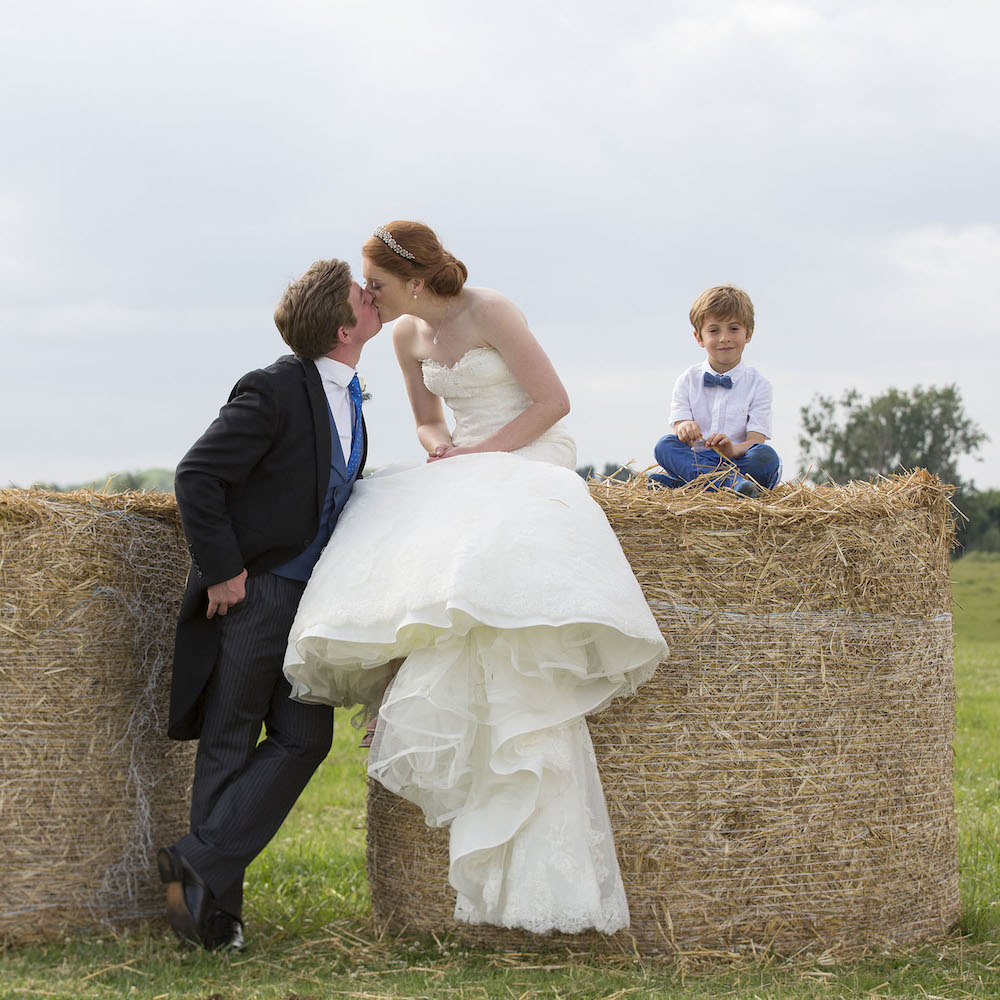 What did you think of the service provided by Warble?
Fantastic I would highly recommend them, and already have done so!
Looking back is there anything you would change?
I would of perhaps made sure that the lock to one of the fields where we had photos taken has been unlocked, so that I didn't have to climb through a fence in my dress.
Best piece of advice for other couples planning their wedding?
Samara – Make sure you enjoy the planning process, and on the big day take a step back to see what you have accomplished.
Philip – Make sure both of you are present for the days leading up so any last minute changes can be made together and don't surprise the other.
Favourite Suppliers:
Florist – Sarah Jane Midwood. The flowers were sensational and are still being talked about by the guests.
Food – Alexandra Harvey. Although I didn't actually see much of the food on the day as I was so busy saying hello to people, but we had a tasting session two weeks before and it was delicious.
Philip –  I can confirm it was delicious, I am never to busy for food!
Cake – Amy Wilson. Our great friend who made our amazing wedding cake.
Band – Kings of The Dance Floor from Warble Entertainment. As above 'Fantastic I would highly recommend them, and already have done so!'
Photographs kindly supplied by Ian from Pear Tree Pictures
Published by Warble Entertainment