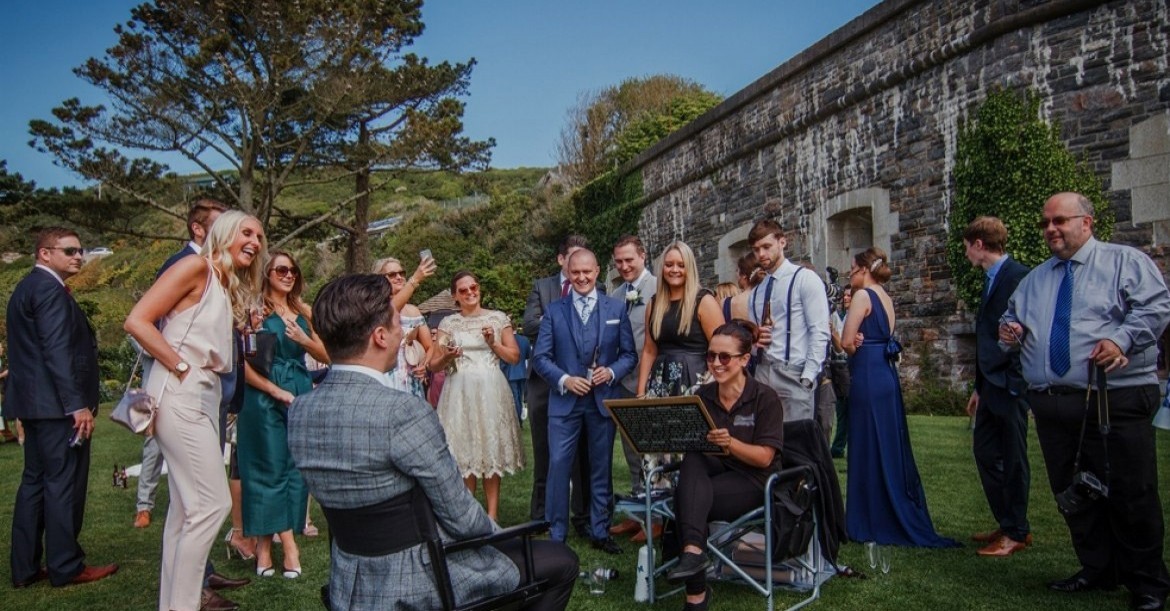 Location Cornwall
Starting from £324.00

Voted Cornwall's Best Wedding Entertainer, Cassie provides quick-fire caricature portraits, drawn live in under 5 minutes per person. Using a range of black and grey pens, Cassie's caricatures create laughs and giggles aplenty for not only those being drawn, but the crowds that gather in awe to watch the likeness take shape.
Number of Reviews and Counting... 1!
Using a range of black and grey pens, Cassie's caricatures create laughs and giggles aplenty for not only those being drawn, but the crowds that gather in awe to watch the likeness take shape.
Cassie has been described as 'The Kind Caricaturist' with a portrait style taking the perfect mix of exaggeration and flattery that subjects love.
With a bubbly personality that puts her subjects at ease, Cassie can draw either mobile at the table, or create a seated caricature area to keep your guests entertained.
Choose from either a solo portrait on A4 card, or a group portrait on A3 (2-3 adults, or a family of 4), which makes a fantastic memento of your special day.
Having travelled as far as Wolverhampton, and sent commissions from photographs as far as Ireland, Cassie is willing to travel outside of the Duchy to make your event a success.
Book Cassie The Caricaturist for your wedding, party, or event for smiles guaranteed!
Emma Andrew

, Wedding, Cambridgeshire
Such a brilliant and unique idea and it gave our big day that little extra sparkle! Our guests absolutely loved the caricatures and we had so many comments about what a great idea it was! Cassie was an absolute delight to work with and I cant recommend Cassie enough to add that little extra wow factor to your event! Not only were they brilliant for our wedding but I have been in contact recently about getting caricatures as presents for friends and relatives and Cassie has been more then helpful! A truly fabulous artist, an absolute pleasure to work with and the quality of the caricatures are second to none! I can't recommend Cassie enough!
---
Weddings
Birthday Parties (1st, 5th, 40th, 60th)
Festivals (LostFest, Golowan Festival, Royal Cornwall Show, LaFrowda Festival)
Corporate Events (The Cornwall Hotel, The Samphire Club)
Club Events (Rolls Royce Car Club)
Christmas Parties (RNAS Culdrose)
Kids Entertainment (The Esplanade Hotel, Tregenna Hotel)
Fundraisers (Paws for the Cause, MNDA Fundraiser)
Do you draw pets?
Unfortunately Cassie does not offer sole portraits of pets alone, although she is happy to create a caricature of you with your pet in the picture.
What's your minimum and maximum booking times?
The minimum time Cassie can be booked for is 1.5 hours. The longest booking she has had to date is 6 hours, however, if you are looking for longer or shorter please request this.
How far in advance do I need to book?
The further in advance, the better, so that you can secure your date. There's nothing wrong with a bit of forward planning! That said, if you have a date coming up, and need to book Cassie at short notice, simply get in touch to discuss.
What if I don't like my caricature?
Thankfully this has never happened! If you don't like your caricature when Cassie is drawing you at a live event, she is happy to redraw you free of charge, but if there is a queue, you must join the back of the queue as others will have been waiting in line. However, please bear in mind that the art of caricature drawing is pure fun and entertainment and portraits should be taken with a pinch of salt! It's meant to be funny and laughing and smiling is what it's all about. If you are commissioning Cassie to create a caricature from a photo, you will have the option to be sent an image digitally to approve once it is complete, before it is posted to you. If you feel the brief has not been followed, she will redraw and repaint, but only one re-order may be taken free of charge per booking.
How far do you travel?
From Cassie's base in Mid Cornwall, near Truro, she covers the whole of Cornwall and Devon, and often ventures further afield into Somerset and Bristol. She has also travelled as far as Wolverhampton, so is happy to consider bookings all across the UK.
Do you do live caricatures in colour?
Cassie creates caricatures in black and grey tones as standard, but can create colour pen caricatures live too. However, this is a slightly higher priced service due to the extra pen colours and the extra time taken. Please get in touch for special requirements.
Available for the following durations:
Please Note: The fees indicated below are approximate and based on a central location for each county. They are intended to provide a rough guide only and exact quotes can only be given once the date and exact location of your event have been provided.
South West
Cornwall
£324.00
Devon
£324.00
Dorset
£324.00
Somerset
£324.00
Wiltshire
£324.00
Bath
£324.00
Bristol
£324.00