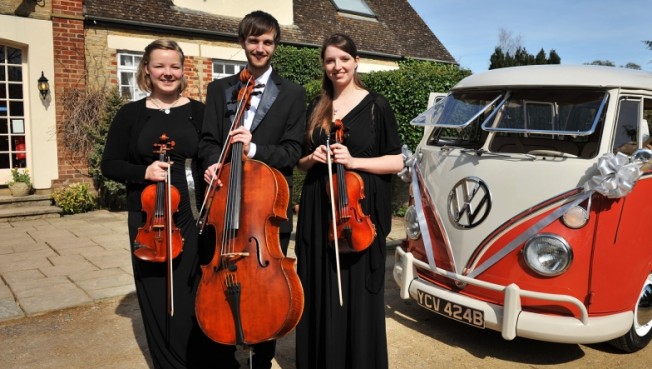 Location Birmingham
Starting from £444.00

Central England Strings are a group of professional and experienced musicians, all of whom have graduated from the finest musical conservatoires across the UK.
Central England Strings are a highly experienced group who have had the pleasure of providing elegant live music at weddings for over five years. The repertoire collection is extensive and includes classical, jazz and pop - almost everything from Bach to The Beatles and even Take That!
Central England Strings are available as a string quartet, a trio and also a duo.
Number of Reviews and Counting... 9!
Central England Strings are a group of professional and experienced musicians, all of whom have graduated from the finest musical conservatoires across the UK.
All members of Central England Strings lead varied freelance careers and have played with various orchestras across the UK and Europe. The players have also been selected on numerous occasions to receieve awards from the Birmingham Conservatoire, the place in which they met.
Central England Strings are a highly experienced group who have had the pleasure of providing elegant live music at weddings for over five years. Central England Strings are proud to have an extensive repertoire which includes classical, jazz and pop - almost everything from Bach to The Beatles and even Take That!
Central England Strings are very happy to discuss any special requests you might have and will provide you with best the selection of music to entertain and impress your guests and create the perfect atmosphere.
Central England Strings are available as a string quartet, a trio and also a duo.
String Quartet
2 Violins, Viola and Cello
String Trio
2 Violins and Cello, or
Violin, Viola and Cello
CLASSICAL
Albeniz
Bach
Suite III BWV 1068
Air on the G String
Gavotte I
Gavotte II
Bouree
Gigue
Badinerie from Orchestral suite II
Brandenburg Concerto No. 1
Brandenburg Concerto No. 3
Double Violin Concerto
Jesu Joy of Man's Desiring
Sheep May Safely Graze
Arioso
Battishall
Air
Minuet
Brahms
Minuetto from Serenade No. 1
Beethoven
Boccherini
Borodin
Polovtsian Dances 'Prince Igor'
Corelli
Pastorale from Concerto Grosso op.6 nr. 8
La Folia
Chopin
Poloniase Militaire Op. 40 No. 1
Raindrop Prelude (op.28)
Prelude in E minor
Clarke
Trumpet Voluntary (The Prince of Denmark's March)
Corelli
Concerto Grosso Op.6 (Christmas Concerto)
La Folia
Debussy
The Girl with the Flaxen Hair
Claire de la Lune
Delibes
Dvorak
Elgar
Salut D'amour
Chanson du Matin
Nimrod from the Enigma Variations
Faure
Pavane
Berceuse from the Dolly suite
Apres un Reve
Gardel
Gluck
Dance of the Blessed Spirits
Gounod
Grieg
Morning
Norwegian Dance No. 3
Gavotte from the Holberg Suite
G. F Handel
Arrival of the Queen of Sheba
Water Music Suite in F
Water Music Suite in D
Hallejuah Chorus
Music for the Royal Fireworks
Haydn
All we like Sheep (from the Messiah)
Serenade
Hook
Jenkins
Mascagni
Intermezzo from Cavelleria Rusticana
Massenet
Mendelssohn
Wedding March
Sehnsuchtig
Mourat
Moussorgsky
W.A. Mozart
Turkish March (Rondo from piano sonata KV 331)
Eine Kleine Nacht Musik
Divertimento in B KV 137
Divertimento in F KV 138
Divertimento In D major K.136
Ave Verum Corpus
Alleluja from Exultate Jubilate K165
Offenbach
Barcarolle from The Tales of Hoffman
Pachelbel
Puccini
Purcell
Nessum Dorma
Two Rondeaux from Abdelazar and The Fairy Queen
Ravel
Satie
Schubert
Entr'acte from 'Rosamunde'
Ave Maria
Schumann
Traumerei (Dreaming)
Tchaikovsky
Wagner
Wedding March from Lohengrin (Here comes the Bride)
Verdi
Vivaldi
From the Four Seasons
Autumn
Winter
Spring
POPULAR
Aerosmith - I don't want to miss a thing
Adele - Make You Feel My Love
Arlen - Over the Rainbow
Armstrong - What a wonderful world
Bacharach - I say a little prayer
Bee Gees / The Carpenters - How Deep is your Love / Yesterday once
Ben E King - Stand by me
Black Eyed Peas - I got a feeling
Cassidy - Fields of Gold
Clapton - Wonderful Tonight
Cohen - Hallelujah
Clocks - Coldplay
Viva la Vida - Coldplay
Yellow - Coldplay
Costello - She
Desree - Kissing you
Dianmond (as performed in Shrek) - I'm a believer
Doris Day - Perhaps, Perhaps, Perhaps
Elbow - One Day Like This
Elton John - Your Song
Elvis Presley - Love me Tender
Etta James - At Last
Fields - The way you look tonight
Harrison - Here comes the sun
Heusen / Sinatra - Love and Marriage
Jerry Ross / The Doors - Hernando's Hiedaway / Light my Fire
Lennon / McCartney - All you need is love
Lennon / McCartney - Here, There and Everywhere
Lou Reed - Perfect Day
Madonna - Crazy For You
Michael Buble - Everything
Morecambe/Wise - Bring Me Sunshine
Nat King Cole - Lets Face the Music
Nat King Cole - Unforgettable
Oasis - Whatever
Oasis - Wonderwall
Piaf - La Vie en Rose
R.E.M - Nightswimming
Robbie Williams - Angels
Snow Patrol - Chasing Cars
Take That - Greatest Day
They long to be close to you - The Carpenters
Solitaire - The Carpenters
Superstar - The Carpenters
U2 - With or Without You
U2 / Bono - Beautiful Day
Van Morrison - Brown Eyed Girl
Verve - Bittersweet Symphony
Warren - That's Amore
Weiss / UB40 - Can't help falling in love
Westlife - Flying Without Wings
Williams - Music to watch the girls go by
The Beatles
And I Love Her
A Hard Day's Night
All You Need is Love
Eight Day's a week
Got To Get You Into My Life
Hello Goodbye
Here There and Everywhere
If I Fell
I Feel Fine
Michelle
Norwegian Wood
Paperback Writer
Strawberry Fields Forever
Tomorrow Never Knows
When I'm Sixty Four
Yesterday
JAZZ
Sinatra - Fly me to the Moon (In other words)
Denza - Funiculi Funicula
Donaldson - Making Whoopee!
Shearing - Lullaby to Birdland
Suessdorf - Moonlight In Vermont
Sherwin - A Nightingale Sang in Berkely Square
Jones - It Had to be You
Mancini - Moon River
Moraes - The Girl from Ipanema
Porter - Let's Do It
Rogers - My Funny Valentine
Gershwin
I Got Rhythm
It Ain't Necessarily So
Someone to watch over me
Summertime
Embraceable you
SHOW SONGS

The Rhythm of Life – Sweet Charity
Westside Story Selection
Sound of Music Medley
FILM /TV
Theme from Pride and Prejudice
Star Wars
Lorraine McCallion

, Military Event, Staffordshire
Really good musicians and everyone loved the choice of music.
---
Vikki McGeough - Halsall Electrical

, Private Party, Birmingham
So much talent and just perfect for our event. Thank you.
---
Karen Rushby

, Wedding, South Yorkshire
Absolutely amazing artists! Music was beautifully played, guests were happy and so were we. Fantastic people. Thank you so much! You added a little something extra special to our wedding day.
---
Thomas James Goodridge

, Wedding, Northamptonshire
The trio were fantastic and really set the mood for our special day. They were very flexible with us and the music was of outstanding quality. They worked with our venue so that we had nothing to worry about on the day. As we had an intimate wedding, we felt that our guests had received a musical treat which was special to us and them. I really would recommend this act, but their reputation goes before them. Thank you very much for making our day so special.
---
Kerry Farrand

, Wedding, Warwickshire
Such a lovely addition to our wedding and learnt the songs we requested beautifully. Thank you, Kerry & Lewis Cook
---
Hannah Gask

, Wedding, Staffordshire
We are so pleased that we booked Central England Strings through Warble Entertainment for our big day. Right from when we booked them up until the big day everything went smoothly and without a hitch. We can not explain how pleased we are that we booked them for our wedding they were just amazing. All our friends have commented what a nice touch it was as they were arriving to the venue whilst canapés were being served and they were mingling. They let us make the song list from their repertoire and they played them so beautifully guests loved naming the songs as they played. We are so happy with every bit of service that we received and so happy that they were there on our big day.
---
Kristina Henry

, Wedding, Gloucestershire
Superb and seamless couldn't have asked for anything to be better! Thank you.
---
Emma Jones

, Wedding, Staffordshire
Central England Strings Quartet did a SUPERB job for our wedding at Rodbaston Hall, Penkridge. The guests were simply blown away when they heard them play, it created a wonderful atmosphere and ambiance. They were SO professional and always quick to respond via email. The arrangements were modern yet classic (our mothers hadn't heard Lana Del Ray- Video Games before... they both cried at how beautiful it sounded). We would fully recommend Central England Strings, in fact we will be telling everyone we know about them!! Thank you also to Coral & co. at Warble for helping us to find them. Your website is brilliant and very useful. We will be also recommending Warble to friends, family & clients. Many thanks, Emma & Peter Tilley
---
Katherine Dykes

, Wedding, Oxfordshire
A very positive experience, thank you! The music was wonderful (although I did miss most of it, being the bride!) - and the booking process was very easy and staff very helpful. We'd just want to pass on our thanks to the group, who did a fabulous job! Katherine
---
Q) Can you play outside?
A) We can play outside - as long as there is a shaded area. Our instruments are affected by direct sunglight and so we cannot expose them to the sun. We cannot play outside if the weather conditions are wet or very damp.
Q) Can we make special requests on the day for our favourite songs?
A) Of course you can! Our aim is to enertain and impress your guests and so we particularly enjoy when guests make special requests.
Q) Is there anything we need to provide for you?
A) We ask that you ensure that there will be four armless chairs for us to use at your venue. That is it!
Q) Do you play with any amplification?
A) We normally don't use any amplification as our sounds travels well, but if you would specifically like us to be amplified this is no problem!
Q) What happens if things run late on the day?
A) We understand that not everything always goes to plan! We are happy to play for extra time which we charge at an overtime rate of £100 per hour in total.
Q) What happens if one of your players cannot be there on the day?
A) We have a 'pool' of trusted musicians of outstanding quality who we engage if one of our members cannot make the day of your engagement.
Central England Strings generally play for following parts of your day:
Guests Arrival and Ceremony
Guests Arrival, Ceremony and Drinks Reception
Guests Arrival, Ceremony, Drinks Reception and Wedding Breakfast
Please Note: The fees indicated below are approximate and based on a central location for each county. They are intended to provide a rough guide only and exact quotes can only be given once the date and exact location of your event have been provided.
East Midlands
Derbyshire
£444.00
Leicestershire
£444.00
Lincolnshire
£480.00
Northamptonshire
£444.00
Nottinghamshire
£444.00
Rutland
£480.00
Wales
Monmouth
£480.00
Pembroke
£480.00
West Midlands
Gloucestershire
£480.00
Herefordshire
£444.00
Shropshire
£444.00
Staffordshire
£444.00
Warwickshire
£444.00
Worcestershire
£456.00
South East
Bedfordshire
£456.00
Berkshire
£480.00
Buckinghamshire
£480.00
Hampshire
£504.00
Hertfordshire
£504.00
Oxfordshire
£456.00
London
£504.00