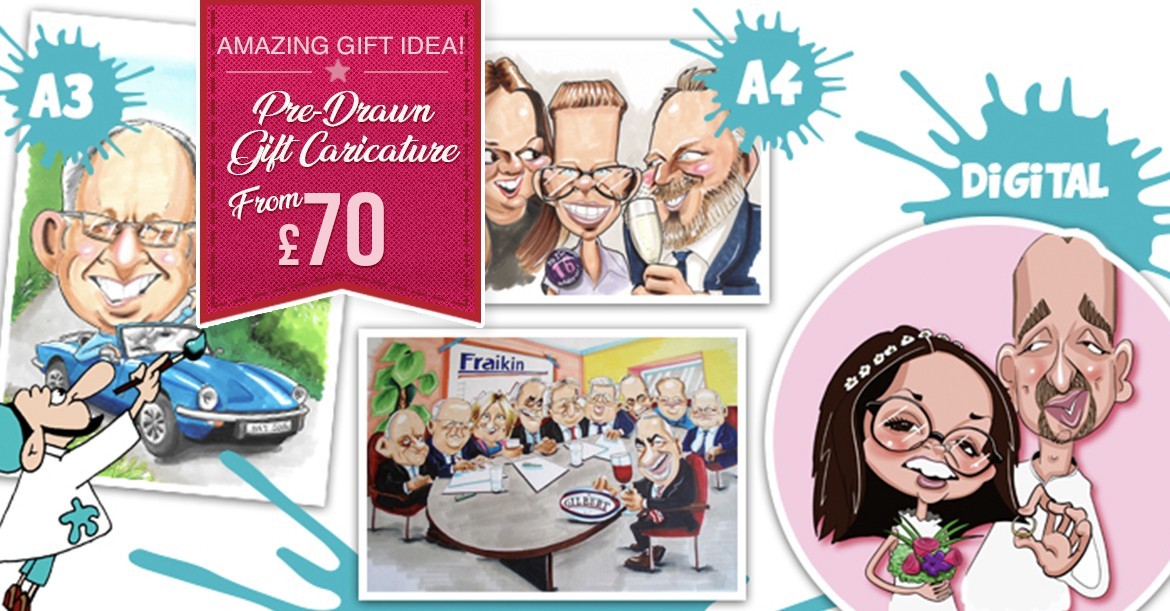 Location Leicestershire
Starting from £360.00

Quick fire on - the - spot caricatures, guaranteed to liven up your event, be it corporate, a wedding, or party!
With over 15 years experience, Mick is one of the most in demand caricaturtists in the Midlands.
Pre-Drawn Caricatures
Mick can also create specially commissioned caricatures from photographs - perfect for gifts celebrating birthdays, weddings, retirements and much more! Caricatures can be sent digitally or, for a small additional charge, can be printed and posted!
Number of Reviews and Counting... 6!
Over 15 years experience entertaining guests at weddings, private parties and corporate events
Usual performance times at weddings are 2 – 3 hours, usually when the wedding breakfast has finished and the room is being changed over
Will mix and mingle amongst guests, drawing them "on the hoof"
Provides great entertainment not only for the recipient, but also for the many on looking guests too
Takes approximately 4 minutes to draw one quality black and white caricature
Can draw up to 6 people in one picture
Caricatures as gifts can be drawn from Mick W's studio from photo's provided
Hardeep Kanwar - Haigh Consultancy

, Corporate, Belmont Hotel, Leicestershire
Using Warble Entertainment to book Mick W, We found the whole process very easy, efficient and well organised to use. All questions were answered. We were very pleased with the service we got from Mick W. He was friendly, mingled with the guests, very professional and easy to chat to. His artistic skills were very impressive and provided great entertainment for the guests (including children) who attended the event. We really didn't want him to go home! We would definitely recommend his services.
---
Annabelle Vallance - DFDS

, Corporate, Lincolnshire
Five out of Five.
---
Anoop Battoo

, Corporate, Staffordshire
Mick was great and mingled well with the crowd, his drawings were great - comical & fun - bringing out the funny elements of people. Well received.
---
Mercia Wakefield

, Corporate, Rutland
Mick was absolutely perfect!! He really had to work hard as many of our staff wanted the moment recorded in his special way!
---
Sue Rice

, Private Party, Cambridgeshire
Very professional, polite and talented. Everyone very pleased with their drawings.
---
Nina

, Wedding, Leicestershire
Oh my god, they're bloody awesome!!! You have got them down to a tee.... even Carla's eyelashes - you are amazing, fact!! Thank you - signed one very happy Nina!!
---
ITV
Harrods
Manchester United
Leicester Tigers
Leicester City
Bolton Wanderers
Radio5 Live
Sunday Mirror
Microsoft
Vodafone
Caricatures are given out on the spot unless the hirer instructs otherwise
The recipient does not have to pay extra for the picture
Travel costs are included in the price
Please Note: The fees indicated below are approximate and based on a central location for each county. They are intended to provide a rough guide only and exact quotes can only be given once the date and exact location of your event have been provided.
North West
Manchester
£420.00
East Midlands
Derbyshire
£390.00
Leicestershire
£360.00
Lincolnshire
£390.00
Northamptonshire
£390.00
Nottinghamshire
£390.00
Rutland
£360.00
East
Cambridgeshire
£390.00
Norfolk
£420.00
Suffolk
£420.00
West Midlands
Gloucestershire
£390.00
Staffordshire
£420.00
Warwickshire
£420.00
Worcestershire
£420.00
South East
Bedfordshire
£390.00
Berkshire
£420.00
Buckinghamshire
£420.00
Essex
£420.00
Oxfordshire
£390.00
Surrey
£420.00
London
£420.00
Middlesex
£420.00