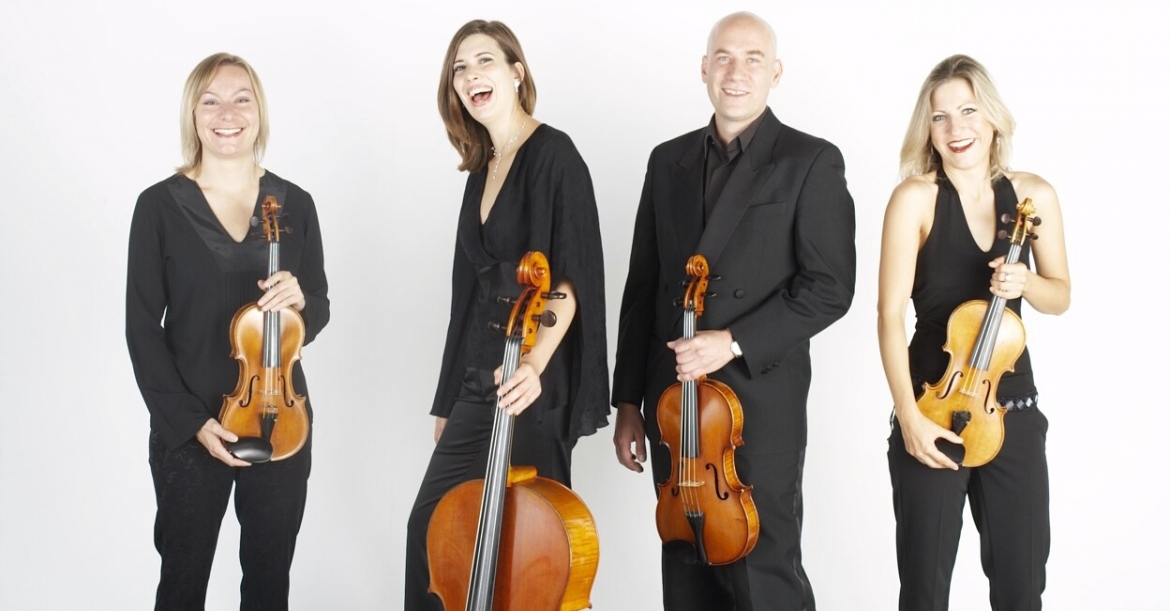 Location London
Starting from £600.00

Dynamic and versatile ensemble with years of experience providing live music for all kinds of events. Their repertoire ranges from Baroque to Bollywood and covers just about every genre in between!
*Stylish, Elegant and Outstanding musicians - The Crystal Palace String Quartet*
Number of Reviews and Counting... 2!
The Crystal Palace String Quartet was founded by graduates of Britain's top music colleges. Their shared passion for chamber music allowed them to acquire an extensive repertoire and to gain experience in providing live music for all kinds of events, ranging from weddings, civil partnerships, parties and corporate functions to band music, sessions, and TV. Their repertoire ranges from baroque to pop and covers nearly every imaginable genre in between.
The Crystal Palace Quartet mainly play for events in London and the Southeast but are willing to travel anywhere within the UK. They are also active on the concert platform, performing public recitals in London.
Cello, Viola, Violin (x 2)
Baroque
Sinfonia a quattro
Air in G
Badinerie
Brandenburg Concerto No.3
Double Violin Concerto
Italian Concerto
Jesu Joy of Man's Desiring
Sheep may safely graze
Sleepers Awake
Minuetto
Trumpet Voluntary
Concerto Grosso in G
Concerto Grosso in F
Air
Aria from Rinaldo
Arrival of the Queen of Sheba
La Réjouissance
Royal Fireworks Music
Water Music
Canon in D
Pavane
Rondeau from Abdelazar
Trumpet Tune
Gavotte
Six Minuets
Four Seasons: Spring, Summer, Autumn, Winter
Violin Concerto in a

Classical
String Quartet No.1
Andante (Symphony No.1)
Für Elise
Ode to Joy
String Quartet Op.18 No.1 "Romeo and Juliet"
String Quartet Op.18 No.4
String Quartet Op.33 No.2 "The Joke"
String Quartet Op.64 No.5 "Lark"
String Quartet Op 76 No.2 "Fifths"
String Quartet Op.76 No.4 "Sunrise"
Serenade
Alleluja (Exsultate, Jubilate)
Ave Verum
Divertimento in D
Divertimento in F
Eine Kleine Nachtmusik
March of the Priests (from The Magic Flute)
Quartet K.458 "Hunt"
Quartet K.575 "Prussian"
String Quartet in C K.157
String Quartet in D K.155
String Quartet in G K.156

Dance
Albeniz Spanish Dance (Tango)
Anderson Blue Tango
Bartok Romanian Dances
Copland Hoe-Down (Rodeo)
Dvorak Slavonic Dance No.8
Keating Tea Dance (Tango, Foxtrot, Waltz, Charleston)
Leutwiler Spanish Serenade
Mancini Pie In The Face Polka
Monti Czardas
Rodriguez La Cumparsita (Tango)
Strauss Emperor Waltz
Strauss Tales from the Vienna Woods
Tango Six Argentinian Tangos
Tchaikovsky Waltz of the Flowers
Opera, Film Music & Shows
Over the Rainbow (Wizard of Oz)
Sunrise Sunset (Fiddler on the Roof)
O Sole Mio
Flower Duet
Titanic theme
If I Were A Rich Man
Tea for Two
I Left My Heart In San Francisco
Lover Come Back To Me
Doctor Zhivago (Lara's theme)
Theme from Lawrence of Arabia
Don't Cry For Me Argentina (Evita)
Song from Moulin Rouge
Moon River (Breakfast at Tiffany's)
The Good the Bad & the Ugly
Can-Can
Nessun Dorma
Oh What a Beautiful Morning (Oklahoma!)
A Wandering Minstrel I (Mikado)
Titwillow (Mikado)
La Donna e Mobile
Other popular tunes from Broadway & West End shows!

Popular & Jazz
She
Eight Days A Week
Eleanor Rigby
Good Day Sunshine
Hey Jude
Let It Be
Norwegian Wood
Yesterday
Alexander's Ragtime Band
I Believe in a Thing Called Love
Makin' Whoopee
Satin Doll
Sophisticated Lady
Take the 'A' Train
Ain't Misbehavin
Embraceable You
I Got Rhythm
Someone to Watch Over Me
Summertime
The Man I Love
Fly Me to the Moon
The Girl from Ipanema
It Had To Be You
Country Club
Maple Leaf Rag
Paragon Rag
The Entertainer
Let's Face the Music
Anything Goes
Every Time We Say Goodbye
I Get a Kick Out of You
Just One of Those Things
Night and Day
What is this Thing Called Love
You're the Top
Bohemian Rhapsody
Polovtsian Dance No.1
String Quartet No.2
Hungarian Dances Nos. 4, 5, 8
Simple Symphony
Chelsea Bridge
Love and Marriage
That's Amore

Romantic & Modern
Ave Maria
Adagio for strings
Carmen Entracte
Raindrop Prelude
Humoreske
Quartet Op.96 "American'
Quartets Op.54 & Op.lO5
Chanson de Matin
Nimrod from Enigma Variations
Salut d'Amour
Serenade for Strings
Pan is Angel icus
Elegaic Melody
Spring
St Paul's Suite
Meditation from Thais
On Wings of Song
String quartet in Eb
Wedding March
String Quartet No.2
Bolero
String Quartet
Marche Militaire
String Quartet in a "Rosamunde"
String Quartet in d "Death and the Maiden'
String Quartet in Eb
String Quartet No.3
Song Without Words

Traditional & Asian
Aye ho men zindagi mi
Balle Balle, from Bride and Prejudice
Churaliya
Dheere Dheere
Ghar Aaja Sonja
Kabhie Kabhie
Kal ho Na ho - theme tune
Mein Huu na
Monsoon Wedding - title theme
Ten men pyar mein
Chinese Full Moon, Blooming Flowers
Chinese han Mi Mi
Collins & Leigh Cock Linnet
English Greensleeves
Hungarian Czardas
Indian Bollywood songs
Irish Irish Sherry
Irish Molly on the Shore
Jewish Hava Nagilah
Jewish Mazel Toy
Russian Gipsy Song
Ye Bonnie Banks n Braes
Amazing Grace
Nobody Knows the Trouble I've Seen
Swing Low, Sweet Chariot
Ukrainian Folk Tunes
Hasan Kanji / Dilshad Valliani

, Wedding, London
Music was good and the quartet suited the event well.
---
James Croome

, Wedding, London
Simply brilliant performance. In difficult windy conditions on an exposed bandstand they performed wonderfully. All four musicians were perfectly turned out, professional and talented. Their performance was highlight of the wedding. Thank you very much.
---
The Crystal Palace Quartet has performed at a wide variety of functions for audiences that have included past and current presidents, prime ministers and senior royalty. Recent bookings include a three week tour of the Mediterranean with Saga Cruise Lines, weddings at Coombe Abbey (Coventry), Gosfield Hall (Essex), Lancaster House (London) and the Commonwealth Club (London), a farewell party in Holland Park and recording sessions with Chris Singleton and pop group The Nites.
Previous venues that the Crystal Palace String Quartet have performed at include: Addington Palace, Bickley Manor, Blenheim Palace, British Museum, Browns Courtrooms, Brown's Hotel, Cambridge Cottage, Kew, Chandos House, Chiswick House, Clandon Park, Claridge's Hotel, Cliveden House, Commonwealth Club, Coombe Abbey, Covent Garden Hotel, Down Hall Country House Hotel, Dulwich College, Dulwich Picture Gallery, Englemere, The Fennes Estate, Foreign and Commonwealth Office, Gosfield Hall, Great Hall, Lincoln's Inn, Guards Polo Club, Hampton Court Palace, Home House, Institute of Directors, King's College, Cambridge, Lancaster House, Landmark Hotel, London Guildhall, Loseley House, Mansion House, Merton Registry Office, Middle and Inner Temples, Natural History Museum, Old Royal Naval College, One Great George Street, The Orangery, Holland Park, Pembroke Lodge, Polesden Lacey, Radisson Edwardian Heathrow Hotel, Royal Institute of British Architects, Saga Cruise Lines, St Paul's Cathedral, Templeton Estates, The Tithe Barn, Victoria & Albert Museum, Waldorf Hotel, Woodlands Park Hotel, Many local churches... plus much more!
Whilst the Crystal Palace Quartet usually performs as a string quartet, they are also able to operate as a string trio or duo (violin plus viola or cello) for smaller events. A duo or trio is suitable for venues where performance space is limited, or if your budget doesn't stretch to a full string quartet.
The quartet is also happy to find or make arrangements of your favourite pieces or songs.
Please Note: The fees indicated below are approximate and based on a central location for each county. They are intended to provide a rough guide only and exact quotes can only be given once the date and exact location of your event have been provided.
East Midlands
Derbyshire
£720.00
Leicestershire
£720.00
Lincolnshire
£720.00
Northamptonshire
£720.00
Nottinghamshire
£720.00
Rutland
£720.00
East
Cambridgeshire
£720.00
Norfolk
£720.00
Suffolk
£720.00
West Midlands
Gloucestershire
£720.00
Herefordshire
£720.00
Shropshire
£720.00
Staffordshire
£720.00
Warwickshire
£720.00
Worcestershire
£720.00
South East
Bedfordshire
£600.00
Berkshire
£600.00
Buckinghamshire
£600.00
East Sussex
£600.00
Essex
£600.00
Hampshire
£600.00
Hertfordshire
£600.00
Isle of Wight
£600.00
Kent
£600.00
Oxfordshire
£600.00
Surrey
£600.00
Sussex
£600.00
West Sussex
£600.00
London
£600.00
Middlesex
£600.00