Warble Entertainment's
Diversion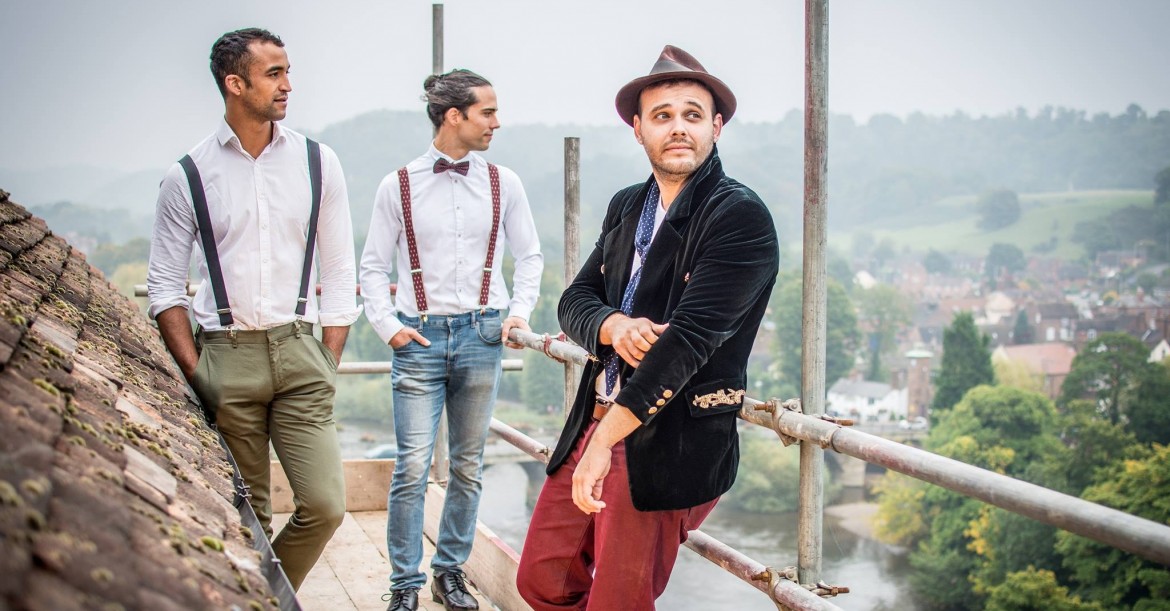 Location Shropshire
Starting from £1,104.00
Diversion are a lively party and function band that infuses Mediterranean and pop music. They can perform background instrumentals, Flamenco pieces as well as classic favourites at corporate parties and private functions.
Diversion are perfect wedding entertainment.
Created by 3 musicians from different countries, who met and discovered that their musical talents, although different from each others, blended together perfectly creating a unique find that was readily appreciated by their audiences.
As musicians coming from both classical and modern backgrounds we offer an array of styles, while maintaining the integrity of our performances.
1 reviews
Listen




Song List
ENGLISH SONGS
ADELE
ALOE BLACK
AMERICAN AUTHORS
BEATLES
And I love her
Get by with help from my friend
Till there was
Can't buy me love
BRUNO MARS
Treasure
Locked out of heaven
Uptown funk
Just the way you are
Marry you
BEN FOLDS
-The Luckiest
BILL WITHERS
CHRISTINA PERRY
COLD PLAY
Adventure of a lifetime
Till kingdom come
Yellow
CHUBBY CHECKER
CARLOS SANTANA
- Maria Maria
DAFT PUNK
DRAKE
- Swalla
DEAN MARTIN
ELLIE GOULDEN
ED SHEERAN
Thinking out loud
Tenerife sea
Photograph
Sing
Shape of you
Perfect
ENRIQUE IGLESIAS
ELTON JOHN
- Your song
Elvis Presley
- Cant help falling in love with you
EVA CASSIDY
ETTA JAMES
EAGLES
FRANK SINATRA
The way you look tonight
something stupid
FRANKIE VAIL & THE FOUR SEASONS
- Can't take my eyes off of you
GOO GOO DOLLS
HANSON
INNA
-Ruleta
JACK JOHNSON
Banana pancakes
Better together
I got you
JESS GLYNNE
Don't be so hard on yourself
JOSE GONZALEZ
- Heartbeats
JOHN MAYERS
Something like Olivia
Stop this train
Who you love
Who says
Free falling
JAMES MORRISON
You give me something
Wonderful world
I won't let you go
JUSTIN TIMBERLAKE
Suite and tie
Mirrors
Say Something
JAMES BLUNT
Your beautiful
Bonfire heart
JUSTIN BIEBER
Sorry
Love yourself
Cold water
Let me love you
Despacito
JONAS BLUE
Perfect strangers
September song
James Arthur
Say you wont let go
Naked
JESSE JAY
JACKSON 5
JOHN LEGEND
All of me
Ordinary people
JASON MRAZ
I'm yours
I wont give up
Unfold
Living in the moment
Everything is sound
Lucky
You beautiful thing
KINGS OF LEON
LINOEL RICHIE
LIAM PAYNE
- Strip that down
MAGIC
MUNFORD AND SONS
MARVIN GAYE
Head it through the grape vine
MICHAEL BUBLE
MARROON 5
Sunday morning
Sugar
Moves like Jaguer
Don't wanna know
She will be loved
NICO AND VINZ
ONE REPUBLIC
OUTKAST
- Hey Ya
OTTIS READING
Sitting on the dock of the bay
OLLY MURS
Wrapped up
Please don't let me go
PHARELL WILLIAMS
PHIL COLINS
PAULO NUTINI
Pencil full of led
last request
PAUL SIMON
Diamonds on the souls of her shoes
PLAIN WHITE
Rhythm of love
Hey there Delilah
PROCOL HARUM
- A whiter shade of pale
QUEEN
Don't stop me now
Your my best friend
RAZORLIGHT
REX ORANGE COUNTY
-Loving is Easy
RONAN KEATON
When you say nothing at all
RIHANNA
RUPERT HOLMES
-The Pina Colada Song
SAM SMITH
Latch
Money on my mind
Stay with me
Are we to good at goodbyes
_______________________________GEORGE EZRA
Listen to the man
Budapest
Barcelona
Blame it on me
Paradise
Shotgun
STING
English man in New York
Walking on the moon
Everything I do
SISCO
THE SCRIPT
The man who cant be moved
Breakeven
Never seen anything quite like you
STEVIE WONDER
SYNERGY
Can you blame me
its a miracle
are you lonely
Feel the same
Crazy
Night life
SAVAGE GARDEN
SHANIA TWAIN
THE KODALNE
THE WEEKEND
TRACY TRAPMAN
TOP LOADER
Dancing in the moon light
TRAIN
Soul sister
Drops of Jupiter
TAKE THAT
THREE DOORS DOWN
Here without you
THE PROCLAIMERS
USHER
-Yeah
VAN MORRISON
Bright end of the street
Van Morrison
SPANISH MUSIC
GYPSY KINGS
Bamboleiro
Volare
Bailame
Yo vi yo va
De granada a casa blanca
You have a friend in me ( Toy story)
CAMARON
CONSUELO VELAZQUEZ
MELENDI
Voy caminando por la vida
JUANES