Elizabeth the Devon Harpist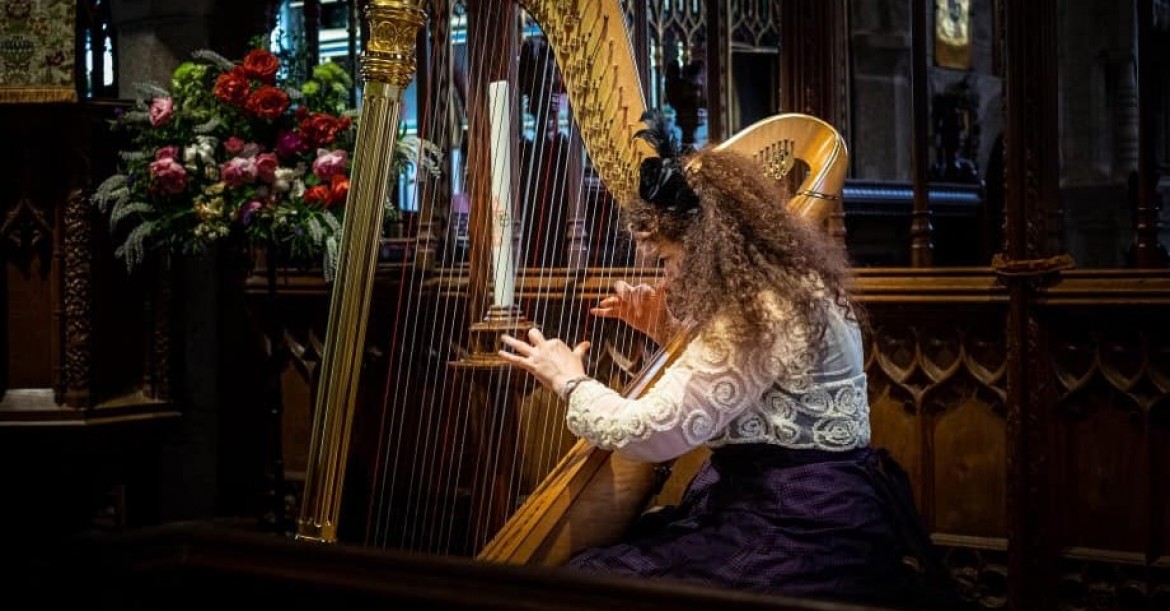 Location Devon
Starting from £354.00

Elizabeth earns her living from playing this fabulous instrument and says it is the best job in the world! Her performances have been broadcast on BBC Radios 2, 3 and 4 as well as German Radio, Japanese Radio, South African and Australian Classic FM, amongst other television and radio stations around the world. She is available for weddings, funerals, and events of all types.
Listen




Elizabeth the Devon Harpist
Number of Reviews and Counting... 2!
Elizabeth was born in Hampshire. She read music at Exeter University, travelling to the Royal College of Music in London for her harp studies. She now gives around one hundred performances a year from formal recitals in historic houses or on specialist arts cruises to weddings and funerals. Her compositions have been used by ITV, the BBC and by Irish, Japanese and Canadian film, radio and television. In 2006 she was the only British performer to be shortlisted for Best Classical Event Award in the combined Brighton Festivals, England's largest Arts Festival. In October 2007 she performed in the US to sold-out audiences.
Elizabeth's unique research into Victorian Fairy Harp Music has led to many quaint adventures - a CD with worldwide distribution; radio and TV broadcasts including a half-hour Radio 4 documentary; a West End stage show with actor Simon Callow for which she also wrote the songs; appearances at the Royal Academy of Art exhibition of Victorian fairy paintings and at Prince Charles' unveiling of the restored Elfin Oak Tree in Kensington Gardens; involvement in the major French exhibition Dragons, Elfes et Fées, and an appearance in the award-winning Canadian television documentary The Fairy Faith: all this and more besides making her England's unofficial Fairy Harpist!
Her uniquely rich tone on the harp has graced several film/ TV soundtracks including more than fifty episodes of ITV's magical children's series 'Bernard's Watch' which has been shown in over 30 countries including America, Canada, Iceland, Kenya, Iran, South Africa, Poland and Cyprus.
Popular
Adams - Everything I Do, I Do It For You
Adams - Baby, You're All That I Want
Aznavour, Charles - She May Be The Face I Can't Forget
Beach Boys - Wouldn't It Be Nice?
Beatles - And I Love Her
Beatles - Eleanor Rigby
Beatles - Here, There, Everywhere
Beatles - I've Just Seen A Face
Beatles - In My Life
Beatles - Lady Madonna
Beatles - Let It Be
Beatles - Norwegian Wood
Beatles - Penny Lane
Beatles - The Long And Winding Road
Beatles - Yellow Submarine
Beatles - Yesterday
Berlin, Irving - White Christmas.
Ben E King - Stand By Me
Bricusse/Newby - Feeling Good
Clapton, Eric - Wonderful Tonight
Denver, J - Annie's Song
Des'ree/Tim Atack - I'm Kissing You
Einaudi, Ludovico - Nefeli
Einaudi, Ludovico - Fuori Dalla Notte
Fain, S - Love Is A Many Spendoured Thing
Gershwin - Ain't Misbehaving
Gershwin - An American In Paris/Rhapsody In Blue
Gordon, I - Unforgettable
Harrison, George - Here Comes The Sun
Joel, Billy - She's Always A Woman
Jones,I - It Had To Be You
Kern,J - Smoke Gets In Your Eyes
Kosma, J - Autumn Leaves
Lennon/Mccartney - All You Need Is Love
Livingstone, Jerry - The Twelfth Of Never
Lloyd Webber - Aspects Of Love
Lloyd Webber - All I Ask Of You
Lloyd Webber - Don't Cry For My Argentina
Lloyd Webber - I Don't Know How To Love Him
Lloyd WebberLove Changes Everything
Lloyd Webber - Memories
Lloyd Webber - Music Of The Night
Mcvie,Christine - Songbird
Mandel, J - The Shadow Of Your Smile
Martin/Coulter - Congratulations
Richie, L - Endless Love
Shapiro - Walking Back To Happiness
Simon, Paul - Bridge Over Troubled Water
Steinberg/Kelly - Eternal Flame
Sting - Fields Of Gold
Styne - Time After Time.
Swandt/Andree - Dream A Little Dream Of Me
Van Morrison - Have I Told You Lately
Weiss - Can't Help Falling In Love
Young - Love Letters
Young - When I Fall In Love
Film Music
Arlen, H - Somewhere Over The Rainbow
Bart, L - From Russia With Love
Bernstein - There's A Place For Us (Westside Story)
Bernstein - One Hand, One Heart (Westside Story)
Bock, J - Sunrise, Sunset (Fiddler On The Roof)
Borodin - And This Is My Beloved (Kismet)
Churchill, F - Some Day My Prince Will Come (Snow White)
Gilkyson, T - The Bare Necessities (Jungle Book)
Harline, L - Love Song From Titanic
Lai, F - Love Story
Jarre, Maurice - Lara's Theme (Doctor Zhivago)
Legrand, M - I Will Wait For You. (The Umbrellas Of Cherbourg)
Legrand, M - Windmills Of Your Mind (The Thomas Crown Affair)
Leiber, J - Jailhouse Rock (Elvis)
Mancini - Moonriver
Menken, Alan - Beauty And The Beast
Morriconi - - Gabriel's Oboe
Myers,S - Cavatina (Deerhunter)
North, Alex - Unchained Melody (Ghost)
Nyman, M - The Piano
Perkins, CL - Blue Suede Shoes (Elvis)
Rogers, Richard - Climb Every Mountain (Sound Of Music)
Rogers, Richard - You'll Never Walk Alone (Carousel)
Sainte-Marie/Nitzche: - Up Where We Belong (Officer And A Gentleman)
Sherman, R - Chim Chim Cher-Ee (Mary Poppins)
Steiner - My Own True Love (Gone With The Wind)
Williams, J - Schindler's List Main Theme
Wrubel, A - Zip-A-Dee-Doo-Dah (Song Of The South)
Classical Music
Delibes - Flower Duet
Beethoven - Moonlight Sonata
Mozart - Aria: Voi Che Sapeto
Saint-Saëns - The Swan
Tchaikovsky - Swan Lake
Fauré - Pie Jesu
Franck - Panis Angelicus
Grieg - Morning From Peer Gynt
Offenbach - - Barcarolle
Puccini - Oh My Beloved Father
Early Music
Cabezon, Antonio De - Pavane And Variations
Cabezon, Antonio De - Romanza
Cabezon, Antonio De - Hachas
Anon - My Lady Hunsdon's Puffe
Anon - Pavane
Baroque
Bach, CPE - Solfeggietto
Bach, JS - Piece En Sol
Bach, JS - Prelude In E Flat
Bach, JS - Jesu Joy Of My Desiring
Bach, JS - Preludes 1, 3 And 8 From The 48 Preludes And Fugues
Bach, JS - Variation 13 From Goldberg Variations
Handel - Passacaille
Handel - Arrival Of The Queen Of Sheba
Handel - Tema And Variazioni
Handel - Allegro
Handel - Chaconne
Clarke, J - Chaconne
Paradisi - Toccata
Pachelbel - Canon
Purcell - Trumpet Tune
Classical Period
Naderman - Sonata In C Minor
Naderman - Sonata In D Minor
Dussek - Sonata In C Minor
Bochsa - Studies 2,4,7,10
Bovio - La Danza Degli Spiriti
Burgmuller - L'Harmonie Des Anges
Chatterton - Recollections Of The Enchantress
Godefroid - Ballade De La Fée
Godefroid - Choeur De Nymphes
Hoburg, M - Polonaise
Lorenzi - Ondina
Oberthür - A Fairy Legend
Oberthür - Conte De Fées
Oberthür - In Fairyland
Oberthür - In Twilight Hour
Oberthür - Le Reveil Des Elves
Thomas - The Seasons - Summer
Thomas - The Seasons - Winter
Thomas - The Minstrel's Adieu To His Native Land
Zabel - Marguerite Am Spinrade
Twentieth Century Classical
Baldry, EJ - Fairy World Suite
Blyton - Shoal Of Fishes
Chertok - Round The Clock Suite
Debussy - Arabesque
Debussy - Claire De Lune
Gamley, D - Little Suite For Harp
Guiranna - Sonatina
Hasselmans - Guitarre
Hasselmans - La Source
Mathias - Improvisations
Pierné - Impromptu Caprice
Renié - Au Bord Du Ruisseau
Renié - Legende
Salzedo - Song In The Night
Salzedo - Studies: Flight /Mirage
Satie, Erik - Gymnopedie
Satie, Erik - Gnossiennes
Tournier - Prelude No 3
Tournier - Au Matin
York Bowen - Arabesque
Steven Kilcoyne

, Wedding, Beaconside House, Devon
She was terrific. We got so many comments from wedding guests saying what a good addition she was. She was also really friendly, chatting away to guests and kids. Would definitely recommend.
---
Geraldine Chinn

, Wedding, Devon
Elizabeth was wonderful and played beautifully throughout and made our wedding day thank you.
---
HRH Prince Charles
Lady Ann Haytor-Hames
British Airways
British Telecom
Grant Thornton International
Victoria and Albert Museum
London's Barbican Centre
Please Note: The fees indicated below are approximate and based on a central location for each county. They are intended to provide a rough guide only and exact quotes can only be given once the date and exact location of your event have been provided.
South West
Cornwall
£354.00