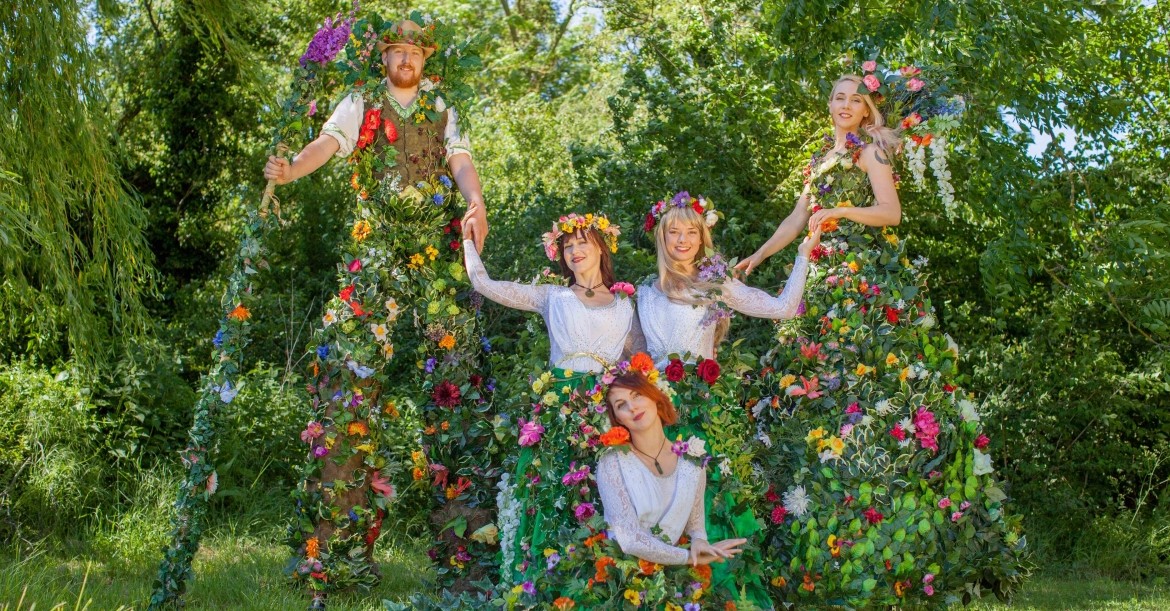 Location Kent
Starting from £720.00
From enchanting Living Flower Displays and beautiful "Real Mermaids", to the regal Snow King & Queen and terrifying Harlequins - Fantasy Performers specialise in providing exquisitely costumed entertainment, for all your themed event needs!
Number of Reviews and Counting... 4!
Flower Stilt Walkers
Enchant your guests with the most dramatic Living Flower Displays they've ever seen. Entirely costumed in completely realistic scented silk flowers, these breathtakingly beautiful stilt-walkers will leave your guests spell-bound.
Real Mermaids
Bring fantasy into reality at your event with these beautiful mermaids and glamorous sirens to seduce your guests into the world of myths and legends. All the fantasy and wonder that you want from Mermaids, but done in a grown-up, sophisticated way that is perfectly suited to adult audiences and elegant events.
The Snow King & Queen
Take your guests on a journey to a Winter Wonderland, where Frost Spirits and Ice Giants bring the magic of winter to life. Encrusted with glittering crystals and illuminated by hundreds of glowing white lights, these regal Winter Stilt Walkers let you create an icy winter ambience at your event with snowflakes and icicles that never melt - the perfect Winter!
Alice in Wonderland
Immerse your guests in the magical land that Alice found in the classic children's tale. Choose whichever characters suit your event best:
The Harlequins
Ethereal or mysterious, scary or creepy, strange or just a little bit freaky... Whichever flavour of darkness you want for your event! Interactive nightmares in beautiful, intricate costumes to give the dark edge you're looking for while still maintaining high levels of class and sophistication. Whether you want terrifying or family friendly, the Harlequins will adapt levels of darkness and scariness to evoke the perfect atmosphere.
Custom Creations
Know exactly what you want but no-one seems to have it? That's no problem at all! The Fantasy Performers in-house costuming team have created all of these costumes from scratch and are very happy to create custom made costumes to suit your event.
Flower Stilt Walkers
One female and one male stilt walker in full flower costumes.
Available with floral/nature themed aerial nymphs, nymph dancers, acrobatic tumblers and Encanted Forest themed mermaids.
Real Mermaids
Mermaid performers available on land, in water, in Giant Martini Glass and suspended in aerial net.
Available with sailor acrobats, stilt-walking pirates and/or a bubble artist.
Snow King & Snow Queen
One female and one male stilt walker in full illuminated Winter costumes.
Available with Frost Spirit dancers, contact juggling Jack Frost and glowing LED performers.
Alice in Wonderland
Queen of Hearts on stilts, White Rabbit on spring stilts, Unicycling Mad Hatter, Playing cards doing circus tricks, and a character actress as Alice.
Harlequins
Three Harlequin performers in intricately hand-painted costumes.
Available with 2x Quad Stilt Walkers (four-legged creature costumes), glowing LED performers, and Fire Shows.
Alana Cosker

, Other, Brecon
Absolutely superb!
---
Laura Greig - Softcat

, Corporate, Adams Park, Buckinghamshire
The Ice King and Queen were fantastic. Such nice people, engaging and thoughtful about the event. I really enjoyed working with them.
---
Lois Temel

, Corporate, Isle of Wight
Thank you for an amazing performance and giving us a night we'll remember forever. Of all the things we had planned for the party, a Mermaid was what everyone was most excited about and you exceeded even our highest expectations.
---
Rebecca Trevalyan

, University / School, Cambridgeshire
From preliminary meetings right through to the dazzling performance on the night of the ball, the team were consistently both friendly and professional. Guests at our Alice in Wonderland themed ball were hugely excited to see a resplendent Queen of Hearts on stilts, enjoyed watching a White Rabbit bounce past and loved being able to interact with the juggling and unicycle-riding Playing Cards. Every event coordinator in search of high-quality entertainment should work with them – we really cannot recommend enough! Thank you for all your hard work.
---
Kensington Palace
Mayfair & Park Lane
The Royal Horticultural Society
Urban Beaches
University of Cambridge
Qatar Spring Festival
Various City Councils UK
Blue Planet Aquarium
Many high profile private event clients require confidentiality and cannot be listed.
Flower Stilt Walkers
2 x 60 or 3 x 40 Minute sets of interactive Walkabout, Meet & Greet.
Snow King & Snow Queen
2 x 60 or 3 x 40 Minute sets of interactive Walkabout, Meet & Greet.
Land Based Real Mermaids
2 x 40 Minute sets of interactive Meet & Greet entertainment.
Water Based Real Mermaids
Set lengths and times dependent on location and performance details.
Alice in Wonderland
3 x 40 Minute sets of interactive Walkabout, Meet & Greet, and circus skills.
Harlequins
3 x 30 Minute sets of interactive Walkabout entertainment with elements of acrobalance and contortion.
Please Note: The fees indicated below are approximate and based on a central location for each county. They are intended to provide a rough guide only and exact quotes can only be given once the date and exact location of your event have been provided.
Scotland
Aberdeen
£960.00
Inverness
£960.00
Perth
£960.00
Sutherland
£960.00
Ayrshire
£960.00
Fife
£960.00
Stirlingshire
£960.00
West Lothian
£960.00
Dumfries-shire
£960.00
East Lothian
£960.00
Lanarkshire
£960.00
Midlothian
£960.00
Glasgow
£960.00
Edinburgh
£960.00
Foreign Locations
Europe
£1,020.00
Rest of the world
£1,260.00
North East
Durham
£840.00
Northumberland
£840.00
North Yorkshire
£840.00
South Yorkshire
£840.00
Tyne and Wear
£840.00
West Yorkshire
£840.00
Yorkshire
£840.00
East Yorkshire
£840.00
Leeds
£840.00
North West
Cheshire
£840.00
Cumbria
£840.00
Manchester
£840.00
Lancashire
£840.00
Merseyside
£840.00
Liverpool
£840.00
East Midlands
Derbyshire
£780.00
Leicestershire
£780.00
Lincolnshire
£780.00
Northamptonshire
£780.00
Nottinghamshire
£780.00
Rutland
£780.00
East
Cambridgeshire
£780.00
Norfolk
£780.00
Suffolk
£780.00
Norwich
£780.00
Wales
Anglesey
£840.00
Caernarvonshire
£840.00
Denbigh
£840.00
Flint
£840.00
Cardigan
£840.00
Brecon
£840.00
Carmarthen
£840.00
Glamorgan
£840.00
Monmouth
£840.00
Pembroke
£840.00
Wrexham
£840.00
Cardiff
£840.00
West Midlands
Gloucestershire
£840.00
Herefordshire
£840.00
Shropshire
£840.00
Staffordshire
£840.00
Warwickshire
£840.00
Worcestershire
£840.00
Birmingham
£840.00
South East
Bedfordshire
£720.00
Berkshire
£720.00
Buckinghamshire
£720.00
East Sussex
£720.00
Essex
£720.00
Hampshire
£720.00
Hertfordshire
£720.00
Isle of Wight
£720.00
Kent
£720.00
Oxfordshire
£720.00
Surrey
£720.00
Sussex
£720.00
West Sussex
£720.00
London
£720.00
Middlesex
£720.00
South West
Cornwall
£780.00
Devon
£780.00
Dorset
£780.00
Somerset
£780.00
Wiltshire
£780.00
Bath
£780.00
Bristol
£780.00