Wedding Bands Surrey: Everything You Need to Know Before Booking
If you are planning your wedding in Surrey and are looking to a hire a wedding band performing awesome dance floor fillers and chart hits, you are in the right place!
Bands and wedding entertainment come in a variety of line ups and options. When you first begin your wedding music search, it can be a little overwhelming as there is so much choice out there for couples. We realise that booking a function band isn't something people do every day, so here are some common questions about wedding music to help you through it all!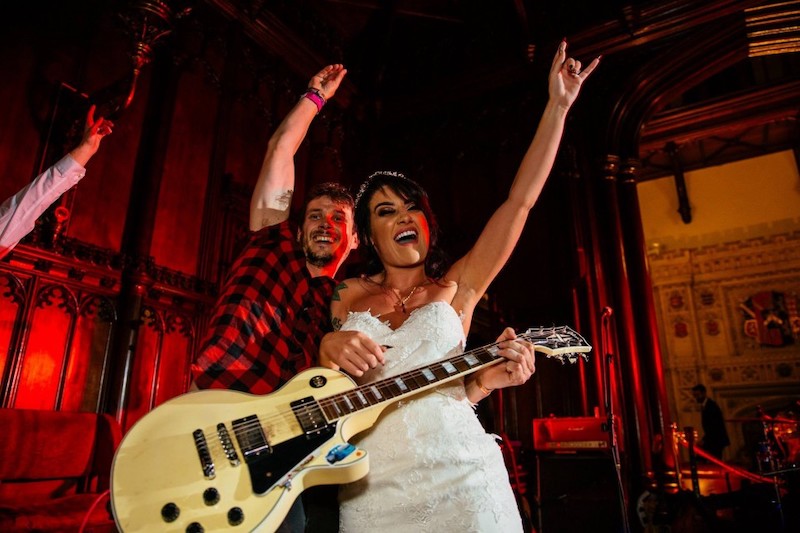 What type of music do wedding bands in Surrey perform?
Of course, one of the most popular styles of wedding music is still the indie rock and pop band archetype. A rock band is exactly the type of high energy entertainment that can keep the dance floor rocking all night long with popular songs from Ed Sheeran and other artists!
Cover bands can perform a wide variety of genres though including rock n roll, jazz, folk acoustic duos, bands with female vocals and much more. Finding the right style can come down to a few things such as your Surrey wedding venue, what music you like and what kind of wedding reception you have in mind.
Does the band provide a PA system and lighting?
All of our function bands for weddings will arrive fully self-contained and ready to give the best performance of their lifetimes!
This includes the band providing all of their own musical instruments, drums, bass guitars, electric guitars, microphones and amps. They will arrive with their own PA system and lighting and will aim to set up as discreetly as possible as to not disturb your wedding party.
Who are the best recommended wedding bands in Surrey?
The number 1 wedding live band in the entirety of the UK are based in Surrey. We are of course talking about The Indie Killers. These guys eat, breathe and sleep live music! Around 500 reviews from happy couples over the years tell no lie and they are known for bringing the most amazing party possible to weddings in England and Surrey.
Our most popular folk and festival style band in Surrey are Gentlemen Of The Road. These guys are absolutely incredible, and they have cemented themselves as one of the most in demand bands for hire on our roster. Their infectious energy and awesome set list are perfect for creating amazing memories at your wedding reception.
How long will wedding bands from Surrey play for?

As standard, our wedding and party bands will perform for approximately two hours that is broken up into two sets. This could be 2 x 60-minute sets or three shorter sets.
The Surrey music bands for weddings are well versed in planning their sets for maximum impact and are designed to keep your guests on the dance floor for as long as possible! Most bands would advise you to choose two longer sets over three shorter sets. This allows them to keep the high energy music up and allows your wedding night to flow much better.
How long does it take for the band to setup and soundcheck?
Set up and soundcheck for a wedding band is performed as discreetly as possible as to not disturb your guests. The band will liaise with you to ensure that they can load their equipment in, set up and soundcheck at the optimum time.
Most bands for weddings will allow themselves 1 – 2 hours to before the performance to make sure this is done correctly. However, depending on the line up of the band this can differ greatly! Bands with bigger line ups, more complex set ups and more instruments may take longer to get ready.
Can we see the band live before we book?
As you can probably imagine, seeing a function band live before you book them for your own wedding isn't easy.
The most popular wedding bands in Surrey are busy performing for private events and will rarely perform at public shows. For this reason, it is a good idea to pay attention to testimonials and reviews from real couples who have experienced the band first hand at their own parties, corporate events or wedding receptions.
Social media and the videos we publish on our website are also huge indicators on how the band will look, sound and perform on your big day.
Can we choose all the songs for your live set lists?
Whilst the band will allow you to have your say on the kind of style you are after or particular songs you like or don't like, it is wise to trust your wedding music band to make the right decisions in regard to what songs work best.
Planning a set list for a wedding party is a fine art. It takes hundreds of live gigs and performances to find the right formula to keep the dance floor rocking all night! Having faith in the act you've chosen to execute this to the best of their ability is highly recommended.
Do we need to hire DJ alongside our Surrey wedding band?
It is up to you if you would like to hire a professional DJ to keep the energy going in between your bands performances. However, the majority of our wedding bands for hire in Surrey will provide a free DJ service in between sets to keep the party rocking all night long!
This is an awesome idea and most bands offer this if you want to have a party atmosphere on your wedding night that continues late into the evening.
Warble has provided wedding bands at a huge amount of amazing venues throughout Surrey including, Northbrook Park, Botleys Mansion, Farnham Castle and Great Fosters amongst many, many more. So, check out the huge selection of groups we have available to book below and hire a band to make your wedding celebration perfect.
At Warble Entertainment we have a wide range of wedding bands for hire in Surrey for weddings, parties and corporate events >>
Need to find the best live music and bands to hire in Surrey? Check out these function bands: Rock and Pop Cover Bands, Tribute Bands and Singers, Party Bands, Folk Bands, Solo and Duo Acts, Motown Bands, Acoustic Bands, Jazz Bands.
We also have plenty of wedding entertainment and party entertainers for hire in Surrey, for example: Caricaturists, Magicians, Singing Waiters, Fire Performers, Lookalikes, Dancers, Wedding DJs.
Whatever style of band, music or entertainer you want to hire you are sure to find it on the Warble website. Be sure to also check out the wedding entertainment, corporate entertainment and party ideas and Christmas entertainment pages for unique, fun and alternative entertainment ideas.