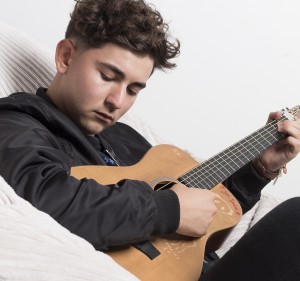 Location London
Starting from £240.00
Luch can sing a wide range of popular styles including Sam Smith and John Legend, and his vocals and playing have often been compared to that of Ed Sheeran. He is a versatile musician, perfect for weddings, parties or smaller events such as private anniversaries.
Number of Reviews and Counting... 1!
Ed Sheeran styled Singer / Songwriter who is able to rap and beatbox while using a loop pedal.
Since moving to the London scene, Luch has rapidly become one of London's most sought after young singer/songwriters, due not only to his stunning vocals and guitar playing, but also his ability to write powerful, poignant lyrics that touch the heart.
Luch has been singing and writing his own songs for over 6 years. Impressively In 2015, his first album 'Falling Through Flaws' was launched at Ronnie Scott's - the world's most well-known and prestigious jazz club- to massive acclaim and positive reviews; for it's iTunes release, Luch has over 50,000 followers on Twitter and a dedicated team of fans. As well as singing at the famous jazz bar, in November 2016 he played for Appleat their store launch in London. He now has over 20 songs on iTunes and Spotify, 15 of which have aired on BBC Introducing. Other places to have performed at include The Ivy, Blueberry Bar, Cafe 1001, Proud Camden, BoxPark and many other places around the UK. He is now working with producers who have worked with Ed Sheeran / Paloma Faith and many more.
'Wow. So talented; absolutely amazing' - Sarah Gorrell BBC Introducing Track of The Day.
Luch can bring an exceptional performance to top your occasion. As well as playing his original songs, he can perform a various amount of covers ranging from every Ed Sheeran song to Bob Dylan and is open to requests. (See the massive repertoire below)
Luch is often complimented on how professional his voice sounds and many people have mentioned that his Ed Sheeran covers sound exactly like the original.
Luch says:
"I have always held music very close to my heart. To me; being able to trigger an emotion within someone, whether it's happy or sad is one of the most rewarding feelings. When I perform for a client, I wish to also make friends and make sure everyone is having the best possible time. I strive to make your event a very special occasion. If you have an enquiry I will be able to get back to you very shortly as I am a full time musician and I would love to play for more experience and to meet new people. I love to use my acoustic guitar, but I can also sing with backing tracks."
Vocals and Guitar / possible loop pedal for more lively venues.
Ed Sheeran - The A Team
Ed Sheeran - Drunk
Ed Sheeran - Grade 8
Ed Sheeran - Small Bump
Ed Sheeran - This
Ed Sheeran - The City
Ed Sheeran - Lego House
Ed Sheeran - You Need Me, I Don't Need You
Ed Sheeran - Kiss Me
Ed Sheeran - Give Me Love
Ed Sheeran - Gold Rush
Ed Sheeran - One
Ed Sheeran - Sing
Ed Sheeran - Don't
Ed Sheeran - Photograph
Ed Sheeran - Bloodstream
Ed Sheeran - Tenerife Sea
Ed Sheeran - Runaway
Ed Sheeran - Thinking Out Loud
Ed Sheeran - Where We Land
Ed Sheeran - Little Bird
Ed Sheeran - One Night
Ed Sheeran - Firefly
Ed Sheeran - Sunburn
Ed Sheeran - I See Fire
Ed Sheeran - Shape Of You
Ed Sheeran - Castle On The Hill
The Killers - Jenny Was A Friend Of Mine
The Killers - Mr. Brightside
The Killers - Sam's Town
The Killers - When You Were Young
The Killers - Bling (Confessions of a King)
The Killers - For Reasons Unknown
The Killers - My List
The Killers - Runaways
The Killers - Miss Atomic Bomb
Passenger - Let Her Go
Passenger - Life's For The Living
Passenger - The Wrong Direction
Passenger - The Things That Stop You Dreaming
Passenger - Heart's On Fire
The 1975 - Sex
The 1975 - Woman
The 1975 - Chocolate
The 1975 - The City
Justin Bieber - Love Yourself
Justin Bieber - What Do You Mean
Justin Bieber - Sorry
Justin Bieber - As Long As You Love Me
The Weeknd - Wicked Games
The Weeknd - No Shame
The Weeknd - I Can't Feel My Face
Bob Marley - Is This Love?
Bob Marley - Three Little Birds
Drake - Hotline Bling
Drake - Marvin's Room
Kanye West - Homecoming
Kanye West - Heartless
Hozier - Take Me To Church
Hozier - Angel Of Small Death
Bruno Mars - Just The Way You Are
Bruno Mars - Lazy Song
Coldplay - Sky Full of Stars
Bob Dylan - Don't Think Twice, It's Alright
Jamie Lawson - Wasn't Expecting That
Daughter - Youth
Mario - You Should Let Me Love You
R. Kelly - Ignition
Nina Nesbitt - Stay Out
Mr. Probz - Waves
Fetty Wap - 679
Shawn Mendes - Stitches
Tom Odell - Another Love
Linkin Park - Numb
Foy Vance - Make It Rain (Ed Sheeran Version)
Ellie Goulding - Love Me Like You Do
Craig David - Walking Away
Luminaries - Hey Ho
Ryan Huston - Love You Forever
Billy Joel - Always a Woman To Me
Akon - Don't Matter
Magic - Rude
Alex Clare - Too Close
Stone Sour - Through The Glass
John Legend - All Of Me
Snow Patrol - Chasing Cars
One Direction - Steal My Girl
AC/DC - Highway To Hell
Walk The Moon - Shut Up and Dance
Jason Derulo - Want To Want Me
Olly Murs - Troublemaker
Living On A Prayer - Bon Jovi
Michael Jackson - PYT
Elvis Presley - Jailhouse Rock
Omi - Cheerleader
Artic Monkeys - One For The Road
Oasis - Wonderwall
The Script - Breakeven
Toploader - Dancing In The Moonlight
The Chainsmokers - Closer
Georgia Kinsey

, Wedding, London
Luch played at my 1st wedding anniversary. Not only did he make our day more memorable, he gave the party a brilliant atmosphere. Everyone loved and throughly enjoyed his performance, he even played any requests asked. He is extremely talented! I would recommend Luch to anyone for a wedding or event and I myself will definitely have Luch play again.
---
One Direction
Conor Maynard
Betsy Blue-English
Henrietta Adewole
Wimbledon Food Festival
Apple
The Ivy
Ronnie Scotts
Lighting not included however Luch brings his own PA Equipment.
Certificates for insurances and testing all available upon booking completion.
1 x 60 Minutes
2 x 60 Minutes
3 x 60 Minutes
Set timings can be tailored.
Please Note: The fees indicated below are approximate and based on a central location for each county. They are intended to provide a rough guide only and exact quotes can only be given once the date and exact location of your event have been provided.
Scotland
Aberdeen
£960.00
Inverness
£960.00
Perth
£960.00
Sutherland
£960.00
Ayrshire
£960.00
Fife
£960.00
Stirlingshire
£960.00
West Lothian
£960.00
Dumfries-shire
£960.00
East Lothian
£960.00
Lanarkshire
£960.00
Midlothian
£960.00
Glasgow
£960.00
Edinburgh
£960.00
Dundee
£960.00
Foreign Locations
Europe
£960.00
Rest of the world
£1,200.00
North East
Durham
£960.00
Northumberland
£960.00
North Yorkshire
£960.00
South Yorkshire
£960.00
Tyne and Wear
£960.00
West Yorkshire
£960.00
Yorkshire
£960.00
East Yorkshire
£960.00
Leeds
£960.00
North West
Cheshire
£960.00
Cumbria
£960.00
Manchester
£960.00
Lancashire
£960.00
Merseyside
£960.00
Liverpool
£960.00
East Midlands
Derbyshire
£336.00
Leicestershire
£312.00
Lincolnshire
£336.00
Northamptonshire
£300.00
Nottinghamshire
£330.00
Rutland
£312.00
East
Cambridgeshire
£282.00
Norfolk
£312.00
Suffolk
£300.00
Norwich
£312.00
Wales
Anglesey
£480.00
Caernarvonshire
£480.00
Denbigh
£480.00
Flint
£480.00
Cardigan
£480.00
Brecon
£480.00
Carmarthen
£480.00
Glamorgan
£480.00
Monmouth
£480.00
Pembroke
£480.00
Wrexham
£480.00
Cardiff
£480.00
West Midlands
Gloucestershire
£330.00
Herefordshire
£348.00
Shropshire
£360.00
Staffordshire
£348.00
Warwickshire
£312.00
Worcestershire
£336.00
Birmingham
£330.00
South East
Bedfordshire
£300.00
Berkshire
£300.00
Buckinghamshire
£276.00
East Sussex
£276.00
Essex
£276.00
Hampshire
£300.00
Hertfordshire
£276.00
Isle of Wight
£336.00
Kent
£276.00
Oxfordshire
£300.00
Surrey
£270.00
Sussex
£276.00
West Sussex
£276.00
London
£240.00
Middlesex
£270.00
South West
Cornwall
£480.00
Devon
£480.00
Dorset
£480.00
Somerset
£480.00
Wiltshire
£480.00
Bath
£480.00
Bristol
£480.00