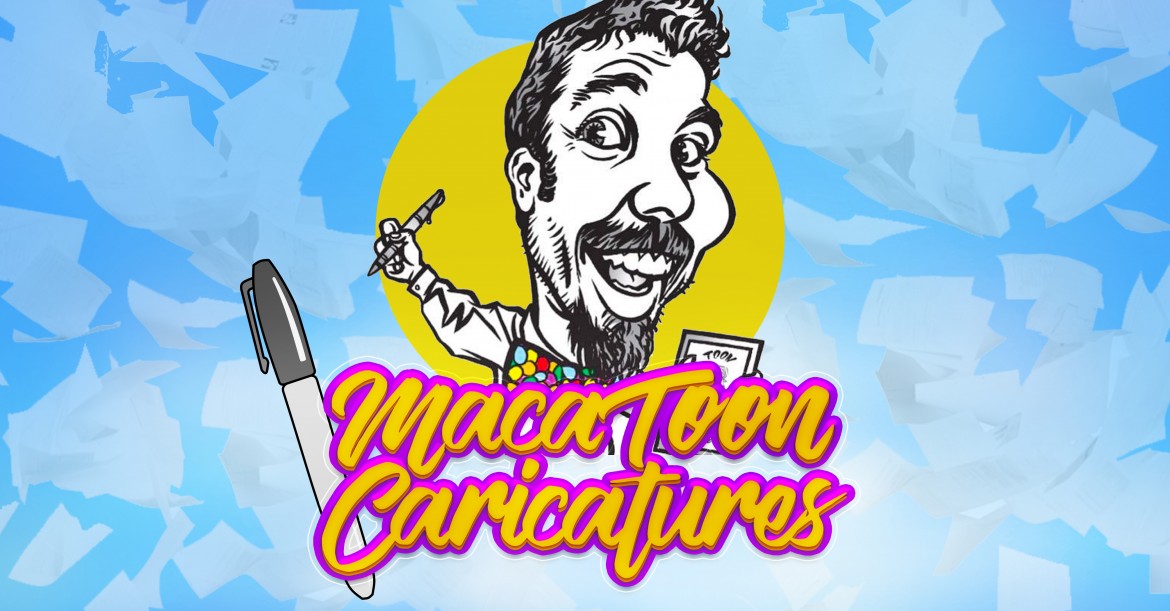 Location Suffolk
Starting from £250.80
MacaToon Caricatures feature artist Jason, one of the best caricaturists in the business!
MacaToon Caricatures is available for bookings at events such as Weddings, Charity Balls, Birthday Parties, Corporate Functions and Exhibitions and can travel anywhere that your event is located. He draws for 2, 3 and 5 hour booking packages and can be booked for the entire event if required (please enquire for alternative packages that will suit your event)!
Drawing approximately 10-12 people per hour, giving your guest a hilarious party favour for them to take away. Jason's draws at such speed without compromising quality!
Number of Reviews and Counting... 1!
Jason is a master at traditional hand-draw caricatures and guests will have their chance to get a unique caricature drawn for them with a remarkably likeness. He never fails to raise a chuckle or two and helps build a truly merry atmosphere thoughout the venue!
A very adaptable artist, MacaToon Caricatures will draw singles, doubles or groups as requested. He draws on the move so no seat will be required. He will simply mingle with the guests throughout your event. He can also be stationed at his easel if that suits your event better.
Jason can offer your guests their caricature on paper straight from his clipboard to take home on the night. Jason dresses in a smart and professional manor with the odd artistic flourish, He will bring all materials and equipment that he needs and will only ask that a small space be made available for a promotional pop-up banner and a place to leave business cards.
Studio commissions can also be requested.
Kayleigh

, Wedding, Suffolk
We had MacaToon Caricatures at our wedding yesterday to draw caricatures of guests. Everyone absolutely loved it and it was an excellent addition to our day. Jason is so lovely and fitted right in with everyone. Thank you so much!
---
Bury St Edmunds Food & Drink Festival
Bury St Edmunds Christmas Fayre
Halstead Christmas Fayre
Many private clients in locations such as:
London
Lincolnshire
Essex
Norfolk
Will the caricaturist draw all my wedding guests?
For the quality of caricature MacaToon Caricatures produce a minimum of 5 to 6 minutes per person is required. The amount of people drawn is dependent on the length of booking.
If you are drawing a couple is that classed as two people?
Yes, each person is classed as one caricature.
What is the best part of the wedding day to book the caricaturist?
The best times to make a booking would be initial drinks reception helping the guests become involved and be entertained straight away. The booking can also lead into the dining room and caricatures can be done whilst guests chat and between courses with no problem.
How long should I book the caricaturist for?
What every suits your budget. 3 hours is a standard length of booking but 2 hours and 5 hours can be booked as well as the entire day if required.
Do we have to pay for each caricature?
No, your guests will not be charged, the booking fee will cover all costs.
What do I need to provide for the caricaturist?
A welcome smile is all that's needed! I will bring all materials and equipment to perform for your guests.
What size are the caricatures and on what kind of paper do you draw them?
Permanent brush and chisel tip markers on A4 Premium Thick White 300gsm Card.
What is the drawing technique used?
Simply, traditional caricature.
Could we customize the template on which you draw with some element of the event?
Yes, for weddings and parties I add the script title to each sheet. For corporate events I can easily add a company logo to each sheet too.
Could we hire overtime?
If you would like to extend the booking on the day, please speak directly to the artist who would be glad to organize that for you if available.
15 minute set up time before the start of the booking.
1 x 10 minute break every 3 hours.
Please Note: The fees indicated below are approximate and based on a central location for each county. They are intended to provide a rough guide only and exact quotes can only be given once the date and exact location of your event have been provided.
East
Cambridgeshire
£285.60
Norfolk
£306.00
Suffolk
£250.80
Norwich
£297.60
South East
Buckinghamshire
£351.60
Essex
£319.20