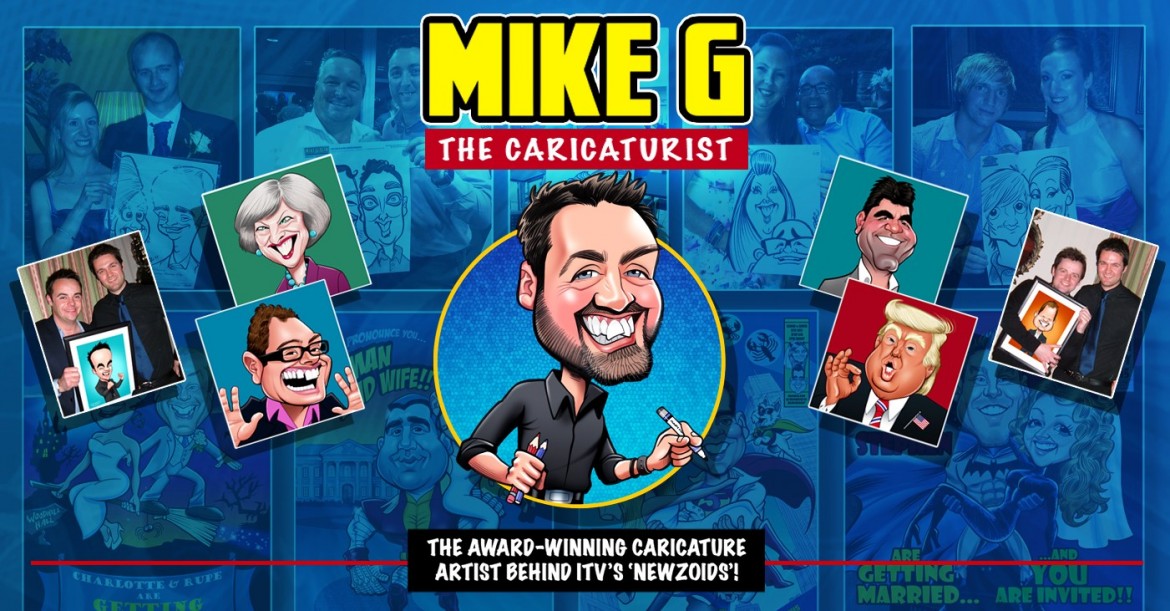 Location Tyne and Wear
Starting from £282.00

Mike is one of the UK's most exciting live caricaturists, with an immensely confident, clean style and ability to capture spookily accurate likenesses.
Combine this with a friendly, cheerful personality and easy ability to talk with people from all walks of life, and you have a fantastic entertainment choice. Mike has been a professional caricaturist since 2002, during which time he has performed at hundreds of events all over the UK. He has won international awards for likeness in caricatures, and performed in Las Vegas, Orlando, and on Celebrity Cruises in Scandinavia and the Mediterranean. He is also the acclaimed character designer behind ITV's 'Newzoids'.
Number of Reviews and Counting... 2!
Mike is an award-winning caricature artist based in Newcastle upon Tyne, and has nearly twenty years of experience at drawing guests at events. He has personally caricatured over ten thousand faces at venues all over the world, becoming one of the UK's most experienced and respected caricaturists.
With an incredible eye for capturing exaggerated likeness, Mike is able to create astounding and hilarious likenesses in minutes with an impeccable attention to detail that will wow your guests and give them a fun and treasured momento of the day to take home.
Working from his signature easel, Mike's presence brings howls of laughter, big crowds watching him work and true likenesses that your guests will want to take home and frame!
Sam Grewcock

, Wedding, Beamish Hall, Tyne and Wear
Mike was absolutely fantastic - from first booking him through to turning up on the day. He was always prompt at responding to emails, very polite and gave useful recommendations as to best utilise him on the day. Fast forward to our wedding day and he turned up on time, well presented and made himself known to both of us, I then asked him to set up where he feels best. The guests arrived and he began his work, somehow combining his talent with humour, I have received countless compliments about him and everyone was thrilled with his work, it was great to see people laughing from beginning to end while he was drawing them. I cannot recommend Mike enough, book him and you will not be disappointed.
---
Kathryn Berry

, Wedding, Tyne and Wear
I just wanted to write to say thank you so much for your work at our wedding. Everyone loved your caricatures, it is lovely to go round to people's houses and see them framed up on the wall. Such a lovely keepsake and brilliantly done.
---
Mike has nearly 20 years' experience in caricature work, and he has drawn at events for many top UK companies as well as at weddings, private events and trade shows worldwide. He has undertaken thousands of caricature commissions, and is the acclaimed character designer behind the ITV show 'Newzoids'.
How much time do you require to set up?
I require around 30 minutes to set up my equipment.
Do you offer Mix and Mingle?
I work exclusively from an easel, which creates a unique audience experience and allows for much more engagement with guests. People are fascinated watching each caricature come together, and big laughs are par for the course.
How much space do you require?
8ft square approx and a few chairs.

Do you require any electrical sockets?
Yes, 1 x electrical socket is required.

How many caricatures on average can you draw per hour?
12 guests per hour from easel (black line & grey shade, singles and doubles)
Additional hours are available.
Please Note: The fees indicated below are approximate and based on a central location for each county. They are intended to provide a rough guide only and exact quotes can only be given once the date and exact location of your event have been provided.
Scotland
Aberdeen
£750.00
Inverness
£810.00
Perth
£684.00
Sutherland
£888.00
Ayrshire
£672.00
Fife
£672.00
Stirlingshire
£672.00
West Lothian
£606.00
Dumfries-shire
£390.00
East Lothian
£570.00
Lanarkshire
£600.00
Midlothian
£564.00
Glasgow
£450.00
Edinburgh
£426.00
Dundee
£672.00
Foreign Locations
Europe
£960.00
Rest of the world
£1,440.00
North East
Durham
£282.00
Northumberland
£282.00
North Yorkshire
£360.00
South Yorkshire
£450.00
Tyne and Wear
£282.00
West Yorkshire
£480.00
Yorkshire
£450.00
East Yorkshire
£480.00
Leeds
£450.00
North West
Cheshire
£540.00
Cumbria
£360.00
Manchester
£540.00
Lancashire
£510.00
Merseyside
£660.00
Liverpool
£600.00
East Midlands
Derbyshire
£510.00
Leicestershire
£510.00
Lincolnshire
£570.00
Northamptonshire
£630.00
Nottinghamshire
£624.00
Rutland
£654.00
East
Cambridgeshire
£726.00
Norfolk
£732.00
Suffolk
£654.00
Norwich
£756.00
Wales
Anglesey
£876.00
Caernarvonshire
£852.00
Denbigh
£834.00
Flint
£810.00
Cardigan
£954.00
Brecon
£948.00
Carmarthen
£1,008.00
Glamorgan
£948.00
Monmouth
£906.00
Pembroke
£1,044.00
Wrexham
£804.00
Cardiff
£948.00
West Midlands
Gloucestershire
£762.00
Herefordshire
£762.00
Shropshire
£726.00
Staffordshire
£678.00
Warwickshire
£696.00
Worcestershire
£732.00
Birmingham
£696.00
South East
Bedfordshire
£858.00
Berkshire
£906.00
Buckinghamshire
£876.00
East Sussex
£972.00
Essex
£900.00
Hampshire
£942.00
Hertfordshire
£870.00
Isle of Wight
£996.00
Kent
£936.00
Oxfordshire
£876.00
Surrey
£924.00
Sussex
£978.00
West Sussex
£972.00
London
£918.00
Middlesex
£888.00
South West
Cornwall
£1,116.00
Devon
£1,014.00
Dorset
£1,008.00
Somerset
£966.00
Wiltshire
£948.00
Bath
£936.00
Bristol
£924.00