Warble Entertainment's
Nutmegs Duo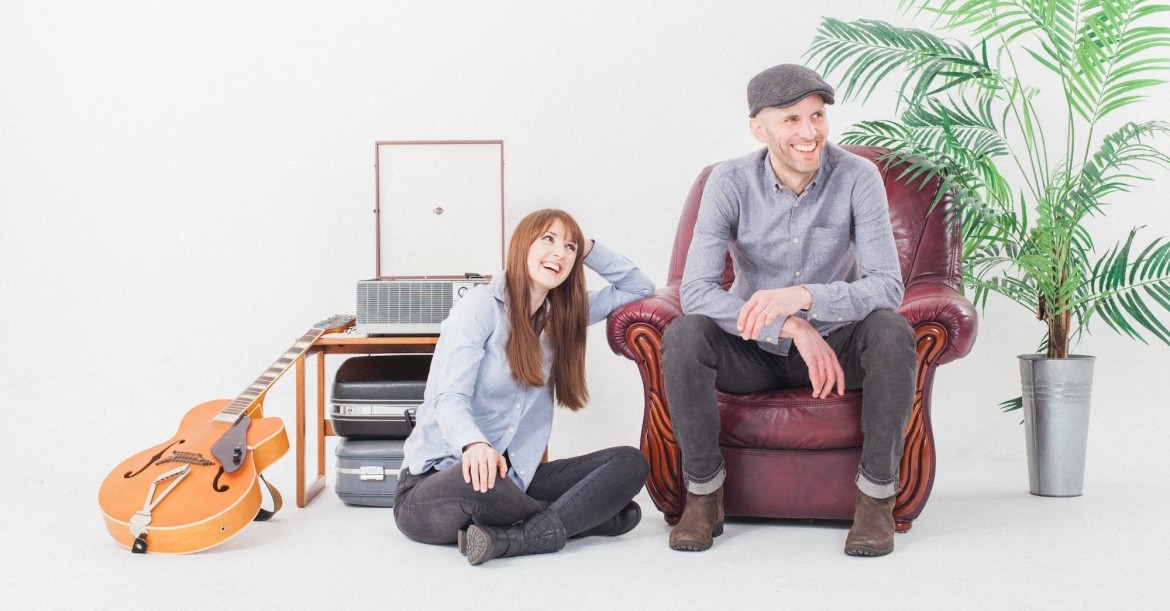 Location Manchester
Starting from £504.00
Looking for an acoustic festival vibe for the daytime at your wedding or event? The Nutmegs Duo are the perfect choice. Playing a mixture of modern folk, classic soul, pop and country, the duo will colour any event with acoustic music, either inside or out.
"The performance was lovely, engaging and had everybody up and on their feet" Graham Oldham Campbell, The Belle Epoque, Knutsford.
"The Nutmegs are a wonderfully talented, quirky, unique group of musicians" Helen Roscoe, Private grounds wedding in Widnes.
"We had a fabulous time jigging along to all those favourite songs performed brilliantly in an exciting way by fabulous musicians" Marion Ward, Keswick Theatre By The Lake.
1 reviews
Song List
Modern Folk and Pop
All I Want Is You - Barry Louis Polisar
American Boy - Estelle
Black Horse And A Cherry Tree - KT Tunstall
Blame It On Me - George Ezra
Budapest - George Ezra
Cannonball - Damien Rice
Dreaming Of You - The Coral
Ex's & Oh's - Elle King
Fever - The Black Keys
Fill My Little World - The Feeling
Gold On The Ceiling - The Black Keys
Hey Soul Sister - Train
Hey There Delilah - Plain White Ts
Ho! Hey! - The Lumineers
Hold My Hand - Jess Glynn
I Will Wait - Mumford And Sons
I'm Yours - Jason Mraz
I Need A Dollar - Aloe Blacc
Last Request - Paolo Nutini
Lightening Bolt - Jake Bugg
Little Talks - Of Monsters And Men
Mama Do - Pixie Lott
One Hand In My Pocket - Alanis Morrisette
Rest Of My Life - Holly Maher
Riptide - Vance Joy
Rolling In The Deep - Adele
Seven Nation Army - The White Stripes
She Moves In Her Own Way - The Kooks
Slow It Down - The Lumineers
Sweet Creature - Harry Styles
The A Team - Ed Sheeran
Valerie - Amy Winehouse
You Know I'm No Good - Amy Winehouse
50s/60s/70s - Rock n Roll/Country and Pop
16 Tonnes - Slim Lightfoot
A Day In The Life - The Beatles
All The Young Dudes - Mott The Hoople
Always Look On The Bright Side Of Life - Eric Idle
Bad Moon Rising - Creedence Clearwater Revival
Be Bop A Lula - Gene Vincent
Be My Baby - The Rosettes
Bend Me Shape Me - The Amen Corner
Big Yellow Taxi - Joni Mitchell
Blue Suede Shoes - Elvis Presley
Bring It On Home To Me - Same Cooke
California Soul - Marlena Shaw
Cecelia - Simon And Garfunkel
Come And Get Your Love - Redbone
Come Together - The Beatles
Crazy Little Thing Called Love - Queen
Cum On Feel The Noize - Slade
Dedicated Follower Of Fashion - The Kinks
Delilah - Tom Jones
Don't Let Me Be Misunderstood - The Animals
Don't Let Me Down - The Beatles
Folsom Prison Blues - Johnny Cash
Get It On - T-Rex
Gimme Shelter - The Rolling Stones
Hazy Shade Of Winter - Simon And Garfunkel
Heard It Through The Grapevine - Marvin Gaye
Heatwave - Martha Reeves And The Vandellas
Hello Mary Lou - Ricky Nelson
Here Comes The Night - Them
Here Comes The Sun - The Beatles
Hooked On A Feeling - Blue Swede
I Feel Good - James Brown
I'm Looking Through You - The Beatles
I Only Want To Be With You - Dusty Springfield
Is This The Way To Amarillo - Tony Christie
It Ain't Me Babe - Bob Dylan
Itchycoo Park - The Small Faces
I Walk The Line - Johnny Cash and June Carter
Jackson - Johnny Cash and June Carter
Jolene - Dolly Parton
Little Wing - Jimi Hendrix
Lola - The Kinks
Love Grows (Where My Rosemary Goes) - Edison Lighthouse
Manic Depression - Jimi Hendrix
Mr Blue Sky - ELO
Mrs Robinson - Simon and Garfunkel
Mr Tambourine Man - Bob Dylan
My Boy Lollipop - Millie Small
Norwegian Wood - The Beatles
Oh You Pretty Things - David Bowie
Pretty Woman - Roy Orbison
Return To Sender - Elvis Presley
Ring Of Fire - Johnny Cash
Rock Around The Clock - Bill Haley And The Comets
Runaway - Del Shannon
Spirit In The Sky - Norman Greenbaum
Substitute - The Who
Sugarman - Rodriguez
Sunny Afternoon - The Kinks
Tainted Love - Gloria Jones
Take Good Care Of My Baby - Bobby Vee
That's Alright Mama - Elvis Presley
That'll Be The Day - Buddy Holly
The Chain - Fleetwood Mac
The Joker - The Steve Miller Band
The Letter - The Box Tops
The Man Who Sold The World -David Bowie
(There's) Always Something There To Remind Me - Sandie Shaw
Time Of The Season - The Zombies
Twistin' The Night Away - Sam Cooke
Two Of Us - The Beatles
Venus - Shocking Blue
We Gotta Get Outta This Place - The Animals
When I'm 64 - The Beatles
Yakety Yak - The Coasters
You Got It - Roy Orbison
You Never Can Tell - Chuck Berry
You Really Got A Hold On Me - Smokey Robinson
Wake Up Little Suzie - The Everly Brothers
Waterloo Sunset - The Kinks
We Gotta Get Out Of This Place - The Animals
You Got It - Roy Orbison
You Never Can Tell - Chuck Berry
You've Really Got A Hold On Me - Smokey Robinson And The Miracles
Yakety Yak - The Coasters
Ziggy Stardust - David Bowie
80's/90's popular songs
Bohemian Like You - Dandy Warhols
Boys Don't Cry - The Cure
Disco 2000 - Pulp
Don't Look Back In Anger - Oasis
Faith - George Michael
Fast Car - Tracey Chapman
Friday I'm In Love - The Cure
Heaven Knows I'm Miserable Now - The Smiths
It Must Be Love - Madness
One Hand In My Pocket - Alanis Morrisette
Only You - Yazoo
Personal Jesus - Depeche Mode
Psycho Killer - Talking Heads
Say You'll Be There - Spice Girls
Sweet Dreams - The Eurythmics
Take On Me - Ah-Ha
Tender - Blur
The Day We Caught The Train - Ocean Colour Scene
There Is A Light That Never Goes Out - The Smiths
The You And Me Song - The Wannadies
Valerie - The Zutons
You Got The Love - Candi Staton
The Beatles
I Saw Her Standing There - 1963 - Please Please Me

You Really Got A Hold On Me - 1963 - With The Beatles

And I Love Her - 1964 - A Hard Day's Night

Eight Days A Week - 1964 - Beatles For Sale

You've Got To Hide Your Love Away - 1965 - Help!

Drive My Car - 1965 - Rubber Soul

Norwegian Wood (This Bird Has Flown) - 1965 - Rubber Soul

I'm Looking Through You - 1965 - Rubber Soul

I'm Only Sleeping - 1966 - Revolver

A Day In The Life - 1967 - Sgt Pepper's Lonely Hearts Club Band

When I'm 64 - 1967 - Sgt Pepper's Lonely Hearts Club Band

Fixing A Hole - 1967 - Sgt Pepper's Lonely Hearts Club Band

Ob-La-Di Ob-La-Da - 1968 - The White Album

Blackbird - 1968 - The White Album

All You Need Is Love - 1969 - Yellow Submarine

Come Together - 1969 - Abbey Road

Here Comes The Sun - 1969 - Abbey Road

You Never Give Me Your Money - 1969 - Abbey Road

Golden Slumbers - 1969 - Abbey Road

Oh! Darling - 1969 - Abbey Road

Two Of Us - 1970 - Let It Be

Strawberry Fields - 1976 - Magical Mystery Tour