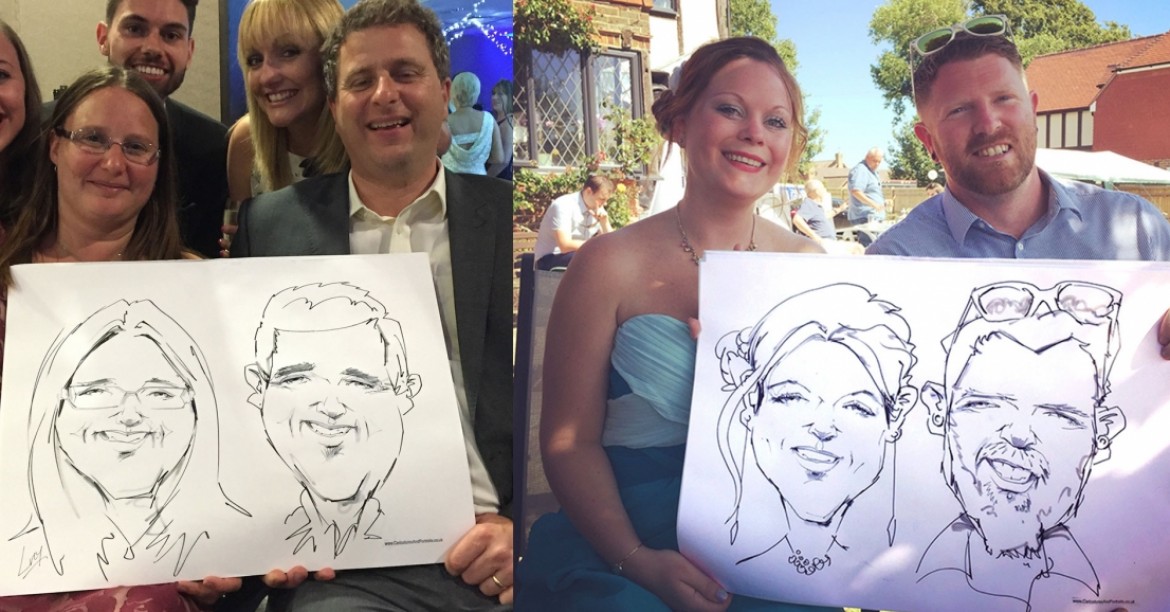 Location Kent
Starting from £204.00

Outstanding and fun caricature portraits. Paul creates brilliant likenesses that guests will love.
Always happy to attend any event and always polite, punctual, smartly dressed and friendly, Paul is a great choice for any type of event.
Paul is a Kent based artist but happy to travel to be at your wedding or party inside London and the South East.

PRE-DRAWN GIFT CARICATURES
Paul also offers amazing pieces of art created at this home studio. All he needs is a couple of clear and recent photos of the person / people you would like drawing and Paul will create a fantastic likeness with full background and props where required resulting in a fabulous gift that can be framed and kept forever!
Number of Reviews and Counting... 29!
Paul has been drawing caricatures for many years at weddings, parties and events. His caricature portraits are always popular and are great mementos for guests.
Paul will draw guests with great likenesses in a more unique way aiming more for a likeness than a big laugh. He prefers not to exaggerate features and take a kinder approach to sitters, ladies particularly like this as we are all sensitive about how we look. Paul draws in black pen on white paper highlighting with tinting pens. Drawings are sketched on A3 or A2 paper and all guests keep their drawings. Very often they are framed... well that is what Paul gets told anyway!
Always happy to attend any event and always polite, punctual, smartly dressed and friendly, Paul is a great choice for any type of event.
The Martelo Lodge 8712

, Charity, Great Danes Hotel, Kent
Very friendly and professional, guests enjoyed the experience and were pleased with the end result.
---
Catherine Stacey

, Birthday Party, Kent
Paul was a real hit from the moment he arrived. And boy oh boy were his drawings good! Brought a smile to everyone's face. Paul is very talented and he gave us all a wonderful memory to take away - such a perfect day. The party just wouldn't have been the same without him. Thank you Paul.
---
Kevin Wilson

, Private Party, Assembly Halls, Kent
Paul the Caricaturist was great and very popular! Because he was so popular I asked if he could stay an extra hour and he was very accommodating.
---
Sue Little

, Birthday Party, Spitfire Cricket Ground, Kent
Paul was fantastic and made my special day even more special.
---
Dan Coward

, Wedding, Princes Park, Kent
Paul was awesome with all our Friends and family and artwork was amazing.
---
Amanda Watson

, Wedding, Broome Park Hotel & Manor House, Kent
Paul was very good and everybody was so happy with their pictures , I would definitely recommend him.
---
Nina Holley

, Wedding, Upwaltham Barns, West Sussex, West Sussex
Paul was lovely, we had a chat during the week leading up to the event to discuss what we wanted. He was punctual and polite during the evening. I think those that had caricatures done were happy with the results. Indeed my daughter and son-in-law ,whose wedding it was, loved theirs. I would recommend Paul for his talent in portraying the fun side of person on paper.
---
Katie Whitehead

, Wedding, Cooling Castle, Kent
Thanks to Paul for attending our Wedding, our guests loved their pictures!
---
Kim Allen

, Wedding, Luxters Barn, Hambleden, Essex
Paul was excellent and we would definitely recommend him. Thank you.
---
Kirsty Lamont

, Wedding, Novotel, Hertfordshire
Paul was very kind and easy to chat to and his drawings were amazing. I would recommend him to people looking for a Caricaturist. Thank you for joining us to draw on our special day. xx
---
Beverley Kemp

, Birthday Party, Murray Hall, Essex
I didn't get chance to exchange more than a few words with Paul as I was mingling with my guests all night. However, Paul went down a storm with my party guests. They loved his sketches of them. So good was Paul that I hear my niece wants to book him for her up coming wedding! Thank you Paul for your wonderful talent in making my guests enjoy their evening at my party even more so. xxx
---
Roger Bean

, Birthday Party, Forest Row Village Club, East Sussex
Paul was prompt & professional. His drawings were fun & popular with our guests. A lovely addition to our party.
---
Joanna Scamp

, Wedding, Tower House, Kent
Paul was amazing, I know that all of our guests would have had a portrait if they could. Totally brilliant throughout. Thank you and thank you too for sharing your amazing talent with us.
---
Xiaopei Su

, Wedding, Parklands Quendon Hall, Essex, Essex
Five Stars.
---
Jenny Webster - Anglia Ruskin University

, University / School, Anglia Ruskin University, Essex
I'm assuming 5 is the most positive. Paul was great, very friendly and provided exactly the service we were looking for to our visitors.
---
Niomi Howard

, Wedding, Darenth Valley Golf Club, Kent
He was amazing loved the picture, everyone loved him and said how good he was. He was nice and funny too.
---
Ryan Croucher

, Wedding, Chilston Park, Kent
Absolutely amazing, everyone loved him! Thank you!
---
Maureen Asante Baah

, Birthday Party, Elite Venues, Kent
Paul was amazing! Very friendly and engaged really well with my guests. The atmosphere certainly got people engaged and interested. I will definitely use him again and also recommend him to others. He took on prior instructions and also very punctual. He is excellent!
---
Carli Bacon

, Wedding, Lympne Castle, Kent
Paul was great!
---
Magdalena Lapkouska

, Private Party, London
Paul is a very nice and friendly person - also communicative with everyone (including children) which is extremely important at all kinds of events. He was joking with people but very patient aswell as it can get chaotic when there are lots of people. I would definitely recommend Paul and re-hire in the future. It was a great entertainment for guests!
---
Christine Price

, Birthday Party, Kent
Paul was a real asset to my birthday party! So friendly and sociable, and the pictures were great. Guests were queuing up to have their caricatures done.
---
Katrina Robb

, Wedding, Essex
Paul was fantastic and really helped to make the wedding a special day. Everyone enjoyed getting drawn and taking their pictures home. I would definitely hire again and would recommend to others. Thank you Paul.
---
Derek Mason

, Birthday Party, London
Paul was professional and very friendly. Arriving ahead of the booked time, he started early and kept all my friends entertained as he drew. Many of my friends, adults and children alike, made a point of showing me how good their caricature was. In fact he was so popular I didn't even get time to have a caricature done! I would definitely book again and have recommended him to others.
---
Kelly

, Birthday Party, Berkshire
Thank you so much for coming to the party. Everyone was raving over their drawings and I hope you enjoyed yourself.
---
Deanne Bell

, Wedding, Kent
Paul was completely professional throughout all our correspondence prior to the event and I was confident that he was able to make my sister's wedding one to remember. On the day, he arrived on time and was set up very quickly and got to work drawing the guests. My sister and her new husband did not know he was arriving as this was a surprise present I had organised for them. Paul was brilliant and managed to complete numerous guests drawings and they were all very happy with the way he had portrayed them. I would have no hesitation in booking Paul again for any function and will recommend both himself and your company to anyone who has an event coming up.
---
Katie W

, Corporate, London
Thank you so much for last night. The team loved having you at our party and you were a massive hit. Also a big thank you for staying the extra 30 minutes - I really appreciated that.
---
Katrina Bright

, Wedding, Buckinghamshire
Paul was very professional and really pleasing to our guests. If anything I wish I had booked him for a little bit longer as he was really popular. It's a great way to get guests talking and keep the day exciting and engaging. My husband and I were so busy during the drinks reception so we didn't get a portrait, however, Paul kindly offered to do one of us from a photo and send it in the post. Overall Paul was great and I would highly recommend him.
---
Alexandra Knight

, Wedding, Sussex
Very friendly, professional and fantastically talented! Brilliant!
---
Colin and Julie

, Wedding, Kent
Hi Paul, just to say thank you for drawing at our wedding on the 14th September. It helped make our fantastic day a little more special.
---
Financial Ombudsman
British Army
Claridges
Nuffield Hospital
Blenheim Palace
Marker Study
... and many more corporate and private clients.
Do you have any extra charges?
No, quotes include all travel and materials.
Do the guests keep the drawings?
Yes!
How many can you do in an hour?
On average one drawing (person) every 7 minutes.
Minimum Booking is 2 Hours
Please Note: The fees indicated below are approximate and based on a central location for each county. They are intended to provide a rough guide only and exact quotes can only be given once the date and exact location of your event have been provided.
Scotland
Aberdeen
£408.00
Glasgow
£408.00
Edinburgh
£408.00
Foreign Locations
Europe
£1,200.00
Rest of the world
£2,400.00
East Midlands
Derbyshire
£408.00
Leicestershire
£408.00
Lincolnshire
£408.00
Northamptonshire
£408.00
Nottinghamshire
£408.00
Rutland
£408.00
East
Cambridgeshire
£360.00
Suffolk
£360.00
Norwich
£360.00
West Midlands
Birmingham
£408.00
South East
Bedfordshire
£306.00
Berkshire
£306.00
Buckinghamshire
£306.00
East Sussex
£204.00
Essex
£204.00
Hampshire
£306.00
Hertfordshire
£306.00
Isle of Wight
£408.00
Kent
£204.00
Oxfordshire
£270.00
Surrey
£204.00
Sussex
£204.00
West Sussex
£306.00
London
£306.00
Middlesex
£306.00