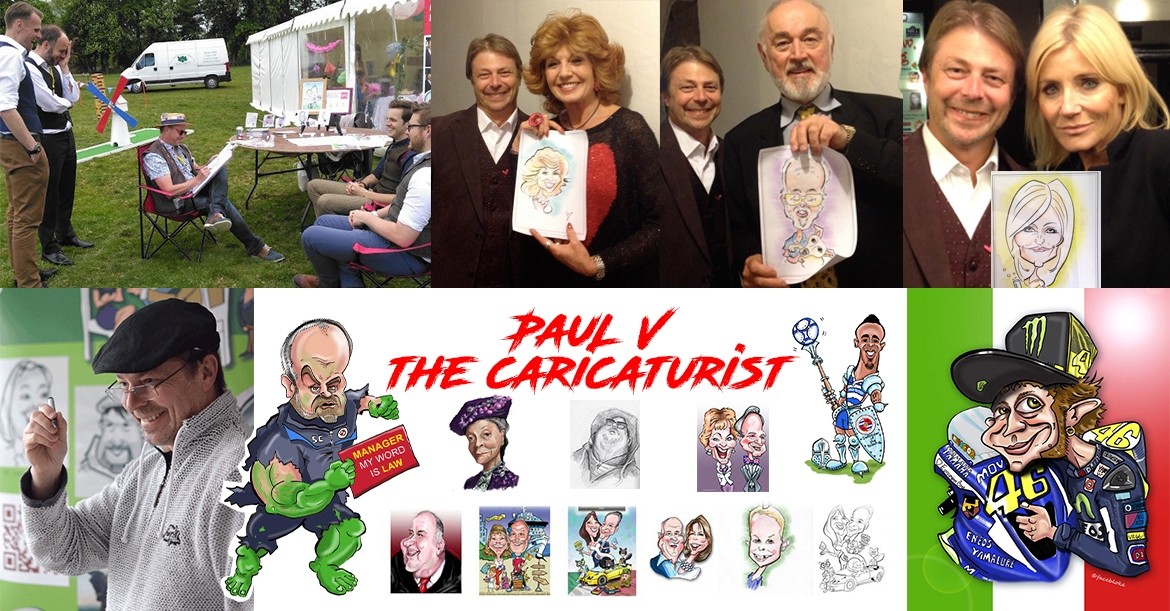 Location Berkshire
Starting from £336.00

Paul V The Caricaturist has entertained for some of the largest companies ranging from BMW, Pepsico and Ferrari to the Princess Royal Trust and Ashmolean Museum. Paul V is a caricaturist who will be sympathetic to a shy person and exaggerate accordingly for the larger than life personality! He can draw in full colour or mono using traditional paper and pen or digital iPad Pro.
Whether drawing on the hoof or sat in one location, Paul V always draws a crowd!
Number of Reviews and Counting... 1!
Paul V The Caricaturist celebrates our individuality and personality so if you are shy, you have nothing to fear. If you heckle - beware! His drawings take around 4 minutes for mono with shading and 7 for full colour - you choose which will suit your guests!
You can choose traditional paper or digital, Paul uses A4 size for walking and drawing and A3 or A4 when sat, his full colour option is only available when sat.
Paul is more than happy to chat and entertain whilst drawing, he has some tales to tell of strange and funny things that happen to him from drawing on radio to drawing on a London bus - you couldn't write it!
Nicci Worthington

, Corporate, Berkshire
Just a quick message to say thanks for such a wonderful evening of entertainment, we had a fab time and everyone is thrilled with your work. Alexandra Mann Solutions will definitely be booking you again!!! First class from start to finish and so accommodating to our requests... thank you.
---
Paul V has worked at the House of Lords, Trinitiy College Oxford, football stadiums and even a London bus! Clients include:
Heart FM
Weight Watchers
Legoland
SG Casino
Nestle
Pepsico
Microsoft
British Postal Museum
Boehringer
BMW
Unilever to name but a few...
Paul V will travel for live work, but also has his studio in Berkshire where he draws caricature gift items for leaving presents, birthday gifts etc.
Logos, strap lines and birthday or wedding sentiments can be added to the paper at no additional cost
This is Paul V's full time job!
Paul V has drawn a number of celebrities and politicians along with all his other sitters who he feels are all worthy of VIP status!
Paul V The Caricaturist will do from 1 hour minimum up to 4 hours plus
Typically 2.5 - 3 hours proving popular for most events
Please Note: The fees indicated below are approximate and based on a central location for each county. They are intended to provide a rough guide only and exact quotes can only be given once the date and exact location of your event have been provided.
West Midlands
Warwickshire
£420.00
Birmingham
£420.00
South East
Berkshire
£336.00
Buckinghamshire
£360.00
Hampshire
£360.00
Hertfordshire
£360.00
Oxfordshire
£360.00
Surrey
£360.00
London
£420.00
South West
Wiltshire
£420.00
Bath
£420.00
Bristol
£420.00