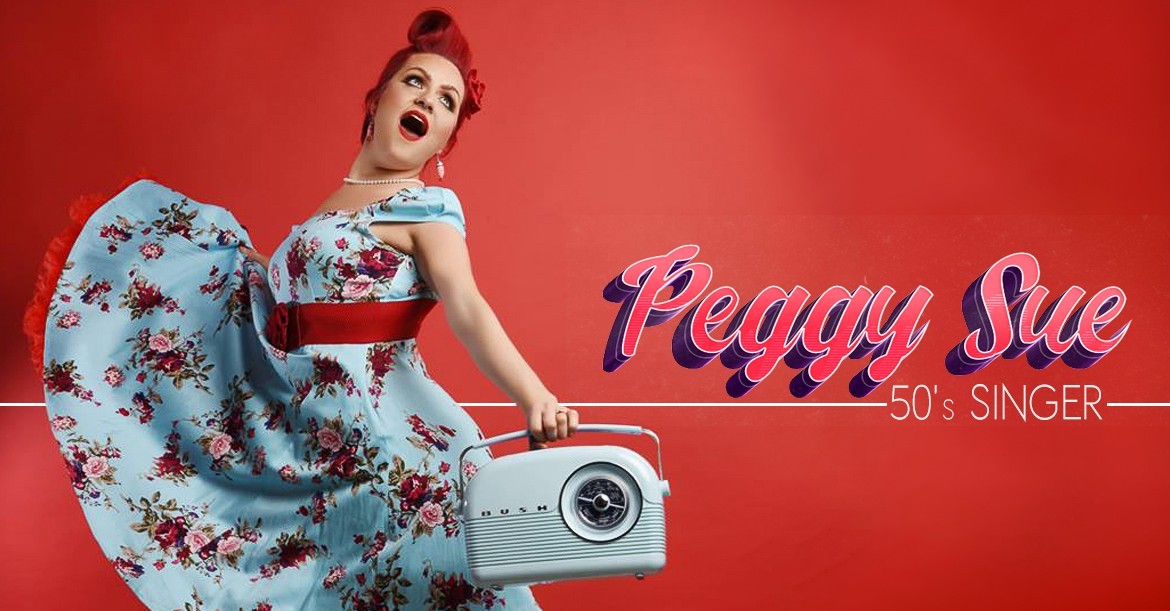 Location Derbyshire
Starting from £324.00

Hold on to your petticoats and quiffs, and join the 50s frolics with Peggy Sue, the red-headed sultry songstress!
Keep calm and tell Johnny to Be Goode as its time to rock around the clock! Join the most rockin' singer in town and jive along to those jukebox hits from the 50s with classic songs by the king of rock and roll, Elvis Presley, Chuck Berry, Little Richard, Buddy Holly and a modern milkshake mix of hits shaken up in a 50s style! Plus many more magical hits to transport you back to the fabulous 50s when you were a teenager in love.
Number of Reviews and Counting... 1!
Callin' all you Teddy Boys and Jive Bunny's...
If you were born to hand jive baby, get yourself down to Tutti Frutti's diner and allow the great balls of fire vocals of Peggy Sue seranade you into a frolicking, fifties frenzy! Peggy Sue is bursting with charisma, exploding with vivacious vitality and has bags of infectious fun loving flare to create a sparkling vintage vibe at your shindig! Keeping the party tip top and in full swing! Prepare for a nostagic night of table rockin', foot stomping, jive boppin' beats. Put your glad rags on and join Peggy Sue, who will be dressed to impress with the funky fashions of the fifties!
A perfect choice for twisters, twirlers Lindy Hop lovers, Jailhouse Jivers, Bunny Hoppers, Sensational Strollers or for those sit down swayers. Make some magical memories and become a Rock-a hula baby or a hunk, a hunk of burnin' love!
Solo Female Singer with backing tracks.
Johnny Be Goode
Jailhouse Rock
Whole Lot Shakin' Goin' On
Long Tall Sally
C'Mon Everybody
Rock Around The Clock
Yakety Yak
All Shook Up
La Bamba
Great Balls Of Fire
Reet Petite
Thats All Right
Dont Be Cruel
Return To Sender
Let's Twist Again
Shake, Rattle and Roll
Roll Over Beethoven
At The Hop
The Hippy Hippy Shake
The Twist
You never can tell
See ya later Alligator
Little Bitty Pretty One
Blue Suede Shoes
The Lion Sleeps Tonight
Good Golly Miss Molly
Tutti Fruitti
Hound Dog
Oh Boy!
Lipstick On Your Collar
Bye Bye Love
Teenager In Love
Its Now Or Never
Peggy Sue
That'll Be The Day
Rockin' Robin
Willie & The Handjive
Sh-Boom
Sherry Baby
Stupid Cupid
Sweet Little Sixteen
Summertime Blues
Lets Dance
Don't Knock The Rock
Lets Have A Party
Grease medley
I kissed a girl
Dancing In The Dark
Mmmbop
We Can't stop
Africa
My Heart Will Go On
Timber
Janet Harvey

, Private Party, Nottinghamshire
Peggy Sue was fantastic at our 50's event. All the songs were performed incredibly well and we thought the newer songs performed in a 50's style was so original and amazing!
---
H&F Vintage Tearooms
Denmark War Festival
Salute To The 1940's
BBC Radio Derby
Billingham Forum
Princess Theatre, Hunstanton
Severn Valley Railway 1940's Event
Market Drayton Festival Theatre. Sell Out
Best Western Hotels
Devere Hotels
How long are your sets?
Sets can be tailored to suit your event, but I normally perform 2 x 45 or 3 x 30 minute sets as standard.
What do you require?
Electrical sockets x4, changing area with mirrors and a medium sized trestle table
How much space do you need?
I can adapt to most spaces provided. However a 2m x 2m space would be perfect.
Do you play music between sets?
Yes, I will play an appropriate style of music to fit the event.
What equipment do you need providing?
We do not require any equipment. All sound and lighting is provided by ourselves.
Is your equipment PAT tested and do you have PLI?
Yes, We are fully insured and saftey tested and certificates are available after booking.
3 x 30 Minutes
2 x 45 Minutes
2 x 60 Minutes
Please Note: The fees indicated below are approximate and based on a central location for each county. They are intended to provide a rough guide only and exact quotes can only be given once the date and exact location of your event have been provided.
Scotland
Aberdeen
£636.00
Inverness
£672.00
Perth
£624.00
Sutherland
£432.00
Ayrshire
£600.00
Fife
£624.00
Stirlingshire
£624.00
West Lothian
£612.00
Dumfries-shire
£456.00
East Lothian
£588.00
Lanarkshire
£588.00
Midlothian
£600.00
Glasgow
£600.00
Edinburgh
£600.00
Dundee
£624.00
Foreign Locations
Europe
£720.00
Rest of the world
£1,200.00
North East
Durham
£432.00
Northumberland
£468.00
North Yorkshire
£408.00
South Yorkshire
£384.00
Tyne and Wear
£444.00
West Yorkshire
£408.00
Yorkshire
£540.00
East Yorkshire
£408.00
Leeds
£396.00
North West
Cheshire
£408.00
Cumbria
£456.00
Manchester
£408.00
Lancashire
£408.00
Merseyside
£408.00
Liverpool
£408.00
East Midlands
Derbyshire
£366.00
Leicestershire
£384.00
Lincolnshire
£408.00
Northamptonshire
£408.00
Nottinghamshire
£384.00
Rutland
£396.00
East
Cambridgeshire
£420.00
Norfolk
£420.00
Suffolk
£432.00
Norwich
£432.00
Wales
Anglesey
£468.00
Caernarvonshire
£420.00
Denbigh
£420.00
Flint
£408.00
Cardigan
£564.00
Brecon
£552.00
Carmarthen
£564.00
Glamorgan
£720.00
Monmouth
£444.00
Pembroke
£624.00
Wrexham
£384.00
Cardiff
£504.00
West Midlands
Gloucestershire
£432.00
Herefordshire
£432.00
Shropshire
£408.00
Staffordshire
£384.00
Warwickshire
£408.00
Worcestershire
£408.00
Birmingham
£408.00
South East
Bedfordshire
£420.00
Berkshire
£444.00
Buckinghamshire
£420.00
East Sussex
£480.00
Essex
£444.00
Hampshire
£444.00
Hertfordshire
£420.00
Isle of Wight
£564.00
Kent
£552.00
Oxfordshire
£432.00
Surrey
£444.00
Sussex
£576.00
West Sussex
£576.00
London
£456.00
Middlesex
£324.00
South West
Cornwall
£648.00
Devon
£588.00
Dorset
£588.00
Somerset
£588.00
Wiltshire
£552.00
Bath
£552.00
Bristol
£480.00