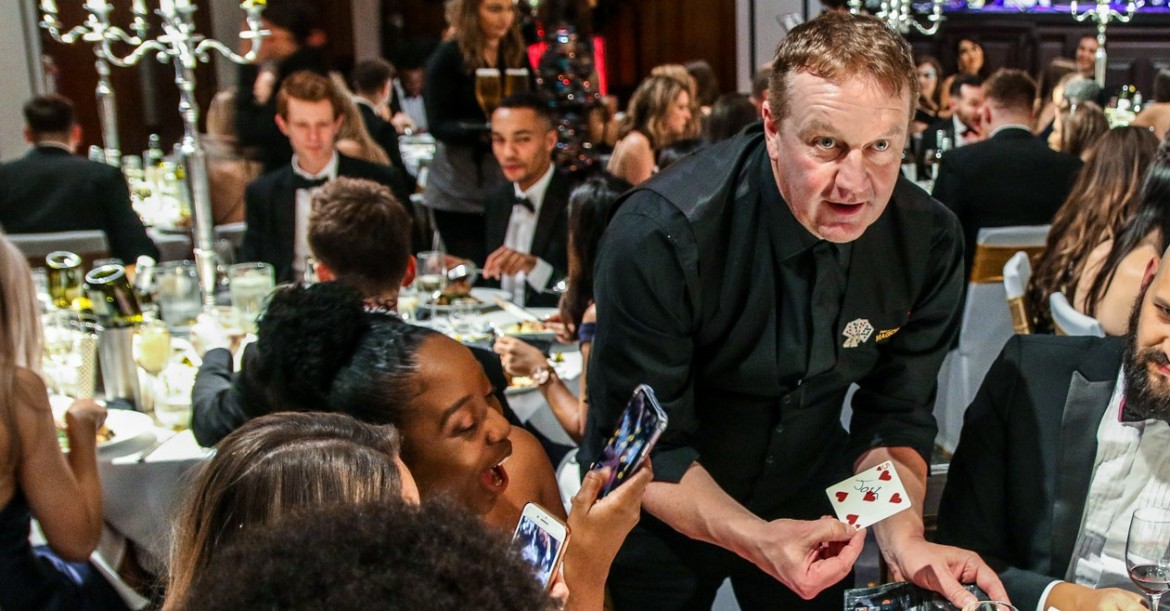 Location Merseyside
Starting from £240.00
THE PEOPLES MAGICIAN - Pete has a nice style to his magic which makes him a popular choice when hiring a magician. He has character, charisma and a good presence about him to suit his brand of magic.
VALUE - Pete always give that bit extra, even if he has gone over the slot he is contracted for... No clock watching! Pete will make sure the job you have hired him to do is done professionally and properly, making sure the client is satisfied with his services. Depending on the nature of the event, Pete will give that bit extra to make sure everyone has had a dose of his magic without any extra charge.
Also, Pete always offer to do Magic on Arrival at your event before he hit the tables at Dinner within the package. This is when Pete will mix and mingle during pre-dinner drinks / cocktails. This gives a nice Executive touch to the event, ideal for Corporate Events and Weddings. No extra charge for this facility, it is all part of Petes package.
*Fantastic Entertainer highly recommended by previous clients*
Number of Reviews and Counting... 64!
"IF YOU EVER LOVE YOUR JOB, YOU WILL NEVER WORK AGAIN" Pete has had Magic in his blood ever since he was a child. The unexplained, the mysteries of the world and the deception of magic has always been a fascinating hobby for him, which has now turned into a profession. Pete always bring his heart to the events, which is a positive before he performs his first piece of magic.
CV in BRIEF: Pete has performed for many big brand companies, such as BMW, Borders, British Gas, John Lewis, just to name a few. Pete has also worked on Cruises for Fred Olsen, Maritime Cruises and Travelscope, International work in Greece, Spain, Canada, Bahrain & Czech Rep. Also, Pete has done some missionery work by amazing the orphans in India & Malaysia. Although the list above may be a impressive cover for the CV, Pete knows his Grass Roots and never gets carried away with his success. He still loves performing at Wedding & Private Events as much as the Cruise Ships. Pete has won 7 out of 11 magic competitions he has entered.
MATERIAL: Pete's magic varies from close up illusions to classic card magic. Gone of the days of picking a card and the magician finding it. Magic has moved to another level where you hold a deck of cards and then suddenly it disappears in your hand or a sign card suddenly is in a zipped up wallet - truly amazing. Pete's sponge ball routine is awesome. Also he can perform coin, ropes and some magical capers to bring a smile on your guests faces. Depending on time or the nature of the event, Pete often stays behind and sits with guests and does a bit of Derren Brown material, which is full of mind games. This has been a massive hit at weddings as the guests relax in the hotel lounges after all the partying.
EXPERIENCE: Pete has performed countless events around the UK and the main holiday destination in Europe, where he has picked up valuable experience how to deal with all kinds of clientele. Yes, his magic has matured to a high quality level, but his people skills are excellent. Pete has gained the experience to performed the right trick, to the right guest at the right time. He knows when to hit, avoid, and back off at the right moment. Pete will never force anyone to be involved in his routines and make sure that everyone enjoys his magic.
VERSATILE: Pete can offer any kind of magic to suit your event. Close Up Magic / Table Magic. Stand up Show, After Dinner Speaker / Guest Speaker talking about the Art of Magic. Magic Workshops (learning basic but effective magic)...
Nicola Morgan

, Birthday Party, Cumbria
He was great - Everybody was blown away by his tricks. If I was having another party I would definitely have him back.
---
Carol Barker

, Charity, Gloucestershire
Fantastic magician! Everyone loved it ! Pete went out of his way to help us at last minute we were very grateful. Thank you Pete!
---
Laura Cartwright

, Wedding, Alder Root Golf Club, Cheshire
Pete was amazing, varied his act and upped the tricks when people questioned how he did it. All guests loved him. Amazing talent. Didn't rush off.
---
Laura Jones

, Other, The County Assembly Rooms, Lincolnshire
Amazing! Pete thoroughly blew the mind of all the guests with his magic.
---
Jenny Kay

, Birthday Party, Manchester
Excellent - will be booking again.
---
Karen Stewart

, Corporate, The Moat House, Staffordshire, Staffordshire
Pete attended our corporate function, carrying out close-up magic tricks which were entertaining and baffling, even though we watched his every move we couldn't work out how he did them. Thoroughly recommended.
---
Libby Friedheim - Cyprotex / Evotec UK

, Corporate, Cheshire
Great material and great with all of the guests! Definitely a fabulous addition to the night and would definitely recommend him!!
---
G Allen - Orchard Therapeutics (Europe) Ltd

, Corporate, London
Everyone absolutely loved Pete, we had such a brilliant night. Thank you very much!
---
Naomi O'Rourke - JMW Solicitors LLP

, Corporate, The Principal Hotel, Manchester
Pete was very easy to work with and very professional! He was extremely popular on the night and I have only heard positive feedback. I would definitely recommend!
---
Pippa Nagle

, Birthday Party, The Turner Arms, Oxfordshire
He gave me every confidence that he could work any room and he was true to his word. I would highly recommend Pete. His magic is very interactive and kept us throughly entertained for hours.
---
Tom Brown

, Private Party, The Deanwater Hotel, Cheshire
Just excellent! Pete went to all eleven tables individually and wowed them all - also no complaints which is a first for our group. From initially obtaining information from the website to booking, and then receiving a phone call from Pete to confirm our arrangements - all worked like a charm. Just excellent!
---
Julie Dowdall

, Other, Merseyside
Absolutely amazing. A big hit with all the guests. Would highly recommend.
---
Vicky Ford

, Private Party, Merseyside
Absolutely fantastic magician . Would highly recommend!
---
Max Clarke

, Wedding, Oddfellows, Cheshire, Cheshire
Pete was really great and spent extra time with our guests at the tables to deliver fun and magical moments.
---
Matt Hubbard

, Birthday Party, Black Lion, Staffordshire
The highlight of the day, pretty much the main talking point. Couldn't recommend him highly enough.
---
Angela Dooley

, Wedding, Mottram Hall, Cheshire, Cheshire
Thank you Pete for entertaining my guests! You were amazing and thank you as I know as you were leaving, my nephew caught you for another trick and you happily stayed on! Just such a lovely guy :)
---
Lita Cavanagh

, Birthday Party, Conservative Club, Liverpool
Oh my word. 100 plus stars! Not only was the service from Warble excellent from the start, with communications often prior to our party. Peter is an absolute gentleman with skills worthy of his own tv show. I literally watched every move he made and he still had me every time. No sleeves, no tacky tricks, just pure class act. Peter managed to get round almost everyone in the room, which was impressive as he didn't rush at all. Our guests thought he was ' brilliant ' 'unbelievable ' ' better than some you see on tv' ' class act' ' could watch him all night' ' needs his own show' OMG'... These are just a snippet of the guests feedback. If you are thinking of booking a magician, go ahead and be confident in Pete. Worth every single penny. You will NOT be disappointed. Thank you Peter for making Mums party extra special!!
---
Richard Freeman

, University / School, Ramside Hall, Durham
Pete was amazing! He blew everyone's socks off with some brilliant and mind blowing magic! He had a great personality and a fabulous delivery people were buzzing to be next trying to get his attention. Pete was amazing and did a fabulous job!
---
Jon Meller

, Birthday Party, Staffordshire
Performed as expected and didn't appear to miss anyone out. Integrated well. Very happy, thank you Pete.
---
Martin Aldridge

, Birthday Party, Beckford Inn, Gloucestershire
Pete provided a fabulous experience for our party guests. The mix of close up magic, performance and personality made it a compelling piece of entertainment. We really enjoyed it and he is thoroughly recommended.
---
Sophie Ammar

, Other, Cheshire
Pete really had his work cut out for him with over 200 guests to entertain. The sounds of gasps, excitement and applauds were constant all through the venue. Pete was wonderfully entertaining and the magic was just incredible. As the organiser of the event, I received nothing but positive feedback about Pete. Thank you for such wonderful entertainment, Pete. I look forward to booking you again at my next event.
---
Marcus Tudge

, Birthday Party, Farmer Copleys, West Yorkshire
Excellent magician. All my friends were very complimentary about Pete and his skills. They were all very impressed and wanted to know how we got hold of him. We will definitely use him again and your services. Well done Pete & Warble.
---
Rob Sparkes - Reaseheath College

, University / School, Reaseheath, Cheshire, Cheshire
Pete was amazing, very flexible on the night about how to run the show. His skills were some of the best we have seen here and left all of us in awe. Although he was faced with some louder teenage boys at the beginning, he managed to get them involved rather than heckle them back. All round perfect night, well worth the money!!!
---
Rachel McCourt

, Corporate, Ramside Hall, Durham
Brilliant performance, kept staff entertained and did some amazing tricks. Would definitely recommend.
---
Mike Thornborrow

, Restaurant, West Yorkshire
What a fantastic guy. Totally put everyone at ease and blinded them all with his magic! Highly recommended.
---
Dean Linacre

, Wedding, Fleetwood Conservative Club, Lancashire
Absolutely brilliant guy. Very polite, funny, easy to talk to and had everyone asking for more. A lot of wows and everyone in the room commented on Pete. Would and will recommend for any event.
---
Colin Gillam

, Birthday Party, The Saxon Mill, Warwickshire
Pete was a pleasure to meet and what a great entertainer he is!! Good fun, great tricks and well worth the money. Highly recommended.
---
Lizz Beahan

, Other, Samlesbury Hall, Lancashire, Lancashire
Pete arrived early in plenty of time to prep for his evenings work. He was very friendly from the moment I spoke to him on the phone to make arrangements. He worked tirelessly and expertly and wowed my guests who absolutely loved Pete and his magic. No one could fathom out how his magic was achieved, even very close up. He had many many different tricks and everyone loved him and his fabulous show. One guest asked Pete whether he does balloons and he instantly brought out balloons and transformed them into great shapes, with including giant hats & animals. Guests have been talking about how amazing he was ever since my party. I can fully recommend Pete for any event, you will be delighted. Thanks, Lizz.
---
Zoe Griffiths

, Corporate, Spinnaker Tower, Hampshire
Fantastic performances - all the guests loved it!
---
Gary Winstanley

, Wedding, Holiday Inn, Runcorn, Cheshire, Cheshire
Great magician, everyone was amazed. Would definitely recommend.
---
Melanie Dickinson

, Wedding, Old Thorns Manor Hotel, Hampshire, Hampshire
Absolutely excellent and completely professional. He was able to trick anyone he came across at our party and left everyone in awe.
---
Katie Sutcliffe

, Wedding, The Holiday Inn, Beighouse, West Yorkshire
Pete The Magician was fantastic and entertained all my guests throughout my day! It was easy to book through Warble Entertainment and emails were replied to very quickly! A fab service.
---
Leanne Coleman - Nicholas Humphreys Charity

, Charity, Leicestershire
Various good feedbacks from a number of the guests. Very well done and also pleased with the service. Thank You.
---
Richard Atkins

, Wedding, Liverpool
The feedback from the evening guests all gave positive feedback regards to Peter and the magic and entertainment he provided through the evening. I would recommend Peter to any future people who are arranging a function.
---
James Skinner

, Birthday Party, Bedfordshire
Pete was the ultimate professional and brilliant entertainer enjoyed by all (FANTASTIC)
---
Nicola Currie

, Wedding, Lancashire
Pete was hired for the time we were completing our photographs during the day. Therefore myself and my husband did not see Pete with the guests. The feedback from our guests was he was brilliant and they were amazed. They loved his tricks and couldn't figure out how he did it! We would like to say thank you to Pete for making our day so enjoyable. When the guests were ready to take their seats, he came and did a few magic tricks for my husband and myself. Thank you again x
---
Debra Jowett

, Wedding, Leeds
Excellent magician - would highly recommend Pete. He kept the guests very happy and entertained all evening at my Son and now Daughter-in-law's Wedding. Thank you so much, a very talented man. x
---
Glenda Chalkley

, Birthday Party, Carmarthen
We must say a BIG thank you for a brill night by Pete. Everyone was impressed with his work and Pete also entertained the children at the party. Pete had a nice personality and was great with both adults and children. We will certainly book him again should we require a magician and will definitely be recommending him!
---
Alma Cooper

, Wedding, West Yorkshire
Everyone seemed happy with Pete's performance. They challenged him regarding his tricks & he was happy to answer their questions without revealing too much. It was an informal setting and he fit in well. My friends are quite informal but challenging and he held up under their scrutiny.
---
Michaela Kelly

, Wedding, Warwickshire
Pete was fantastic from beginning to end. He made sure that he interacted with every single guest and of course us. He was funny, polite and chatty. He really is a party pleaser. We couldn't have asked for better.
---
Chris Eves

, Birthday Party, Manchester
Booking was really easy and staff were very helpful with enquiries. Pete was amazing - what a superstar! My guests were enthralled by his repertoire and everyone had such fun. He stayed way over his time to ensure that he touched base with all of the guests and didn't expect any extra payment. He was really conscientious and had a fantastic way with people. Everyone told me he was brilliant and loved what he did. Thank you Pete for making my Birthday Bash extra special. I would highly recommend Pete to anyone........ job more than well done! x x x
---
Zac Warden

, Wedding, Cheshire
Pete is a consummate professional and a gentleman as well of course as being a first class entertainer. The "magic man" (as the kids at our wedding last weekend labelled him), delivered a fantastic array of tricks that kept our whole wedding party entertained and confounded through the evening. Right from the very demanding kids, the skeptical teens, very merry adults right through to the "seen it all" grey brigade....... Pete, it was an absolute pleasure to have you as part of our day. You helped make it perfect. We can't recommend Pete enough. Many thanks Zac and Sam
---
Ryan Lomax

, Wedding, Cheshire
Brilliant highly recommend.
---
Craig Robbins

, Wedding, Denbigh
We were so pleased booking the magician through Warble Entertainment they made the whole process so straight forward and Pete the magician was fabulous. He had our guests baffled with his tricks and he entertained them the whole time he was there. I would highly recommend Warble Entertainment and Pete the magician :)
---
Becky Chivers

, Private Party, Bristol
Pete was amazing. The tricks were outstanding and he kept everyone entertained throughout the evening. He mingled through the crowd and would spend time with groups of people so that all had the benefit of him being there on the night. The variation in his magic made it really interesting to watch as I saw him several times and each time he was doing something new. Thanks for a great night. Kind regards Bex
---
Patricia Walker

, Private Party, West Sussex
Pete is a real trouper, he had a car crash on his way here, was sent to hospital for a check up, and got the police to bring him to the venue. Poor Pete was a bit in shock, but he carried on with my guests with his amazing act. Thank him for me, he is a great magician.
---
Hayley Good

, Wedding, Merionethshire
Hi Pete, only just had time to sit down to thank everyone, so sorry about the delay. Just wanted to say a massive thank you for your performance at our wedding we had so may compliments. Everyone including us thought you were fab so thank you for making our day so special and putting in great effort
---
Laura Robinson & Ronan O'Driscoll

, Private Party, Cumbria
All of our guests thought Peter was great. Very professional with great magic. Would highly recommend and would book again for future events.
---
David Woodward

, Birthday Party, Cheshire
A pleasure to deal with and gave a very professional performance which was much appreciated by my guests. I would have no hesitation in recommending him to others. He worked hard and gave good value for money.
---
Hazel Colquhoun

, Wedding, Suffolk
Pete went down very well with our wedding guests and provided interesting entertainment during the reception and meal. He had a very pleasant friendly manner which engaged people of all ages and his magic kept everyone intrigued.
---
Della Jebb (TSB)

, Corporate, West Midlands
Many thanks for helping us make the evening memorable.
---
Laura Petela - Corporate Events

, Corporate, West Midlands
Great!
---
Rupert Lowery

, Wedding, Cheshire
Great performance of close up tricks that amazed even the most skeptical. A true professional and gentleman. We would book Pete again.
---
Sarah Collett

, Corporate, Manchester
Pete did a very good job of entertaining a wide range of ages from 20 to 60. His tricks kept everyone wondering and guessing throughout the evening.
---
Karen Scollick

, Private Party, West Yorkshire
It was our Silver Wedding Anniversary, we had a great night Pete was fab. All our guest are still talking about him. He was great with the kids as well and they really enjoyed it. He worked all the tables and had different tricks each time. I would definitely recommend him and use him again for future events.
---
Mary Shepherd (U3A)

, Other, Lancashire
Pete went down very well with the 86 members attending. He was skilful, friendly and professional and if you want something a bit 'different' for your party, this is it...........
---
Vicky Cranswick

, Wedding, West Yorkshire
Pete kept our guests entertained for hours and had them in hysterics and awe with the magic tricks he did. He also stayed late to make sure everyone was happy. I would thoroughly recommend booking Pete for any event!
---
Wendy Bennett

, Restaurant, Cumbria
Pete was an all round star - not just a great magician but a charming entertainer. Everyone sends their thanks and regards. Best, Wendy
---
Andy Bayley (Diligenta)

, Corporate, Cheshire
Pete was by far the best table/close-up magician I've come across. He wowed our guests with every trick and was a really nice bloke too! I would have no hesitation in recommending Pete for any occasion.
---
Paul Todd

, Birthday Party, Merseyside
I thought Pete was brilliant, he entertained all our guests and stayed later than he had 2. I would thoroughly recommend him to anybody else.
---
Joanne Garner

, Wedding, Staffordshire
What can we say, we booked Peter for our wedding 15th September for 2 hours and he was incredible. Our guests are still talking now about his magic. He does not do basic magic he does magic which is really mind blowing and everyone was amazed. He also was great with all the guests and he made sure he had been to all guests and spent some time with them, he ended up doing an extra half an hour to ensure our guests were happy with no extra charge. Would definitely recommend, if you want to wow your guests then Pete Is the one. Thank you so much for making our day so great. Jo and Carl 15th September 2012
---
Sarah Murray

, Birthday Party, Hampshire
Pete was delightful - very friendly and professional. Everyone enjoyed his magic. He entered into the spirit of the party and mingled easily with all the guests and "broke the ice" amongst those who did not know eachother. I would have no hesitation in recommending him and having him come again and work his magic at another event. The only downside is that as the host I didn't get to see any of it! I am hoping that he will pop up somewhere in the near future where I might see him at work!
---
Debra Harrison

, Birthday Party, Flint
Easy and efficient booking system. Pete was brilliant. Extremely entertaining and everyone was suitably impressed by his magic. Would highly recommend him. Went the extra mile.
---
Laura Blythin

, Birthday Party, Denbigh
Fantastic magician, interacted well with the crowd and performed some truly amazing tricks. He left our guests speechless. The booking process was really easy and all my emails were responded to within 24 hours, great communication from both the agency and Pete himself. We couldn't have asked for anything better and he really helped to make the evening a rememberable one for all the right reasons. Would definately recommend to all my friends. Thanks again.
---
CHRIS HALL - GRANADA TV SPORTS PRESENTER: Pete was awesome at our wedding, both Sarah & I was delighted with his magic and his warm personality. He amazed all my family, freinds and colleagues from Granada Reports especially my brother Mike Hall (also TV Sports Presenter).
SHEREE HEWSON - LOOSE WOMEN PRESENTER: Pete performed amazing close up magic at my daughter's birthday event. He was truly amazing and well entertaining. Thanks Pete.
Prof PETER RUSSELL - Ex HOW TV PRESENTER: When I first saw your show, I enjoyed. When I watch you second time, I notice you use "The Peoples Principle" which left your audience wanting more. It was clever how you got everyones attention.
MIKE BURK - CRUISE DIRECTOR FRED OLSEN: Pete was brilliant to work with, well please with his magic, my passengers really enjoyed his performances. Pete gave up his spare time by going down to the Gallies of the ship to entertain the hard working crew, which was well appreciated. Cheers Pete.
STEVE GOOD - MANAGER of the HIGH PARK PUB, HUDDERSFIELD: I've used Pete for the last 7 years to all the pubs I've work in, and he goes down a storm. I use Pete as a tool to build up cliental in my pub and it works. My customers love Pete and often come back to see him again, which is great for business for me.
BETTY LONGMATE - SPEAKER SECRETARY BOLTON: Everyone in our club really enjoyed your act. I also notice your "used gestures", good eye contact, good use of vocabulary, use of humour in the right context and good audience rapport. I've booked Pete 6 times for our club!
LESLEY DEMPSEY - WARRINGTON: I just want to thank you for a wonderful job for my 40th Birthday. Everyone has commented on how professional and amazing you were, it really added to a great night. I was very impressed how you handled the group who had one to many. Brilliant! it was great to watch.
ALI BONGO - TV MAGICIAN: Pete is very slick with his magic, I was very impressed with him. He is not a "in your face magician" Pete knows his timing with people when to hit and back off. A true sign of a true professional - A Great Peoples Person.
MICHELLE DEMPSEY (CHESTER) - Wedding at Northrop Hall: I'm not really into magic, but I was so glad my new husband persuaded me to have Pete as our Wedding Magician, because he was amazing. He brought that extra little spark into our Special Day which was well received. Our Guests loved him and did not want him to go home.
ENID SHAW (Mother of the Bride) St HELENS. I was amazed with Pete's magic at our daughters Wedding. What impressed me, was the way Peter handled the heckling he received from our younger guests (after a few drinks). The way he turned it around, earned him the respect at the Wedding - very professional.
The questions you may want to ask, but don't like asking...
Are you expensive? No, I don't think I am. Expensive to one client can be pretty cheap to another. I've many clients and they all say I'm very reasonable otherwise they wouldn't keep booking me. Nevertheless it is the fee, which determines your decision. Personally, I would say my fees are sensible and reasonable. Most importantly I give excellent value with top quality magic by hitting the best fee (hopefully) to suit your budget. No extra premium for making model balloons for the children if required.
I've never booked a table magician before, so can you explain how a magician works at my event? You're not the first to think on these lines; having a magician at your party is starting to be a trend. Being a host of your party / event can be stressful. Therefore my role is to take the pressure from you, by keeping your guests amused and entertained with amazing table magic. I simply hop to each table / group performing a little personalised show. It is a great way to keep the day / night flowing, whilst you're busy catching up with old friends & family. The beauty about magic entertainment, it is not in your face & it is not loud.
How long do you perform for? It is usually up to you, it's your event. To give you benchmark, 2 and a half hours is plenty of time to get round. I don't charge by the hour, my rates are standard to the event. Therefore if my magic is needed after the required time, I will continue to perform and amaze the guests until I feel I have exhausted your event, without any extra charge. If your event is delayed (especially weddings) you're covered for me to continue with my role. Weddings can be a different ball game regarding times and different packages required.
Are you any good? It is a question you need to know, but don't like asking. So save you the embarrassment, I will try to help you with you're awkward question. Without putting myself on a pedestal, yes I am. I've every confidence with my material and I've the experience to cope with all types of clientele. I have the confidence to deliver and leaving the event with my clients satisfied. I hope that has helped you on that sensitive question.
Am I booking a reliable magician? Very reliable, I'm proud to say that I've attended every event I've been booked for in the last 17 years. I do have a Sat-Nav to help me to get to your venue, backed up with A to Z's. My biggest hurdle when I go to a venue, is the traffic, it is so unpredictable. I always allow extra time on my journey to allow for delays if they occur.
What kind of magic do you do? All kinds. I perform amazing close up illusions, classic card magic, coin magic, rope magic and even some spooky mental magic. I will use the right material to suit the moment, the punter and the event. My material suits my character & personality. No one will be forced to be involved in my act.
Is your Act Clean? Yes. There will be no bad language or no blue material used in my act (the magic circle condemns it) – leave that kind of stuff to the comedians. I know my limits.
Has your Act got humour? Yes, humour plays a big part in magic. My act is not that false white elephant dry humour, where you feel you need to laugh, just to be polite. The secret of humour is timing, therefore I will use humour at the right time in the correct context when I feel it is needed during my act. Remember you've hired a magician, not a comedian.
Are you in the Magic Circle? Yes, I've been a member of the Magic Circle for 19 years.
How many Years have you been doing Magic. 24 Years – 24 years living next door to Alice. WHO!
My event will have Children coming, can you accommodate? Yes, no problem. Although my magic is effective to suit adults, I can tame down some material to accommodate for the kids, and they love it. As for the tiny tots, the under 4's – I usually make them a model balloon, for example a sword balloon for the little boys and a doggy on a lead for the little girls. It is very important to have an adult present, whilst performing magic for children.
Are you CRB Checked? Somehow, I had a feeling you was going to ask that question. Yes.
Do I need to provide any equipment? No, leave it with me, you have enough to organise than to worry about what the magician requires. If you're hiring me as a Guest Speaker, a small table is required.
I'm expecting a lot of guests to my event, can you accommodate? Yes, but how many? Big Weddings & Private parties I can accommodate, but I may need more time to get round. For major Banquets more than 15 tables, with little time, a second magician may be required depending on your budget. I may be a magician, but I can't fly like Superman.
TIMING & PACKAGES. when you hire Pete, you're not paying him by the hour. Pete's rates are standard for the event. Pete will finish his perfomance when he feels the job is done properly. Average 2 to 3 hours. Weddings are a different ball game.
WEDDINGS PACKAGES - Wedding on Arrival & Table Magic at Reception. Magic after the Reception (Hanging Around Period) & Evening Magic. All day packages to suit. Usually finish act before the speeches.
CORPORATE EVENTS. Magic on Arrival & Table Magic between the courses. (No Magic performed during Main Course) - usually finished before the DJ starts partying.
STAND UP SHOW. A mixed bag of entertainment with amazing magic production, comedy & unusual magical capers. Choice of 1 hours show or 2 x 40 minutes show with interval. Magic material to suit nature of the event. Derren Brown material also is an option. (Pete's production is not the big box illusions act). Magic on Arrival is optional with this package. Accommadate smaller numbers - max 200 people.
AFTER DINNER SPEAKER. Title of Talk "Through the Eyes of a Magician". A very popular talk where Pete will take you out of your logical world you live in, so you can get a taste of the "World of the Impossible". The talk will give your guests an insight from the magicians perspective when performing the impossible to the audience in their logical world. Yes - there will be a few magic tricks for you guests to think about. Talk up to an hour, with questions. Magic on Arrival is not reccemended for this kind of event, but can be optional. A unique table quiz (if required) in this package.
Please Note: The fees indicated below are approximate and based on a central location for each county. They are intended to provide a rough guide only and exact quotes can only be given once the date and exact location of your event have been provided.
Scotland
Aberdeen
£480.00
Inverness
£480.00
Perth
£450.00
Sutherland
£540.00
Ayrshire
£360.00
Fife
£360.00
Stirlingshire
£360.00
West Lothian
£360.00
Dumfries-shire
£342.00
East Lothian
£360.00
Lanarkshire
£360.00
Midlothian
£354.00
North East
Durham
£336.00
Northumberland
£343.20
North Yorkshire
£300.00
South Yorkshire
£300.00
Tyne and Wear
£342.00
West Yorkshire
£300.00
Yorkshire
£300.00
North West
Cheshire
£240.00
Cumbria
£300.00
Manchester
£240.00
Lancashire
£240.00
Merseyside
£240.00
East Midlands
Derbyshire
£324.00
Leicestershire
£330.00
Lincolnshire
£342.00
Northamptonshire
£336.00
Nottinghamshire
£312.00
Rutland
£318.00
East
Cambridgeshire
£342.00
Norfolk
£360.00
Suffolk
£360.00
Wales
Anglesey
£342.00
Caernarvonshire
£342.00
Denbigh
£336.00
Flint
£240.00
Cardigan
£354.00
Brecon
£354.00
Carmarthen
£354.00
Glamorgan
£342.00
Monmouth
£348.00
Pembroke
£360.00
West Midlands
Gloucestershire
£354.00
Herefordshire
£342.00
Shropshire
£318.00
Staffordshire
£318.00
Warwickshire
£330.00
Worcestershire
£330.00
South East
Bedfordshire
£342.00
Berkshire
£348.00
Buckinghamshire
£360.00
East Sussex
£420.00
Essex
£360.00
Hampshire
£360.00
Hertfordshire
£360.00
Isle of Wight
£480.00
Kent
£480.00
Oxfordshire
£342.00
Surrey
£360.00
Sussex
£360.00
West Sussex
£360.00
London
£360.00
Middlesex
£348.00
South West
Cornwall
£480.00
Devon
£420.00
Dorset
£360.00
Somerset
£360.00
Wiltshire
£342.00