Warble Entertainment's
The Berkeley Trio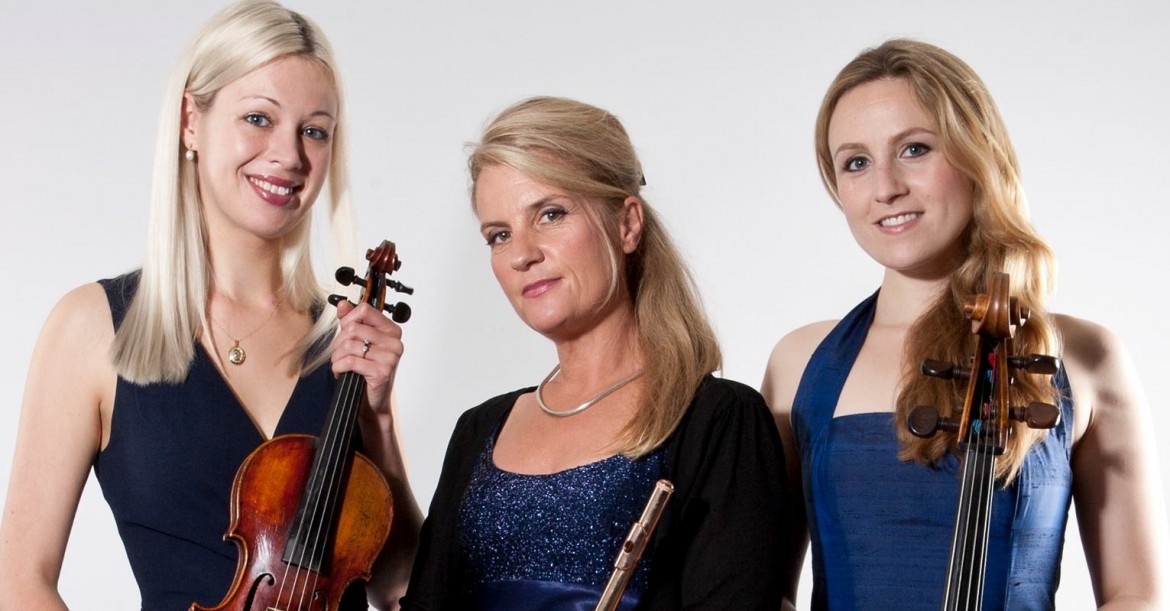 Location Hertfordshire
Starting from £576.00
The Berkeley Trio is a flute and string trio and have worked in all the top venues in and around London and have a wealth of experience making sure your wedding or corporate event is second to none. The Berkeley Trio have worked for The Royal Philharmonic, BBC Concert Orchestra, Cheryl Cole, Rihanna, Beyonce, Adele, Robbie Williams and Sir Paul McCartney.
2 reviews
Song List
The Berkeley Trio have an ever expanding repertoire and here is a sample of some of their music:
From Classical...
The Four Seasons - Vivaldi
The Flower Duet - Delibes
Canon in D Johann - Pachelbel
O Mio Babbino Caro - Puccini
Water Music - Handel
The Nutcracker Suite - Tchaikovsky
Peer Gynt Suite - Grieg
Pavane - Faure
Swan Lake Suite - Tchaikovsky
Air on the 'G' String - Bach
Eine Kleine Nachtmusik - Mozart
The Arrival of the Queen of Sheba - Handel
Carmen Suite - Mendelssohn
Jesu Joy o Man's Desiring - Bach
Meditation - Massenet
Sheep May Safely Graze - Bach
Prince of Denmark - Jeremiah Clarke
Bridal Chorus - R Wagner
Wedding March - Mendelssohn
Prince of Denmark's March
Allegro Brilliante - Mozart
London Trio's - Haydn
The Four Season's Winter - Vivaldi
Brandenburg Concerto No3
Carmen - Entracte
Cosi Mi Narri - Mozart
Chi Mai - Morricone
Gabriel's Oboe - Morricone
Cinema Paradiso Love Theme - Morricone
Visit to the Cinema - Morricone
To Timeless Classics...
Fly Me To The Moon - Howard
Moon River - Mancini
Top Hat White Tails/Anything Goes - Berlin/Porter
Autumn Leaves - Kosma
Mexican Hat Dance - Traditional
Cavatina (The Deer Hunter) - Myers
Ain't Misbehavin' - Waller
Bye Bye Blackbird - Dixon/Henderson
Charleston - Mack/Johnson
Take Five - Brubeck
Jalousie - Gade
La Cumparsita - Traditional
What a Wonderful World - Louis Armstrong
The Godfather - Rota
Annie's Song - Denver
Everything I do I do it for You - Brian Adams
All You Need is Love - McCartney
What a Difference a Day Made
Jeepers Creepers - Warren
Honeysuckle Rose - Fats Waller
Chasing Cars - Snow Patrol
Various Christmas Pieces
The Entertainer - Joplin
Anything Goes
To Broadway...
Tea For Two - Youmans
Smoke Gets In Your Eyes - Kern
West Side Story - Bernstein
Duke Ellington Medley - Ellington
My Fair Lady - Lerner/Lowe
Andrew Lloyd Webber Medley - Lloyd Webber
Gershwin Medley - Gershwin
Fiddler On The Roof Medley - Bock
Somewhere Over the Rainbow- Harold Allen