Warble Entertainment's
The Gems Duo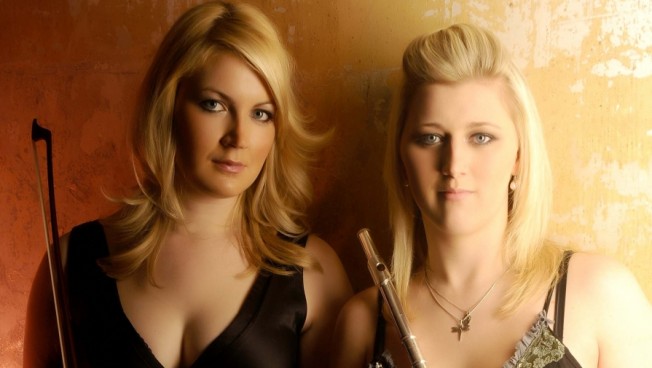 Location Surrey
Starting from £480.00
The Gems Duo are a fantastic flute and cello duo perfect for weddings and corporate functions.
The Gems met when studying for their BMus (Hons) Music Degree at Trinity College of Music, London.
They formed The Gems Duo, a vibrant and dynamic ensemble, providing both Classical, Latin and Popular Music, along with a touch of style to any event.
4 reviews
Song List
A Wish (Chopin)
Adagio (Albinoni)
Air On The G String (J.S.Bach)
Allegro For Musical Clock (Beethoven)
Arrival Of The Queen Of Sheba (Handel)
Arioso (J.S.Bach)
Ave Maria (Gounod)
Ave Maria (Schubert)
Ave Verum Corpus (Mozart)
Ballade (Chopin)
Blue Tango (Leroy Anderson)
Canon (Pachelbel)
Cantabile (Tartini)
Carol Of The Bells (Traditional)
Chanson De Matin (Elgar)
Christmas Music Selection
Danse Macabre (Saint-Saens)
Dance Of The Sugar Plum Fairy (Tchaikovsky)
Fantasie (Teleman)
Flower Duet From Lakme (Delibes)
Greensleeves (Traditional)
Hornpipe From The Water Music (Handel)
Humoresque (Dvorak)
Hungarian Dance (Brahms)
In The Hall Of The Mountain King (Grieg)
Jesu, Joy Of Man's Desiring (J.S.Bach)
La Donna E Mobile (Verdi)
La Cumparsita (Rodriguez)
La Rejouissance From The Royal Fireworks (Handel)
Largo (Handel)
Maple Leaf Rag (Joplin)
Meditation From Thais (Massenet)
Mexican Hat Dance (Traditional)
Minuet (Boccherini)
Minuet In G (Beethoven)
Morning (Grieg)
Moonlight Sonata (Beethoven)
Nimrod From The Enigma Variations (Elgar)
Ode To Joy (Beethoven)
Offenbach Melodies: Overture, Waltz, Can-Can (Offenbach)
One Fine Day From Madam Butterfly (Puccini)
Panis Angelicus (Franck)
Pavane (Fauré)
Romanza From Eine Kleine (Mozart)
Rondeau (Mouret)
Rule Britannia (Arne)
Salut D'amour (Elgar)
Modern/ Jazz
Pine Apple Rag
Rag-Time Dance
The Entertainer
Maple Leaf Rag
I Got Rhythm
Let's Call The Whole Thing Off
Christmas Carols
Angels We Have Heard On High
Away In A Manger
Coventry Carol
Deck The Halls
For Unto Us A Child Is Born
God Rest Ye Merry Gentlemen
Good Christian Men, Rejoice
Hark! The Herald Angels Sing
Jolly Old Saint Nicholas
The Nutcracker
Dance Of The Reed Flutes
Dance Of The Sugar Plum Fairy
Overture
Trepak
O Little Town Of Bethlehem
Silent Night
Sing We Now Of Christmas
Noel Nouvelet
Wassail Song
We Three Kings Of Orient Are
We Wish You A Merry Christmas