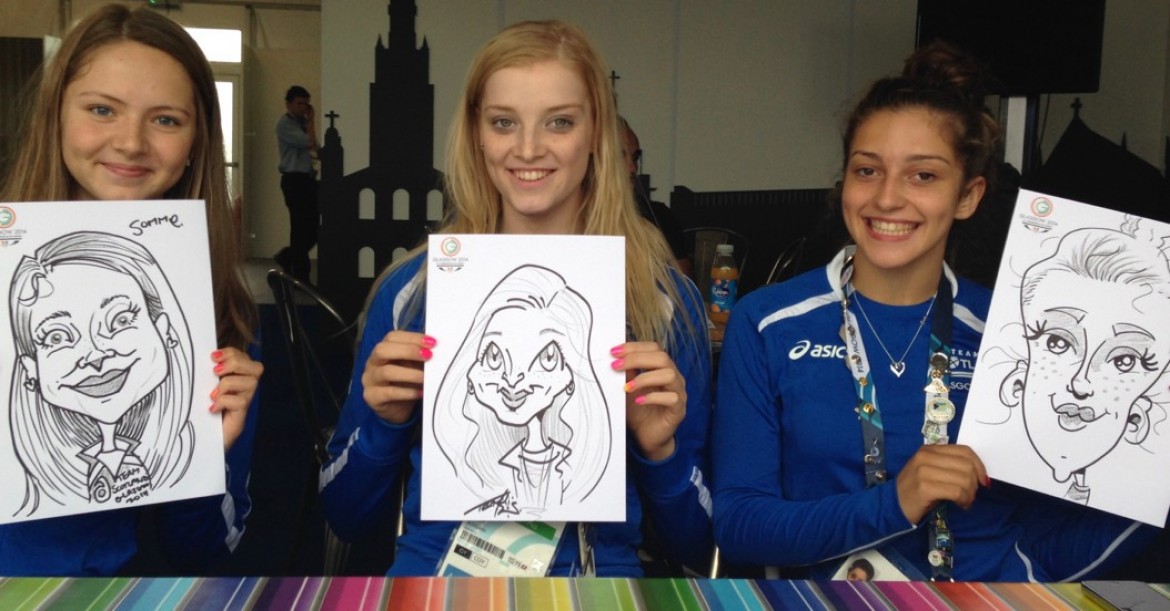 Location Glasgow
Starting from £228.00

Scotland's first and only caricaturist team!
The Caricature Crew are the most adept, experienced, professional and reliable caricaturists in Scotland.
Number of Reviews and Counting... 4!
The Caricature Crew have decades of experience providing high quality caricature sketches as live entertainment at a range of events such as: award ceremonies, Christmas parties, festivals and fun days, sporting fixtures and wedding receptions. Fast, funny, personalised drawings that make unique mementos for clients or guests.
They were also the first in Scotland to offer live digital drawing using iPad technology, linked with a tv screen that mirrors the caricature in progress. This makes for a new and highly attractive feature, ideal for conferences & conventions, corporate entertainment, product launches, team building events, VIP areas and more!
With five caricaturists available they can make an impression on even the biggest crowd. They're based in Glasgow but happy to travel across the country.
In short The Caricature Crew are the most adept, experienced, professional and reliable caricaturists in Scotland.
You can book any number up to five artists to work simultaneously
Seeing a lot of people in a relatively short space of time, for example, a drinks reception before an awards night? Book multiple artists for a short performance
Spending all day at an event, maybe promoting a product or service at a convention? Book one artist for the whole day
Kenny Maccuish

, Wedding, Lanarkshire
Excellent service from start to finish. We would recommend
---
John McKinney - Secretary - NFRC Scotland

, Corporate, Old Course Hotel, St Andrews, Fife
Arrived early, ready to go on time, engaged with those attending the event, great feedback from those attending. Fantastic addition to our Dinner Dance.
---
Fiona Malton

, Private Party, Glasgow
Chris was great and made my husband's birthday very special with the caricatures for his guests to take home as a keepsake.
---
C. Rafferty

, Wedding, Glasgow
Just wanted to thank you for attending our wedding, everyone loved the caricatures and it went down a treat! The guys were so lovely and friendly - thanks for making our guests feel so welcome. The only thing we wish is that we had booked them for longer!
---
Recent clients include:
Assured Events
Beattie Communications
Citizens Theatre
Dundee University Students Association
Events Alive
George Leslie Ltd
Kru Talent International
NSP Productions
PA Consulting Ltd
Perth College UHI
Robertson Group
Royal Bank of Scotland
Royal Scottish Pipe Band Association
Scottish Federation of Housing Associations
Scottish Power
Sky Arts
Off the Page festival
Weir Group
What am I paying for?
You are booking a caricaturist (or several) to attend an event and produce drawings of attendees during a pre-agreed time period. The primary purpose is entertainment, not to produce a record of the day as a photographer would. Just like any other entertainer, fees cover the artist's time at your event and are not linked to the number of drawings produced, their size, the amount of materials used etc. Since you have paid for the caricaturist's time, any work produced is essentially "free" to the sitters – no money will change hands with your guests or visitors.
What are your rates?
The prices quoted here are minimum rates i.e. one artist working traditionally for two hours or less. Ultimately the fee will depend on how many artists are needed, where in the country and for how long.
At what time should I have the caricaturist(s)?
Often people are unsure as to what part of the day their caricaturist should arrive and perform. Most wedding couples agree the absolute best time to book is the evening reception, with the time between ceremony and meal (i.e. when official photos are being taken) a close second. Whatever your instinct, it is recommended you add at least another half hour to that time; ALL WEDDINGS RUN LATE! For other formal events you should have caricaturists on hand when people are their most amenable to being drawn (i.e. not while they are eating) and avoid clashes with speeches etc. Informal events are looser, of course. But in all cases make sure they're not working in the dark. If they can't see people clearly they can't draw them.
What will happen on the day?
The artist(s) will arrive, smartly dressed, ahead of the agreed start time in order to set up. It's advisable to give them a corner or even dedicated room in which to work. Bear in mind a queue is likely to form wherever a caricaturist is positioned. They can bring field easels if necessary but normally request that table and chairs are made available at the venue. If working digitally, access to mains power will be required. They will produce as many drawings as possible in the time given. Caricaturists are often booked as a surprise and of course it's hard in those circumstances to let people know about them in advance. If you have a master of ceremonies or DJ, it is recommended that the caricaturist be announced and pointed out to guests so that those interested in being drawn can seek them out.
What will the drawings look like?
Caricatures are drawn as quickly and cleanly as possible. If traditional, work is in black and white and use a "toothy" paper up to a maximum size of A3 and various markers that ensure no wet ink, smudging, smearing or staining. Traditional caricatures are handed over on the spot. If digital, the caricatures are drawn quickly in full colour on an iPad and "mirrored" on the television screen so that bystanders can watch work in progress. Then after the booking they can be forwadred and you may distribute them to your guests or placed on a private web page where those who sat may download them. Alternatively, it may be sent directly by email or the drawing can be printed immediately at postcard size. These artists are caricaturists, not portrait painters. Caricatures are exaggerated cartoon likenesses and humorous in nature. The caricatures are not grotesque or insulting. They are fun and light-hearted. If your guests like a laugh, they'll like caricatures!
How many drawings will the caricaturist(s) do?
This is a difficult question to answer as no event can be planned to the last detail. Whether or not your schedule runs late, where and when you put the artists, what else might be happening at the same time, how enthusiastic guests or visitors are and various other factors will have minor or major impacts on how many individual drawings are produced. And some people just take longer to draw than others!
Will your artists 'mix and mingle'?
A very important question. Yes, they can, but in their experience caricature bookings are always more successful and ultimately better value for money if the artists are seated and guests come to them. Please note only traditional caricaturists can work on their feet, digital is a stationery feature due to the equipment (tv screen, printer etc.)
Do your artists draw couples?
Yes, of course. They would not dream of separating a couple or pair of best friends or siblings if they want to be in the same caricature. There is, however, a practical limit to how many people can be properly caricatured on one sheet. Generally they do not try to cram more than three heads into one drawing.
When should I book?
The sooner the better! Demand is high, particularly for Fridays, Saturdays and Sundays during the summer.
A private event like a birthday party or modest wedding is normally covered by one caricaturist over two or three hours
A large wedding or full day in a conference setting might require two artists
Very busy public events or big corporate affairs would often mean booking three or more
Please Note: The fees indicated below are approximate and based on a central location for each county. They are intended to provide a rough guide only and exact quotes can only be given once the date and exact location of your event have been provided.
Scotland
Aberdeen
£768.00
Inverness
£768.00
Perth
£294.00
Sutherland
£318.00
Ayrshire
£270.00
Fife
£294.00
Stirlingshire
£270.00
West Lothian
£294.00
Dumfries-shire
£318.00
East Lothian
£318.00
Lanarkshire
£228.00
Midlothian
£294.00
Glasgow
£228.00
Edinburgh
£306.00
Dundee
£318.00
North East
Durham
£768.00
Northumberland
£768.00
Tyne and Wear
£768.00
North West
Cumbria
£768.00