Warble Entertainment's
The Nottinghamshire Harpist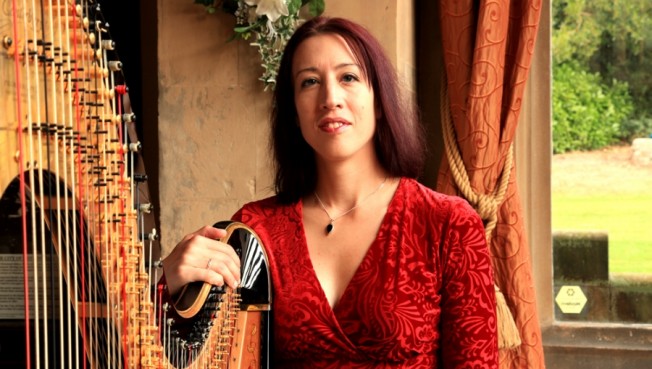 Location Nottinghamshire
Starting from £240.00
The Nottinghamshire Harpist is a traditional harpist based in the East Midlands of England.
She is an experienced professional musician and her harp music has been a part of many special occasions.
The Nottinghamshire Harpist is a harpist with a large client base and she is in demand for weddings and other special occasions and has played at events throughout the United Kingdom.
*The Nottinghamshire Harpist and her Harp will provide the perfect ambience to your special day*
10 reviews
Song List
Popular
And I Love Her (Beatles)
And I Love You So (Don McLean)
Annie's Song (John Denver)
Any Way You Want It (Journey)
Are you Lonesome Tonight (Elvis)
As Time Goes By (Hupfeld, from Casablanca)
Bat Out of Hell (Meatloaf)
Beautiful (Christina Aguilera)
Because You Loved Me (Diane Warren)
Bella's Lullaby (Twilight)
Bittersweet Symphony (The Verve)
Braveheart (Various Themes)
Can't Help Falling in Love
Clocks (Coldplay)
Close to You (Carpenters)
Closest Thing To Crazy (Mike Batt, Katie Melua)
Concerning Hobbits (Howard Shore)
Desperado (Eagles)
Endless Love (Lionel Richie)
Eternal Flame (Bangles)
Evergreen (Barbra Streisand)
(Everything I Do) I Do It For You (Bryan Adams)
Fields of Gold (Sting)
Fix You (Coldplay)
For Your Eyes Only (Sheena Easton)
From This Moment On (Shania Twain)
Hallelujah (Leonard Cohen)
Have I Told You Lately (Van Morrison)
Head Over Feet (Alanis Morissette)
Heaven (Bryan Adams)
Hello (Lionel Richie)
Hey Jude (Beatles)
Hoppipolla (Sigur Ros)
House of the Rising Sun (Animals)
How Can I Keep From Singing (Enya)
Hymne (Vangelis)
I Don't Want to Miss a Thing (Aerosmith)
I Feel Fine (Beatles)
I Saw Him Once (Schonberg)
I Swear (All 4 One)
I'll Stand By You (Chrissy Hynde)
Into My Arms (Nick Cave)
Killing Me Softly (Roberta Flack)
Kiss From a Rose (Seal)
Kissing You (Desree)
La Vie En Rose (Edith Piaf)
Lady (Lionel Richie)
Love is All Around (Reg Presley)
Love Me Tender (Elvis)
Love Theme from Conan
Marble Halls (Enya)
May it Be (Enya, from Lord of the Rings)
Moondance (Van Morrison)
Moon River (Dean Martin)
More Than Words (Extreme)
My Immortal (Evanescence)
Nothing Else Matters (Metallica)
Norweigan Wood (Beatles)
Only Time (Enya)
Radio Ballet (Eluvium)
Raindrops Keep Falling on my Head
Right Here Waiting (Richard Marx)
River Flows in You (Yiruma)
Road to Mandalay (Robbie Williams)
Romeo and Juliet (Dire Straits)
Romeo and Juliet (Love Theme) (Nino Rota)
Rule The World (Take That)
Runaway (The Corrs)
Sacrifice (Elton John)
Sailing (Rod Stewart)
Send in the Clowns
She (Charles Aznavour)
She's the One (Robbie Williams)
Silver Inches (Enya)
Something (Beatles)
Somewhere in Time - Theme (John Barry)
Somewhere Only We Know (Keane)
Stairway to Heaven (Led Zeppelin)
Storybook Love (Theme from Princess Bride)
Take My Breath Away (Berlin)
Teahouse Moon (Enya)
Tears in Heaven (Eric Clapton)
This I Promise You (Richard Marx)
Time to Say Goodbye (Con te Partiro)
Thorn Birds Theme
Titanic - Theme (My Heart Must Go On)
Torn (Natalie Imbruglia)
True Colours (Cindy Lauper)
Twin Peaks Theme (Badalamenti / Lynch)
Unchained Melody (Righteous Brothers)
Up Where We Belong (Joe Cocker & Jennifer Warnes)
Viva La Vida (Coldplay)
Walking After You (Foo Fighters)
When She Loved Me (Randy Newman)
When You Say Nothing At All (Ronan Keating)
Wind Beneath my Wings
What a Wonderful World
When I Fall in Love
Whiter Shade of Pale (Keith Reid)
Wifeing – Love Theme from Conan (Poledouris)
Wonderful Tonight (Eric Clapton)
You Do Something to Me (Paul Weller)
Your Song (Elton John)
You're Still the One (Shania Twain)
You Are Always on My Mind (Elvis)
You Raise Me Up (Lovland/Graham)
Musicals / Disney
A Whole New World (Aladdin, Alan Menken)
All I Ask of You (Phantom of the Opera, Lloyd Webber)
Baby Mine (Dumbo, Frank Churchill)
Can you Feel the Love Tonight (Lion King, Elton John)
Circle of Life (Lion King, Elton John)
Edelweiss (Sound of Music)
I'd be Surprisingly Good for You (Evita, Lloyd Webber)
Love Changes Everything (Andrew Lloyd Webber)
Memory (Lloyd Webber, Cats)
My Favourite Things (Sound of Music)
Over the Rainbow (Wizard of Oz)
Part of Your World (Little Mermaid, Alan Menken)
Pie Jesu (Andrew Lloyd Webber) *
Pure Imagination (Charlie and the Chocolate Factory)
Some Day my Prince Will Come (Snow White)
Some Enchanted Evening (South Pacific)
Something There (Beauty and the Beast, Alan Menken)
Summertime (Porgy and Bess, Gershwin)
Sunrise, Sunset (Fiddler on the Roof)
Think of Me (Phantom of the Opera, Lloyd Webber)
When you Wish Upon a Star (Pinocchio, Leigh Harline)
Early / Classical
A Jig (Askue)
A Lieta Vita (Gastoldi)
Air from Festes de l'Ete (Monteclair)
Air and Rondo (Bochsa)
Aire (John Jenkins)
All in a Garden Green (Playford)
Allegro (Handel)
Alman (Morely)
Andiam, Mio Tesoro (Anon)
Aria (Kuhnau)
Arrival of the Queen of Sheba (Handel)
Arne's Gig
Ave Maria (Gounod)*
Ave Maria (Schubert)*
Ballet CCLXVIII from Terpsichore (Praetorius)
Barcarolle (Offenbach)
Bonny Sweet Robin (Anon, 15th century)
Bransle (Attaignant)
Bransle de Bourgogne (Anon 16th century)
Bransle de la Torche (Praetorius)
Bridal Chorus (Wagner)
Canarie II (Straloch Lute Book)
Canon in D (Pachelbel)
Chaconne (Clarke)
Chaconne from 'The Fairy Queen' (Purcell)
Clair De Lune (Debussy)
Coranto: Lady Riche (Byrd)
Corranto (Anon)
Courante XCVIII (Praetorius)
Currant (Anon, Rowallen Lute Book)
Dance of the Blessed Spirits (Gluck)
The Entertainer (Joplin)
Finale from 'Music for Royal Fireworks (Handel)
Finlandia Theme (Sibelius)
Flower Duet (Delibes, from Lakme)
Fur Elise (Beethoven)
Gavotte (Gluck)
Gnossienne 1 (Satie)
Gymnopedie No 1 (Satie)
Here Amid the Shady Woods (Handel)
Hornpipe (Purcell)
Jesu, Joy of Man's Desiring (Bach) *
Jupiter Theme (Holst)
Kemp's Jig
La Ci Darem la Mano (Mozart, from Don Giovanni)
La Fille aux Cheveux de Lin (Debussy)
La Volta (Byrd)
Ladie Ann Gordon's Lilt (Anon, Straloch Lute Book)
Lament of Tristan (Anon, 14th century)
Largo from Lute Concerto in D (Vivaldi)
Largo from Xerxes (Handel)
Lord Willoughby's Welcome Home (Dowland)
March from 'Scipio' (Handel)
Meditation from Thais (Massenet)
Menuett (Pachelbel)
Merry Peasant (Schumann)
Minuet (Buttstedt)
Moonlight Sonata – First Movement (Beethoven)
Morning Mood from Peer Gynt (Grieg)
My Lady Carey's Dumpe (Anon, 1525)
The New Sahoo (Farnaby)
Nobody's Gigge (Farnaby)
Nocturne (Borodin)
O Mio Babbino Caro (Puccini)
Ode To Joy (Beethoven)
Old Noll's Gig (Anon, 16th century)
Pearl Fishers theme (Bizet)
Piano Trio, Op 97 (Beethoven)
Pomp and Circumstance theme (Elgar)
Prelude in C (Bach)
Rigaudon (Campra)
St Anthony Chorale (Haydn)*
St Catherine Hornpipe (Barratt)
Sarabande (Handel)
Serenata (Toselli)
Sheep May Safely Graze (Bach)
Sicilienne from Pelleas and Melisande (Faure)
Speme Amorosa (Gastoldi)
Sonatina (Dusik)
Sonatina (Handel)
To A Wild Rose (MacDowell)
Traumerei (Schumann)
Trumpet Tune (Purcell)
Trumpet Voluntary (Clarke)
Variations on a Theme by Mozart
Wedding March (Mendelssohn)
What if a Day or a Month or a Year (Jane Pickering)
Where Daisies Pied (Arne)
Wolsey's Wilde (Byrd)
Traditional
England
Barbara Allen (England/Scotland)
Blow the Wind Southerly (Northumbria/Scotland)
Childgrove
Come Live With Me
Greensleeves
I Love my Love (Cornwall)
The Jolly Miller (Miller of Dee)
Kemp's Jig
Linden Lea
Lovely Joan
Millers Dance
Putney Ferry
Sally Gardens
Scarborough Fair
Searching for Lambs
Seige of St Malo (Cornwall)
Three Ravens
Water is Wide (England/Scotland)
Windsor Terrace
Ireland
An Honest Man (Scotland/Ireland)
An Raibh tu ar an gCarriag? (Were you at Carrick?)
Banks of the Suir
The Blackthorn Stick
Brian Boru's March
Carrickfergus
Casluth
Castle of Dromore
Celia Connelan (Thomas Connelan)
Clare Island Boat Song
Danny Boy (Ireland/USA)
Eamonn a Chnuic
The Fair Headed Child
The Foggy Dew
Follow Me Down to Carlow
King of the Fairies
I Love my Love in the Morning
If I Were a Blackbird
March of Lissadell
Mna na hEireann (Women of Ireland)
Morrison's Gig
Peacock's Feather
Road to Lisdoonvarna
Sliabh na mBhan (Mountain of the Women)
Star of the County Down
Strike the Gay Harp (Moore)
The Youngest Daughter
Carolan
Blind Mary
Carolan's Draught
Carolan's Concerto
The Clergy's Lament
Eleanor Plunkett
Festus Burke
Frances Power
Frank Palmer
Henry McDermott Roe
John O'Connor
Kean O'Hara
Lady Gethin
Lady St John
Loftus Jones
The Princess Royal
Sheebeg and Sheemore
Scotland
An Ataireachd Ard (Petersen)
An Ghillebride (The Oystercatcher) (Wilford)
Annie Laurie
Binnorie (Scotland)
Braes of Locheil
Buain na Rainich (Cutting of the Fern)
Come Under my Plaidie
Corn Rigs are Bonny
Da Smugglers (Shetland)
The Dark Isle (McLaughlin)
Dowie Dens of Yarrow
Dunkeld Hermitage Bridge (Martin)
Eilean Aigais (The Isle of Aigas)
Fagail Liosmore
Farewell to Glenshalloch
Flow Gently Sweet Afton (Burns)
Flowers O' The Forest
Gilliekrankie
Glenlivet
Guilderoy
I Once Loved a Lass
Inis Siar (McNulty)
Jamie Come Try Me (Burns)
John Anderson, My Jo (Burns)
Kelvin Grove
Kid on the Mountain
Kiss Her an Clap Her (Shetland)
Lament for a Blind Harper
Laoidh An Iasgair (Fisherman's Prayer)
Loch Lomond
Loch Tay Boat Song
Logan Water
Margaret's Waltz
Merrily Kiss the Quaker
Mile Marphaisg Air A Ghaol (Waulking Song)
Miss Loudon
Miss Margaret Graham of Gartmore's Favourite (Marshall)
Miss Sally Hunter
Music of the Spey (Skinner)
My Love is Like a Red, Red Rose (Burns)
My Love She's But a Lassie Yet (Burns)
Ossian (Skinner)
Pretty Girl Milking the Cows
Rachel Rae
Roslin Castle
The Rowan Tree
St Kilda Wedding March
Seann Triubhais Uilleachain (Willie's Old Trousers)
Shule Aroon
Skye Boat Song
There Was a Lad
They Stole My Wife Last Night
Wild Duck's Nest
Wild Mountain Thyme (Tannahill)
Ye Banks and Braes (Burns)
Wales
Ash Grove
Breuddwyd Dafydd Rhys (Dafydd Rhys' Dream)
Breuddwyd Y Frenhines (The Queen's Dream)
Cainc Dafydd Broffwyd
Calennig
Cynghansail Cymru (Welsh Ground)
Cysga Di, Fy Mhlentyn Tlws (Sleep, my Pretty Child)
David of the White Rock
Difyrwch Arglwyddes Owen
Difyrwch Ieuan y Telenor Dall (Delight of John the Blind Harper)
Dydd Trwy'r Dellt (Dawn through the Wattles)
Ffarwel Philip Ystwyth
Ffarwel y Telenor ('Minstrel's Adieu') (John Thomas)
Hela'r Sgyfarnog (Hunting the Hare)
Hwylio Adref (Sailing Home) (Jones)
Llangloffan*
Machynlleth
Meillionen
Merch Megan
Moel yr Wyddfa (Mount Snowdon)
Morfa'r Frenhines
Mwyander Corwen (The Gentle Maid of Corwen)
Mwynen Mon
Myfanwy
Pant Corlan yr Wyn
Porth y Castell
Pwt ar y Bys
Royal Dream
Sir Watkin's Jig
Sweet Richard
Toriad y Dydd (Break of Day)
Y Dydd (The Day)
Y Gerddinen
Y Gofid Glas
Y Gwr A'i Farch (The Old Gent and His Mare)
Y Fwyalchen Ddu Bigfelen (The Yellow Beaked Blackbird)
Ymadawiad y Brenin
You Comely Carefree Lads
Other
Al Lapousiz er C'hoad (Little Bird in the Wood) (Brittany)
An Hini a Saran (The One I Love) (Brittany)
Ar Serjant-Major (Brittany)
Bandura (Russia)
Bright Face (Russia)
Carval ny Drogh Vraane (Jezebel Carol) (Man)
Complainte de la Blanche Biche (Brittany)
Edelweiss (Austria)
Kalinka (Russia)
Katyusha (Russia)
Klang Min Vakra Bjallra (Sweden)
Korobushka (Russia)
Ma Fransez (Brittany)
Near the River (Russia)
Reel Beatrice (Quebec)
Rose Upon the Briar (Man)
Shepherd's Daughter (Man)
Sirivisa (Norway)
Sweetness of Mary (Cape Breton)
Christmas
Angels We Have Heard on High
Away in a Manger
Boars Head Carol
Cold December Flies Away
Coventry Carol
Cutty Wren (Carmarthen Wren Song)
Deck the Halls (Nos Galan)
Ding Dong Merrily on High
Down in Yon Forest (Corpus Christi)
First Nowell
Gloucestershire Wassail
God Rest Ye Merry Gentlemen
Good Christian Men Rejoice
Good King Wenceslas
Green Grows the Holly
Hark the Herald Angels Sing
Have Yourself a Merry Little Christmas
He is Born, The Divine Infant
Here We Come a Wassailing
Holly and the Ivy
The Huron Carol
I Saw Three Ships
In the Bleak Midwinter
It Came Upon the Midnight Clear
Let All Mortal Flesh Keep Silence
Noel Nouvelet
O Come All Ye Faithful
O Come, O Come Emmanuel
Oh Little Town of Bethlehem
On Christmas Night (Sussex Carol)
Once In Royal David's City
Silent Night
So This is Christmas
Song of the Ship
Still, Still, Still
Tanners Wassail
To Drive the Cold Winter Away
Tomorrow Shall Be my Dancing Day
The Twelve Days of Christmas
Veni Veni Emmanuel
We Three Kings
The Wexford Carol
White Christmas
Please note that pieces marked with an asterix are unsuitable for civil ceremonies...