Warble Entertainment's
The Rifles - Military Fanfare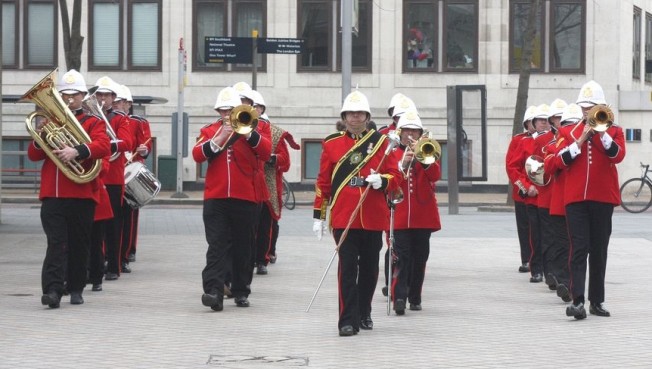 Location Kent
Starting from POA
The Rifles Band is the latest addition and a natural progression to Stunning Brass who have been working in the entertainments industry for over 12 years and whose owners have served and worked in Military Music for 20 years now. If you are looking for an announcement for the arrival of your guests the band are able to provide anything from one trumpeter to a team of seven with percussion.
*The Rifles add that Ceremonial / Triumphal sound to any Event*
3 reviews
Song List
Marches

Eagle Squadron - K.J.Alford
Standard of St. George - K.J.Alford
Scipio- G.F.Handel
Pulsar - E.Osterling
Holyrood - K.J.Alford
Rule Britania – anon.
On The Quarter Deck - K.J.Alford
Our Director - F.E.Bigelow
The British Legion – T. Bidgood
Royal Standard – E.Birgham
Marching Songs of World War II – arr. Kitcherside
Britannic Salute
Classical
Sarabande - G.F.Handel
In a Persian Market - A.W.Ketelbey
Espana Waltz - Walteufel
The Blue and the Gray - C.Grundman
The Merry Widow - F.Lehar
Film & TV Theme
Beauty & the Beast - A.Meaken
Broadway Show Stoppers -arr.W. Barker
A Chorus Line Spectacular – arr.W. Barker
Lawrence of Arabia - M.Jarre
Where No Man Has Gone Before – arr. P.Jennings
Les Miserables - C.Schonberg
Brideshead Reviseted - G.Burgon
Over the Rainbow - A.Arlen
633 Squadron - R.Goodwin
The Great Escape - E.Bernstein
Mary Poppins - R.Sherman & R.Sherman
Hey Look Me Over - C.Leigh & C.Coleman
Pop / Misc.
Do you know the way to San Jose – P. Gordon
Michael – R.W.Smith
Malaguena - E.Lecouna
Guantanamera - B.Gasso
Gershwin – arr. W.Barker
Sunse t- A.C.Grees
God Save the Queen - Lt. Col. B.Brown
Solos
The Acrobat - Greenwood
Post Horn Galop - Keonig
Lassus Trombone - H.Fillmore
Jazz / Swing

So Nice to Come Home To – arr. Kitcherside
South Rampart Street Parade – A.Roche
A Tribute to Glen Miller – arr. H.Gass
St. Louis Blues March - W.C.Handy
Georgia on my mind - H.Carmichael
I Left My Heart in San Francisco - D.Cross & G.Cory