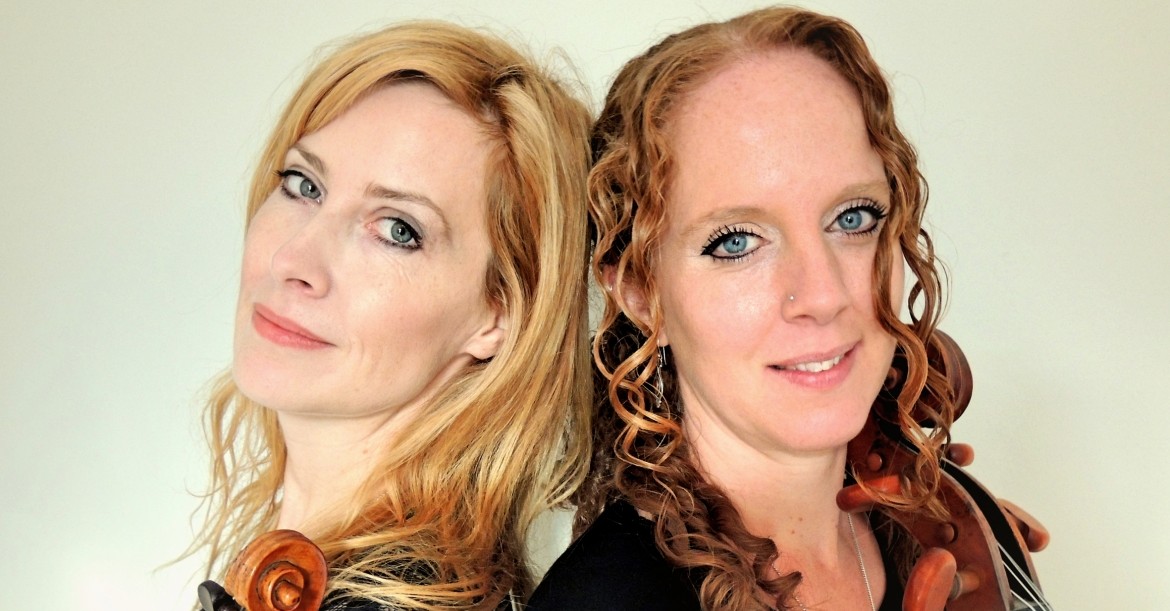 Location Cardiff
Starting from £372.00

Live music for your special event
The Welsh String Duo are a specialist string duo in South Wales, dedicated to creating the perfect musical atmosphere for your event. Having trained at the top music conservatoires and perfomed at some of the most prestigious venues in the UK, the duo are able to perform anything from Classical through to pop music to give your event that extra special touch.
Number of Reviews and Counting... 1!
The Welsh String Duo have many years of professional experience, having performed at concert venues such as St James Palace, St Davids Hall, the Albert Hall and many others. They have performed for HRH Prince of Wales, Kiri Te Kanawa, and Katherine Jenkins, as well as many other artists from the worlds of classical and popular music.
The aim for the Welsh String Duo is very simple; to provide great music along with a friendly and professional service and help ensure that your event is a truly memorable one.
Popular Music
A Moment Like This Leona Lewis
A Thousand Years Christina Perri
Aint' Misbehaving Wallerbrooks
All you need is love Beatles
Amazing Bruno Mars
Ash Grove Traditional
At Last Etta James
Beyond the Sea Charles Trenet
Bitter Sweet Symphony The Verve
Born to Run Bruce Springsteen
Brave Josh Groban
Calon Lan Welsh Trad.
Can you feel the love tonight Elton John
Carry on my Wayward Son Kansas
Chasing Cars Snow Patrol
City of Blinding Lights U2
Close to Me The Cure
Crazy little thing called love Queen
Dance with me Tonight Olly Murs
Danny Boy Traditional
Diamonds are Forever Shirley Bassey
Don' t stop believing Journey
Dr Who Main Theme
Eleanor Rigby Beatles
Everlasting Love U2
Everlong Foo Fighters
Foggy Dew Traditional
Gabriels Oboe from' The Mission' Ennio Morricone
Game of Thrones Ramin Djawadi
God Save the Queen
Fields of Gold Sting
For the Love of a Princess from Braveheart James Horner
From this Moment Shania Twain
Hallelujah from' Shrek'
Heaven DJ Sammy
Help Beatles
Hoppipolla Theme from Planet Earth Sigur Ros
I believe in a thing called love The Darkness
I don' t want to miss a thing Aerosmith
I Giorni Einaudi
I Gotta a feeling Black Eyed Peas
I have a Dream Abba
I' ll Be There
for You Rembrandts
I' m Kissing you Desree
I' m Yours Jason Mraz
I See the Light from Tangled Mandy Moore
Imperial Death March John Williams
In Dreams from' The Lord of the Rings' Howard Shore
Irish Washer Woman Traditional
Ive got a Golden Ticket L.Bricusse and A.Newley
Jessica from Top Gear Allman Brothers
Jurassic Park John Williams
Just Like Heaven The Cure
Let it Go from Frozen
Life in Technicolor Coldplay
Lay all your Love Abba
Love Song
for a Vampire Annie Lennox
Love Story Taylor Swift
Make you feel my love Adele
Mamma Mia Abba
Mapleleaf Rag Scott Joplin
May It be from Lord of the Rings Howard Shore
Moon River Mancini
Mrs Robinson Simon and Garfunkle
Myfanwy Welsh Trad.
My Funny Valentine Rogers and Hart
My Hero Foo Fighters
Nothing Else Matters Metallica
Now we are free from Gladiator Hans Zimmer
One Day Like This Elbow
P.M' s Love Theme from' Love Actually' Craig Armstrong
Paradise Coldplay
Patience Take That
Por Una Cabeza Gardel
Portugese Love Theme from' Love Actually' Craig Armstrong
Pure Imagination L.Bricusse and A.Newley
Right Here Waiting Richard Marx
Roses Theme from Dr Who
Rule The World Take That
Run Leona Lewis
Shine Take That
Show me Heaven Maria Mckee
Skyfall Adele
Smoke Get in Your Eyes
Somebody to Love Queen
Somewhere Over the Rainbow
Somewhere Only we know Lilly Allen
Song Bird Christine McVie sung by Eva Cassidy
Spiderman Michael Buble
St Annes Reel Traditional
Star of County Down Irish Trad.
Starlight Muse
Star Wars John Williams
Sun and Moon from Miss Saigon Claude - Michel Schonberg
Suo Gan Welsh Trad.
Sweet Child O Mine Guns n Roses
Tango Albeniz
The Entertainer Scott Joplin
The Prayer Josh Groban
These Days Nico
Turning Page from Twiglight
Welsh National Anthem
What a wonderful World Weiss & Thiele
Wind Beneath my Wings Bette Midler
With or Without You U2
Wonderwall Oasis
You' re Beautiful James Blunt
Classical
Arrival of the Queen of Sheba Handel
Air from Suite in D Bach
Air in F from' Watermusic' Handel
Arioso Bach
Ave Maria Schubert
Ave Verum Corpus Mozart
Brandenburg Concerto no.3 1 stMovement Bach
Barcarolle Offenbach
Bouree in F from' Watermusic' Handel
Canon in D Pachabel
Eine Kleine Nachtmusic Mozart
Fantasie Telemann
Flower Duet Delibes
Greensleeves Anon.
Hornpipe in D Handel
Humoresque Dvorak
Hungarian Dance No.5 Brahms
Intermezzo from Cavalerria Rusticana Mascagni
Jesu, joy of man' s desiring Bach
La Rejouissance Handel
Largo from Winter Vivaldi
Largo from' Xerxes' Handel
Meditation from Thais Massenet
Menuet in A Minor Anon
Menuet in G Minor Handel
Menuet in G Major No.1 Anon
Menuet in G Major No.2 Anon
Mexican Hat Dance Trad.
Nessun Dorma Puccini
Ode to Joy Beethoven
Pavanne Faure
Pizzicato Polka Strauss
Sheep May Safely Graze Bach' Spring' from The Four Seasons Vivaldi
Te Deum Charpentier
The Swan Saint - Saens
Trumpet Tune Clarke
Trumpet Voluntary Clarke
Waltz from Swan Lake Tchaikovsky
Wedding March(entrance) Wagner
Wedding March(exit) Mendelssohn
Korine Hughes

, Wedding, Cardiff
Thank you for the beautiful job that you both did at our wedding!
---
Can I make a request for the duo to play at my event?
The duo are able take requests for specific music if your special choice is not on our list, please get in touch for more information and music arrangement fees.
What do I need to provide?
A suitable performance space must be provided with two armless chairs.
Can The Welsh String Duo perform outside?
The duo will only be able to perform outside in suitable weather conditions and under adequate shade or under cover. Suitable lighting is required.
Do the duo have full insurance?
The Welsh String Duo will have their own insurance covering their equipment and public liability.
Available for Wedding Ceremonies, Drinks Reception and Wedding breakfast or a combination of these.
Please Note: The fees indicated below are approximate and based on a central location for each county. They are intended to provide a rough guide only and exact quotes can only be given once the date and exact location of your event have been provided.
Wales
Brecon
£397.38
Carmarthen
£405.60
Glamorgan
£389.04
Monmouth
£400.62
Pembroke
£423.66
Cardiff
£372.00
West Midlands
Gloucestershire
£414.96
Herefordshire
£412.44
Birmingham
£446.40
South West
Somerset
£433.50
Wiltshire
£430.08
Bath
£420.06
Bristol
£412.68