Warble Entertainment's
Bristol Strings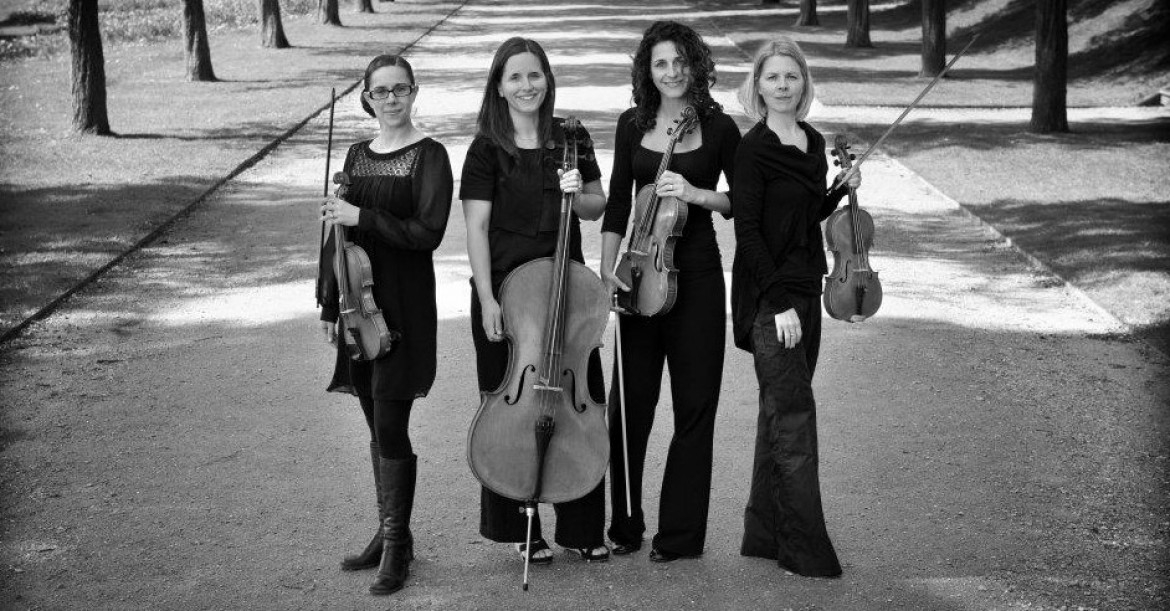 Location Bristol
Starting from POA
Bristol Strings was formed in 2001 by graduates of the Royal Welsh College of Music and Drama in Cardiff, and Bristol and York Universities.
Based between Bristol and Cardiff, the quartet frequently give recitals and provide live music for weddings, social functions, corporate events, birthday parties, fetes, award ceremonies, banquets, balls, religious celebrations, and business and charity events.
Bristol Strings pride themselves on being friendly and approachable, and are always flexible and willing to accommodate the individual needs of their clients.
1 reviews
Song List
Classical
Wedding March – Wagner
Wedding March – Mendelssohn
Canon - Pachabel
Gigue - Pachabel
2 Rondeux – Purcell
Trumpet Tune - Purcell
Air – Bach
Water Music - Handel
Adagio – Albinoni
Arrival Of The Queen Of Sheba - Handel
Departure Of The Queen Of Sheba - Handel
Zadok The Priest - Handel
Largo – Handel
The 4 Seasons - Vivaldi
The Hunt - Vivaldi
Ave Verum Corpus - Mozart
Eine Kleine Nachtmusik - Mozart
Quartet Op 1 No. 1 - Haydn
Quartet Op 1 No. 2 – Haydn
Quartet Op 1 No. 3 – Haydn
Quartet Op77 No. 1
String Quartet - Hoffstetter
Ode To Joy - Beethoven
Ave Maria – Gounod
Ave Maria – Schubert
Cantabile - Tartini
Traumeri – Schumann
Pavanne - Faure
Bercuese (From Dolly Suite) - Faure
Norwegian Dance - Grieg
Come Back To Sorrento – De Curtis
Funiculi – Funiculi – Denza
Tango – Albeniz
None But The Lonely Heart – Tchaikovsky
Serenade – Schubert
Melody In F – Rubinstein
Simple Aveu – Thome
Plaisir d'Amour - Martini
Chanson De Matin - Elgar
Chanson De Nuit - Elgar
Salut d'Amour - Elgar
Idylle - Elgar
Beau Brummel - Elgar
First Polovtsian Dance - Borodin
Exerpts From Swanlake - Tchaikovsky
Vienese Blood – (Various Waltzes) - Strauss
On The Beautiful Blue Danube - Strauss
Greensleeves – Vaughn Williams
Panis Angelicus - Franck
Nessun Dorma – Puccini
O Sole Mio - Rinaldo Di Capua
Folk
Turkey In The Straw
Reel Fiddlin – Folksong Medley
The Wind That Shakes The Barley
Clean Pea Strae
The Soldiers Joy
Irish Sherry
Cock Linnet - Collins And Leigh

Popular
The Typewrite - Anderson
Sandpaper Ballad - Anderson
Forgotten Dreams - Anderson
A Trumpeters Lullaby - Anderson
The Waltzing Cat - Anderson
Syncopated Clock - Anderson
Belle Of The Ball - Anderson
Plink Plank Plunk - Anderson
Blue Tango - Anderson
Horse And Buggy - Anderson
Serenata - Anderson
Jazz Legato - Anderson
Fiddle Faddle - Anderson
I Do Like To Be Beside The Seaside - Glover - Kind
Valse - Grunfield
The Folks Who Live On The Hill - Kern
My Funny Valentine - Rogers
I'll Build A Stairway - Gershwin
Somebody Loves Me - Gershwin
They Can't Take That Away From Me - Gershwin
A Foggy Day - Gershwin
Nice Work If You Can Get It - Gershwin
Love Is Here To Stay - Gershwin
S'wonderful - Gershwin
Love Walked In - Gershwin
Swansea - Gershwin
I Got Rhythm - Gershwin
Ragtime Dance - Joplin
Solace - Joplin
The Entertainer - Joplin
Country Club - Joplin
Paragon Rag - Joplin
And I Love Her - Beatles
Hard Day's Night - Beatles
Tommorow Never Knows - Beatles
When I'm Sixty - Four - Beatles
Paperback Writer - Beatles
All You Need Is Love - Beatles
New York, New York - Bernstein
Killing Me Softly - Fox
Without You - Ham
Moonlight And Roses - Lemy
Moon River - Mancini
Congratulations - Martin And Coulter
Candle In The Wind - John
Happy Birthday
I've Got You Under My Skin - Porter
Bridge Over Troubled Water - Simon
(Everything I Do) I Do It For You - Kamen

Film
The Godfathers Tarantella - Copolla
A Whole New World (Aladdins Theme) - Menken
"Speak Softly" From The Godfather - Rota
Theme From E.T - Williams
Theme From Schindlers List - Williams

Musicals
"Is You Or Is You Ain't Ma Baby?" (Five Guys Named Mo) - Austin/Jordan
"Food Glorious Food" (Oliver) - Bart
"As Long As He Needs Me" (Oliver) - Bart
"There's No Business Like Show Business" (Annie Get Your Gun) - Berlin
"America" (Westside Story) - Bernstien
"My Favourite Things" (The Sound Of Music) - Rogers
"Jesus Christ Superstar" - Webber
"The Phantom Of The Opera" - Webber
"Bustopher Jones" (Cats) - Webber
"Old Deuteronomy" (Cats) - Webber
"Memory" (Cats) - Webber
Mr Mistofoles (Cats) - Webber

Christmas
Sleigh Ride
Christmas Medley

Plus many more...