Warble Entertainment's
Cut Loose Barbershop Group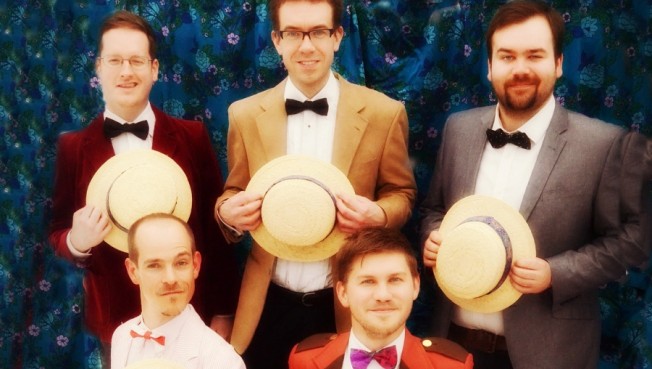 Location Worcestershire
Starting from £720.00
Cut Loose was formed in 2012 by 3 former members of Bournville Barbershop and 2 singers from Birmingham City Choir. The group specialises in the classic barbershop repertoire and can bring a touch of real old-school charm to any event! The songs are varied and full of rich close-harmony singing. Some up-beat toe tappers and others heart-warming ballads and songs of love.
The boys can perform acoustically for a more intimate performance or can provide amplification for larger venues. It is also often possible to specially rearrange your favourite song to be performed in the barbershop style uniquely for your event.
Guaranteed to bring a smile and that feel-good factor to any event!
In addition to the barbershop songs, Joe and John are both talented and experienced event pianists and can provide great value jazz and classical piano.
2 reviews
Song List
Repertoire Includes:
Auntie Skinner's Chicken Dinner
Drink To Me Only With Thine Eyes
Everything Is Peaches Down In Georgia
George Jones
Georgia On My Mind
Honey
I Cried For You
I Don't Want To Play In Your Yard
I Know What It Means To Be Lonesome
I Love A Barbershop Song
I'm Forever Blowing Bubbles
I'm Sitting On Top Of The World
Irish Blessing
It's A Good Day
Kiss Me Honey Baby
Landlord Fill The Flowing Bowl
My Evaline
Old Tom Wilson
One More Song
Pretty Baby
Saloon
The Battle Of Jericho
The Goslings
The Pope
Toot Toot Tootsie
When Francis Dances With Me
When Uncle Joe Plays A Rag
Which Is The Properest Day To Sing
Yes Sir That's My Baby