Cut Loose Barbershop Group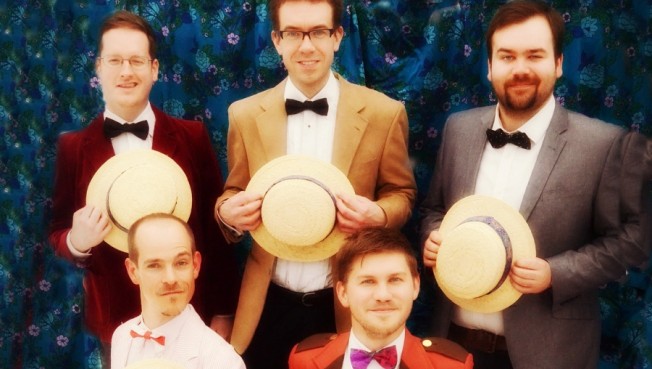 Location Worcestershire
Starting from £720.00
Cut Loose was formed in 2012 by 3 former members of Bournville Barbershop and 2 singers from Birmingham City Choir. The group specialises in the classic barbershop repertoire and can bring a touch of real old-school charm to any event! The songs are varied and full of rich close-harmony singing. Some up-beat toe tappers and others heart-warming ballads and songs of love.
The boys can perform acoustically for a more intimate performance or can provide amplification for larger venues. It is also often possible to specially rearrange your favourite song to be performed in the barbershop style uniquely for your event.
Guaranteed to bring a smile and that feel-good factor to any event!
In addition to the barbershop songs, Joe and John are both talented and experienced event pianists and can provide great value jazz and classical piano.
Cut Loose Barbershop Group
Number of Reviews and Counting... 2!
Joe's choral training began as a chorister at Birmingham Cathedral. He then went on to sing with various choirs and organisations. Joe was also assistant director at Bournville Young Singers from 1998 to 2008 with whom he toured many European capital cities and performed in venues such as Notre Dame and Brussels Cathedral. Joe has been Musical Director at The Number 8 Theatre Pershore and was nominated Best Musical at the 2010 NODA awards with West Side Story and followed this up with a win in 2012 with The Secret Garden. He is currently working with Redditch Operatic on Jesus Christ Superstar after receiving another NODA nomination for Whistle Down The Wind in 2013.
Toby has been singing in choirs up and down the country for over twenty years, including singing solos and in small groups at Salisbury, Liverpool, Norwich and Gloucester cathedrals, amongst others. With a background in choral music, Toby enjoys branching out into jazz and barbershop, and Cut Loose is the perfect balance between music-making and having fun. "Bring on the boaters"
John has been a member of the city of Birmingham Choir for 15 years. In the last few years he has been receiving vocal coaching that has helped attain Grade 8 level. He accompanies and coaches a Male Voice Choir and he also conducts his own choir called 'Enchant'. 'Enchant are a mixed voice choir who have been singing together for 7 years. Last year they recorded their debut album which had many of John's own compositions and arrangements on.
Nick spent ten years with the Bournville Young Singers with whom he performed in Notre Dame Cathedral and sang solo at Symphony Hall Birmingham. He complemented this with an extensive musical career at school and college, playing and singing in diverse ensembles and performing with the Birmingham schools guitar ensemble. In his leisure time he played in numerous bands for which he performed guitar, vocals and even drums. University at Scarborough provided him with a degree in Creative Music Technology.
Steve has performed in many choirs and is also an experienced theatre and musical theatre performer. He was an assistant at Bournville Young singers for many years and was a member of the barbershop group which was runner up in the prestigious Perterborough Choral Competition in 2004. Since then he has taught drama and is also a talented drummer and guitarist. Steve founded the Bournville Graduates choir in 2008 for whom he has written and arranged many works for performance in venues such as Birmingham's Elgar Concert Hall.
5 Piece Acappella Barbershop Quintet
Full PA system and sound technician (if required)
Repertoire Includes:
Auntie Skinner's Chicken Dinner
Drink To Me Only With Thine Eyes
Everything Is Peaches Down In Georgia
George Jones
Georgia On My Mind
Honey
I Cried For You
I Don't Want To Play In Your Yard
I Know What It Means To Be Lonesome
I Love A Barbershop Song
I'm Forever Blowing Bubbles
I'm Sitting On Top Of The World
Irish Blessing
It's A Good Day
Kiss Me Honey Baby
Landlord Fill The Flowing Bowl
My Evaline
Old Tom Wilson
One More Song
Pretty Baby
Saloon
The Battle Of Jericho
The Goslings
The Pope
Toot Toot Tootsie
When Francis Dances With Me
When Uncle Joe Plays A Rag
Which Is The Properest Day To Sing
Yes Sir That's My Baby
Abi Eccles

, Corporate, Mead Gallery, University of Warwick, Warwickshire
The quartet was excellent and sang beautifully.
---
Mrs Hipkiss

, Wedding, Gloucestershire
Thank you for helping to make Liz and Pete's day so special. We thoroughly enjoyed Cut Loose at their reception and lost count of the times their guests commented on how great they were. We were so grateful to them for creating such a fabulous atmosphere and they even brought the sunshine with them!
---
Are you able to learn requests and at what extra charge?
Yes, but highly dependent on availability of sheet music and suitability for acappella voices. Can be around £30 per song.
1 x 45 minute set
Additional set available at extra cost
Please Note: The fees indicated below are approximate and based on a central location for each county. They are intended to provide a rough guide only and exact quotes can only be given once the date and exact location of your event have been provided.
North West
Cheshire
£840.00
East Midlands
Derbyshire
£780.00
Leicestershire
£780.00
Lincolnshire
£840.00
Northamptonshire
£792.00
Nottinghamshire
£792.00
East
Cambridgeshire
£840.00
West Midlands
Gloucestershire
£780.00
Herefordshire
£780.00
Shropshire
£780.00
Staffordshire
£768.00
Warwickshire
£720.00
Worcestershire
£720.00
Birmingham
£720.00
South East
Bedfordshire
£840.00
Berkshire
£840.00
Buckinghamshire
£840.00
Oxfordshire
£792.00