Warble Entertainment's
Ed The Classical Guitarist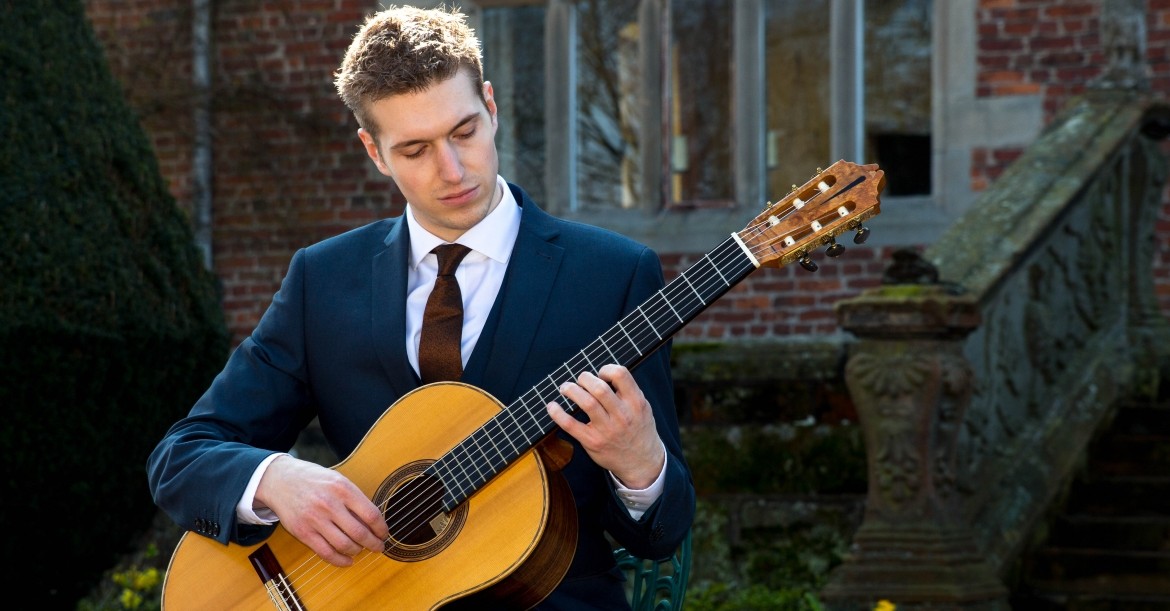 Location Staffordshire
Starting from £234.00
Highly accomplished classical guitarist who specialises in providing live music for weddings and private/corporate events in the UK and Europe. A graduate of the Royal Conservatoire of Scotland and has played to prestigious guests such as Queen Elizabeth II and Peter Mandelson.
7 reviews
Song List
CLASSICAL GUITAR SET
A compilation of traditional pieces for the Classical guitar. Includes Baroque and Classical guitar favourites.
Prelude (Bach)
Allemande (Bach)
Courante (Bach)
Sarabande (Bach)
Minuet (Bach)
Bouree in E minor (Bach)
Air on the G String (Bach)
Minuet in G (Bach)
Canarios (Trad)
Sor Etudes (Sor)
Carcassi Etudes (Carcassi)
Fantasy (Weiss)
Cavatina (Myers)
Havre Gosselin (Lindsey-Clark)
Cycles in the Avenue (Lindsey-Clark)
La Moinerie (Lindsey-Clark)
Birds Flew Over The Spire (Ryan)
Canerie (Anon)
A Toy (Anon)
Allemande (Anon)
Il Bianco Fiore (Negri)
Orlando Sleepeth (Dowland)
Almain (Dowland)
Tarleton's Riserrectione (Dowland)
Mrs Winters Jump (Dowland)
Mrs Nichol's Alman
Italian Dance (Neusidler)
Branle (Besard)
Volte (Besard)
Go From My Window (Anon)
Pavan I (Milan)
Diferencias Sobre (Narvaez)
Pavan III (Milan)
Sarabande II (Bach)
Marche (Bach)
Sarabande III (Bach)
Gavotte I and II (Bach)
Trio to a Minuet (Bach)
Menuet in A Minor (Bach)
Musette (Bach)
Menuet (Bach)
Sleepers Awake (Bach)
Minuet in C (Mozart)
Allegro in D (Mozart)
Andante in E (Mozart)
Minuet from Don Giovanni (Mozart)
Theme from Symphony No. 7 (Beethoven)
Symphony No.3 "Eroica" (Beethoven)
Minuet in C (Beethoven)
Piano Sonata No. 8 "Pathetique" (Beethoven)
Fur Elise (Beethoven)
Canon in D (Pachebel)
Pavane (Faure)
SPANISH
Spain; the spiritual home of the classical guitar. This set picks traditional and modern classics from the Spanish repertoire.
Malaguena (Tarrega)
Capricho Arabe (Tarrega)
Recuerdos de la Alhambra (Tarrega)
Pavana (Tarrega)
Farruca (Pearson)
Petenera (Pearson)
Danza Mora (Pearson)
Granadinas (Pearson)
Cancio del Illadre (Trad)
El Testamento De Amelia (Trad)
La Llorona (Trad)
Estudio (Aguado)
Torija (Torroba)
Soledad (Oser)
Asturias (Albeniz)
Mallorca (Albeniz)
Fandango (Lindsey-Clark)
Olorosso (Lindsey-Clark)
Tango (Lindsey-Clark)
Zincarlo (Lindsey-Clark)
Vals Navarra (Lindsey-Clark)
Pamplona (Lindsey-Clark)
Lagrima (Tarrega)
Rosita (Tarrega)
Estudio (Tarrega)
Romanza (Trad)
Gran Vals (Tarrega)
JAZZ and LATIN SET
A compilation of classic Jazz Standards plus Bossa Nova, Samba and other Latin styles
Manha de Carnaval (Bonfa)
Ilha De Coral (Bonfa)
All The Things You Are (Jerome Kern)
Blue Moon (Rodgers)
Days Of Wine And Roses (Mancini)
Embracceable You (Gershwin)
It Had To Be You (Jones)
Someone To Watch Over Me (Gershwin)
When I Fall In Love (Young)
Summertime (Gershwin)
How Insensitive (Jobim)
Bluesette (Thielemans)
Autumn Leaves (Kosma)
Registro (Lauro)
Tatiana (Lauro)
Andreina (Lauro)
Natalia (Lauro)
El Negrito (Lauro)
Brasiliana (Powel)
Retrato Brasileiro (Powel)
Vals No.4 (Barrios)
Rio By Night (Lindsey-Clark)
Montanas Nebulosas (Lindsey-Clark)
Tango Esta Noche (Lindsey-Clark)
Vals - Hommage to Lauro (Lindsey-Clark)
Danza del Arpa (Lindsey-Clark)
Milonga (Cardoso)
Verano Porteno (Piazzolla)
POP/ROCK and MOVIE THEMES SET
Instrumental arrangements of classic pop/ rock and movie themes, including top 40 hits and iconic songs from the silver screen
Wonderful Tonight (Clapton)
Godfather Suite (Rota)
Hallelujah (Cohen)
Don't Wanna Miss A Thing (Aerosmith)
More Than Words (Extreme)
Nothing Else Matters (Metallica)
Can't Help Falling In Love (Elvis)
Wherever You Will Go (The Calling)
Summer Of 69 (Bryan Adams)
Beautiful (Christina Aguilera)
Let It Be (Beatles)
Hotel California (Eagles)
Save The Best For Last (Vanessa Williams)
Mad World (Michael Andrews)
Over The Rainbow (Arlen)
Run (Snow Patrol)
As Long As You Love Me (Backstreet Boys)
My Heart Will Go On (Celine Dion)
You Are Not Alone (Michael Jackson)
I Believe I Can Fly (R Kelly)
How Deep Is Your Love (Bee Gees)
In My Place (Coldplay)
Come As You Are (Nirvana)
Always (Bon Jovi)
Everything I Do (Bryan Adams)
No Woman No Cry (Bob Marley)
And I Love Her (Beatles)
Yesterday (Beatles)