Scott The Classical Guitarist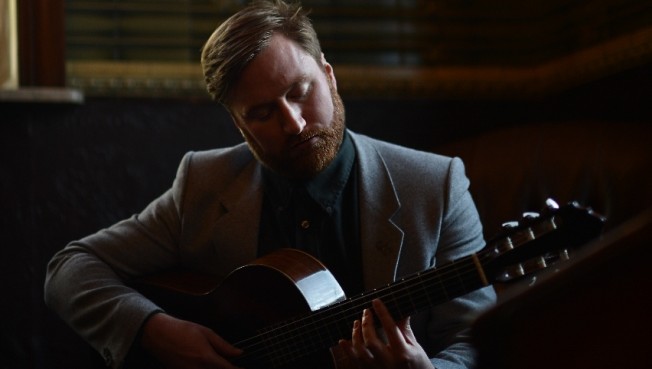 Location South Yorkshire
Starting from £240.00
Versatile and talented guitarist Scott is available for private parties, weddings and corporate events.
Scott The Classical Guitarist
Number of Reviews and Counting... 24!
Scott's vast and varied repertoire covers Classical, Spanish, Romantic classics as well as highly individual and intelligent arrangements of popular songs.
Scott has been playing the guitar since he was ten and has spent his life teaching and honing his skills as a performer. A specialist in classical and Spanish guitar styles he can draw from a huge repertoire of pieces ranging from Elizabethan dances to classical sonatas, romantic ballads and 20th century jazz standards. His mastery of the guitar also means he is able to arrange and prepare almost any modern pop song by request (given some notice!) which can then be performed at your function.
Scott began guitar lessons at the relatively late age of thirteen but quickly progressed through the grades reaching grade 8 just three years later before going on to study music at the University of Liverpool. On graduating he moved to Spain where for the next year he studied the guitar in its true spiritual home – Andalucía – travelling around the south of Spain holding recitals busking and playing in bars and restaurants. This proved to be a real Baptism of fire as he found the Spanish people both appreciative and critical, which meant he really had to be on the top of his game!
On return to the UK Scott set up his private teaching practice in Merseyside where he shared his love for the guitar while continuing his performing work. During this time he began working with local bands playing a range of indie and country music on tour and in the studio.
Scott now divides his time between performing as a classical soloist at functions and events, teaching the guitar and music in Sheffield, writing recording and performing his own acoustic folk music, and producing local artists at his home studio.
All this means that whatever your musical needs Scott is sure to devise and perform beautifully elegant and refined music to help make your event extra special.
Pop music from 1950 to present day…
She's the One – Robbie Williams
A Thousand Years – Christina Perri
Paradise – Coldplay
Make you feel my love, Someone Like You – Adele
Sigur Rós – Hoppípolla
Chasing Cars – Snow Patrol
One Day Like This – Elbow
Here, There and Everywhere, Something, Blackbird, Here Comes the Sun, In my Life, Hey Jude, Let it Be, Norwegian Wood, With a Little Help From my Friends, Yesterday – The Beatles
Wonderful Tonight – Eric Clapton
God only Knows – The Beach Boys
Thinking of You – Paul Weller
With or Without You – U2
The Prayer – Celine Dion
Your Song – Elton John
Stairway to Heaven – Led Zeppelin
Come Away With Me – Norah Jones
Right Here Waiting – Richard Marx
Mad World – Tears for Fears
Killing me Softly – Roberta Flack
Loving You – Minnie Ripperton
Jazz standards, film themes and traditional…
La Vie en Rose - Edith Piaf
Theme from Black Beauty
Storybook Theme (From The Princess Bride) – Mark Knoffler
Glasgow Love Theme - From Love Actually

Summertime – Gershwin
Somethin' Stupid – C. Carson Parks
Over the Rainbow – from Wizard of Oz
Blue Moon – Rodgers and Hart
Night and Day – Cole Porter
Moon River – Mancini/Mercer
When the Saints go Marching in, Glory Hallelujah, O Susanna, Swing Low, Sweet Chariot, Scarborough Fair, Amazing Grace – Trad.
Popular Classicsɉ۬
Bridal March – Wagner
Canon in D – Pachelbel
Clair de Lune – Debussy
Air on a G string – J.S.Bach
Prelude in D major for Cello – J.S.Bach
Jesu, Joy of Man's Desiring – J.S. Bach
Romanza – Anon
Cavatina – Stanley Myers
Greensleeves – Anon
Lettres – Roland Dyens
Birds Flew Over the Spire – Gary Ryan
Bridal Chorus (From Lohengrin) – Wagner
Ave Maria – Schubert
Joyful, joyful we adore the (From the 9th Symphony) – Beethoven
Wedding March – Mendlesshon
Clarinet Concerto in C (Slow movement) – Mozart
Spanish and Latin musicɉ۬
Tango – Albeniz


Canarios – Gaspar Sanz

La Gatica, El Negrito, Vals Venezuelos – Lauro

El Testament De 'Amelia – Anon

En Noi De La Mare – Llobet

Studies and Preludes, Choros,
Suite Populaire Bresilienne – Villa-Lobos
Sound of Bells – Pernambuco
Um Dia de Noviembro, Berceuse – Leo Brouwer
Twilight – Kotaro Oshio
Baroque classical and romantic music (around 1750 to 1900)ɉ۬
Sonata in A major – Scarlatti

D minor Prelude, Jesu Joy of Man's Desiring – J.S.Bach

A large selection of works in the classical style by Carulli, Guiliani and Sor - (too many to list!)
Al Malvina – Mertz
Mazurka, Recuerdos de La Alhambra, Marieta, Lagrima, Adelita, Capricho Arabe – by Tarrega
Pavane – Ravel
Sicilienne – Faure
Early, Medieval and Renaissance Music (1600's up to around 1750)…
Pieces by John Dowland including 'Fortune My Foe ', 'Melancholy Galliard' and 'Lachrimae Pavane'
Aria con variazioni – Frescobaldi

Greensleeves – Cutting

Pavana – Gaspar Sanz

Merry Melanchollie – Thomas Robinson

The Sinckpace Galliarde – Willam Ballet

Passacaille, Folias and Canarios – Sanz

Passacaille – Weiss

Petite Suite in Re Minor – de Visee
Rebecca Haigh

, Wedding, Ox Pastures Hall, North Yorkshire, North Yorkshire
Scott was brilliant from the very start. He got in touch with us prior to the day as promised and discussed what songs we wanted and how we wanted things to work. We booked scott to play before and after our ceremony and it really was very special. I would recommend Scott to anyone.
---
Daniel Gustafsson

, Wedding, Grays Court, York, Yorkshire
5/5
---
Rebecca Haigh

, Wedding, Yorkshire
We just want to say a huge thank you to Scott and to your team. The email updates confirming everything was still ok definitely put our minds at ease! Scott was also great and played an amazing rendition of our aisle song. He really did make the ceremony and garden drinks very special.
---
Julie Hopson

, Wedding, Woodhall Hotel & Spa, West Yorkshire
Scott was amazing. Added the special touch to my reception drinks at my wedding. Would recommend in a heartbeat.
---
Sophie Forster

, Wedding, Brinkburn Priory, Northumberland
Cannot thank you enough for providing Scott.. He absolutely made our day! From start to finish, he was absolutely amazing. He even learnt a childhood favourite so I could walk down the aisle. Thank you so much - this guy is a gem!
---
Jodie Johnson

, Wedding, Utopia, West Yorkshire
Brilliant artist. Every one of our guests commented on just how special he made our drinks reception. Incredible skill, very prepared with all the equipment for playing to our garden venue and he really impacted on our day and made it something else. So glad we chose him.
---
Rebecca Dent

, Wedding, Shottle Hall, Derbyshire, Derbyshire
Perfect in every way! Great communication and Scott even managed to rearrange a song that was special to us and perform it at the ceremony. His playing was flawless and made the day even more magical. We can't recommend him enough!
---
Martin Johnson

, Wedding, Holdsworth House Hotel & Restaurant, West Yorkshire, West Yorkshire
Very good - professional and all guests enjoyed.
---
Kelly Dendy

, Wedding, Hallmark The Welcombe Hotel Golf and Spa, Warwickshire
Scott was so professional and easy to liaise with. He made sure he knew what we wanted and he created such a wonderful atmosphere with his beautiful Guitar playing. It was exactly what I wanted to walk down the Aisle to, and the drinks reception was fantastic too. We can't recommend Scott enough. Thank you!
---
Miguel Chamorro

, Wedding, Manchester
Scott played for our wedding reception. Everyone commented on how good he was and how he made our reception so original, giving it a bit of the Spanish sound with his guitar. We recommend him to anyone.
---
Gwynn Jones

, Wedding, Liverpool
Scott was great - he really created the atmosphere we were hoping for. Beautiful music. Would highly recommend him. Thanks Scott! Gwynn & Ciar.
---
Rachel Potarzycka

, Wedding, Rutland
Scott was fantastic! Absolutely great playing and a lovey, lovely man!
---
Emily Mathew

, Wedding, Manchester
Scott was excellent, everything that we asked for. Perfect!
---
Graham Bell

, Private Party, Derbyshire
Scott was great. Beautifully played. Added so much to the evening.
---
Leanne Curry

, Wedding, Cumbria
Just fantastic, from the minute he arrived to departing.
---
Karen Hart

, Wedding, Derbyshire
Excellent. No issues whatsoever and I would highly recommend.
---
Hollie Clifton

, Wedding, Cheshire
Scott was great, communication was brilliant before the wedding and he really sounded incredible! Really happy with his performance and have had lots of positive comments from guests. It really set the scene to hear him playing. Would highly recommend him to anyone looking for a guitarist! Very happy bride and groom here! Thank you!
---
Fiona Waller

, Wedding, Derbyshire
Scott, thank you so much to you for helping to make our wedding day so perfect! You were amazing - many guests have commented on the beautiful Spanish guitar playing at our wedding. It was truly fantastic and helped to make our drinks reception magical. Thank you again. x
---
Helen Coleman

, Wedding, Derbyshire
Scott is a very talented guitarist and a true professional with a warm personality - much appreciated by all our guests.
---
Lin Bingham

, Wedding, Nottinghamshire
Brilliant.... all the guests commented on his playing and how much they enjoyed it. Nothing was too much bother for him and he learnt a new song for us and left a copy of it for us in a little scroll, which was a lovely surprise as we were not expecting this..... I would definitely use him again and recommend him.
---
Laura

, Wedding, Surrey
We hired Scott for our small intimate wedding and he was fantastic. All our guests commented on how good he was. He was professional and friendly and played amazing classical guitar, which suited our wedding perfectly. We would definitely recommend Scott and his performance will always stand out as one of the highlights of our wedding. Thanks Scott!
---
Royah Fathi

, Wedding, Cheshire
Scott is an amazing singer and guitarist. He played at our wedding ceremony and went totally above and beyond to make it extra special and bespoke to us. All our guests loved him too and we will most certainly will be re-booking! Thanks Scott : ) Mr and Mrs Bell x
---
Rupert Lowery

, Wedding, Cheshire
In the words of a retired professor of music who marked for the Oxford and Cambridge examining board - "flawless"! Fantastic thanks Scott!
---
Anne Worrallo-Hickman

, Wedding, Herefordshire
Really great Guy - very happy with all elements of his performance. Thanks Anne
---
Liverpool City Council - The Lord Mayor & Town Hall
Light Night Liverpool
The Walker Art Gallery
The Williamson Art Gallery
Liverpool Hope University
Thornton Hall Hotel
The M.O.D. & Various R.A.F. functions
Over 1,000 weddings, private parties and formal dinners
For evening events - starting at 7pm or later, there is a £48 surcharge.
Standard performance times are 2 x 45 minute sets, with a short break in between.
Longer or shorter performances can be catered for as agreed, and subject to amended fees.
Special bespoke song requests can be arranged for £25 per song.
Please Note: The fees indicated below are approximate and based on a central location for each county. They are intended to provide a rough guide only and exact quotes can only be given once the date and exact location of your event have been provided.
North East
Durham
£312.00
Northumberland
£300.00
North Yorkshire
£288.00
South Yorkshire
£240.00
Tyne and Wear
£302.40
West Yorkshire
£262.80
Yorkshire
£264.00
East Yorkshire
£288.00
Leeds
£264.00
North West
Cheshire
£288.00
Manchester
£264.00
Lancashire
£288.00
Merseyside
£288.00
Liverpool
£288.00
East Midlands
Derbyshire
£261.60
Leicestershire
£283.20
Lincolnshire
£261.60
Northamptonshire
£288.00
Nottinghamshire
£261.60
Rutland
£288.00
East
Cambridgeshire
£312.00
West Midlands
Gloucestershire
£302.40
Herefordshire
£312.00
Shropshire
£288.00
Staffordshire
£283.20
Warwickshire
£302.40
Worcestershire
£302.40
Birmingham
£288.00
South East
Oxfordshire
£321.60