Warble Entertainment's
Scott The Classical Guitarist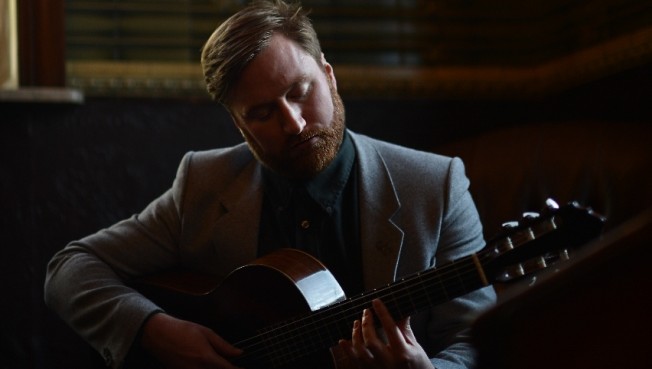 Location South Yorkshire
Starting from £234.00
Versatile and talented guitarist Scott is available for private parties, weddings and corporate events. His vast and varied repertoire covers Classical, Spanish, Romantic classics as well as highly individual and intelligent arrangements of popular songs.
24 reviews
Song List
Pop music from 1950 to present day…
She's the One – Robbie Williams
A Thousand Years – Christina Perri
Paradise – Coldplay
Make you feel my love, Someone Like You – Adele
Sigur Rós – Hoppípolla
Chasing Cars – Snow Patrol
One Day Like This – Elbow
Here, There and Everywhere, Something, Blackbird, Here Comes the Sun, In my Life, Hey Jude, Let it Be, Norwegian Wood, With a Little Help From my Friends, Yesterday – The Beatles
Wonderful Tonight – Eric Clapton
God only Knows – The Beach Boys
Thinking of You – Paul Weller
With or Without You – U2
The Prayer – Celine Dion
Your Song – Elton John
Stairway to Heaven – Led Zeppelin
Come Away With Me – Norah Jones
Right Here Waiting – Richard Marx
Mad World – Tears for Fears
Killing me Softly – Roberta Flack
Loving You – Minnie Ripperton
Jazz standards, film themes and traditional…
La Vie en Rose - Edith Piaf
Theme from Black Beauty
Storybook Theme (From The Princess Bride) – Mark Knoffler
Glasgow Love Theme - From Love Actually

Summertime – Gershwin
Somethin' Stupid – C. Carson Parks
Over the Rainbow – from Wizard of Oz
Blue Moon – Rodgers and Hart
Night and Day – Cole Porter
Moon River – Mancini/Mercer
When the Saints go Marching in, Glory Hallelujah, O Susanna, Swing Low, Sweet Chariot, Scarborough Fair, Amazing Grace – Trad.
Popular Classicsɉ۬
Bridal March – Wagner
Canon in D – Pachelbel
Clair de Lune – Debussy
Air on a G string – J.S.Bach
Prelude in D major for Cello – J.S.Bach
Jesu, Joy of Man's Desiring – J.S. Bach
Romanza – Anon
Cavatina – Stanley Myers
Greensleeves – Anon
Lettres – Roland Dyens
Birds Flew Over the Spire – Gary Ryan
Bridal Chorus (From Lohengrin) – Wagner
Ave Maria – Schubert
Joyful, joyful we adore the (From the 9th Symphony) – Beethoven
Wedding March – Mendlesshon
Clarinet Concerto in C (Slow movement) – Mozart
Spanish and Latin musicɉ۬
Tango – Albeniz


Canarios – Gaspar Sanz

La Gatica, El Negrito, Vals Venezuelos – Lauro

El Testament De 'Amelia – Anon

En Noi De La Mare – Llobet

Studies and Preludes, Choros,
Suite Populaire Bresilienne – Villa-Lobos
Sound of Bells – Pernambuco
Um Dia de Noviembro, Berceuse – Leo Brouwer
Twilight – Kotaro Oshio
Baroque classical and romantic music (around 1750 to 1900)ɉ۬
Sonata in A major – Scarlatti

D minor Prelude, Jesu Joy of Man's Desiring – J.S.Bach

A large selection of works in the classical style by Carulli, Guiliani and Sor - (too many to list!)
Al Malvina – Mertz
Mazurka, Recuerdos de La Alhambra, Marieta, Lagrima, Adelita, Capricho Arabe – by Tarrega
Pavane – Ravel
Sicilienne – Faure
Early, Medieval and Renaissance Music (1600's up to around 1750)…
Pieces by John Dowland including 'Fortune My Foe ', 'Melancholy Galliard' and 'Lachrimae Pavane'
Aria con variazioni – Frescobaldi

Greensleeves – Cutting

Pavana – Gaspar Sanz

Merry Melanchollie – Thomas Robinson

The Sinckpace Galliarde – Willam Ballet

Passacaille, Folias and Canarios – Sanz

Passacaille – Weiss

Petite Suite in Re Minor – de Visee