Warble Entertainment's
The Surprise Singing Divas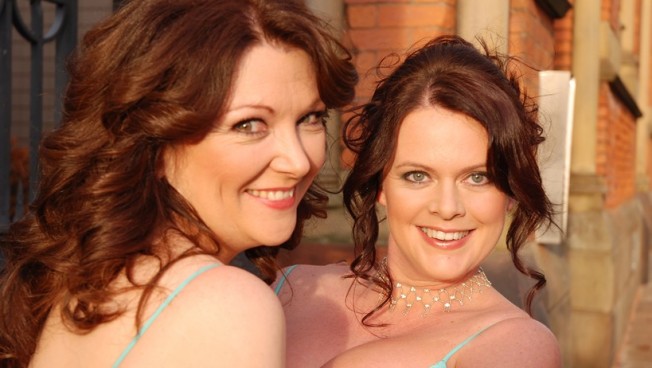 Location Derbyshire
Starting from £816.00
The voices of The Surprise Singing Divas are Sarah and Andrea.
The Surprise Singing Divas, provide an act highly suitable for weddings, corporate dinners and charity fundraisers with their amazing light opera, operetta and show song performances.
The Surprise Singing Divas also offer the option of the singers being disguised as waitresses or guests for up to one hour, before they startle and amaze your guests with a 30 - 45 minute performance!!
*A fantastic option for awesome performances or surprising your guests*
7 reviews
Listen




Song List
ITALIAN
Una Voce Poco Fa
Voi Che Sapete
Caro Mio Ben
Non So Piu
Se Tu M'ami
Sorrento
Santa Lucia
O Mio Babbino Caro
Quando M'en Vo
Vedrai Carino
Batti, O Bel Masetto
E Amore Un Ladroncello
Smanie Implacabili
Una Donna A Quidici Anni
Porgi Amor
Parto, Parto
Doppo Notte
Che Faro Senza Eurydice
Deh Vieni Non Tardar
Stride La Vampa
Di Tanti Palpiti
Non Piu Mesta
Deh Tu Bell' Anima
FRENCH

Habanera
Seguidilla
Que Fait-Tu Blanche Tourterelle
Je Veux Vivre
Chanson D'Olympia
Mon Coeur S'Ouvre A Ta Voix
Va Laisse Couler Mes Larmes
Faites-Lui Mes Aveux
Connais-Tu La Pays
MISCELLANEOUS SPIRITUAL/ WEDDING MUSIC

Panis Angelicus
Ave Maria
Let The Bright Seraphim
Alleluia (Mozart)
Rejoyce Greatly
Laudamus Te
Where E'er You Walk
Caro Mio Ben
Handel's Largo
O Mio Babbino Caro
Amazing Grace
OPERETTA

When Maiden Loves She Sits And Sighs
Poor Wandering One
Three Little Maids From School
Adele's Laughing Song
Czardas
Champagne Chorus
The Sun Whos Rays Are All Ablaze
When A Merry Maiden Marries
Little Buttercup
Were I Thy Bride
My Lord, A Suppliant At Your Feet
Vilia
Chacun A Son Gout
CLASSICAL SONG / LIEDER CHANSON

Les Nuites D'ete (Song Cycle)
Wesendonck Lieder (Song Cycle)
Assorted Schubert Songs (German)
Assorted Mozart Songs (German)
Assorted English Art Songs
Assorted French Songs
Assorted German Songs
DUETS TRIO AND ENSEMBLES INCLUDE:

La Ci Darem La Mano
Bella Figlia Del'Amore
'Cosi Fan Tutte' Trio
A Gaurda Sorella ('Cosi' Duet)
Lakme Flower Duet
A Boy Like That
I Know Him So Well
Barcarolle
Letter Duet (Figaro)
MUSIC THEATRE/ SHOWS/ FILMS/ DISNEY

Beauty And The Beast
Feed The Birds
Once Upon A Dream
Part Of Your World
I Have Confidence
The Sound Of Music
My Favourite Things
I Could Have Danced All Night
Just You Wait 'Enry 'Iggins
Honey Bun
I Enjoy Being A Girl
Many A New Day
Out Of My Dreams
People Will Say We're In Love
Memory
I Dreamed A Dream
On My Own
Diamonds Are A Girl's Best Friend
As Long As He Needs Me
Someone To Watch Over Me
Embraceable You
The Man I Love
'Til There Was You
Adelaide's Lament
Another Suitcase In Another Hall
Can't Help Lovin' That Man Of Mine
Don't Cry For Me Argentina
I Don't Know How To Love Him
Think Of Me
Wishing You Were Somehow Here Again
Tonight
Somewhere
I Feel Pretty
Many More Assorted Standard Songs From 1920's, 30's, 40's, 50's, 60's And 70's...
Surprise Waitress / Waiter Repertoire

Nessun Dorma
Nella Fantasia
Pie Jesu
O Mio Babbino Caro
Un Bel Di
Vissi D'arte
Barcarolle
Summertime
O Sole Mio
Volare
Senza Catene (Unchained Melody)
Ombra Ma Fu
You Raise Me Up (Por Ti Sere)
Ave Maria
Caro Mio Ben
Where'er You WalkWhisper Of Angels
Till There Was You
Con Te Partiro (Time To Say Goodbye)
Panis Angelicus
Over The Rainbow
Love Changes Everything
Somewhere
All I Ask Of You