James Bond - Daniel Craig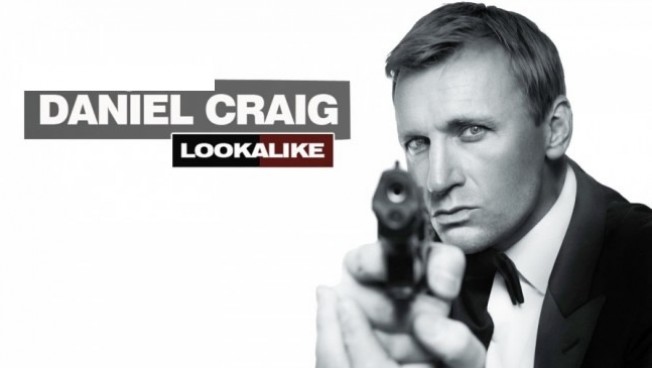 Location London
Starting from £600.00
The No.1 Daniel Craig Lookalike since Casino Royale 2007. His first event abroad was in Monte Carlo and since then he has made 100's of appearances. They range from birthday parties, shop opening, Dinner dances, PR launches to Bond film premiers. The majority of events are in the UK but he is happy to travel the worldwide for a mission.
James Bond - Daniel Craig
Number of Reviews and Counting... 3!
When you hire this Daniel Craig / James Bond Lookalike not only do you get one of the best Daniel Craig lookalikes in the business but also a true professional. Having worked at 100's of shows, party's, events etc he knows how to conduct himself and is always respectful to the client and guests. One of his main skills he brings is being able to talk, interact and entertain the guests.
He can either be booked alone or with other Bond characters
This fab lookalike also works closely with the SAS Stunt Action Specialist and now have their own unique Bond Stunt Show
He has also hosted dinners been an auctioneer and given out awards and is happy to manage the event.
Not only is he the top Daniel Craig - James Bond Lookalike but he is also a member of The Chippendoubles.
Their unique performance when they appeared on Britain's Got Talent took the judges and the rest of Britain completely by surprise. Since then their performance on YouTube has had over 20.000,000 million views which has guaranteed they are still in high demand both in the UK and abroad. Their act combines the entertainment of a stage performance with the meet and greets side of a top lookalike.
Why only have one lookalike where you could 7 of the World Top Lookalikes to entertain your guests and turn your evening into a red carpet event!
Alex Pond - First Structure Ltd

, Corporate, South Yorkshire
Really nice guy that gets into the Bond role and allows everyone to have fun!! Overall Brilliant.
---
Sarah Rihal

, Private Party, London
Guests loved him, great photo opportunities
---
Lady Marion Hunter

, Birthday Party, Europe
I hired this lookalike for a friend's birthday celebrations and he was fantastic. Very friendly and accommodating to all my mad ideas, including emerging from a cold French sea in swimming trunks. He very much looks the part, would give the real man a run for his money in my opinion and was efficient and organized with his music and fab outfits. I would thoroughly recommend him.
---
Having covered nearly every type of event you can imagine you can rest assured your occasion is in safe hands. Here is just a small selection of the type of events he has been asked to under take.
Recording a video viral for Sony Ericsson
Guest appearance as Daniel Craig on Top TV sitcom in Belgium
Introduce Bond film "Quantum Of Solace" to an audience of sheiks in Dubai
Walk out of the sea in the famous blue trunks in St Tropez for a millionairess
Appear on Harry Hill TV show
Flying onto the stage then roaring off on a motorbike in Amsterdam for an Indian insurance company
Appear in Quantum of Solace with Daniel Craig
Team up with the SAS to foil a hijack hostage situation
Drive an Aston Martin around a racetrack
Hand out flowers on valentine's day
Make Guest Appearances at birthday parties
Host Award Evenings
Feature in The Independent magazine
Drive Aston Martin around Amsterdam capturing fake paparazzi photos and video for Coca Cola
Member of The Chippendoubles and appearing on Britain's Got Talent
Fly to Montenegro for a clients private party
Carry out the press launch of a new Sony Laptop with the SAS stunt team
Be a mannequin and Model a Tuxedo for ASDA
What does a lookalike do is a common question. Well a lookalike brings an interactive quality to your event. Backdrops, lighting and music sets the scene but a lookalike brings entertainment, surprise and a touch of Hollywood to your guests.
Normally this lookalike is used at the beginning of the night when your guests enter and the first thing they are greeted with is Mr. Bond himself. Having a photographer on hand is a great way of capturing the moment and creates more of that Hollywood vibe.
Once all the guest have arrived he will then mix and mingle pose for photos and generally make sure everybody is having a good time.
If you are looking for more of a dramatic entrance then team him up with the SAS.
The stunt show is full of high adrenalin multiple fight scenes surrounding a kidnapping and then rescue by Mr. Bond.
He is also a member of Equity and has a £10,000,000 million public liability insurance.
Normal working times are from 7pm - 10pm with breaks. Although he is happy to do any time. He will look to arrive approx 1 hour before start time.
A changing room would be required with mirror and also refreshments. If the finish time is later than 10pm then depending where the event is then overnight accommodation may be asked for.
Please Note: The fees indicated below are approximate and based on a central location for each county. They are intended to provide a rough guide only and exact quotes can only be given once the date and exact location of your event have been provided.
Scotland
Aberdeen
£900.00
Inverness
£900.00
Perth
£900.00
Sutherland
£900.00
Ayrshire
£900.00
Fife
£900.00
Stirlingshire
£900.00
West Lothian
£900.00
Dumfries-shire
£900.00
East Lothian
£900.00
Lanarkshire
£900.00
Midlothian
£900.00
North East
Durham
£780.00
Northumberland
£780.00
North Yorkshire
£780.00
South Yorkshire
£780.00
Tyne and Wear
£780.00
West Yorkshire
£780.00
Yorkshire
£780.00
North West
Cheshire
£780.00
Cumbria
£780.00
Manchester
£780.00
Lancashire
£780.00
Merseyside
£780.00
East Midlands
Derbyshire
£720.00
Leicestershire
£720.00
Lincolnshire
£720.00
Northamptonshire
£720.00
Nottinghamshire
£720.00
Rutland
£720.00
East
Cambridgeshire
£600.00
Norfolk
£600.00
Suffolk
£600.00
Wales
Anglesey
£840.00
Caernarvonshire
£840.00
Denbigh
£840.00
Flint
£840.00
Cardigan
£840.00
Brecon
£810.00
Carmarthen
£810.00
Glamorgan
£810.00
Monmouth
£810.00
Pembroke
£810.00
West Midlands
Gloucestershire
£720.00
Herefordshire
£720.00
Shropshire
£720.00
Staffordshire
£720.00
Warwickshire
£720.00
Worcestershire
£720.00
South East
Bedfordshire
£660.00
Berkshire
£660.00
Buckinghamshire
£660.00
East Sussex
£660.00
Essex
£660.00
Hampshire
£660.00
Hertfordshire
£660.00
Isle of Wight
£660.00
Kent
£660.00
Oxfordshire
£660.00
Surrey
£660.00
Sussex
£660.00
West Sussex
£660.00
London
£660.00
Middlesex
£660.00
South West
Cornwall
£840.00
Devon
£840.00
Dorset
£840.00
Somerset
£840.00
Wiltshire
£840.00