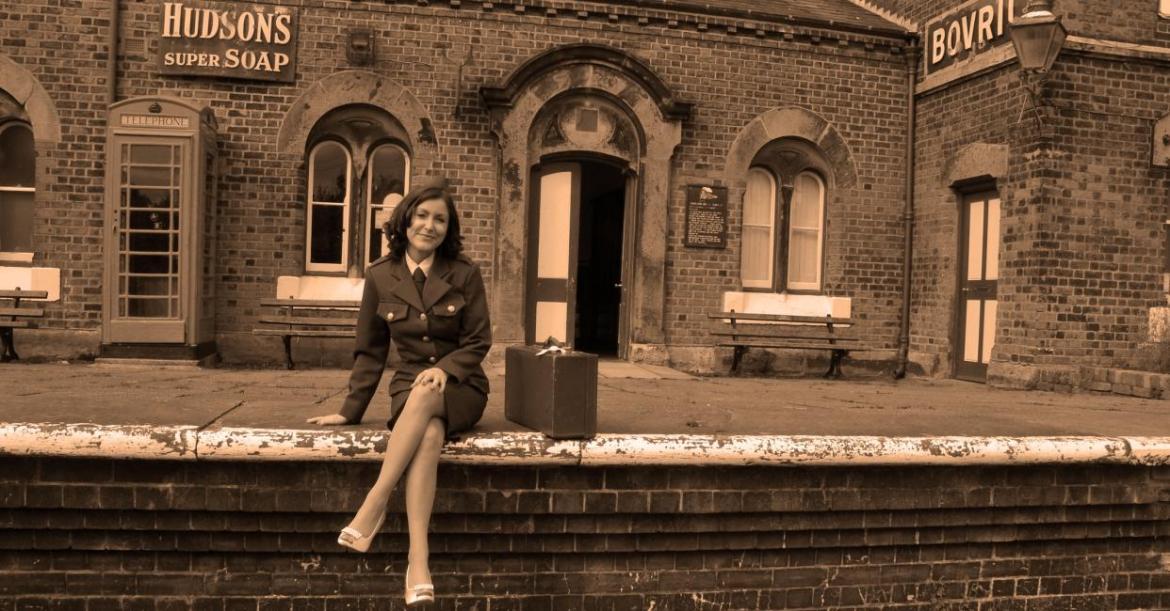 Location Glasgow
Starting from £600.00
An authentic trip to the World War Two era, Lisa's repertoire features all your favourite 1940s wartime songs from The Andrews Sisters, Gracie Fields, Vera Lynn, plus many more, performed by a top-class professional entertainer.


Number of Reviews and Counting... 3!
Covering songs from The Andrews Sisters, Gracie Fields, Vera Lynn, plus many more, performed by a top-class professional entertainer.
With classic songs such as 'White Cliffs of Dover', 'The Boogie Woogie Bugle Boy of Company B', 'Sing As We Go', 'Don't Sit Under The Apple Tree', and of course 'We'll Meet Again', Lisa - 1940's Singer is guaranteed to have you singing along and waving your flags in the air!
The perfect 1940s singer for special occasions, nostalgic events and commemorative dates.
Set List includes:

• Boogie Woogie Bugle Boy - The Andrews Sisters
• Chatanooga Choo Choo – Glenn Miller
• White Cliffs of Dover - Vera Lynn
• Sentimental Journey – Doris Day
• Sing as we go – Gracie Fields
• Wish me luck as you wave me goodbye – Gracie Fields
• Don't sit under the apple tree – The Andrews Sisters
• We'll meet again - Vera Lynn
• Anniversary Waltz – Vera Lynn
• Bless 'em all - George Formby
• I'll Be Seeing You – Vera Lynn
• Bei Mir Bist Du Schon
• It had to be you - Judy Garland / Harry Connick Jnr
• Pack up your troubles in your old kit bag – Standard
• Side by side – Kay Starr
• We're gonna hang out the washing on the Seigfried Line
• When the saints go marching in – Louis Armstrong
and more...
Clifford Curley

, Private Party, Cumbria
Thanks to Warble, and especially to Lisa for a wonderful nights entertainment.
---
Katherine Carter

, Venue Club, Northumberland
Amazing lady. A fantastic singer and a great entertainer. We fell in love with her amazing voice. Thank you Lisa.
---
D. Granger

, Military Event, Glasgow
Lisa captured the hearts of our young and older RAFA members alike with her renditions of 1940s, 1950s and 1960s music and song. A true professional who judged the mood of the gathering to a tea and had them eating out of her hand! A voice of crystal clarity who sounded even better than the original Artiste! The positive feedback from our members places on us the onus to look at next year, when it is hoped Lisa can visit with us again and be among her friends
---
Holland America Cruises (North & South America, Europe)
Chola Sheraton Hotel, Mumbai, India
P&O Cruises (Europe, North America, Scandinavia)
Radisson SAS Hotel, Oman
Colorline Cruises (Scandinavia, Europe)
Also various theatres, halls, hotels, clubs, and functions around the UK.
How long do you perform for?
I can tailor my performance times to suit your requirements.
Can you provide background music during breaks?
Yes, all my shows include themed background music to create the perfect atmosphere for your event.
Do I need to provide sound equipment?
No, I can provide all necessary sound and light equipment.
Are you insured?
Yes, I am fully insured and all my equipment is PAT tested.
Tribute Show
Mixed Show
Sets are able to be tailored in length to suit the event.
Please Note: The fees indicated below are approximate and based on a central location for each county. They are intended to provide a rough guide only and exact quotes can only be given once the date and exact location of your event have been provided.
North East
North Yorkshire
£960.00
South Yorkshire
£960.00
West Yorkshire
£960.00
Yorkshire
£960.00
East Yorkshire
£960.00
Leeds
£960.00
North West
Cheshire
£720.00
Cumbria
£960.00
Manchester
£840.00
Lancashire
£840.00
Merseyside
£720.00
Liverpool
£720.00
East Midlands
Derbyshire
£960.00
Leicestershire
£1,080.00
Lincolnshire
£1,080.00
Northamptonshire
£1,080.00
Nottinghamshire
£1,080.00
Rutland
£1,080.00
Wales
Anglesey
£840.00
Caernarvonshire
£780.00
Denbigh
£600.00
Flint
£600.00
Cardigan
£1,080.00
Brecon
£1,080.00
Carmarthen
£1,080.00
Wrexham
£660.00
Powys
£840.00
West Midlands
Gloucestershire
£1,080.00
Shropshire
£720.00
Staffordshire
£840.00
Warwickshire
£840.00
Worcestershire
£1,080.00
Birmingham
£960.00