Booking A Wedding Band in Cornwall
Whether you are planning your wedding on Cornwall, the South West or surrounding areas such as Newquay, St Ives, Truro, Falmouth, Penzance or Padstowe, you are sure to find here the most exciting wedding bands Cornwall has to offer.
Rest assured that our wedding entertainment and party bands have been hand picked by the UK's top music hire experts to ensure that they are of the highest quality for your big day.
If this is your first time looking at covers bands for weddings, we have outlined a few common questions that we come across when couples are hiring a live band for their wedding reception!
If any of the bands on our website catch your eye, get in touch asap to enquire about their availability before someone else snatches them up.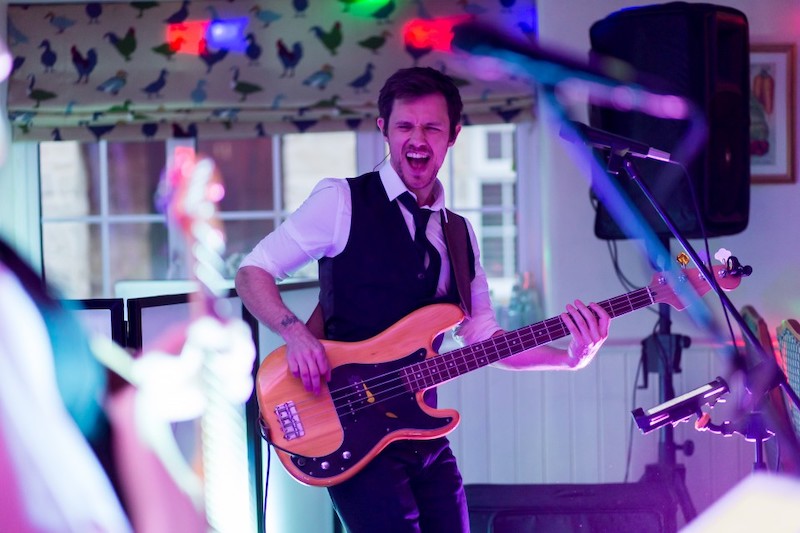 How Much Do Cornwall Wedding Bands Cost?
The price of hiring live wedding bands can vary depending a variety of factors including genre, line up sizes and travel. However, the average cost of booking your very own band for a Cornwall wedding is between £900 - £1600.
When looking at prices for your band, it can useful to consider different ways in which you can get the most value possible on your wedding day. Some bands will be able to throw in a background DJ playlist to keep the dance floor pumping all night long! This can often be included in your quote which means that you will save some budget if you don't need to book extra performers.
Smaller line-ups such as 3 piece bands will often be a little more cost effective than larger function band outfits. You can also hire other Cornwall musicians such as string quartets for a drinks reception, singers or acoustic bands.
Do Wedding Bands in Cornwall Bring Their Own Equipment?
One of the best things about hiring live music in Cornwall is that the bands will arrive with everything they need to make your wedding party pop off!
The musicians will bring their own instruments, guitars, bass, drums, amplifiers, PA system and lighting to make sure that you don't have to worry about anything extra when you hire a wedding band in Cornwall.
This makes everything as easy as possible for you when planning your wedding party. All you have to do is book the band and let them know when and where they need to be, knowing that everything else is being looked after by professional musicians.
What Genres Of Music do Cornish Bands for Weddings perform?
The choice of live music wedding bands in Cornwall is absolutely outstanding. Whatever style, theme or vibe of your wedding, we will have the perfect group for you.
Many couples are now choosing to get married in rustic barns and plan festival style weddings. There are a huge range of folk and boho bands to choose from in the UK and these can be great when situated in the right venue.
The most popular style of Cornwall wedding band is the rock pop covers band. You can find a huge selection of bands that cover songs from years gone by, as well as present day hits to keep the dance floor full. There are bands available with both male vocals and lead female vocals to help you find the right act for your special day.
Will The Band Be Able To Work With My Cornwall Wedding Venue?
One thing we always recommend is to create a list of questions to ask a wedding venue before you secure one for your ideal date. There are a few things that you should check with your Cornwall wedding venue before you go ahead and book your band.
The one biggest thing to ask about is if the venue has a sound limiter installed in the room where the party will take place. This is likely the biggest thing that can affect your choice of act when searching for Cornish musicians!
If the venue does have a sound limiter, don't panic. We have hundreds of noise limiter friendly Cornwall wedding band packages that can assist you when looking for the ideal party band.
Can We See The Band Play Live Before We Book Them?
This is a question we get asked all the time and we understand why! Wedding band hire isn't easy to do without experiencing the act in a live setting first.
Most (if not all) of the professional bands available to book will be specifically set up for weddings, private parties and corporate events. This means that catching them at a live public gig isn't always that easy.
This is why it can be really useful to both watch videos of the acts performing so you can get an idea of what they are like and also reading testimonials from previous brides and grooms who have hired them for weddings in Cornwall.