The Best Wedding Bands Leeds Has To Offer
Welcome to home of our highly recommended live wedding bands based in Leeds. You are guaranteed to find the most incredible live music options here for your big day!
Hiring a band for your wedding is an exciting part of planning your special day. We love sharing this initial spark of enthusiasm with any bride, groom or couple that comes to us with a vision in mind. We commonly get asked about the most popular musicians and singers and we can help you through the process of booking them for an event, party or wedding.
The truth is, there are so many acts to choose from these days! Especially in Leeds and West Yorkshire, the choice is ridiculous and the quality of the bands we have available to book is among the best in England and the UK.
When hiring a live band with Warble Entertainment, you can rest easy knowing that we fully vet every act before they are placed onto our roster. This means that all of the cover bands on our website have the relevant insurance documents and equipment to ensure they are fit to get the party started at your drinks reception, wedding breakfast or evening party!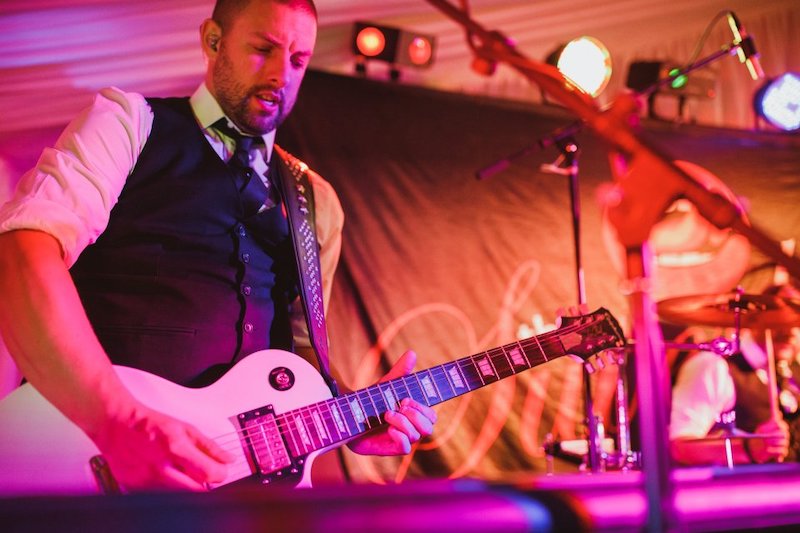 Styles of Bands for Weddings In Leeds
Whilst there is an overarching genre of music that is most popular at weddings, you can also book wedding entertainment in a huge range of styles and sounds.
Live music at weddings is such an important part of creating an awesome atmosphere for your guests. Lots of couples will search for indie rock party bands for hire to ensure that they keep the dance floor full all night long!
Leeds wedding bands of this type will be able to include all of the popular party classics within their live sets to keep guests of all ages happy and singing along to every word.
Other function bands in Leeds can include styles such as festival and folk, soul acts, acoustic performers and much more! Be sure to search through the website to define your style.
It can be a good idea to consider your venue when picking your wedding band in Leeds, especially if they have a sound limiter or any noise restrictions! If this is the case, it's no problem at all. We have a wide range of live music acts that are able to work with venues of any type.
Leeds Wedding Band Prices and Packages
If you are interested in hiring any of our live wedding bands in Leeds, each of our music groups comes with a guide prices listed on the site for the region. This can help you figure out what bands fit within your budget and allow you to create a wish list of your favourites!
Many bands will offer different packages upon booking. This can include a variety of live music sets, plus optional DJ sets to allow the party to carry on late into the night.
Be sure to get in touch with us at Warble Entertainment once you have had a good look at the amazing talent and Leeds wedding bands we have available to book today.