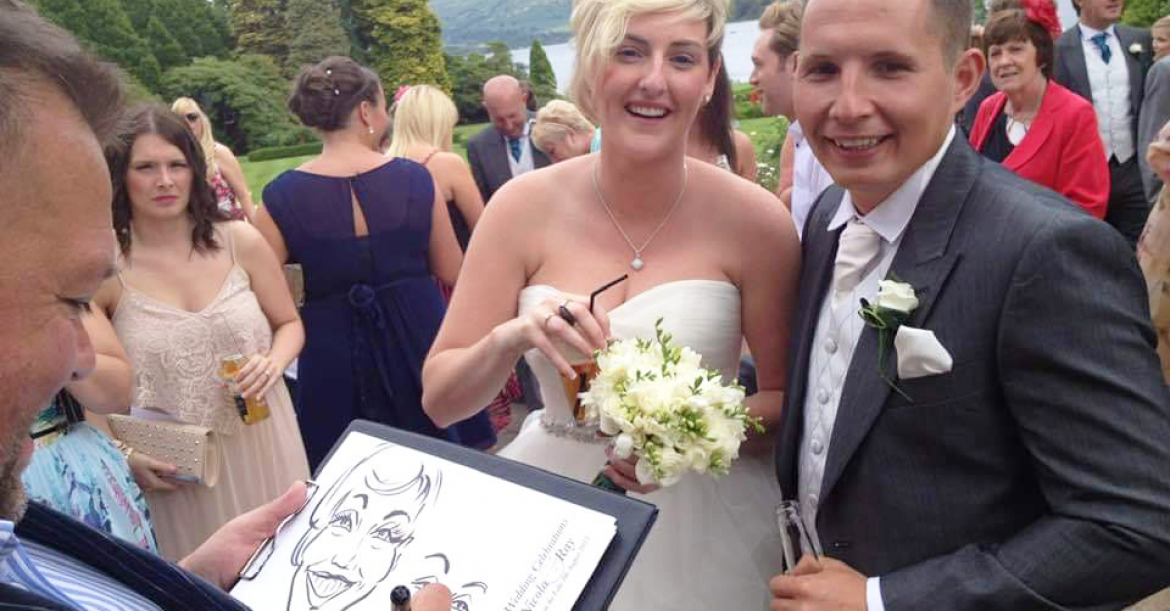 Location Tyne and Wear
Starting from £354.00

North East based, Guinness world record holding caricaturist that always creats a buzz at your event with his fast mix 'n' mingle live caricature entertainment.
Number of Reviews and Counting... 6!
Providing live caricature entertainment for over 25 years, Paul S is faster than most with his mix 'n' mingle live caricaturing, engaging & entertaining more guests in the timescale booked.
When you book Paul S rest assured you will be sure to receive a professional top class performance, Paul S will deliver a combination of entertaining chat that accompanies his live fast caricatures, leaving your guests with a keepsake from your event.
Paul was the first caricaturist to hold the Guinness world record for "Largest Caricature in the World".
Emma Jones

, Wedding, Newton Hall, Northumberland
I didnt really have chance to talk to Paul, but all my guests said he mingled into the crowd, was pleasant and a massive hit and so popular that a few people were upset they missed out on the artwork. After the wedding Paul emailed our picture (which I had requested) for our Thank You cards and we love it. I've never had a caricature which I love.. and I do!
---
Michael Love - ADSL

, Military Event, RAF Boulmer Officers' Mess, Northumberland
Excellent! Very friendly and talented artist, would definitely recommend.
---
Fiona Ward - Virgin Money

, Corporate, Virgin Money HQ, Tyne and Wear
Paul was fantastic during the event, the outputs were just what we wanted. I would definitely book Paul again and recommend him to others. I cannot rate him enough.
---
Maureen Woodley

, Wedding, The Parlour at Blagdon, Tyne and Wear, Tyne and Wear
Paul was super friendly and engaging to all guests at my daughters recent wedding. He managed to include many guests within his allocated 2 hours with his super fast drawings, which were a great hit with the guests. Although mingling with all the guests he was very unobtrusive and had a great sense of humour. I would highly recommend Paul. The guests received a lovely memento with his wonderful and funny drawings and everyone remarked that he was a great addition to what was a wonderful day. Thank you Paul.
---
Andrew Leach

, Wedding, Jesmond Dean House, Tyne and Wear
Superb, book him.
---
Celia Bauerfeind

, Corporate, Tyne and Wear
First Class Entertainment. We Chose Paul S as the entertainment for our works event between the end of our day session and the start or our evening session and he was a real entertainer, he filled the gap perfectly and charmed and engaged with everyone in the room. Thanks again.
---
Newcastle Utd
Sunderland AFC
Middlesbourgh FC
Deloitte LLP
Barclays
BMW
Audi
Lexus
Mini
John Lewis
Northern Rock
Lloyds Bank
Sage (UK)
Pricewaterhousecoopers LLP
How much time do you need to prepare prior to starting at an event?
My set up is pretty simple so I only need 10 mins to scope out the location and get revved up to go!
Do you work from a stationary position or can you mix and mingle with the guests?
I prefer to mix and mingle as it suits my style better but I am happy to work from a single location if that suits your event better.
Are your caricatures colour or black and white?
I can provide either option but colour caricatures take a little longer to draw so I'll get through more guests doing black and white.
My venue requires all entertainment to have public Liability insurance, is that a problem?
Not at all, I have full coverage and Warble can provide your venue with a copy if required (just make sure to mention it when you book).
Standard performance is 2hrs, longer performances can be provided at additional cost, for a quote please contact the Warble booking team.
Please Note: The fees indicated below are approximate and based on a central location for each county. They are intended to provide a rough guide only and exact quotes can only be given once the date and exact location of your event have been provided.
North East
Durham
£360.00
Northumberland
£360.00
North Yorkshire
£420.00
Tyne and Wear
£354.00