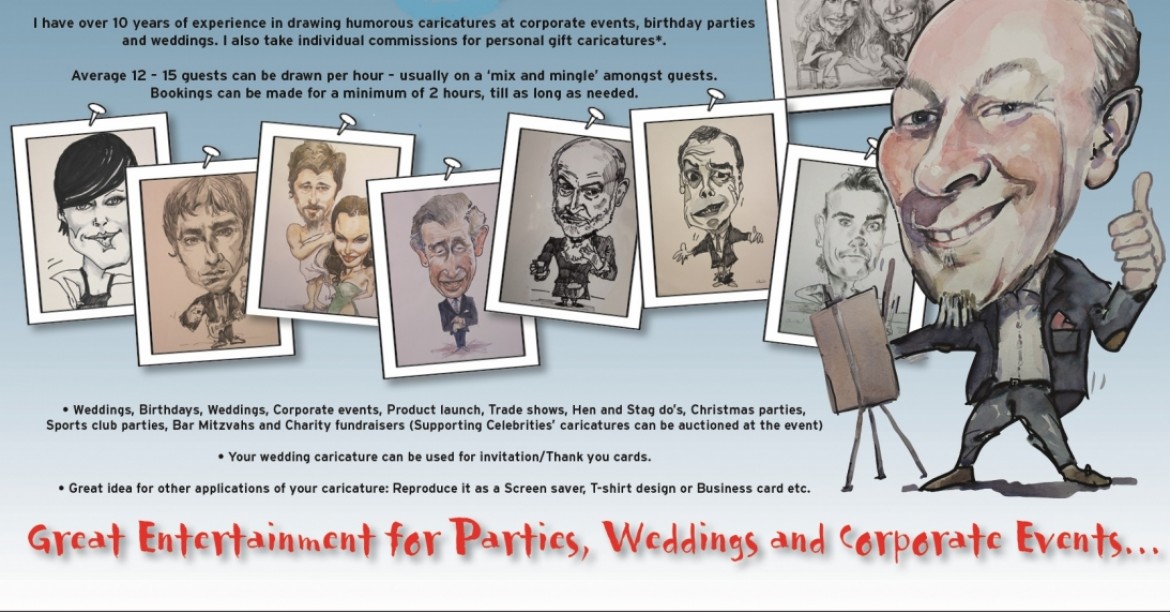 Location West Lothian
Starting from £276.00

Taylor's caricatures are humorous and inoffensive depictions of people. Your friends, family or colleagues will be entertained and delighted. A great ice-breaker at receptions and corporate events with big laughs guaranteed.
A great idea for birthday parties, Weddings, Corporate or Charity Events; to name just some occasions where Taylor can provide unique entertainment while also offering guests a special and personal memento of the day.
Able to draw 15 guests per hour, usually on a 'mix and mingle' style amongst guests. He is also happy to draw people seated in a quieter area if they wish.
Number of Reviews and Counting... 5!
Taylor is available for bookings to draw at your event, where he uses black and grey tonal pens to draw up to 15 guests per hour. Bookings can be made for a minimum of 2 hours, until as long as needed.
Taylor can also be commissioned to produce individual caricatures, which can be themed around a person's interests or hobbies. These are usually drawn or painted from photographs in Taylor's studio.
A popular event for bookings are weddings; where Taylor can draw guests during drinks reception, after meal, or at a time that suits the wedding party. Taylor also offers a package which includes a painted full detail double caricature of the Bride and Groom. This can be mounted on card and then signed by all wedding guests to make a unique momento for the couple of their special day. Enquiries are welcomed to discuss other packages that can be offered to suit your needs.
Margaret Park

, Birthday Party, West Lothian
Chris was a great addition to our party. He managed lots of caricatures for us and always had an audience.
---
Frances Gibson

, Wedding, Lochside Hotel, Ayrshire
Chris was extremely easy to chat with and mingled with all the guests. Would definitely recommend.
---
Claire Fowler - Revolution Bars

, Private Party, Revolution, Edinburgh
Absolutely wonderful and we wouldn't hesitate to book him again!
---
Susan McDonald

, Wedding, Carlowrie Castle, Edinburgh
Such a simple booking process. Our guests loved him and his work! Perfect way to entertain people while we had our pictures taken. I'm just sad we never got to spend any time with him, but the guests had nothing but good things to say. Thank you.
---
Emma Joy

, Wedding, West Lothian
I ordered a caricature for a friend's wedding and it was perfect! A great idea for a unique gift and I was able to personalise it to my friends' personalities and hobbies. It was done on time and I had great communication throughout. Highly recommend!
---
Royal Bank of Scotland
Eagle Star Insurance
Sykes Global Services Ltd.
Edinburgh University
Arthritis Research Council
How many guests can you draw?
Taylor can draw 15 guests per hour (on average).
What time will you arrive?
Taylor arrives at the venue 20 minutes before, in order to set-up.
How do you work the day?
Taylor works in a 'mix and mingle' walkabout style with wedding/party guests and can also work seated with an easel when suitable - such as drawing a double or group caricature on larger surface.
What else can you offer?
Special pre-event painted caricature of couple or individual, mounted for guests to write comments. Drawings of wedding guests can be drawn before the wedding day. Taylor would need photos or digital images to work from, a great idea for wedding 'Favours' to place on the dinner table rolled in a scroll with ribbon!
When will you perform?
Taylor is happy to consult with the client on the most convenient stages of wedding day to perform i.e: drinks reception, after dinner and/or evening entertainment for guests.
What do you draw on?
Individual caricatures are drawn on 300gm A4 size paper. Double caricatures are drawn on 300gm A3 size paper. All drawings are protected with plastic sleeves to take away.
Performance is a 2 hour session
3-8 Hours available with breaks
Please Note: The fees indicated below are approximate and based on a central location for each county. They are intended to provide a rough guide only and exact quotes can only be given once the date and exact location of your event have been provided.
Scotland
Aberdeen
£381.60
Inverness
£420.00
Perth
£276.00
Sutherland
£588.00
Ayrshire
£300.00
Fife
£288.00
Stirlingshire
£276.00
West Lothian
£276.00
Dumfries-shire
£342.00
East Lothian
£288.00
Lanarkshire
£288.00
Midlothian
£276.00
Glasgow
£288.00
Edinburgh
£276.00
Dundee
£288.00
Foreign Locations
Europe
£1,200.00
Rest of the world
£6,000.00
North East
Durham
£432.00
Northumberland
£336.00
North Yorkshire
£420.00
South Yorkshire
£504.00
Tyne and Wear
£360.00
West Yorkshire
£420.00
Yorkshire
£480.00
East Yorkshire
£480.00
Leeds
£480.00
North West
Cheshire
£516.00
Cumbria
£348.00
Manchester
£480.00
Lancashire
£420.00
Merseyside
£516.00
Liverpool
£516.00
East Midlands
Derbyshire
£504.00
Leicestershire
£528.00
Lincolnshire
£528.00
East
Cambridgeshire
£540.00
West Midlands
Gloucestershire
£600.00
Herefordshire
£540.00
Shropshire
£576.00
Staffordshire
£576.00
Warwickshire
£576.00
Worcestershire
£576.00
Birmingham
£576.00
South East
Bedfordshire
£756.00
Berkshire
£960.00
Buckinghamshire
£960.00
East Sussex
£960.00
Essex
£960.00
Hampshire
£1,020.00
Hertfordshire
£1,020.00
Oxfordshire
£636.00
Surrey
£960.00
Sussex
£960.00
West Sussex
£960.00
London
£720.00
Middlesex
£840.00
South West
Cornwall
£1,080.00
Dorset
£960.00
Somerset
£960.00
Wiltshire
£960.00
Bath
£312.00
Bristol
£840.00