Warble Entertainment's
The Celtic Twins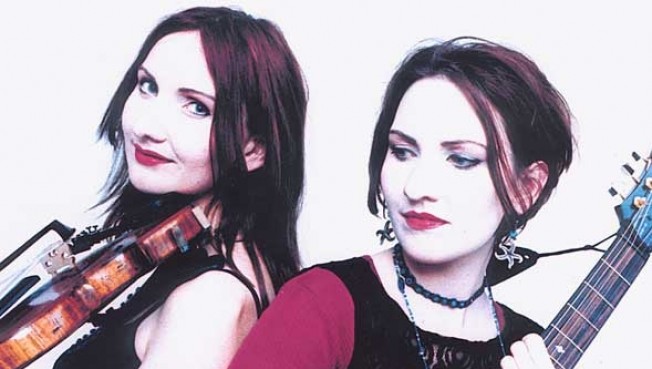 Location Kent
Starting from £420.00
The Celtic Twins are twin sisters. The music performed originates from Ireland, Scotland and beyond and moves imaginatively from high energy reels and jigs to sublime harmony singing. It is especially for their singing that The Celtic Twins are rightfully admired and respected. A rare gift of almost uncanny intuition flavours their arrangements of songs both traditional and contemporary. The traditional tunes are delivered with passion, fire, style and flair. The Celtic Twins play ancient music set very much in our times.
*The Celtic Twins have toured in Europe, New Zealand and the UK with a string of festivals. Plus, television and radio play from Europe to Japan*
** Seasonal Specials **
The Celtic Twin Carollers
Add a dash of Dickens to your festive celebrations! Bedecked in eye-catching Victorian caroller costumes, The Celtic Twins perform a rich songbook of popular Victorian Christmas carols, uplifting tunes & timeless wassails arranged with strong vocal harmonies, Celtic harp, guitar and fiddle. Ideal for private parties, corporate events, shopping centres, street events, Christmas fayres and switching on the lights. Costume optional.
New Year's Eve / Hogmanay Hootananny
Celebrate Hogmanay in true traditional style with songs, strathspeys, schottisches, jigs and reels galore; not to mention Auld Land Syne, The Parting Glass and a whole host of popular songs. The Celtic Twins can be booked as a duo / trio / 4 piece band. For a ceilidh led by an experienced caller bring on the bigger line-up with 'String Ceilidh Band'.
St Patrick's Day
The perfect choice for cultural centres, pubs, clubs, restaurants & parties with an extensive repertoire of traditional and favourite Irish songs and tunes. Highly experienced musicians, authentic instruments; from duo through to 5 piece band. Very popular so book early to avoid disappointment.
23 reviews
Song List
The Celtic Twin's repertoire includes Traditional Celtic, Eastern European, contemporary upbeat and 'Waterboys' / 'Corrs' style music.
Repertoire: (this is just a small sample selection)
Tunes:
Jig of Slurs / Bill Wards
The Gold Ring
Calliope / Kesh Jig
The History Man
Spootiskerry / High Road to Linton
Haste to the Wedding / Sixpenny Money / Morrison's
Tamarind
The Maple Leaf / Green Groves of Erin / Baluga
Jug of Punch / Paddy Fahy's / The Woman I Never Forgot
Mountain Road / Cooley's
Maries Wedding / Horses Brawl
Bear Dance
John Ryan's Polka / Dennis Murphy's
Rocky Road to Dublin / Kid on the Mountain
The Hungry Rock
Floating to Skerry / Pipe on the Hob / Lark in the Morning
Silver
The Lonesome Boatman
Kitchen Girls / Full Rigged Ships
The Rights of Man
Jacky Tar /The Peacock's Feather / Castle Kelly
King of the Fairies / Farewell to Erin
St Anne's Reel / the Ash plant / Silver Spear
Lilting Banshee / Killavil jig / Cliffs of Moher
Julia Delaney's / Ships are Sailing
New Market Polkas / Ballydesmond Polka
Songs:
Fisherman's Blues
Galway Girl
The Littlest Birds
Cinnamon & Caramel
Caledonia
Rescue Me
Part of the Process
Bitter the Parting
Tell Me What You See In Me
Banks of the Nile
Too Close to the Wind
Song to the Siren
Next Market Day
Caleb Meyer
Slow Shuffle Dry Shuffle
Killing the Blues
And for Irish events such as parties, gatherings, etc and of course St. Patrick's Day:
Galway Girl
Black is the Colour
Fields Of Athenry
Leaving of Liverpool
Willie McBride
Raglan Road
Black Velvet Band
Song for Ireland
Dirty Old Town
Molly Malone
Whisky in The Jar
Wild Rover
Spancil Hill
Still Haven't Found What I'm Looking For (U2)
Runaway (The Corrs)
Wild Mountain Thyme
Ride On
Danny Boy