The Calder Valley String Quartet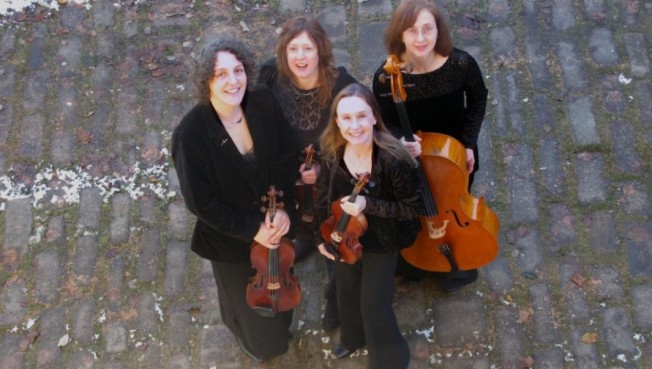 Location West Yorkshire
Starting from POA
The Calder Valley String Quartet is an established Yorkshire based string quartet with a wealth of experience built up over the last 20 years.
The Calder Valley String Quartet can provide a varied programme of music to suit any occasion and plays throughout the north of England. Wedding music can be chosen to suit a church wedding, civil ceremony, drinks reception or wedding breakfast.
The Calder Valley String Quartet
Number of Reviews and Counting... 2!
All members of the Calder Valley String Quartet are professionally trained experienced musicians, with many years' experience of playing with the finest British orchestras, including the Hallé, BBC Philharmonic, Liverpool Philharmonic, Opera North, Northern Ballet, Northern Chamber Orchestra, Welsh Chamber Orchestra, Manchester Camerata, Scottish Ballet and English National Ballet. In addition they are involved in teaching and educational workshops as well as a variety of freelance and studio work.
Over the years they have played at all types of events large and small, garden parties, charity events, campaign launches and conferences. Many bookings are for weddings and the quartet has a wealth of experience in working with clients to help them make decisions on music and helping them to make their day perfect. Weddings can be personalised by the choice of music and the quartet is always willing to help and advise on choosing music. If the chosen music is not in the quartet's repertoire list it is usually able to obtain classical pieces, and for contemporary songs it may be possible to arrange these for string quartet, given sufficient notice and as long as the music lends itself to a quartet arrangement. An additional fee is often required for this service.
Although many of the clients who engage the quartet request light background music the members of the quartet are delighted when requested to play the more substantial classical works for string quartet and are happy to undertake more formal engagements and recitals.
Violin (x2), Viola, Cello
CLASSICAL
Air on a G String - Bach
Aria - Bach
Arioso - Bach
Brandenburg 3 - Bach
Brandenburg 4 - Bach
Brandenburg 6 - Bach
Concerto for Oboe and Violin - Bach
Double Concerto - Bach
Gigue - Bach
Jesu, Joy of Man's Desiring - Bach
Sheep may Safely Graze - Bach
Wachet Auf - Bach
Adagio - Barber
Cavatine - Beethoven
Fugue - Beethoven
Minuet from Septet - Beethoven
Ode to Joy - Beethoven
Duet from the Pearl Fishers - Bizet
Prelude to Carmen - Bizet
Ayre - Blow
Minuet - Boccherini
Intermezzo - Böhm
First Polovtsian Dance - Borodin
Waltzes - Brahms
Prelude from Te Deum - Charpentier
Scherzo - Cherubini
Nocturne opus 15 no 3 - Chopin
Nocturne opus 15 no 1 - Chopin
Nocturne opus 9 no 2 - Chopin
Trumpet Voluntary – Clarke
Christmas Concerto - Corelli
Torno a Surrento - De Curtis
Czardas (from Coppelia) - Delibes
Flower Duet from Lakmé - Delibes
Divertissement Pizzicati (from Sylvia) - Delibes
Mazurka (from Coppelia) - Delibes
Valse Lente (from Coppelia) - Delibes
Slavonic Dances - Dvorak
Chanson de Matin - Elgar
Salut d'Amour - Elgar
Nimrod - Elgar
Pavane - Fauré
Nocturne (Song without Words) - Field
Nocturne no 8 - Field
Nocturne in Bb - Field
Panis Angelicus - Franck
Gavotte - Grieg
Morning from Peer Gynt - Grieg
Norwegian Dance no 2 - Grieg
Waltz - Grieg
Wedding Day at Troldhaugen - Grieg
Arrival of the Queen of Sheba - Handel
Departure of the Queen of Sheba - Handel
Gavotte - Handel
Largo - Handel
Lascia Chio Pianga - Handel
Passacaglia - Handel
Royal Fireworks Music - Handel
Water Music - Handel
Where e'er You Walk - Handel
Zadok the Priest - Handel
God Save Francis the Emperor - Haydn
Serenade - Haydn
String Quartets – various - Haydn
Lieberslied - Kreisler
Intermezzo - Mascagni
Canzonetta- Mendelssohn
Nocturne from Midsummer Night's Dream - Mendelssohn
Wedding March - Mendelssohn
Alleluja from Exultate Jubilate - Mozart
Andante from Piano Concerto - Mozart
Ave Verum Corpus - Mozart
Divertimenti - Mozart
Eine Kleine Nachtmusik - Mozart
Non Più Andrai (Marriage of Figaro) - Mozart
Rondo alla Turca - Mozart
String Quartets - various - Mozart
Voi che sapete (Marriage of Figaro) Mozart
Barcarolle - Offenbach
Canon - Pachelbel
Pulcinella - Pergolesi
O Mio Babbino Caro - Puccini
Nessum Dorma - Puccini
Quando m'en vo (La Bohème) - Puccini
Chacony - Purcell
Trumpet Tune - Purcell
Two Rondeaux - Purcell
Vocalise - Rachmaninov
Bolero - Ravel
Cantilena - Rose
Ballet Music (William Tell) - Rossini
Galop (William Tell) - Rossini
Melody in F - Rubenstein
The Swan - Saint-Saëns
Ave Maria - Schubert
Waltzes - Schubert
Dreaming from Scenes from Childhood - Schumann
Romance (Gadfly) - Shostakovich
Tales from the Vienna Woods - Strauss
Chinese Dance (Nutcracker) - Tchaikovsky
Czardas (Swan Lake) - Tchaikovsky
Dance of the Mirlitons (Nutcracker) - Tchaikovsky
Dance of the Flutes (Nutcracker) - Tchaikovsky
Dance of the Sugar Plum Fairy - Tchaikovsky
Dance of the Swans (Swan Lake) - Tchaikovsky
March (Nutcracker) - Tchaikovsky
Overture (Nutcracker) - Tchaikovsky
Pas de Deux (Swan Lake) - Tchaikovsky
Russian Dance (Nutcracker) - Tchaikovsky
Sleeping Beauty Waltz - Tchaikovsky
Waltz of the Flowers (Nutcracker) - Tchaikovsky
Concerto in D minor - Telemann
Drinking Song (Traviata) - Verdi
La Forza del Destino - Verdi
Quartet (Rigoletto) - Verdi
Four Seasons - Vivaldi
Gloria - Vivaldi
Bridal March - Wagner
Pieds-en-l'Air - Warlock
POP MUSIC
All you need is Love
Amarillo
One Day Like This
Allegretto – Palladio
Have I Told You Lately
Perfect Day
Hallelujah
Can't Buy me Love
Can't Help Falling in Love
Chasing Cars
Don't Stop Believin'
Everlasting Love
Fields of Gold
From This Moment
Get Back
Good Vibrations
Greatest Day
Hernando's Hideaway
How Deep is Your Love
Isn't she Lovely
It Had to be You
It Must be Love
It's All about You
Lady Madonna
Light my Fire
Love me Tender
Make you feel my Love
Marry You
Nights in White Satin
One Day Like This
Penny Lane
She
Stairway to Heaven
Vida la Vida
When a Man Loves a Woman
When I Fall in Love
When I'm 64
Will You Love Me Tomorrow?
Windmills
Without You
Yellow
Yesterday
You're Beautiful
LIGHT MUSIC
A Day in the Life of a Fool
All I Ask of You
Annie's Song
Anything Goes
Ashokan Farewell
Bethena
Big Spender
Blue Danube
Blue Moon
Bye Bye Blackbird
Blues in the Night
Brideshead Revisited
Cabaret Cavatina
Chelsea Bridge
Cinema Paradiso
Cock Linnet
Congratulations
Country Club
Cry me a River
Don't Cry for me Argentina
Embraceable You
English Country Gardens
Euphonic Sounds
Every Time we say Goodbye
Fawlty Towers
Fly me to the Moon
Freylachs
Funiculi Funicula
Get me to the Church on Time
God Bless the Child
Greensleeves
Heliotrope Bouquet
Hello Dolly
How High the Moon
Hungarian Dance
I Could have Danced all Night
I do like to be beside the Seaside
I Dreamed a Dream
If I were a Rich Man
I got Rhythm
I Could Have Danced All Night
I Know Him so well
It's Only a Paper Moon
James Bond
Kabootar Ja Ja Ja
La Bamba
La Cumparsita
Lara's Theme
Leaning on a Lamppost
Let's Do It
Liberty Bell
Londonderry Air
Loudly let the Trumpet Bray
Love and Marriage
Love Story
Making Whoopee
Maria
Molly on the Shore
Moon River
Moonglow
Moonlight and Roses
Moonlight in Vermont
Music of the Night
My Funny Valentine
My Heart Will Go On
New York, New York
Sole Mio
Oklahoma/Sound of Music
Over the Rainbow
Paragon Rag
Pennies from Heaven
Pineapple Rag
Pirates of Penzance
Pizzicato Polka
Por Una Cabeza – "Scent of a Woman"
Puttin' on the Ritz
Radetzky March
Ragtime Dance
Romeo and Juliet
Round Midnight
Satin Doll
Scott Joplin's New Rag
Slap that Bass
Someone to Watch over me
Suite – Irish Sherry
Suite from "Cats"
Summer Holiday
Summertime
Swanee
Sway/Cherry Pink
Take Five
Take the 'A' Train
Take my Breath Away
Tambourin
Tango
That's Amore
The A Team
The Entertainer
The Folks who live on the Hill
The Girl from Ipanema
The Man I Love
The Minstrel Boy
The Winner Takes it All
They Can't Take That Away From Me
Three Little Maids
Time to say Goodbye
Titanic
To a Wild Rose
To Life
Toss the Feathers
Upstairs Downstairs
Walking in the Air
Waltz 2 (Jazz Suite 2) – "Eyes Wide Shut"
Walzer
Washington Post
Windmills
Wonderful World
Joshua Holmes

, Wedding, West Yorkshire
The String Quartet were fantastic through out the day. Really grateful.
---
Gwen Pearson

, Wedding, Lancashire
My husband Graham and I would like to take this opportunity to thank you once again for your tremendous performance last Friday at the wedding of our daughter Julia to Andy. I know my husband spoke to you at the time, but we had many of the guests comment on your performance and we were sorry that you slipped away before the speeches as I am sure that you would have got a standing ovation when my husband publicly thanked you. Your repertoire was perfect for the occasion with such a wide range from classics, to musicals to pop! Many thanks for making the day so memorable. We will not hesitate to recommend you.
---
The String Quartet, though based in the Calderdale area, regularly performs at venues throughout the north of England, anywhere in fact between Hull and Liverpool, North Yorkshire and Derby. As well as performing at weddings, the String Quartet has performed at all manner of functions, including private parties, conferences, corporate events and launches.
Previous Venues:
Allerton Castle, N Yorks
Arley Hall, Northwich
Bagden Hall, Huddersfield
Brodsworth Hall, Doncaster
Carlton Towers, Yorkshire
Castle Howard
Cedar Court Hotel, Bradford
Chester Racecourse
Chester Town Hall
Clay House, Halifax
East Riddlesden Hall, Keighley
Gibbon Bridge Hotel, Lancashire
Goldsborough Hall, Yorkshire
Hazelwood Castle, Yorkshire
Healds Hall Hotel, Liversedge
Hey Green Hotel, Marsden
Holdsworth House, Halifax
Holiday Inn, Brighouse
Hollins Hall, Baildon
Kedleston Hall, Derby
Kelham Hall, Newark
Liver Building, Liverpool
Liverpool Town Hall
Majestic Hotel, Harrogate
Mersey Ferry, Liverpool
Newby Hall, Yorkshire
Nunsmere Hall, Cheshire
Oakwell Hall, Yorkshire
Oakwood Hall Hotel, Bingley
Old Golf House Hotel, Huddersfield
Old Hall, Todmorden
Oulton Hall, Leeds
Owston Hall, Doncaster
Queens Hotel, Leeds
Ringwood Hall Hotel, Chesterfield
Rock Inn, Halifax
Rudding Park, Harrogate
St Williams College, York
Scaitcliffe Hall, Todmorden
Sun Pavilion, Harrogate
The Inn at Whitewell, Lancashire
Tower House Hotel, Halifax
Town Hall, Todmorden
Waterton Park Hotel, Wakefield
Wentbridge House Hotel, Pontefract
Whirlow Hall, Sheffield
Wood Hall Hotel, Linton
Woolley Hall, Wakefield
What needs to be provided at the venue?
The quartet will require sufficient space to be able to play, (minimum of 4m x 3m), 4 ordinary chairs without arms, and adequate lighting. If the venue is likely not to be able to provide good lighting please notify us in advance and we can provide individual stand lighting.
How long can you play for?
Our average engagement is for 3 hours. We can play for longer if requested, bearing in mind that suitable breaks will need to be taken.
How far do you travel?
The Calder Valley String Quartet, though based in the Calderdale area, regularly plays for weddings at venues throughout the north of England, anywhere in fact between Hull and Liverpool, Durham and Derby.
Can you play outdoors?
We certainly aim to whenever possible, but unfortunately we are dependent on the weather! We are not able to play outside during rain. We are equally fussy if the sun is too hot (as varnish on the instruments is very vulnerable to heat) but as long as there is a shady corner or tree to sit under we are happy to do so.
What do you wear?
Our usual dress code is black unless otherwise requested.
Can you arrange any piece of music?
Given sufficient notice and as long as the music lends itself to a quartet arrangement this is generally possible. An additional fee is often required for this service.
Will the quartet require refreshments?
Yes please. Soft drinks are required during the event plus sandwiches (with vegetarian option) when appropriate (ie. for longer engagements or when the quartet has travelled some distance).
What happens if a player from the quartet is unable to play on the day?
Inevitably there will be occasions when a Calder Valley String Quartet player is unavailable to play on a particular day. However, in the event of this happening a deputy musician of equal calibre will be engaged. We use only players known to us and who are familiar with our repertoire.
Minimum Engagement - 1 hour (i.e. wedding ceremony)
Typical Engagement 3 hours
Please Note: The fees indicated below are approximate and based on a central location for each county. They are intended to provide a rough guide only and exact quotes can only be given once the date and exact location of your event have been provided.
North East
Durham
£672.00
North Yorkshire
£636.00
South Yorkshire
£636.00
West Yorkshire
£624.00
Yorkshire
£660.00
East Yorkshire
£660.00
Leeds
£624.00
North West
Cheshire
£648.00
Manchester
£624.00
Lancashire
£636.00
Merseyside
£660.00
Liverpool
£660.00
East Midlands
Derbyshire
£624.00
Lincolnshire
£660.00
Nottinghamshire
£648.00