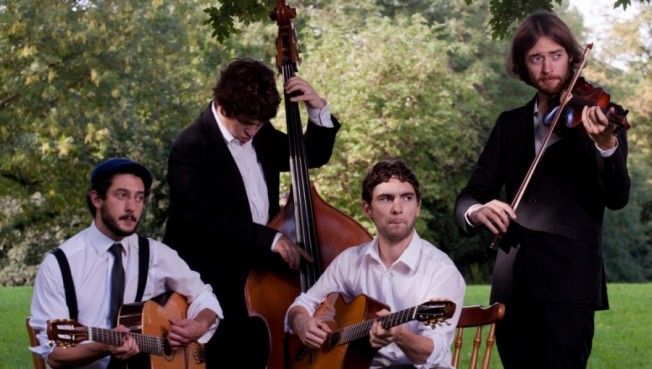 Location West Yorkshire
Starting from £720.00
Strings From Paris are a gypsy jazz band, specialising in the music of Stephane Grappelli and Django Reinhardt. Lead by Violin and Guitar, the music is an amazing form of acoustic jazz and will transport you back in time to 1930s Paris.
Listen




Number of Reviews and Counting... 1!
'Strings from Paris' is a Violin and Guitar led gypsy swing band. Strings From Paris have many years experience playing for weddings and events throught the UK.
Past clients between the band have been Buckingham Palace (playing for the Royal Christmas Party 2012), Hereford Cathedral, Edinburgh Jazz Festival, Django Reinhardt Festival-Samois sur Seine to name just a few.
The band focus on the music of Django Reinhardt and Stephane Grappelli, adding in flavours of swing, bop and world music. Strings From Paris pay homage to the traditions of the music and more importantly, keep it swinging!
Strings From Paris is available as a quartet, trio or duo option.
Strings From Paris prefer to play as a Quartet but can also perform as a Trio or Duo to suit your space or budget:
Quartet - Violin, Lead Guitar, Rhythm Guitar, Bass
Trio- Violin, Rhythm Guitar, Bass
Duo - Violin, Guitar
BM

, Wedding, North Yorkshire
Great music and very professional.
---
Between Strings From Paris they have played for/at
Buckingham Palace (The Queens annual Christmas party)
Hereford Cathedral
Guy Chambers (Producer,writer)
Festival Django Reinhardt Samois sur Seine
Edinburgh Jazz Festival
Bestival
... and many other private events around the country!!!
What is 'Gypsy Jazz'?
Gypsy jazz is a style of jazz that first came to prominance in the 1930s in Paris. The pioneers of the syle being Django Reinhardt and Stephane Grappelli. It is is acoustic jazz that swings and since its birth has been progressing all the time. Thousands now flock to festival all over the world to watch gypsy jazz musicians play and to jam around camp fires till the early hours.
What should I expect from the music?
The music is very versatile, it can be soft, playful and light music in the background of any occasion or it can be full on, energetic and full of fire!
Just let us know what you need.
Please Note: The fees indicated below are approximate and based on a central location for each county. They are intended to provide a rough guide only and exact quotes can only be given once the date and exact location of your event have been provided.
Scotland
Aberdeen
£1,200.00
Inverness
£1,200.00
Perth
£1,200.00
Sutherland
£1,200.00
Ayrshire
£1,080.00
Fife
£1,080.00
Stirlingshire
£1,080.00
West Lothian
£1,080.00
Dumfries-shire
£1,080.00
East Lothian
£1,080.00
Lanarkshire
£1,080.00
Midlothian
£1,080.00
North East
Durham
£960.00
Northumberland
£720.00
North Yorkshire
£840.00
South Yorkshire
£840.00
Tyne and Wear
£960.00
West Yorkshire
£720.00
Yorkshire
£720.00
North West
Cheshire
£840.00
Cumbria
£840.00
Manchester
£840.00
Lancashire
£840.00
Merseyside
£840.00
East Midlands
Derbyshire
£960.00
Leicestershire
£960.00
Lincolnshire
£960.00
Northamptonshire
£960.00
Nottinghamshire
£960.00
Rutland
£960.00
East
Cambridgeshire
£960.00
Norfolk
£960.00
Suffolk
£960.00
Wales
Anglesey
£960.00
Caernarvonshire
£960.00
Denbigh
£960.00
Flint
£960.00
Cardigan
£1,080.00
Brecon
£1,200.00
Carmarthen
£1,200.00
Glamorgan
£1,200.00
Monmouth
£1,200.00
Pembroke
£1,200.00
West Midlands
Gloucestershire
£960.00
Herefordshire
£960.00
Shropshire
£960.00
Staffordshire
£960.00
Warwickshire
£960.00
Worcestershire
£960.00
South East
Bedfordshire
£1,200.00
Berkshire
£1,080.00
Buckinghamshire
£1,080.00
East Sussex
£1,080.00
Essex
£1,200.00
Hampshire
£1,080.00
Hertfordshire
£1,080.00
Isle of Wight
£2,400.00
Kent
£1,080.00
Oxfordshire
£1,200.00
Surrey
£1,080.00
Sussex
£1,200.00
West Sussex
£1,080.00
London
£1,200.00
Middlesex
£1,080.00
South West
Cornwall
£960.00
Devon
£960.00
Dorset
£960.00
Somerset
£960.00
Wiltshire
£960.00