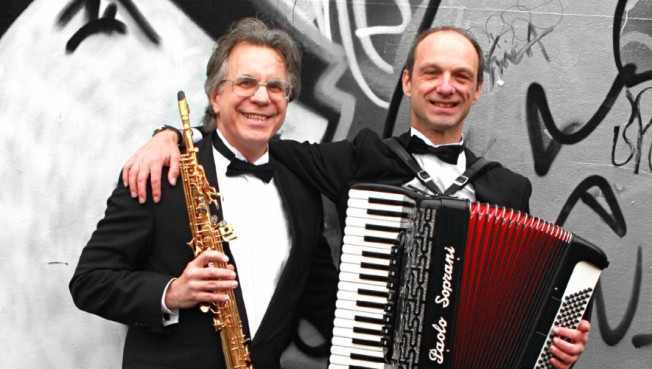 Location Bristol
Starting from £420.00

The Klezmer Duo can offer you traditional Klezmer instrumental music played with skill and passion, creating the perfect atmosphere for your Wedding, Bar Mitzvah, Party or Corporate Event.
Number of Reviews and Counting... 2!
John has been playing accordion professionally for many years, specializing in Klezmer music as well as other traditional forms such as Tango, French and Italian music. Sean has also been a professional musician for many years, playing and teaching saxophone in a variety of styles and places.
Example Setlist
Hava Nagila
Hava Netze B'machol
Broyges Tanz
Freylekhs I
Freylekhs II
Siman Tov
Shloymke's Freylekh
Ketsad M'rakden
Y'varech'cha
Ose Shalom
Terk In Amerika
Miserlou
Ocho Kandelikas
Ben - BBC

, Corporate, North Yorkshire
Thanks again Nikki! The gents were brilliant - I will definitely be a returning customer to Warble! Ben.
---
Rebecca Lawson

, Private Party, Cardiff
I just wanted to say a big thank you for thursday, you were fantastic and it really added to the atmosphere of the event!
---
We can play unplugged, or bring a small amp for larger events.
Our set typically will be two 45 minute sessions, with a short interval, but we are flexible and can fit the requirements of the client.
All we need is somewhere to plug the amp in (if needed) and a couple of chairs. Also car parking space is really useful.
Typically 2 x 45 minute sets, but Klezmer Duo are able to tailor to most events.
Please Note: The fees indicated below are approximate and based on a central location for each county. They are intended to provide a rough guide only and exact quotes can only be given once the date and exact location of your event have been provided.
North East
Durham
£600.00
Northumberland
£600.00
North Yorkshire
£588.00
South Yorkshire
£528.00
Tyne and Wear
£600.00
West Yorkshire
£540.00
Yorkshire
£540.00
East Yorkshire
£540.00
Leeds
£540.00
North West
Cheshire
£516.00
Cumbria
£588.00
Manchester
£528.00
Lancashire
£540.00
Merseyside
£528.00
Liverpool
£528.00
East Midlands
Derbyshire
£516.00
Leicestershire
£504.00
Lincolnshire
£540.00
Northamptonshire
£492.00
Nottinghamshire
£504.00
Rutland
£516.00
East
Cambridgeshire
£516.00
Norfolk
£540.00
Suffolk
£528.00
Norwich
£540.00
Wales
Anglesey
£564.00
Caernarvonshire
£540.00
Denbigh
£528.00
Flint
£528.00
Cardigan
£504.00
Brecon
£468.00
Carmarthen
£480.00
Glamorgan
£456.00
Monmouth
£456.00
Pembroke
£504.00
Wrexham
£516.00
Cardiff
£456.00
West Midlands
Gloucestershire
£420.00
Herefordshire
£456.00
Shropshire
£480.00
Staffordshire
£480.00
Warwickshire
£480.00
Worcestershire
£456.00
Birmingham
£480.00
South East
Bedfordshire
£516.00
Berkshire
£468.00
Buckinghamshire
£480.00
East Sussex
£528.00
Essex
£504.00
Hampshire
£468.00
Hertfordshire
£504.00
Kent
£516.00
Oxfordshire
£468.00
Surrey
£480.00
Sussex
£516.00
West Sussex
£504.00
London
£540.00
Middlesex
£480.00
South West
Cornwall
£504.00
Devon
£480.00
Dorset
£456.00
Somerset
£420.00
Wiltshire
£444.00
Bath
£420.00
Bristol
£420.00