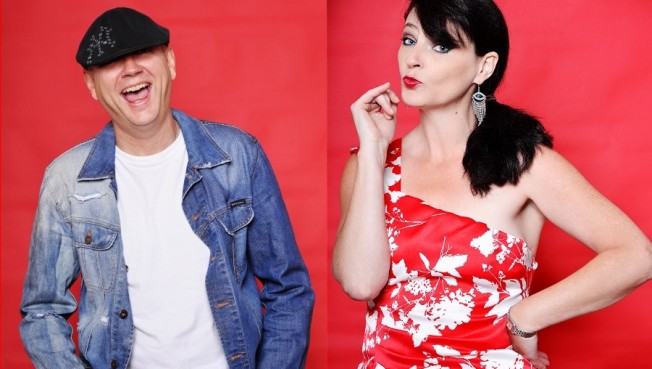 Location Wiltshire
Starting from £480.00
Us Limited are a high class duo suitable for all occasions. Their unique brand of classic pop of rock covers with live keyboards, guitar and superb lead and harmony vocals never fail to impress. National Entertainment Award Winners for the South West. Available UK wide.
Number of Reviews and Counting... 1!
Husband and wife team Dave & Kirstie are live music professionals with over 25 years experience, they have worked extensively all over the UK and abroad and are also part popular of The Pop Ups one of the most popular party bands in the country.
Us Limited bring them together as a high class duo offering the same songs & vocals as their full band but as a cost effective and space saving duo.
They have a unique set up incorporating live keyboards, guitars, vocals and minimal backing producing a full and rich sound
If you want to hire great live music on a budget but dont want to compromise on quality then Us Limited are the perfect choice.
Female Lead Vocalist who also plays Keyboards & Piano
Male Guitarist with Backing Vocals
Professional Backing adding drums and bass for a full rich sound.
Classic mix of 60s, 70s, 80s, 90s, noughties and present day Rock, Pop, Soul, Funk, Motown & Ballads...
Mary & Mike

, Wedding, Somerset
Dear Us Limited, greetings from sunny Mexico! Thank you so much for playing at our wedding reception party on the 2nd Nov - we just wanted to let you know that we thought you were absolutely fantastic! Loved - loved - loved you guys and wish you could have played all night. We will, without doubt, book you again in the future, and will recommend you to friends and family. I've never been much of a dancer, but you couldn't keep me off the dance floor on that night! You're great musicians, singers and performers. very professional and a really nice people. Good mix of music, we just can't fault you. We will be in touch in the future for more fab evenings of music.
---
Corporate Entertainment Live Music Events
Corporate Christmas Parties
Product Launches & Gala Events
Charity Fundraisers
Small Business Parties & celebrations
Company Anniversary Parties
Valentines Dances & Balls
Presentation Award Nights
University & College Graduations
University & College Staff Parties
Educational Staff Parties & Dances
Sports & Social Club Dinner Dances
Halloween Parties & Balls
Gala Banquets & Hunt Balls
Town & Country Festivals
Repatriation Parties
Military Functions & Dinner Dances
Sports Association & Golf Club Balls
Fundraising & Appeal Events
Weddings / Civil Partnerships
Christmas Parties
Hotel Party Nights
New Years Eve Balls
Young Farmers Balls
May Day / Spring & Summer Balls
Fancy Dress Parties
Self contained PA & Lighting
Available all year round - Best rates Sunday - Thursday
Willing to travel all over the UK
2 x 45 min sets
2 x 1 hours sets
1 x 90 min set
CD music 'Disco Style' during breaks offered free for every booking
Please Note: The fees indicated below are approximate and based on a central location for each county. They are intended to provide a rough guide only and exact quotes can only be given once the date and exact location of your event have been provided.
Wales
Monmouth
£600.00
Pembroke
£600.00
West Midlands
Gloucestershire
£600.00
Staffordshire
£720.00
Warwickshire
£660.00
Worcestershire
£600.00
South East
Berkshire
£600.00
Buckinghamshire
£600.00
East Sussex
£600.00
Essex
£720.00
Hampshire
£660.00
Hertfordshire
£660.00
Oxfordshire
£540.00
Surrey
£600.00
Sussex
£600.00
West Sussex
£600.00
London
£720.00
Middlesex
£660.00
South West
Cornwall
£840.00
Devon
£780.00
Dorset
£540.00
Somerset
£540.00
Wiltshire
£480.00