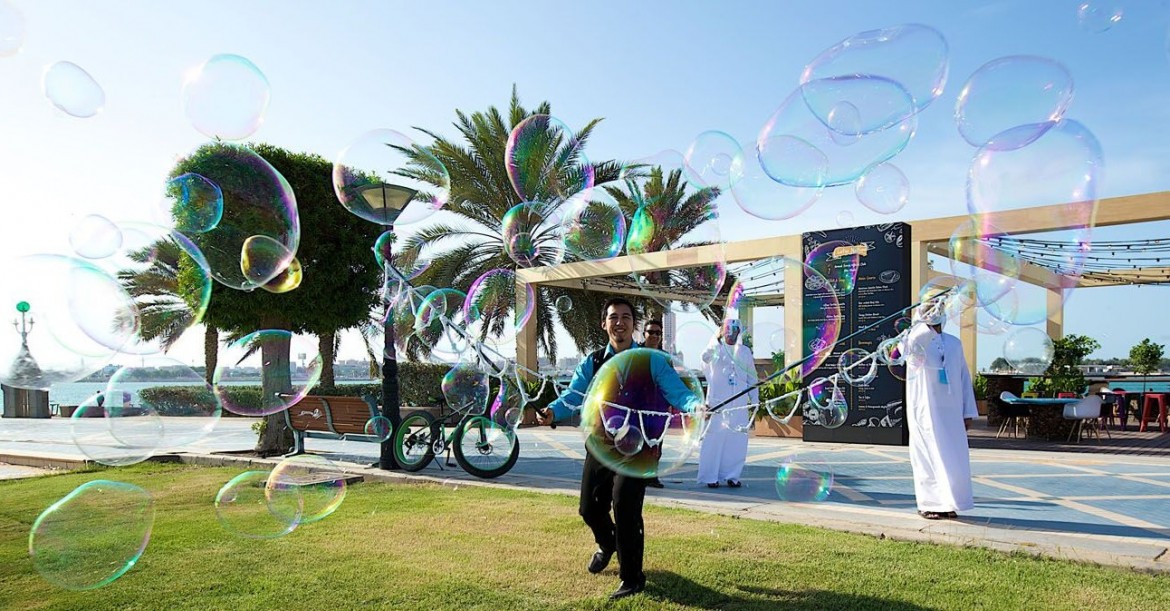 Location Gloucestershire
Starting from £420.00
For something unique, entertaining and visually stunning, Bubble Performers can bring some colour and originality to your event.
Number of Reviews and Counting... 10!
Floating, rolling, warping, wibbling, wobbling; our beautiful, larger than life bubbles will capture the imagination of anyone who sees them. Children and adults alike will be unable to resist chasing and enjoying these enchanting spectacles. So make sure you've got your bubble popping fingers at the ready!
Ana Exton

, Wedding, Bowood, Wiltshire
The bubble performer at our wedding was absolutely enchanting. He was all set up and ready for when we came out of our ceremony and enjoyed his performance during our drinks reception. He was well presented, personable and polite. The children (and the adults) absolutely loved him and he was worth every penny, it just added that little something extra to our day. I'd highly recommend him and would book again for future events! Thank you.
---
Piera Marino - Churchill Retirement Living

, Public Event, Wattons Farm, Hampshire
Brilliant with kids, they were in awe. Very professional, would book again.
---
Drighlington Parish Council

, Public Event, Adwalton Moor, West Yorkshire
5/5
---
Roxanne Lippiatt

, Public Event, Bristol
Unfortunately the weather did not hold off for our event, however this did not stop our bubble entertainer from getting stuck in and the kids loved it!!
---
Chris Wilson

, Public Event, Farnham Town, Surrey
The act was well received by the audiences and the performer was helpful and friendly it was all very positive thanks.
---
Joanna Barnard

, Charity, West Hendford Street Party, Somerset
Very good entertainer, the children really enjoyed it. Thank you.
---
Susan Watkin

, Festival, Oddington, Gloucestershire
Adam was excellent, charming and professional and even though the weather wasn't with him the kids and the audience loved him.
---
Susan Watkin

, Festival, Gloucestershire
Adam was great very self sufficient and charming. He did an excellent job in very difficult conditions as the weather was against him.
---
Jackie Hammond

, University / School, Surrey
Fantastic bubbles that the children absolutely loved! Perfect entertainment for a large group of children.
---
Lewis Enfield

, Corporate, Bristol
Great addition to our staff family day. Very colourful with some really cool tricks and they also looked great on the event photos. Thank You.
---
Bubble Performers have performed at all kinds of events throughout the UK from parties, weddings and corporate events to product launches and festivals.
Please Note: The fees indicated below are approximate and based on a central location for each county. They are intended to provide a rough guide only and exact quotes can only be given once the date and exact location of your event have been provided.
Wales
Brecon
£420.00
Carmarthen
£420.00
Glamorgan
£420.00
Cardiff
£420.00
West Midlands
Gloucestershire
£420.00
Herefordshire
£420.00
Worcestershire
£420.00
Birmingham
£420.00
South East
Bedfordshire
£420.00
Berkshire
£420.00
Buckinghamshire
£420.00
East Sussex
£420.00
Essex
£420.00
Hampshire
£420.00
Hertfordshire
£420.00
Kent
£420.00
Oxfordshire
£420.00
Surrey
£420.00
London
£420.00
South West
Devon
£420.00
Dorset
£420.00
Somerset
£420.00
Wiltshire
£420.00
Bath
£420.00
Bristol
£420.00