Warble Entertainment's
Siona the Somerset Harpist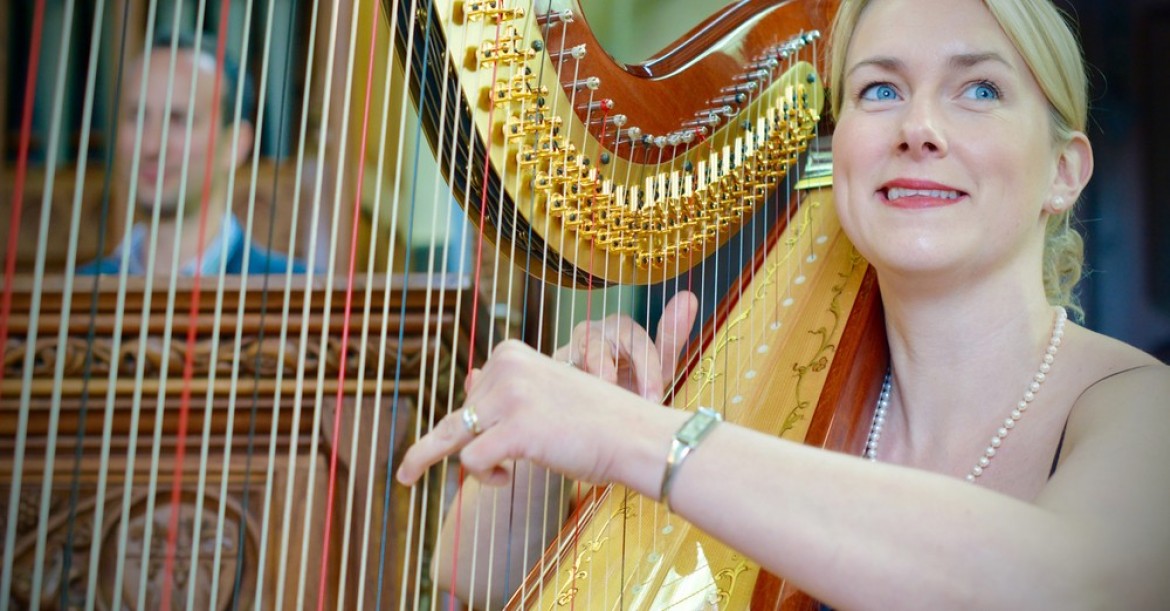 Location Somerset
Starting from POA
Siona the Somerset Harpist studied both Harp and Voice at The Royal Welsh College of Music and Drama where she was awarded a Distinction in her Masters Degree.
She then went on to study at the Royal College of Music, London gaining a Postgraduate Diploma in Performance.
Siona is a very experienced musician who has played the harp for Church and Civil wedding ceremonies, private functions, corporate events and public recitals since 1996, as well as being an established soprano soloist both on the concert platform and stage.
*Siona has performed extensively to a wide variety of audiences throughout the UK and abroad*
2 reviews
Song List
Popular 'Classical' Melodies
Anon - Greensleeves
J S Bach: Air on a G String
J S Bach: Jesu Joy of Man's Desiring
J S Bach : Prelude in C
J S Bach : Sheep may Safely Graze
Beethoven: Fur Elise
Beethoven: Ode to Joy (reduction)
Brahms - Lullaby
Clarke: Chaconne
Clarke: Trumpet Voluntary (Prince of Denmark's March)
Debussy: Clair de Lune
Delibes: The Flower Duet
Dvorjak: New World Symphony (reduction)
Faure: Pavane
Handel: Arrival of the Queen of Sheba
Handel: Hornpipe from 'The Water Music'
Handel; 'Largo'(theme from 'Serse')
Haydn: St Anthony Chorale
Mascagni: Cavalleria Rusticana (Intermezzo)
Mendelssohn: O For the Wings of a Dove
Mendelssohn: Wedding March (traditional exit music)
Mozart: Romanze from 'Eine Kline Nachtmusik'
Myers: Cavatina: (Theme tune from the film 'The Deer Hunter')
Pachebel: Canon in D
Puccini: O Mio Babbino Caro
Rota : Love Theme (from the film 'Romeo and Juliet')
Schubert: Lullaby
Strauss: Waltz 'The Blue Danube'
Vivaldi: Spring – Third Movement from 'The Four Seasons'
Wager: Wedding March (Here comes the Bride)
Other 'Classical' Repertoire
A M Bach: Minuet
Bochsa: Etudes
Bondoufle – Study no. 10
Dussek: Sonatina No.2
Handel: Allegro
Handel: Carillon
Handel: Passacaille
Handel: Tema Con Variationi
Hasselmans: La Source
Hasselmans: Reverie
Hasselmans: Rouet
Naderman: Sonata No.2
Parry: Sonata in D
Purcell: Hornpipe
Purcell: Chaconne (From 'The Fairy Queen')
Renie: Esquisse
Renie: Angelus
Thomas: Watching the Wheat
Traditional / Celtic
All Through the Night: Welsh
Danny Boy (Londonderry Air): Irish
Molly Malone: Irish
Mountains of Mourne: Irish
O'Carolan's Air: Irish
Scarborough Fair: Arranged by Friou
She Moved through the Fair: Irish
The Foggy Dew: Irish
The Lark in the Clear Air: Irish
The Green Glens of Antrim: Irish
The Kerry Dance: Irish
To a Wild Rose: E MacDowell
When Irish Eyes are Smiling: Irish
David of the White Rock: Welsh
Land of My Fathers: Welsh
My Heart: Welsh
Megan's Fair Daughter: Welsh
Men of Harlech: Welsh
The Old Year is Passing: Welsh
The Ash Grove: Welsh
Contemporary
A Whole New World : From Walt Disney's 'Aladdin'
Angel of Music: Lloyd Webber
Amazing Grace - Anon
All I Ask of You: Lloyd Webber
Autumn Leaves: Joseph Kosma
Close Every Door to Me: Lloyd Webber
Can you feel the love tonight (from The Lion King): Elton John
Can't Help Falling in Love with you: Elvis Presley
Everything I Do: Brian Adams (Theme tune from the film 'Robin Hood Price of Thieves')
Fields of Gold: Sting
Fool on the Hill: Beatles
From this Moment: Celine Dion
Fly me to the Moon: Bart Howard
Have I told you lately: Van Morrison
Hey Jude: Beatles
Heaven: Bryan Adams/DJ Sammy
I Will Always Love You: Dolly Parton
Lady Marion: Ciaran Brennan
Love Theme from Romeo & Juliet : Rota
Love Changes Everything: Lloyd Webber
Memory: Lloyd Webber
Moon River: Mancini
Music of the Night: Lloyd Webber
My Heart Will Go On: James Horner (Theme tune from the film 'Titanic')
Norwegian Wood: Beatles
Perfect Day: Lou Reed
Pie Jesu: Lloyd Weber
Runaway: The Corrs
Rule the World: Take That
Somewhere Over the Rainbow (From the Wizard of Oz): Arlen
Thank you: Dido
The Rose: Amanda McBroom
The Wind beneath my Wings: (sung by Bette Midler) Silbar/Henley
Time After Time: Cyndi Lauper
Unchained Melody: Alex North
Yesterday: Beatles
You Will Never Walk Alone: Carousel
Singing Repertoire
Siona is a Soprano and specialises in the Baroque and Classical periods, although she is happy to sing anything from Bach to Eva Cassidy! Siona can suggest Organ/keyboard accompanists if required, can use backing CDs or is happy to sing unaccompanied if necessary.
Particular classical favourites for traditional wedding ceremonies include:
Bach - Sheep may safely graze
Faure: Pie Jesu
Franck: Panis Angelicus
Gounod/Bach – Ave Maria
Gershwin – Summertime
Schubert – Ave Maria
Lloyd Webber: Pie Jesu
Faure – Pie Jesu
Mozart – Exultate Jubilate
Mozart – Alleluia
Mozart – Laudate Dominum
Vivaldi – Nulla in Mundo Pax Sincera
Puccini – O Mio Babbino Caro
Tradtional – As She moved through the Fair
Traditional – The Lark in the Clear Air
Modern favourites include:
Eva Cassidy -'Songbird',
Josh Groban - 'You raise Me up'
Judy Garland - 'Somewhere over the Rainbow'
Desree – Kissing You
Siona is more than happy to learn new vocal repertoire, so should there be a song you would particularly like that is not on this list, please ask, and if possible Siona will learn it for you!