Warble Entertainment's
The Glasgow String Quartet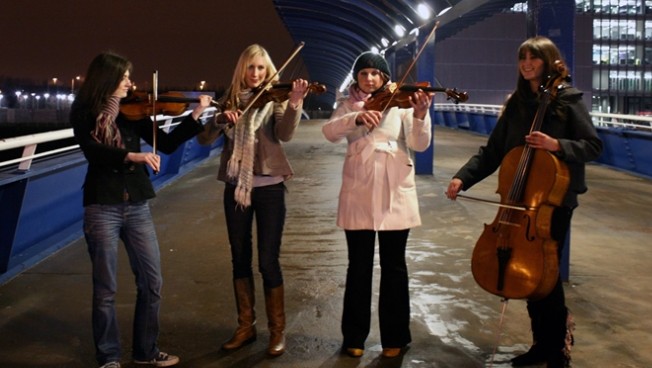 Location Glasgow
Starting from POA
The Glasgow String Quartet are a professional and highly experienced Scottish quartet bringing Classical Music into the 21st century with a uniquely stylish and vibrant flair.
From Bach to the Beatles, Vivaldi to The Verve, The Glasgow String Quartet always strike the right chord.
All across Scotland, from large Royal Weddings to smaller, intimate gatherings, you can be assured of a high quality performance, tailored especially to make your event unique.
*Fantastic Scottish String Quartet*
1 reviews
Listen




Song List
In The Charts
Hoppipola - Sigur Ros
Can't Help Falling in Love - Weiss
You Are So Beautiful - Joe Cocker
Chasing Cars - Snow Patrol
Songbird - Fleetwood Mac
With or Without You - U2
Beautiful Day - U2
One Day like This - Elbow
Hard to Concentrate - Red Hot Chilli Peppers
It Must be Love - Madness
Just Like Heaven - The Cure
She - Elvis Costello
Hallelujah - Leonard Cohen
Bittersweet Symphony - The Verve
In my Place - Coldplay
Yellow - Coldplay
Whatever - Oasis
I predict a Riot - Kaiser Chiefs
All the Things that I have Done -The Killers
Stand by Me - Ben E. King
You Raise me Up - Westlife
Angels - Robbie Williams
Will Young - All Time Love
Fields of Gold - Sting
Everlong - Foo Fighters
Your Song - Elton John
Ain't No Mountain High Enough - Marvin Gaye/Diana Ross
Caravan of Love - House Martins
Colorful - Vervepipe
Candle in the Wind - Elton John
Bridge Over Troubled Water - Paul Simon
Killing me Softly with his Song - Norman Gimbel
Eleanor Rigby - Lennon McCartney
When I'm 64 - Lennon McCartney
Here Comes the Sun - Lennon McCartney
All you Need is Love - Lennon McCartney
Imagine - Lennon McCartney
Lady Madonna - Lennon McCartney
Hello Goodbye - Lennon McCartney
World Without Love - Lennon McCartney
Hey Jude - Lennon McCartney
Yesterday - Lennon McCartney
Get Back - Lennon McCartney
Good Day Sunshine - Lennon McCartney
Falling Slowly - Glen Hansard (from the film 'Once')
Unchained Melody - Alex North (Theme from Ghost)
Chapel of Love from Four Weddings and a Funeral
Everything I Do, I Do It For You - Micheal Kamen from 'Robin Hood Prince of Thieves'
Without You - Peter Ham/Tom Evans
Theme from Jurassic Park - John Williams
My Heart Will Go On - James Horner from "Titanic"
Love Theme from Romeo and Juliet - Nina Rota
The Bare Necessities from Disney's The Jungle Book
Theme from Schindler's List - John Williams
Kissing in the Rain from Great Expectations
Kissing You - Love Theme from Romeo and Juliet
Desiree - Nothing is Gonna Stop us Now - from Mannequin
Theme from Fawlty Towers
Theme from Black Adder

Wedding Ceremony Favourites
Canon - Pachelbel
Trumpet Tune - Purcell
Trumpet Voluntary - Clarke
Wedding March - Wagner
Largo - Handel
Wedding March - Mendelssohn
Cantabile - Tartini
Traumerai - Schumann
Air on a G String - Bach
Jesu Joy of Man's Desiring
Hornpipe from Water Music - Handel
Fanfare - Lemmens Tuba Tune
Ave Maria - Schubert and Gounod
Panis Angelicus
Hymns available on request

Jazz, Rags and Tangos
Country Club - Joplin
Paragon Rag - Joplin
New Rag - Joplin
The Entertainer - Joplin
Rag Time Dance - Joplin
Easy Winners - Joplin
Making Whopee - Donald Son
Lets do It - Cole Porter
Anything Goes - Cole Porter
Someone to Watch Over Me - Gershwin
I Got Rhythm - Gershwin
God Bless the Child - Billie Halliday

Traditional Scottish and Irish
Secret Wedding from 'Braveheart'
Loch Lomond
Cumbrae Cottage - Eric Rice
Peter's Reels - Eric Rice
The Maaker Speaks - Eric Rice
An Air for Phil Cunningham - Eric Rice
My Love is Like a Red, Red Rose
Flower of the Quern
Kalinka
Amazing Grace
Auld Lang Syne
Skye Boat Song
Ae Fond Kiss
Wild Mountain Thyme
Ashokan Farewell
Highland Cathedral
Eine Kleine Bricht Moonlicht Nicht Musik -McMozart
Irish Sherry Suite - Thorp
Carrickfergus
It's a Long Way from Clare to Here
Brian Boru March

Opera, Ballet, Musical
Habanera from Carmen - Bizet
Prelude to Carmen - Bizet
Meditation from Thais - Massenet
Nessun Dorma from Turandot - Puccini
O Mio Babbino Caro - Puccini
Barcarolle from Tales of Hoffmann - Offenbach
Three Little Maids from School from the Mikado - Gilbert and Sullivan
Non Piu Andrai from the Marriage of Figaro - Mozart
Dance of the Cygnets -Tchaikovsky
Dance of the Sugar Plum Fairy - Tchaikovsky
Waltz of the Flowers - Tchaikovsky
Send in the Clowns from A Little Night Music - Sondheim
Broadway Tonight - a Medley
Divertimento II in Bb Major - Mozart
Divertimento II in F Major - Mozart
Selection of Mozart and Haydn quartets
Largo from the New World Symphony - Dvorak
Intermezzo from Aranjuez Guitar Concerto - Rodriguez
Brandenburg III - Bach
Chanson de Matin - Elgar
Chanson de Nuit - Elgar
Salut d'Amour - Elgar
Adagietto from 5th Symphony (theme from 'Death in Venice') - Mahler
Theme from Jupiter ( I vow to thee my country) - Holst
Flower Duet from Lakme - Delibes
Chicago - Theme from the Musical
Summertime - Gershwin
Fly me to the Moon - Bart Howard
Can't take my Eyes off of You - Frankie Valli
Moondance - Van Morrison
Somewhere Beyond the Sea - Bobby Darin
Feelin' Good - Nina Simone
Moon River - Mancini
Somewhere Over the Rainbow - Harold Arlen
That's Amore - Dean Martin
Sway - Michael Buble
Dream a little Dream - Mamas and Papas
La Comparisita - Rodriguez
Tango pour una Cabeza - Gardel
Tango Albeniz - Albeniz
My Funny Valentine - Richard Rogers
The Folks who live on the Hill - Kerns
Satin Doll - Duke Ellington
Moonlight in Vermont - Suessdorf
Take the A Train - Billie Strayhorn
The Girl from Ipanema - Antonio Jobim
Chelsea Bridge - Billie Strayhorn

Classical
Spring - Vivaldi
Largo from Winter - Vivaldi
Pavane - Faure
Intermezzo - Mascagni
Arrival of the Queen of Sheba - Handel
Eine Kleine Nachtmusik - Mozart
Divertimento I in D Major - Mozart
Gabriel's Oboe - from the film the Mission - Ennio Morricone
Two Rondeau from Abdelazar and the Fairy Queen - Purcell
Finiculi Finicula - Denza
O Sole Mio - Di Capua
Palladio - Karl Jenkins
Romanze - Shostakovich
St Paul's Suite - Holst
2 Waltzes - Dvorak
Thunder and Lightning Polka - Strauss
Czardas - Monti
Fantasia on Greensleeves - Vaughn Williams
Can Can - Offenbach
First Polovtsian Dance - Borodin
Andantino from the Forces of Destiny - Verdi
Golliwog's Cake Walk - Debussy
Humoresque - Dvorak
Norwegian Dance no.2 - Grieg
Somewhere from West Side Story - Bernstein
All I Ask of You
Music of the Night from 'Phantom of the Opera' - Lloyd Weber

Christmas Playlist
Fairytale in New York - The Pogues
Oh I Wish It Could be Christmas Everyday – Wizard
Merry Christmas Everybody – Slade
Do They Know it's Christmas – Band Aid
All I want for Christmas – Mariah Carey
Angels – Robbie Williams
The Snowman – Howard Blake
White Christmas – Irving Berlin
Sleigh Ride - Leroy Anderson

And a selection of hymns including:
12 Days of Christmas – Traditional
Away in a Manger – Traditional
Deck the Hall – Traditional
Jingle Bells - Traditional
Once in Royal David's City – Traditional
Adeste Fideles (Oh come all ye Faithful) Silent Night – Traditional
We Three Kings - Traditional
We wish you a Merry Christmas - Traditional
In the Bleak Mid Winter – Traditional
Hark the Herald Angels Song – Traditional
The First Noel - Traditional

Trio Playlist
Divertimento no.1 - Mozart
Three Divertimenti - Haydn
Three Fantasies - Purcell
Waltz in Ab - BrahmsO Mio Bambino Caro - Puccini
Revirado - Piazzola
Canon - Pachelbel
Largo - Handel
Gabriel's Oboe Theme from the Mission - Ennio Morricone
Six Tangos - William Ryden
Fly me to the Moon - Bart Howard
Just the Way you Look Tonight - Frank Sinatra
Can't take my Eyes off You
The Girl from Ipanema - Jobim
Moon River from Breakfast at Tiffanys - Mancini
You are so Beautiful - Joe Cocker
Nights in White Satin - Justin Hayward
Eleanor Rigby - Lennon/McCartney
Bittersweet Symphony - The Verve
We've only just Begun - The Carpenters
Close to You - The Carpenters
You Raise me Up - Westlife
All you need is Love - Lennon/McCartney
Angels - Robbie Williams
Can't Help Falling in Love - Weiss
A Fond Kiss - Burns
My Love is like a red red rose - Burns
Will you go Lassie Go - Trad
Ashokan Farewell - Trad
Eine Kleine Bricht Moonlicht Nicht Music - Prof Teddy Bor
Highland Cathedral - Trad
Cumbrae Cottage - Eric Rice
Loch Lomond - arr Eric Rice
Siman tov u Mazel Tov - trad